For as long as E and I have been together, I have been asking (aka begging and pleading with) him to "take me to London!" I probably ask at least once a week. And we have been together now for six and a half years. You see, I studied abroad in London at UCL while in college, and I have been DYING to go back ever since. E had never been to London and, until very recently, hadn't shown any interest in going. It was only after I enticed him with a day trip to Brussels (BEER), that I was able to convince him to go.
Just before E started his new residency program at the beginning of July, we wanted to take a quick trip somewhere, anywhere really. When we looked at prices, London and Brussels were shockingly affordable. We got an AMAZING deal on Expedia that included airfare and accommodations.
It is was FINALLY time for E to take me to London!
**This is a long post with lots of photos so grab a cup of coffee and get comfortable!
How To Get There
We flew direct from Newark Liberty International Airport to London Heathrow on United Airlines. Our flight time was 7 hours to London and 8 hours coming back. Not bad at all. Three movies going and four movies coming back! And a nap or two thrown in for good measure.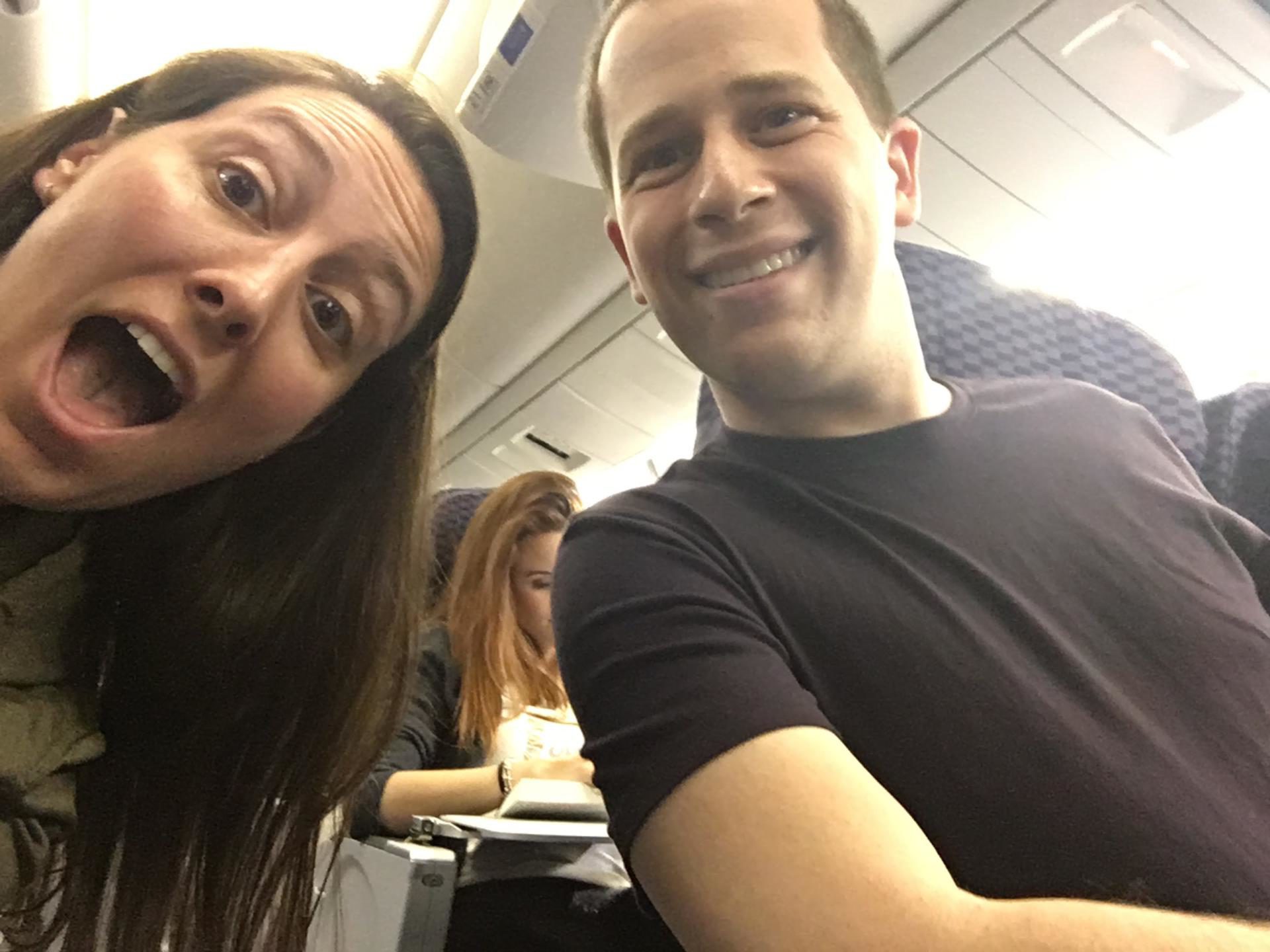 Twinning with our aisle seats!
How To Stay Connected
After successfully traveling all throughout Japan with a Pocket Wifi device, we knew we had to get one for this trip. In Japan, it was so nice to be able to use Google Maps and to keep in touch with our families through Whatsapp and social media.
After a bit of research, Tep Wireless stood out as the best pocket wireless company in Europe. They are actually available all over the globe! I reached out to them to see if they would be willing to work with me. In exchange for a review on the blog, Tep offered me a free Pocket Wifi for the entirety of our trip. The Pocket Wifi would have cost us $60.00.
 Booking the Pocket Wifi could not have been easier. The Tep Wireless website is easy to navigate and the choices are simple. We elected to pickup our Pocket Wifi in our terminal at Heathrow, post landing at the Excess Baggage Company. Initially I was worried that I wouldn't be able to find the Excess Baggage Company, but it was conveniently located right outside of the baggage claim area. You can't miss it. We just gave the store clerk our name and they handed us the Pocket Wifi! And then we were off to find the Piccadilly Line (aka the Tube)!
Once on the Tube, E had no trouble at all setting up the Pocket Wifi. The instructions were easy peasy! And it was small enough to fit in my Lo & Sons Claremont bag along with everything else! It was so nice to be able to send a message to our families letting them know that we had arrived safely! We then turned off the Wifi until we arrived at our hotel.
While the Pocket Wifi worked and helped us stay connected throughout the trip, we did encounter battery life issues. Our Pocket Wifi in Japan could last a whole day without being charged. We were lucky if our Tep Pocket Wifi lasted until lunch! Luckily we always travel with a Mophie so we were able to charge the Pocket Wifi when we needed to. As a result, we would only turn it on when we needed it. It was very frustrating.
Even though we did have issues with the Pocket Wifi, we were still happy to have it and would still likely use Tep Wireless again should we travel to Europe. We would just do a better job planning on the Mophie front.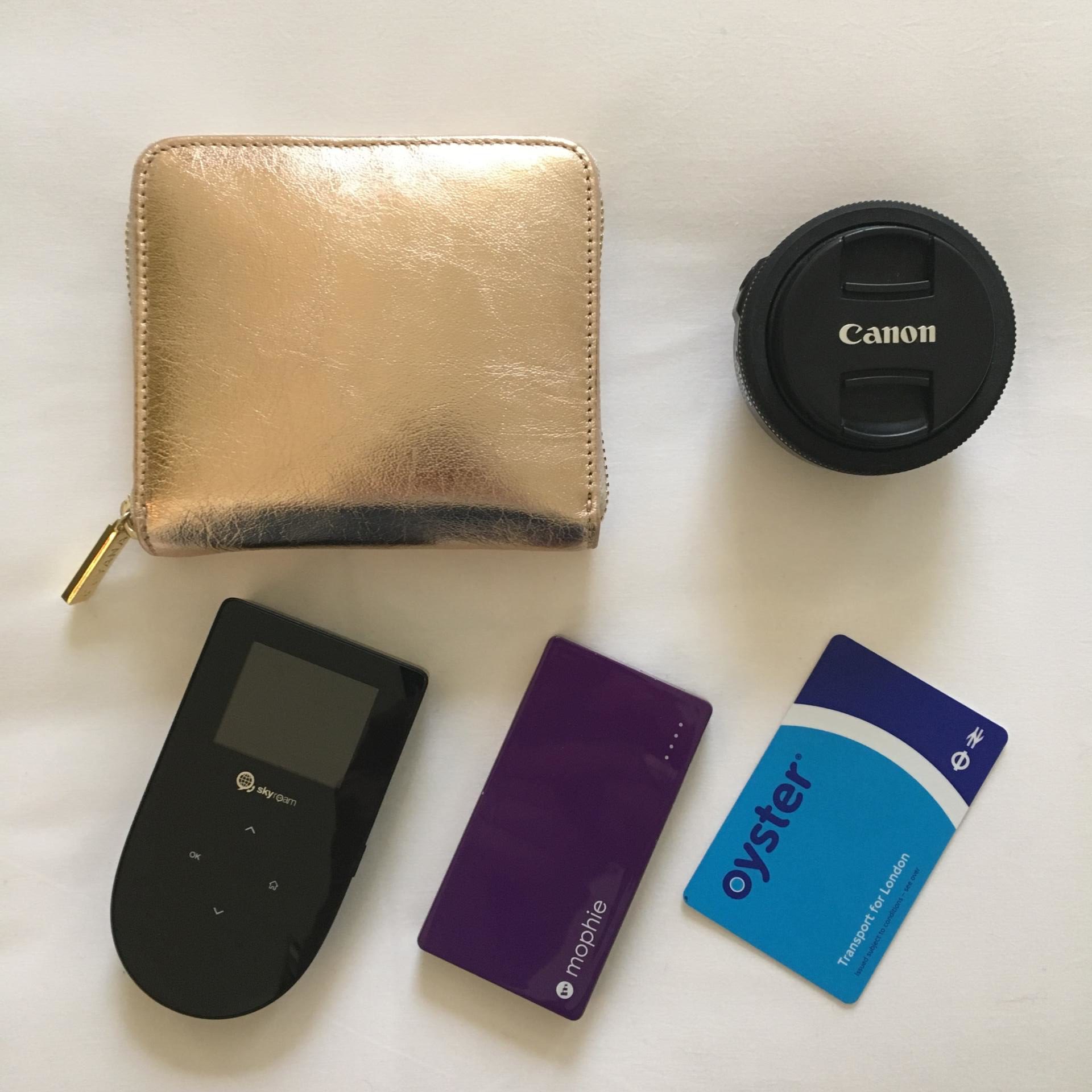 My London Essentials
Wallet: Cuyana, Mophie, Lens: Canon
Where To Stay
We stayed at the very posh Kensington Hotel for the entirety of our stay in London. I had been wanting to stay at The Kensington Hotel ever since reading about it on This Yuppie Life!
The Kensington Hotel is (obviously) located in Kensington, a beautiful neighborhood in London. It is conveniently located equidistant from the Gloucester Road and South Kensington stations on the Piccadilly Line. You can also easily walk from the hotel to Harrods, Kensington Palace, the Victoria and Albert Museum, Knightsbridge, Ottolenghi, Hyde Park and more. It is right in the thick of everything!
Upon arrival, the front desk staff was warm and welcoming. We arrived early so they offered to hold our bags until our room was ready later that afternoon. We left for a few hours of touring and, when we arrived back at the hotel, our bags were already in our room! They also surprised us with a bottle of sparkling wine and chocolate covered strawberries for our anniversary. It was so sweet!
Our Superior Double Room, like most rooms in Europe, was a little small but we were in it so infrequently that it didn't really matter. The bed and chairs were comfortable. The furnishings were modern and the room had the best shades ever! While they weren't blackout shades, if we hadn't set an alarm, we would have never known it was morning!
When we arrived back in our rooms after a long day of touring and eating we would find our beds turned down with a little sweet chocolate treat on our pillow. It was such a nice surprise. Overall we were more than pleased with our stay at The Kensington Hotel and would absolutely stay again.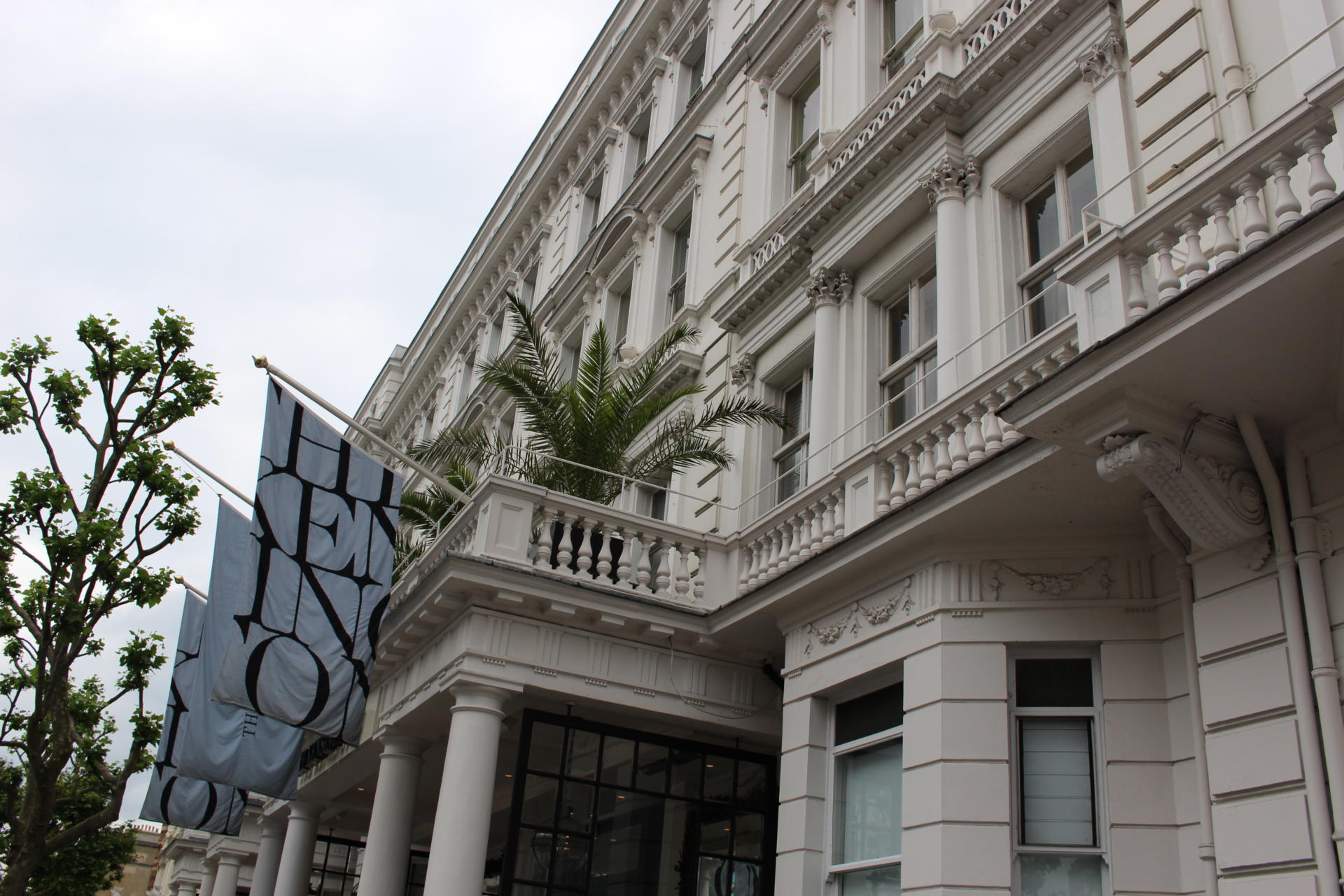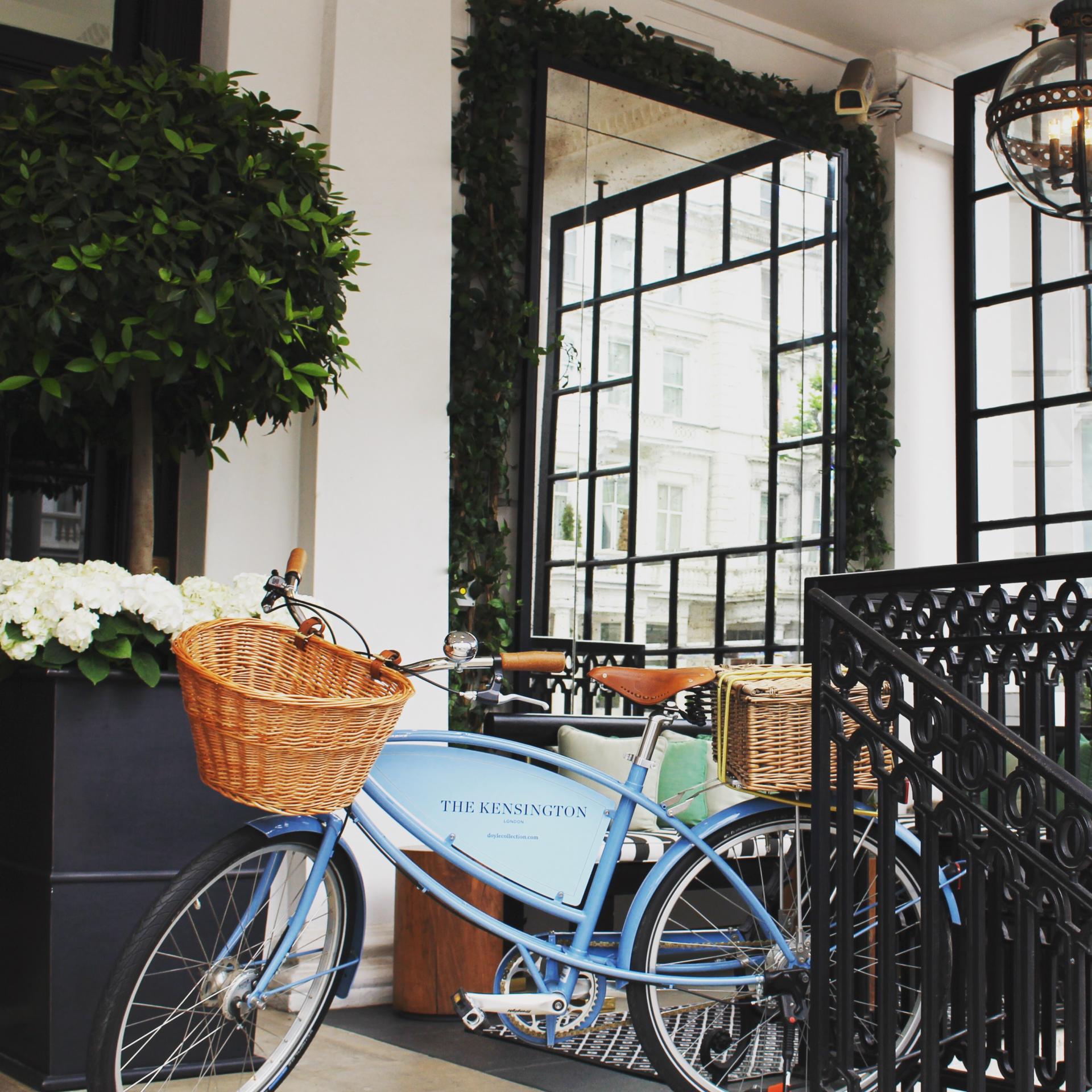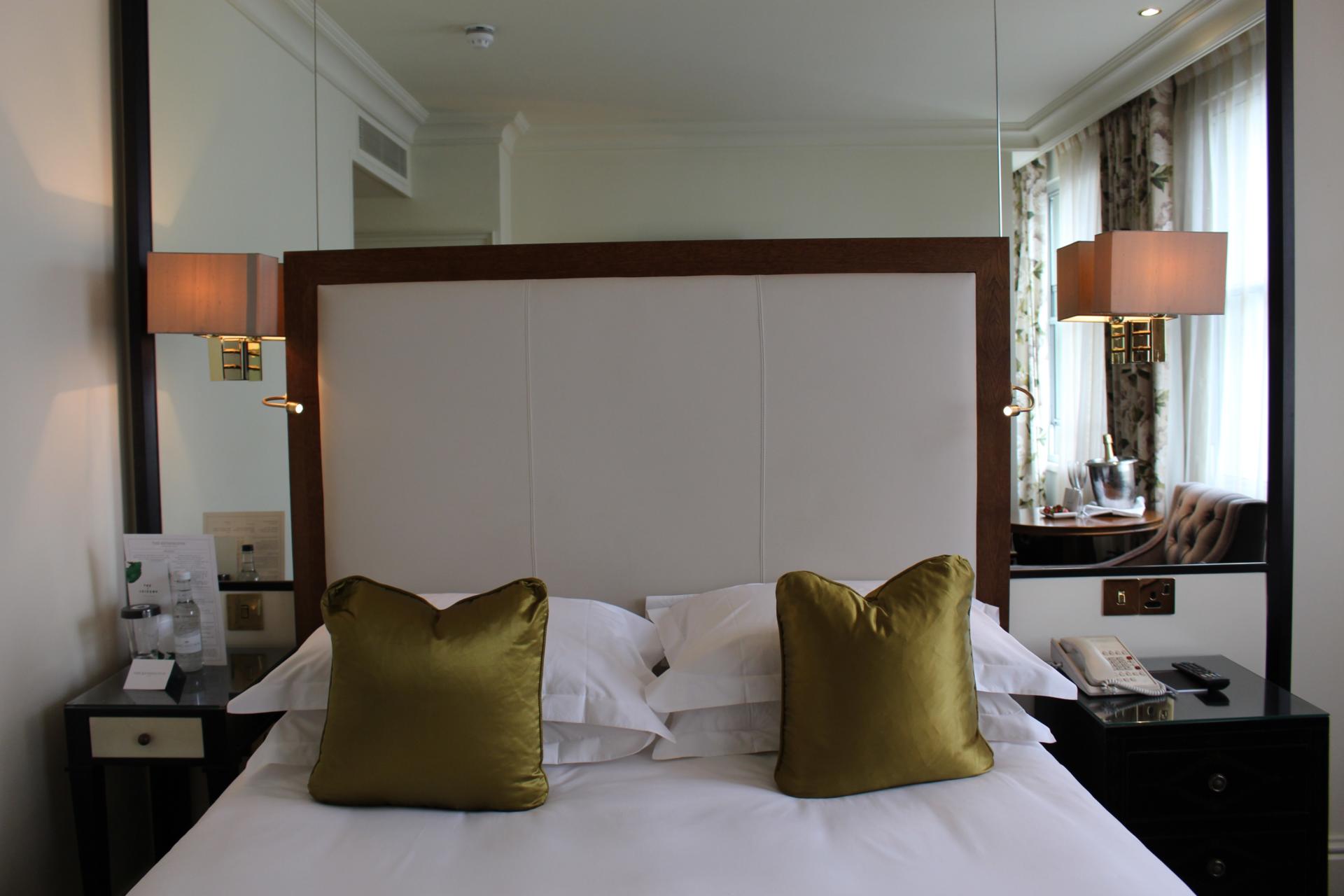 Well…it is really Dr. and Mrs.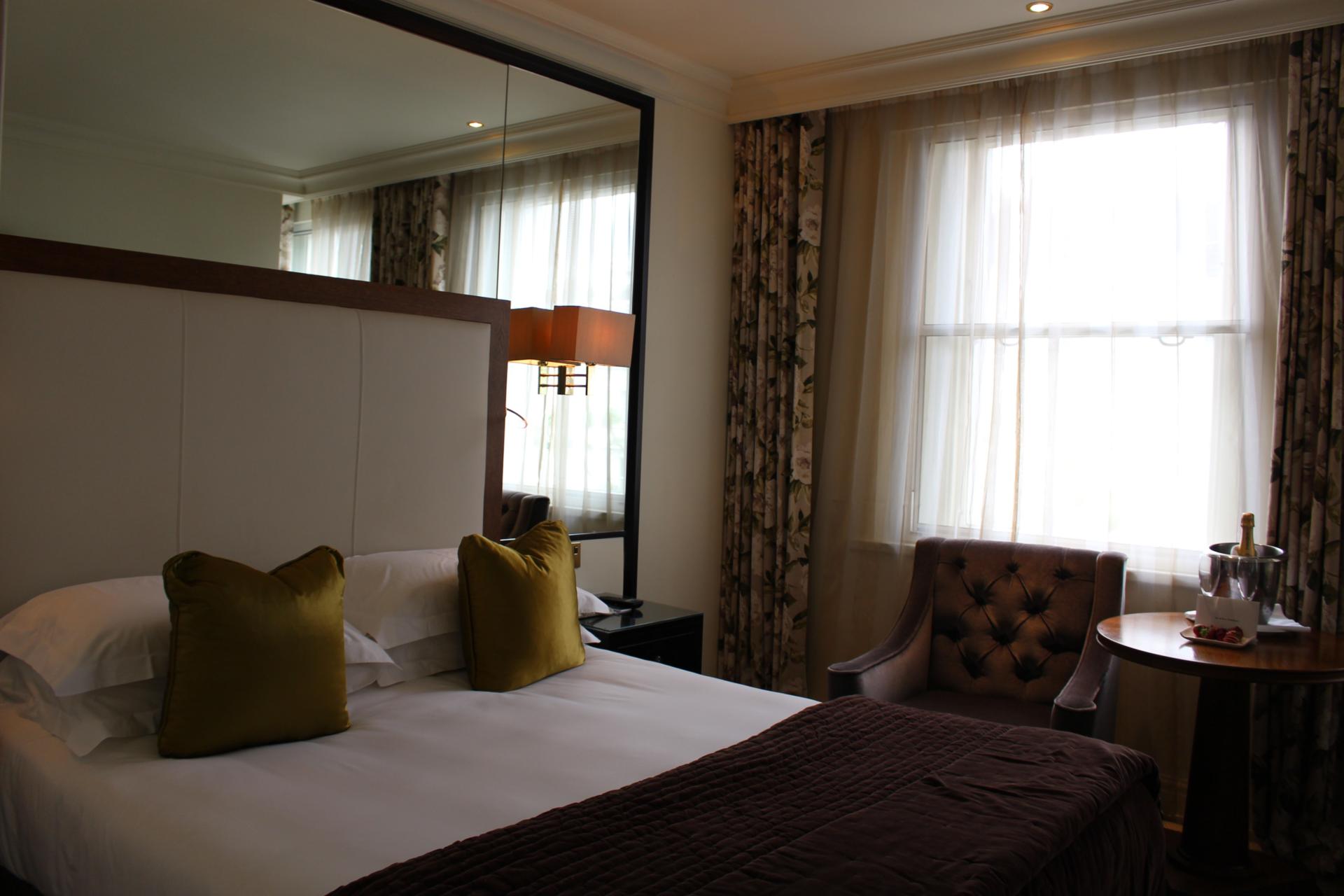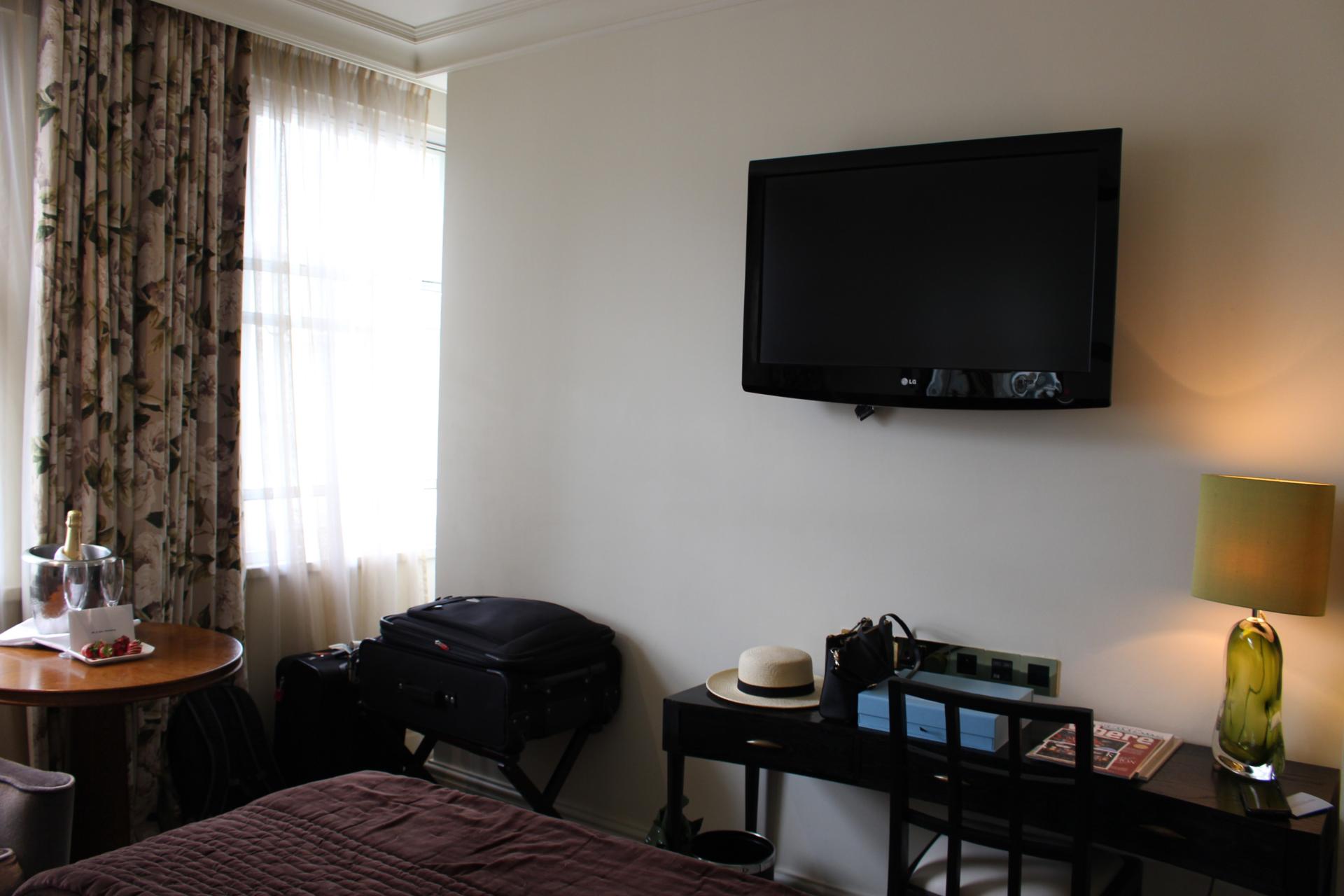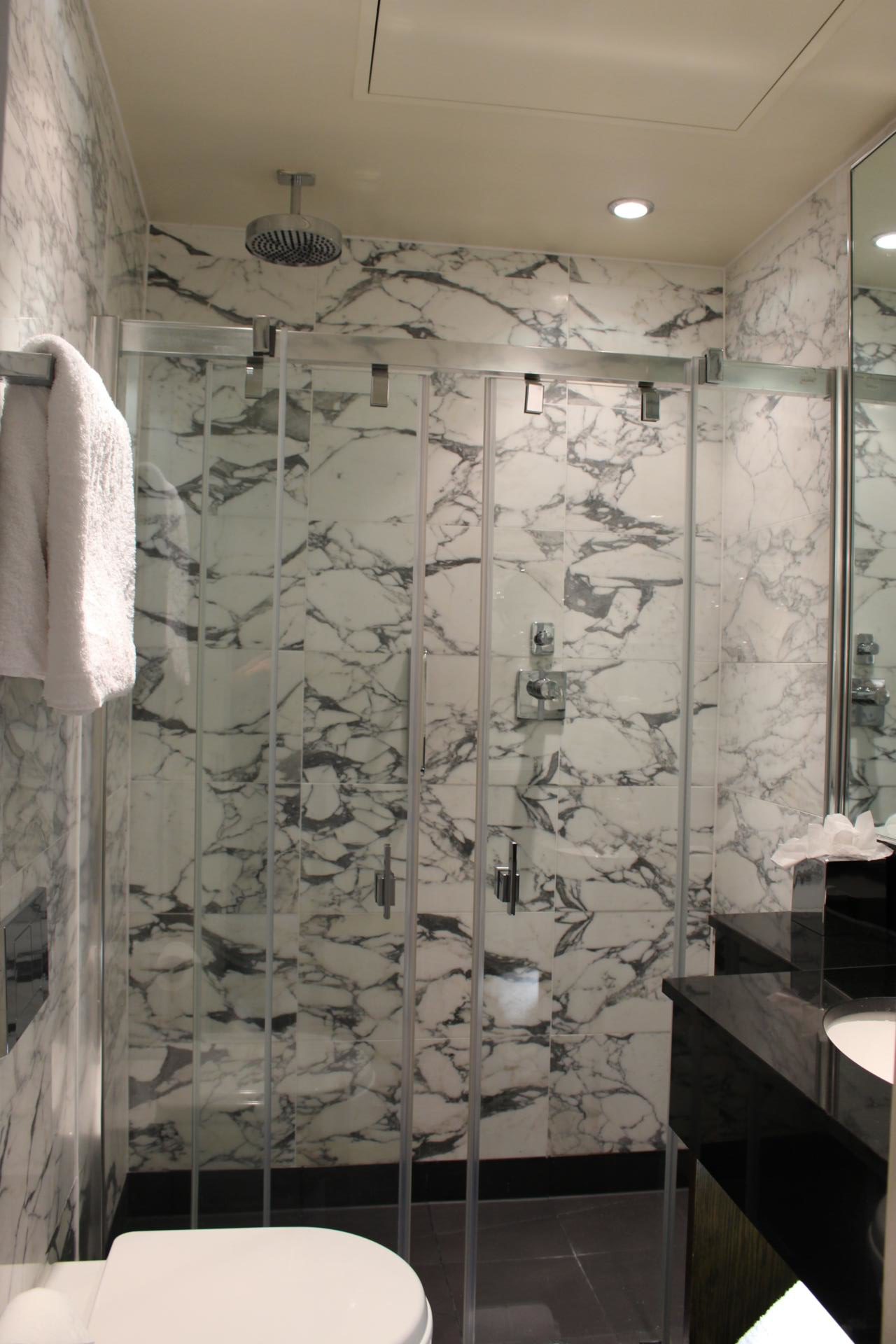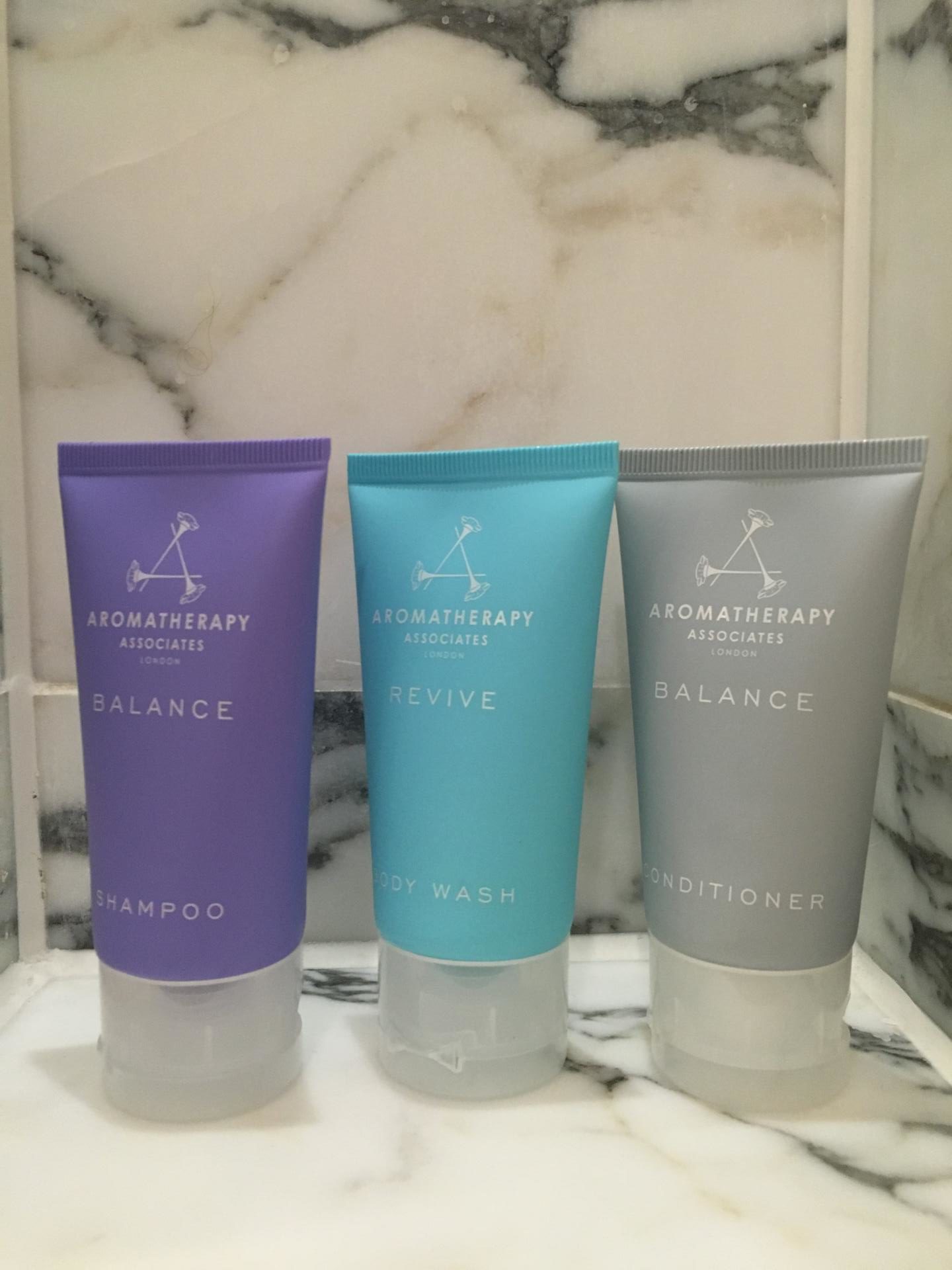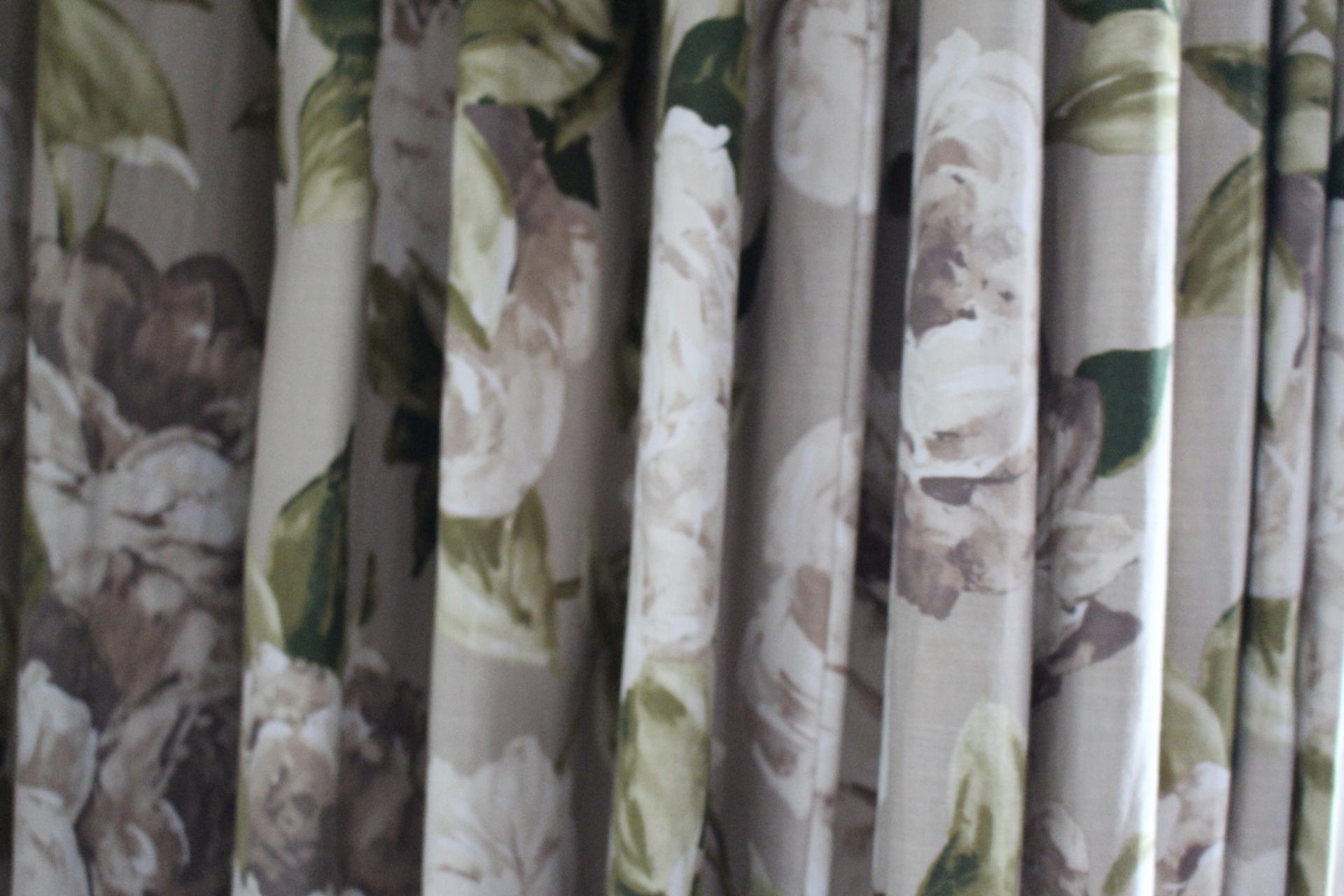 How To Get Around
The easiest and least expensive way to get around London is to walk. If you are not up for walking everywhere, then your best bet is the Tube. It is very clean, safe and easy to navigate. We used the tube to get just about everywhere. We even took it to and from the airport! It takes about 45 minutes it but was so cheap!
I highly recommend that you purchase an Oyster Card as soon as you arrive in London. There is a deposit but you get it back at the end of your trip when you turn the card back in. We put about 20 pounds on our cards when we arrived and we only had to "top up" once!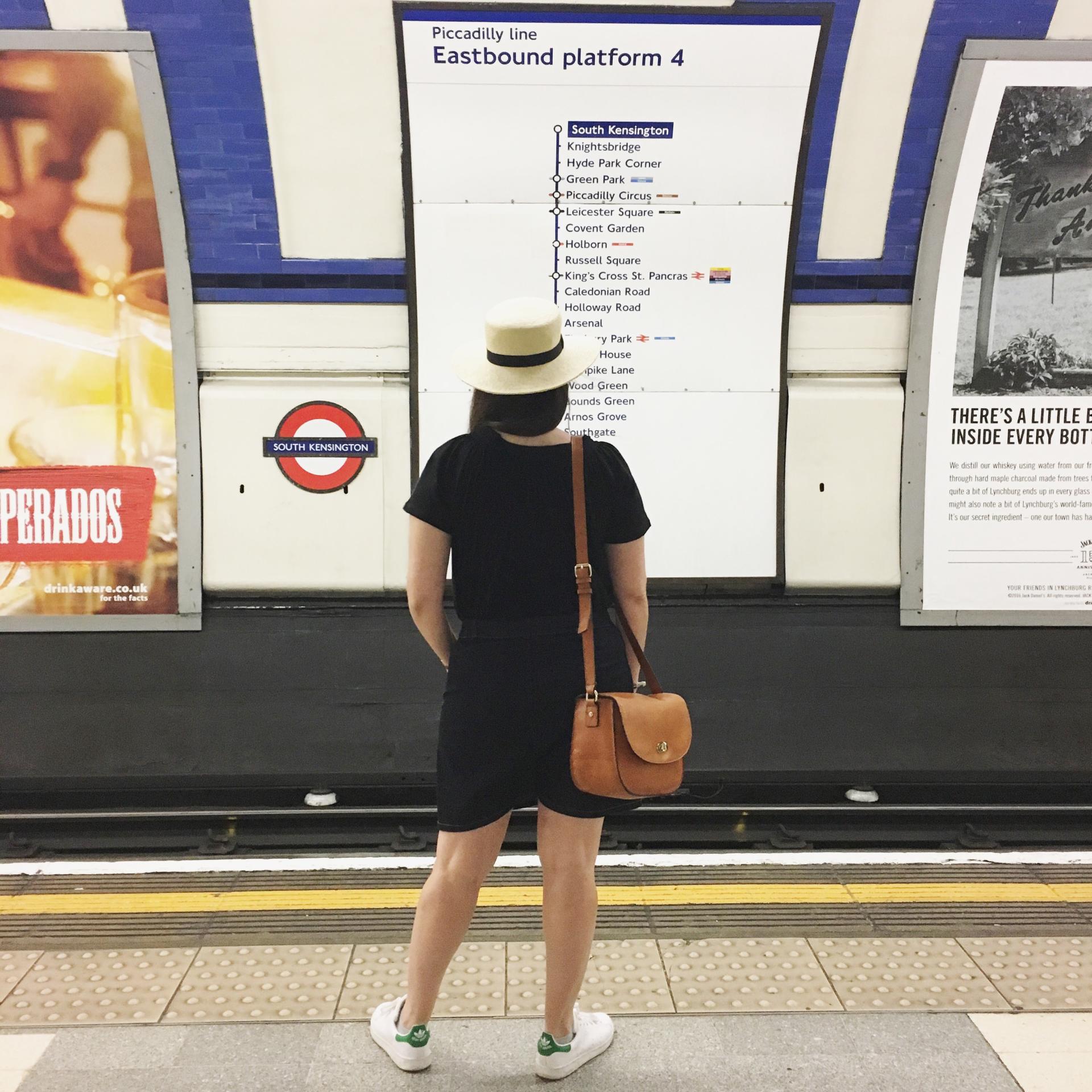 Shirt: Loft, Skirt: Banana Republic (old, similar HERE), Shoes: Adidas, Bag: Lo & Sons, Hat: J.Crew (old, similar HERE)
The Original Tour – Hop On, Hop Off
Since E had never been to London before, I thought he would enjoy seeing the city from the top of an Original Tour red double decker bus. I remembered them being a lot of fun and very easy to use from my time in London.
Unfortunately, that was not actually the case this time. When we hopped on in Kensington we got stuck in ALL sorts of traffic. It would have been much quicker and easier if we had just taken the tube or walked. We got off in Piccadilly Circus and didn't hop back on. It was a little bit of a waste for us, but we're happy we at least tried it.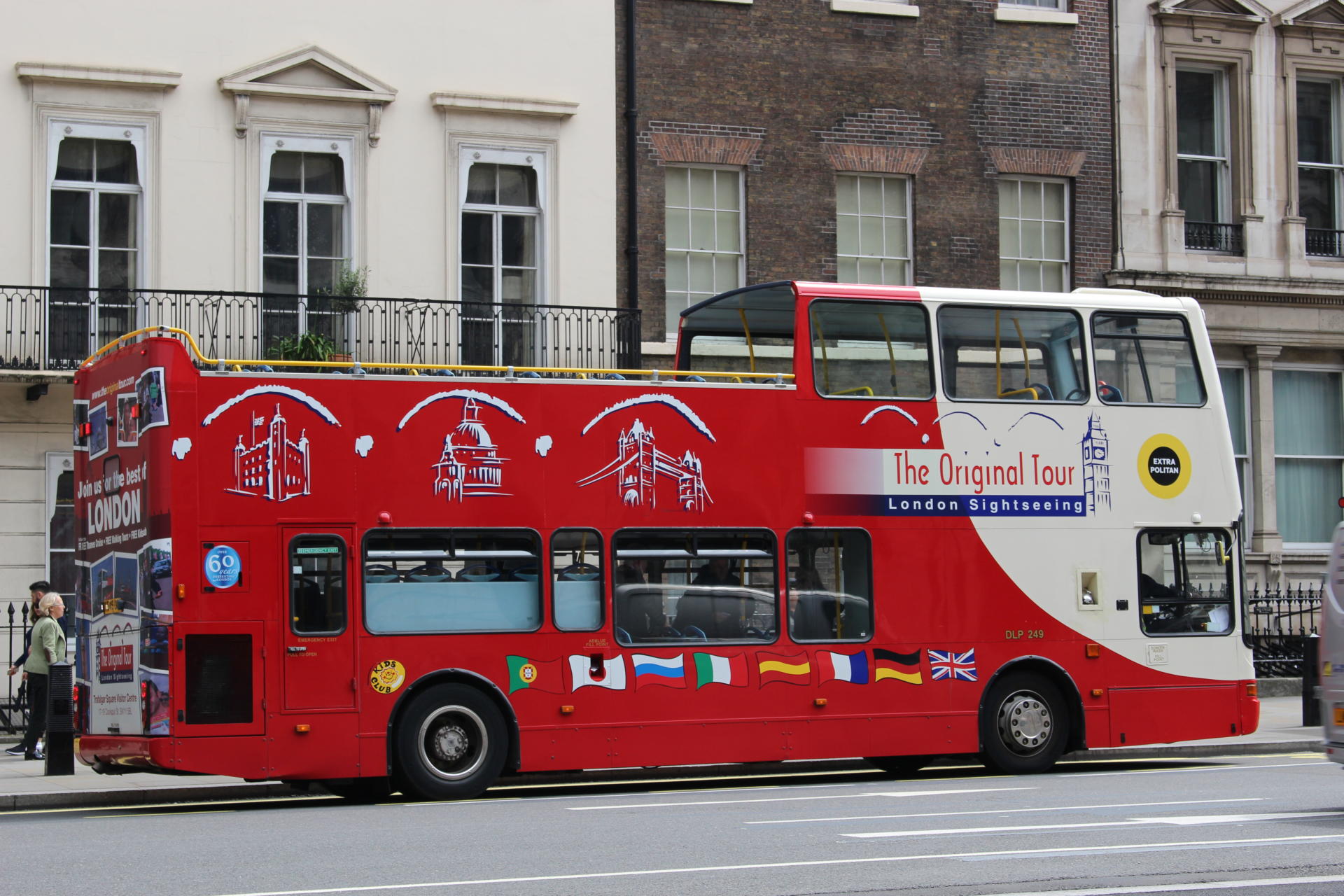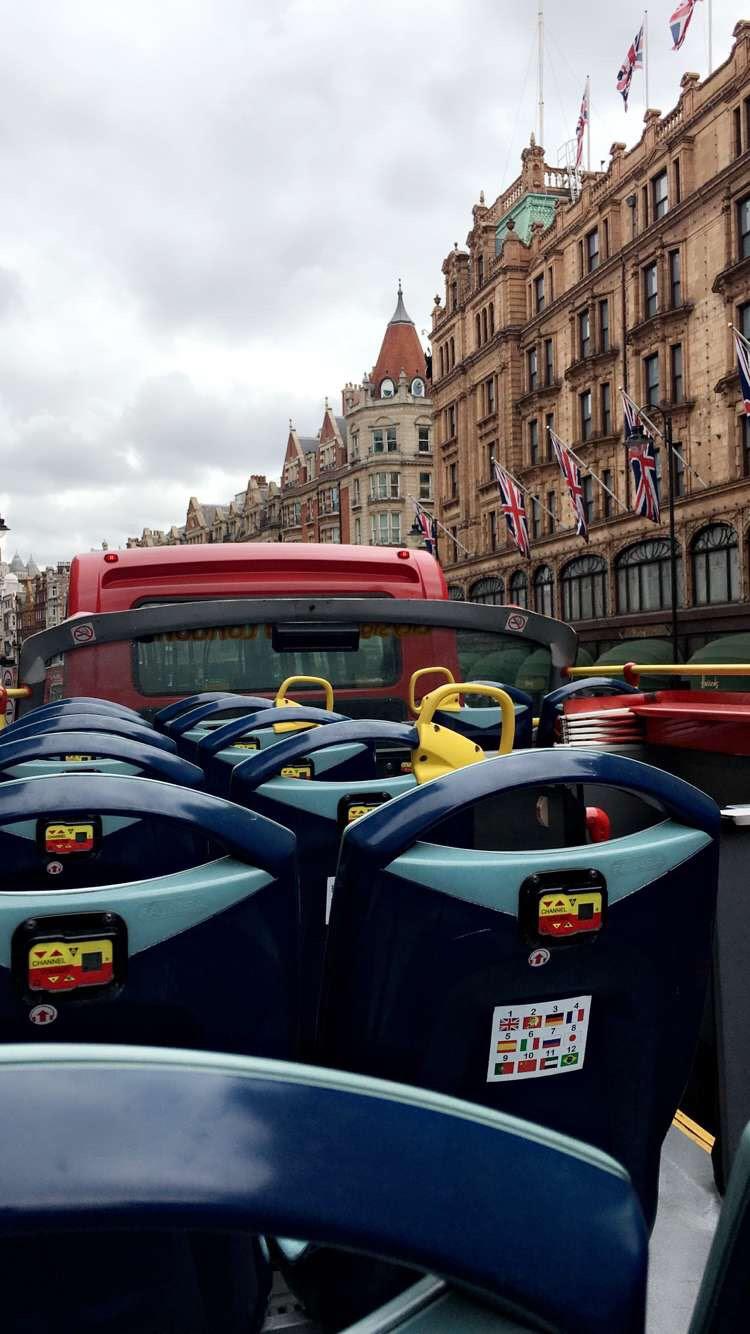 What To See
You MUST stop and see Big Ben and Parliament. The structures are absolutely magnificent!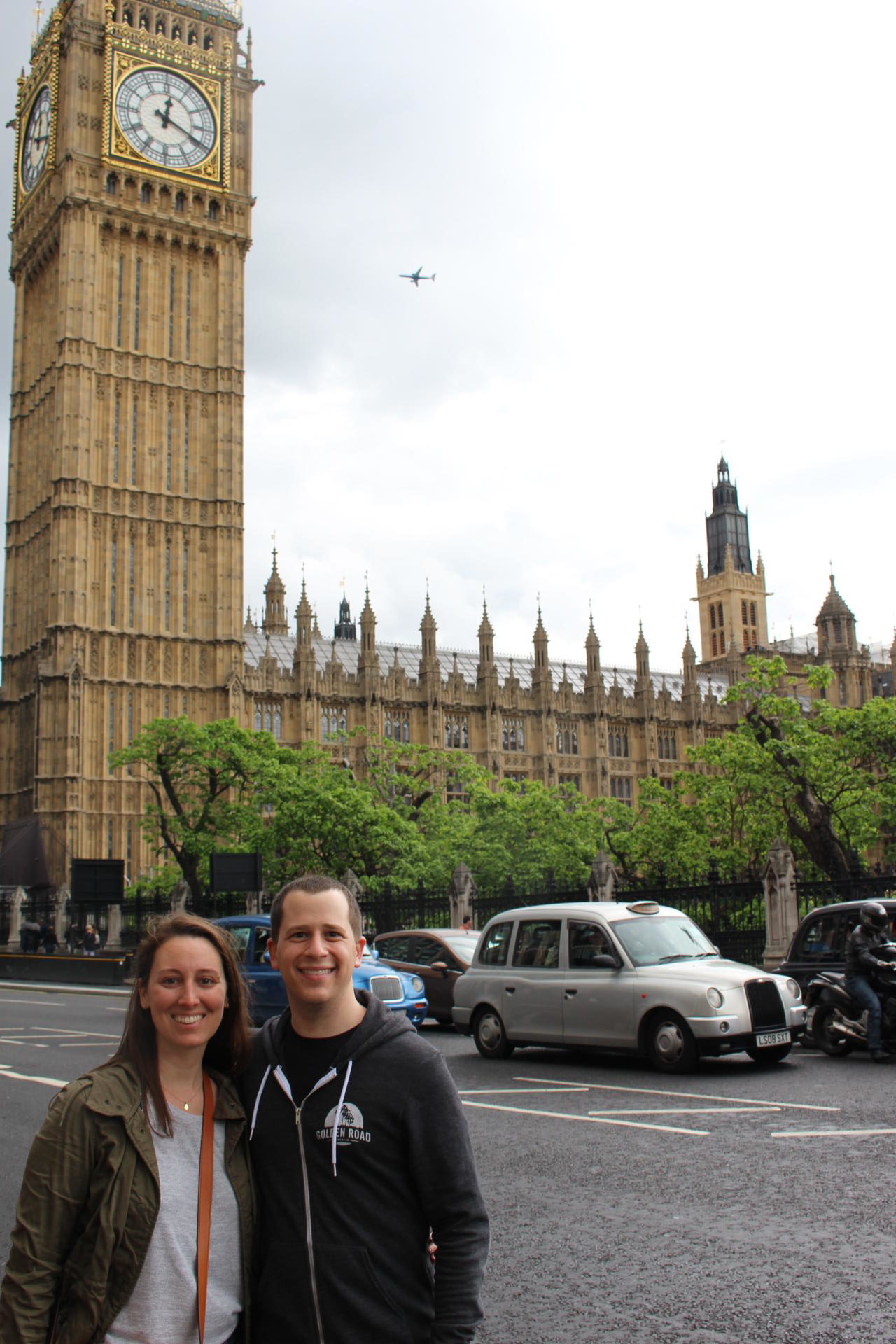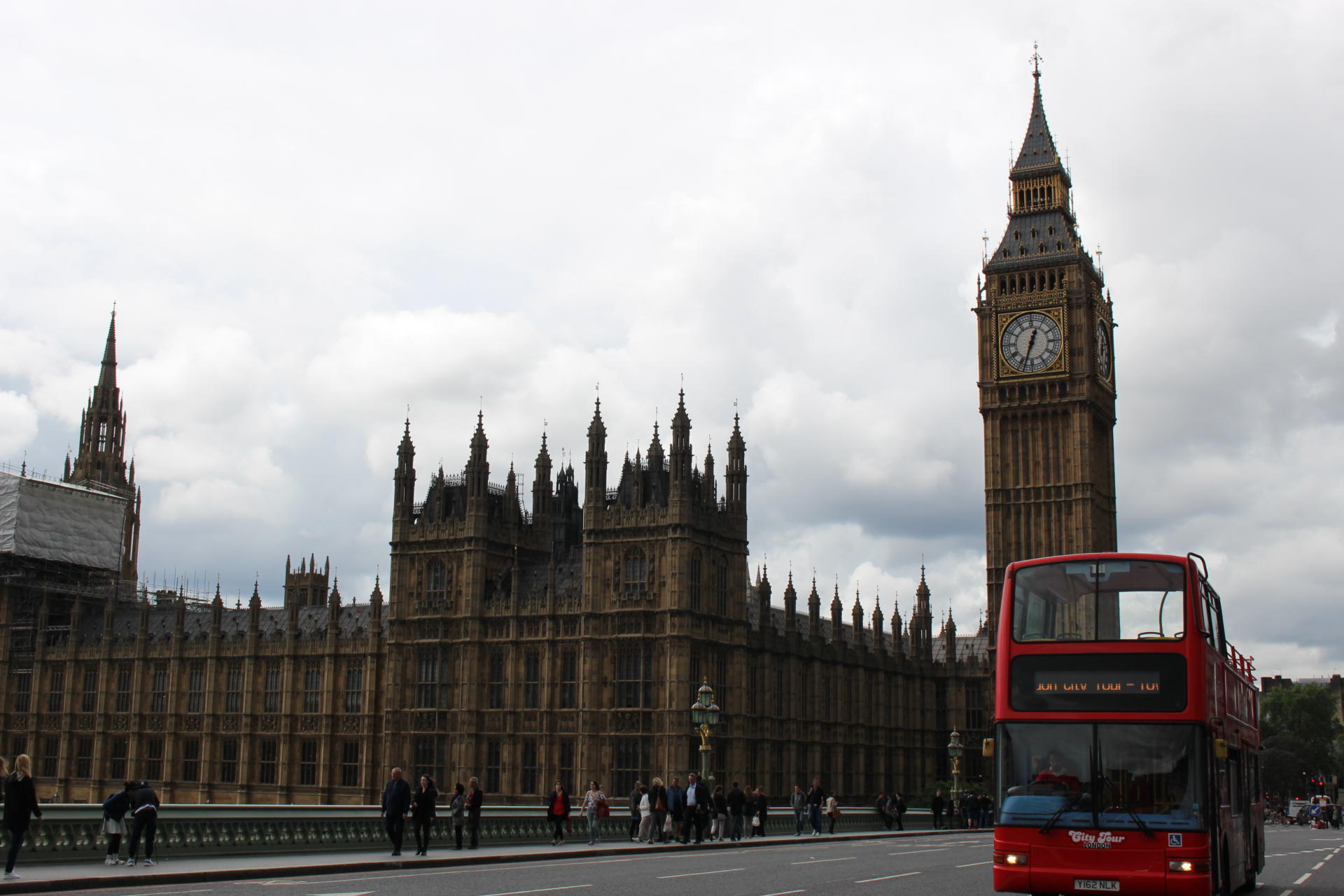 A mini version of Times Square. Sorry London. Not even close. Still fun to walk through at any time of day or night.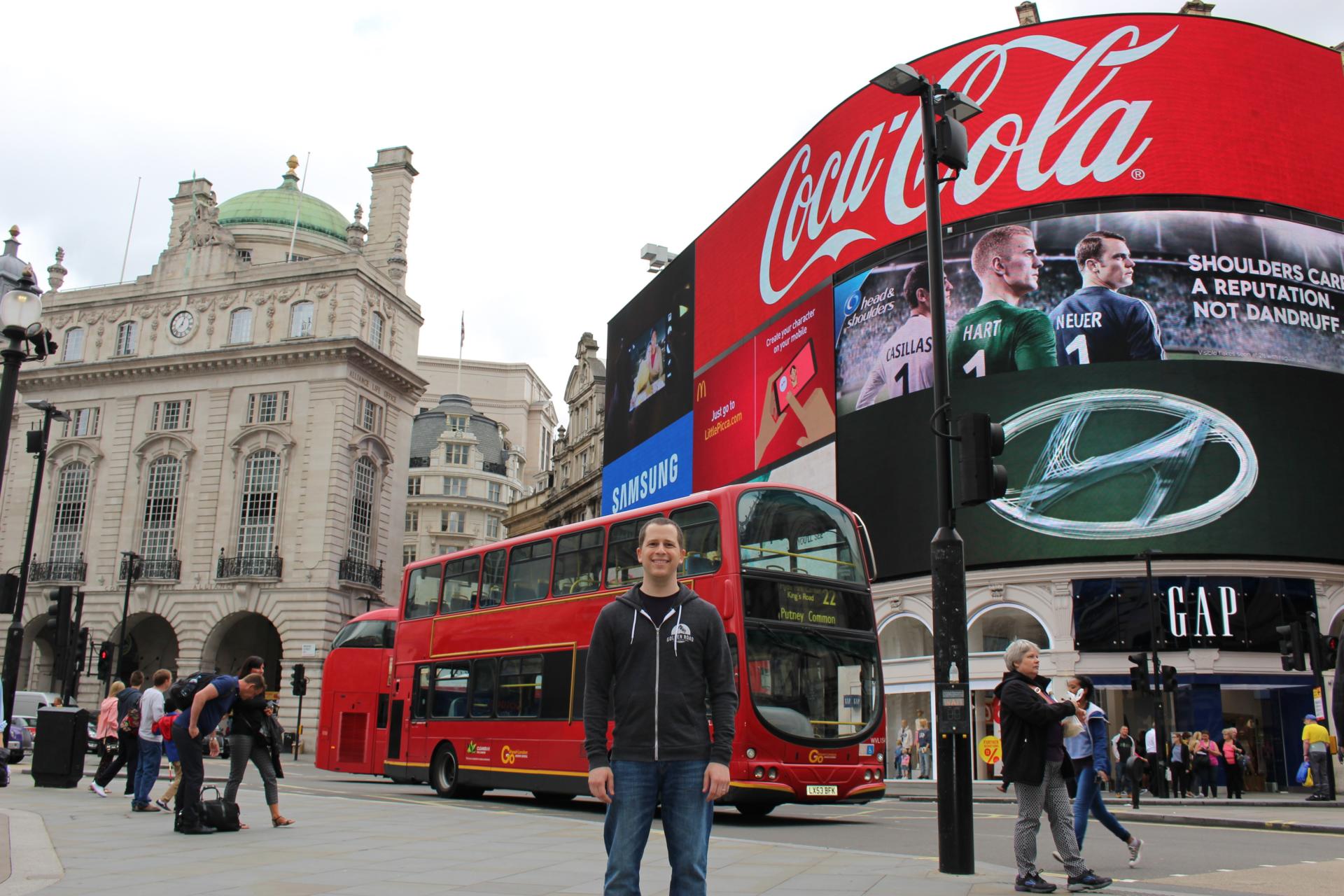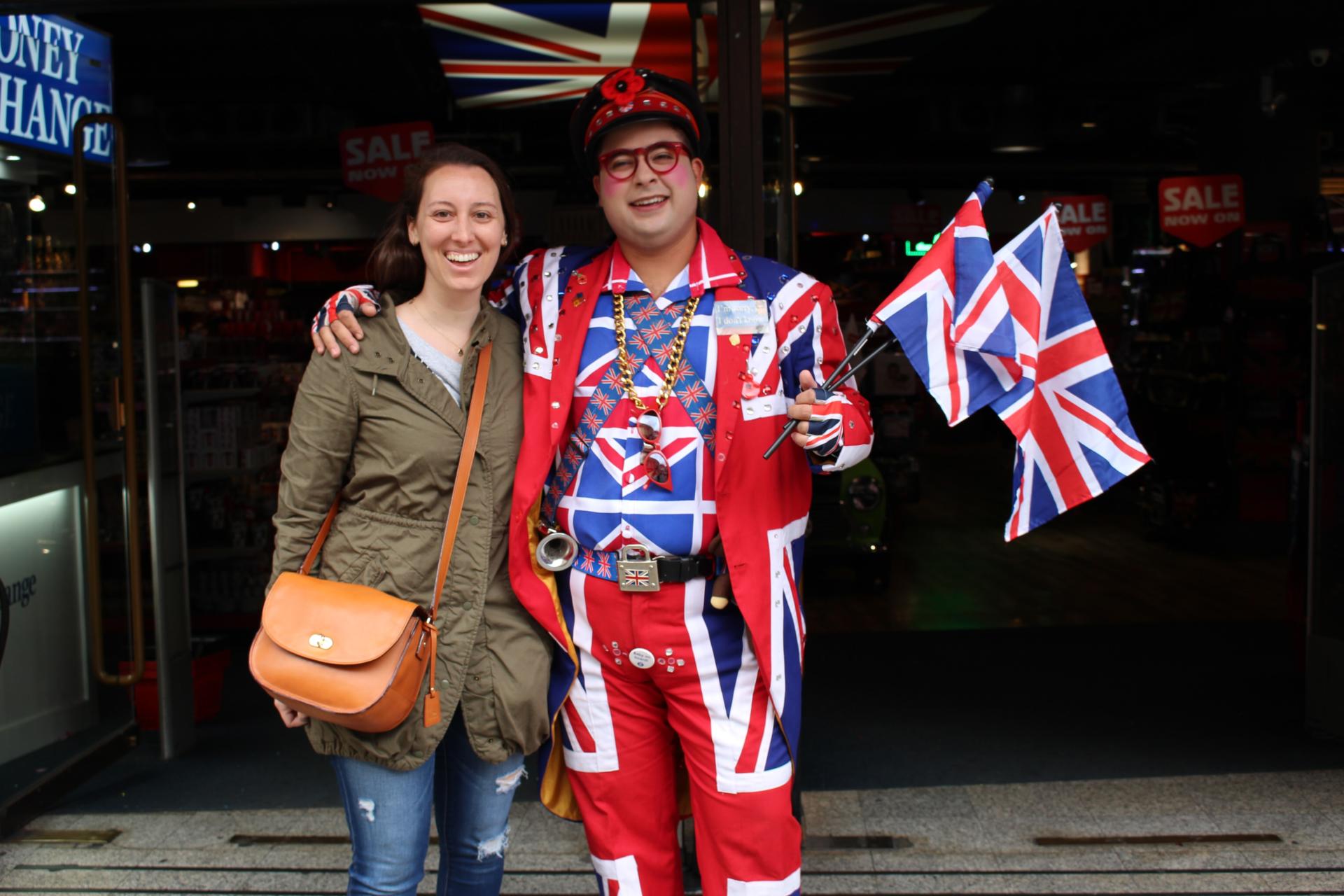 Jacket: J.Crew (old, similar HERE and HERE), Bag: Lo & Sons, Jeans: Old Navy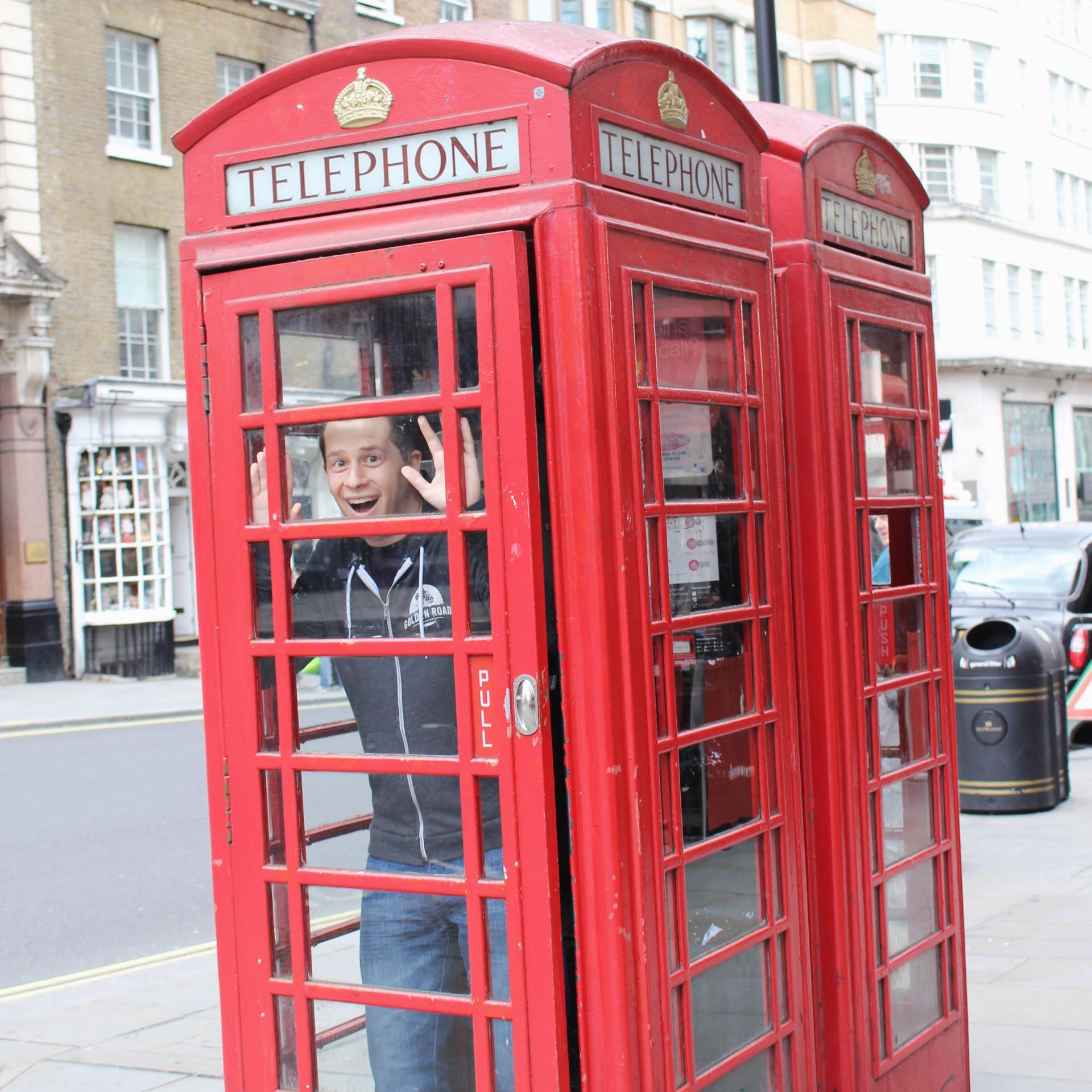 The home to Nelsons Column, a large fountain, one of the greatest museums in London, the National Gallery, as well as many open concerts. There are also some very cool lion statues.
I wish I could have convinced E to get on the London Eye. He is not a fan of heights. I didn't want to traumatize him. I remember the spectacular views you see when at the top of the London Eye, from my time studying abroad. If you are in London and are not afraid of heights, I HIGHLY recommend it. Buy advance tickets though. Nobody likes standing in line.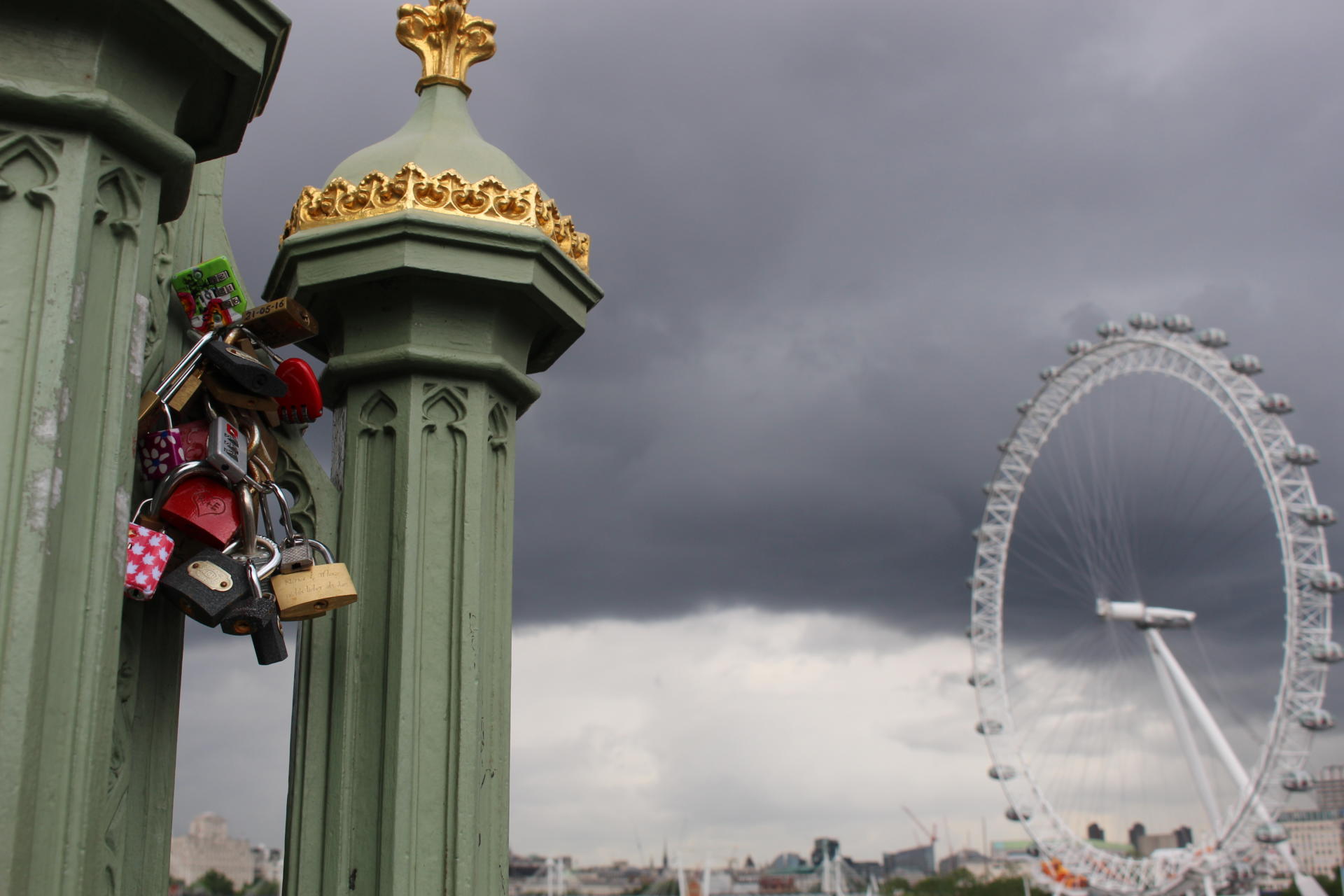 Love Locks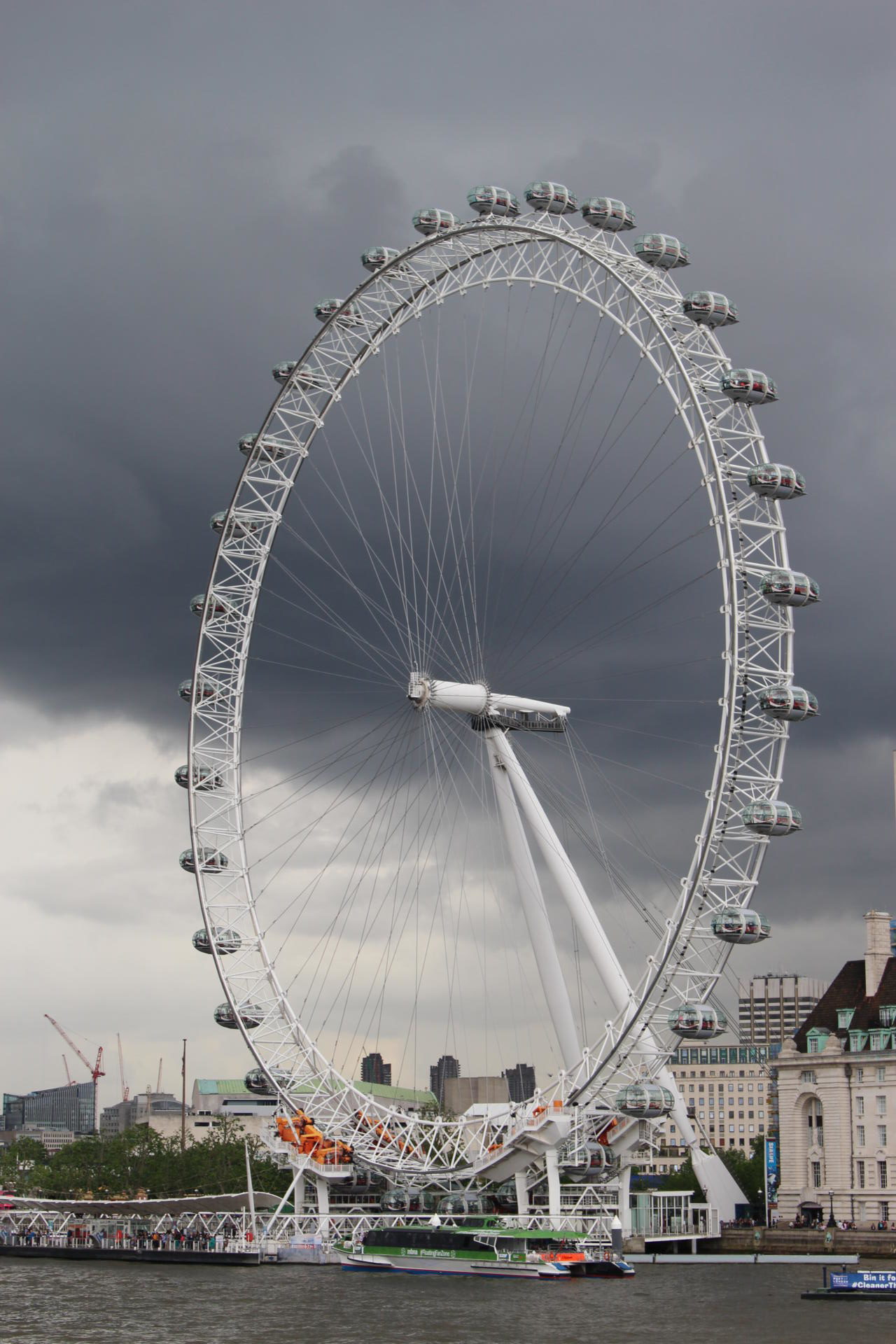 Another Gloomy Day in London
Tottenham Court Road, Oxford Street and The Court
When I studied abroad I spent HOURS on Tottenham Court Road and Oxford Street. ALL OF THE SHOPPING.
When we weren't shopping, we were drinking pints of beer at The Court. It was our local pub. Where everyone knew my name! We only had time for a quick walk by this trip. Next time, I am getting E a pint at my favorite local pub!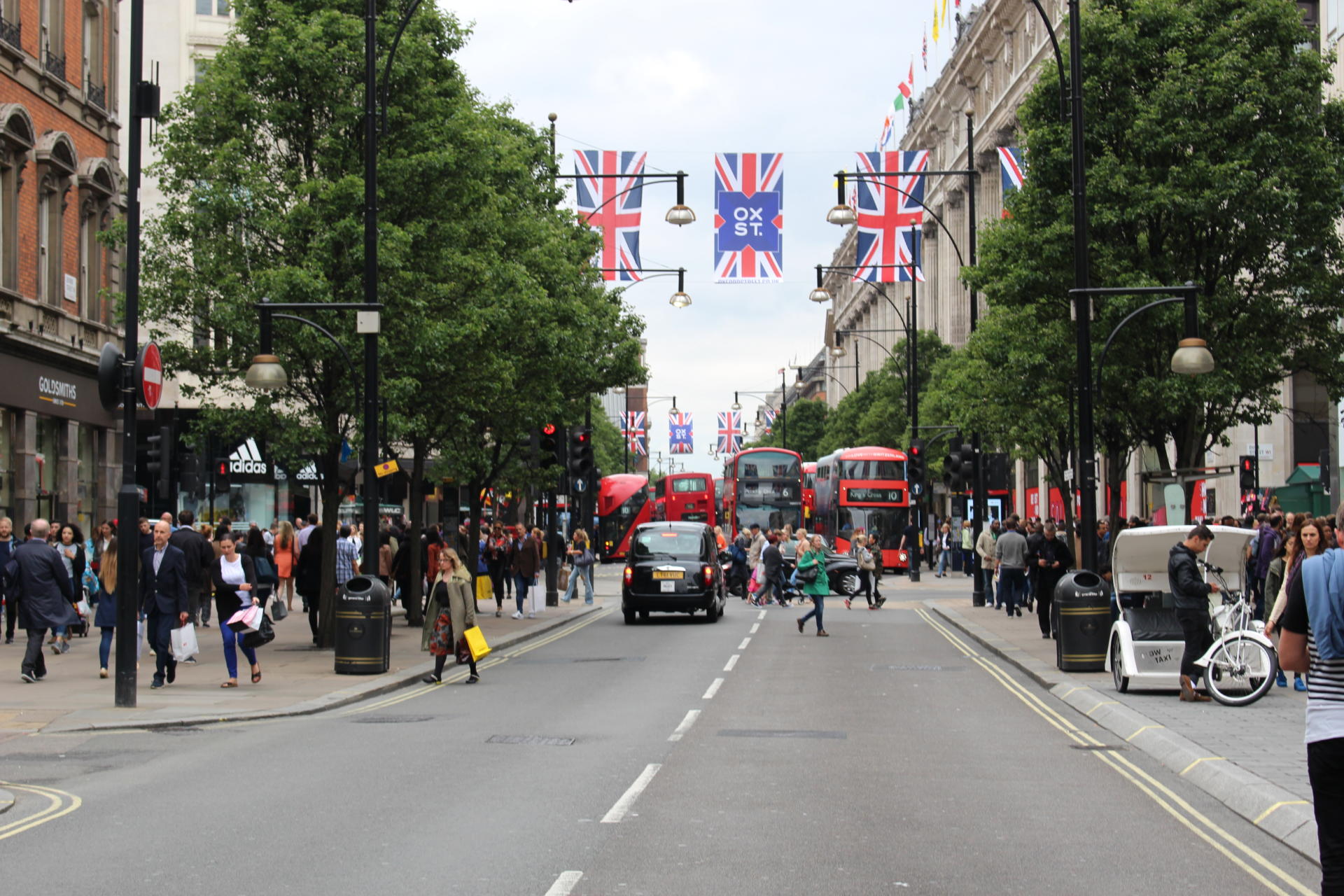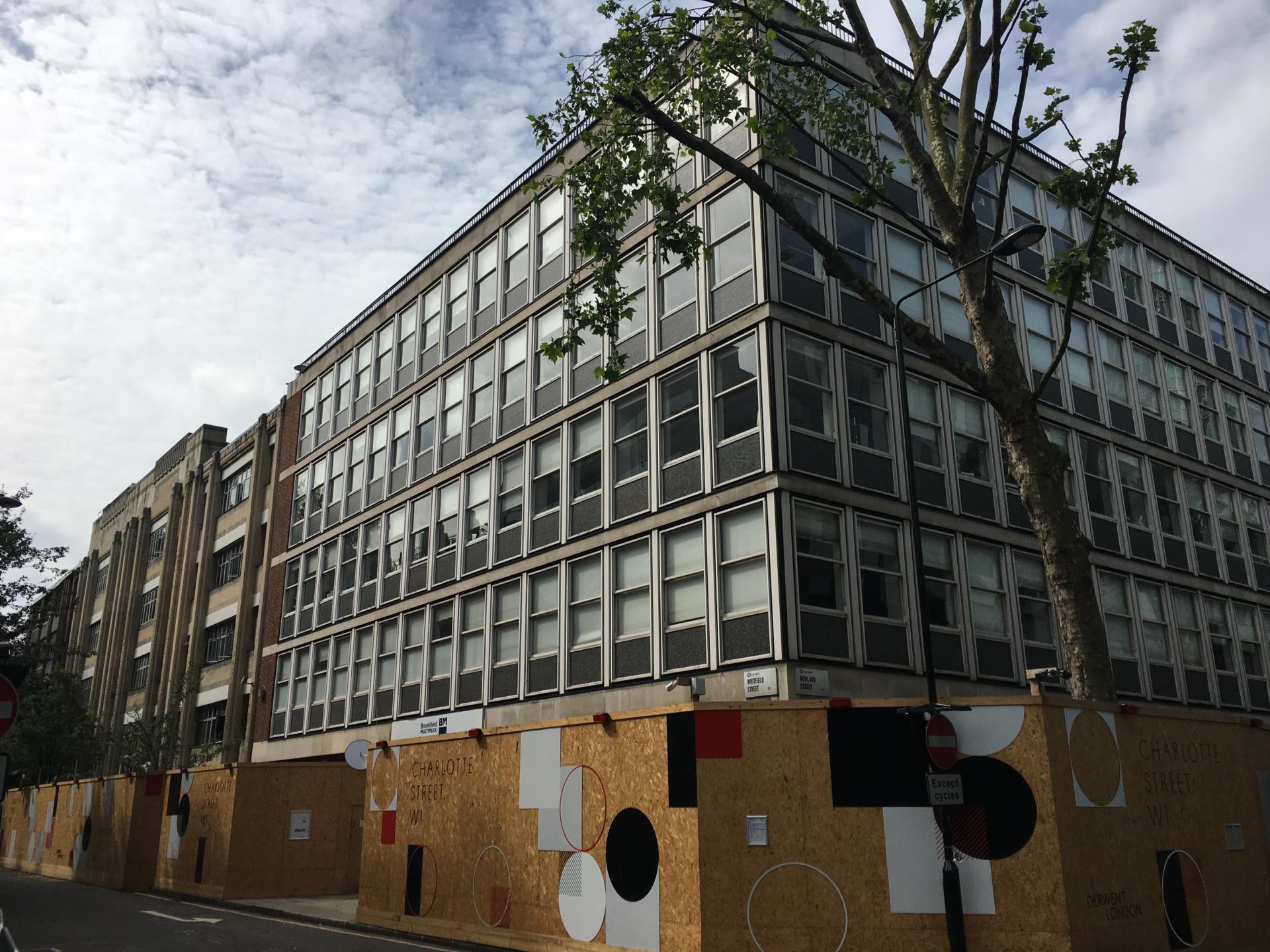 My Old Dorm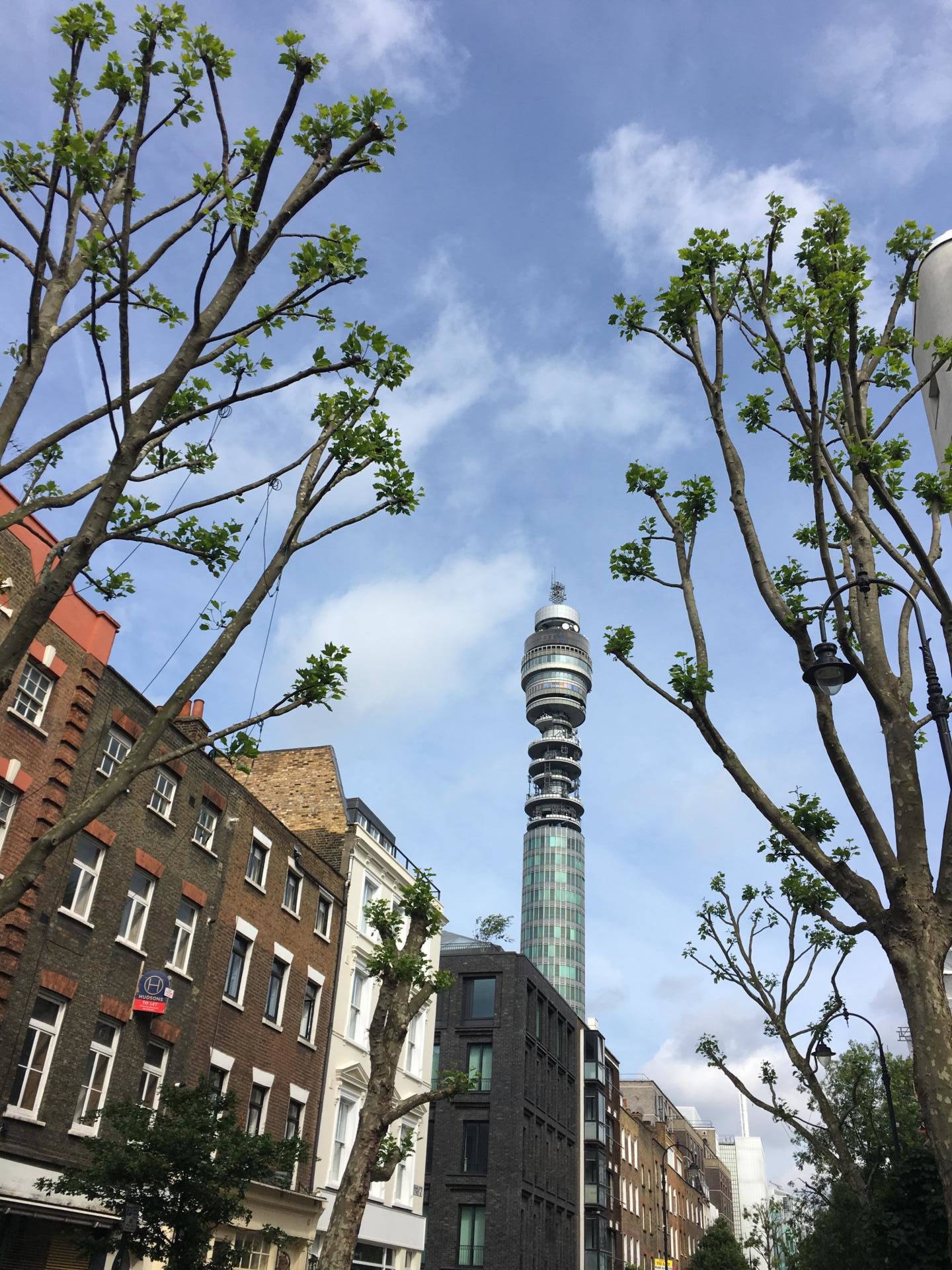 BT Tower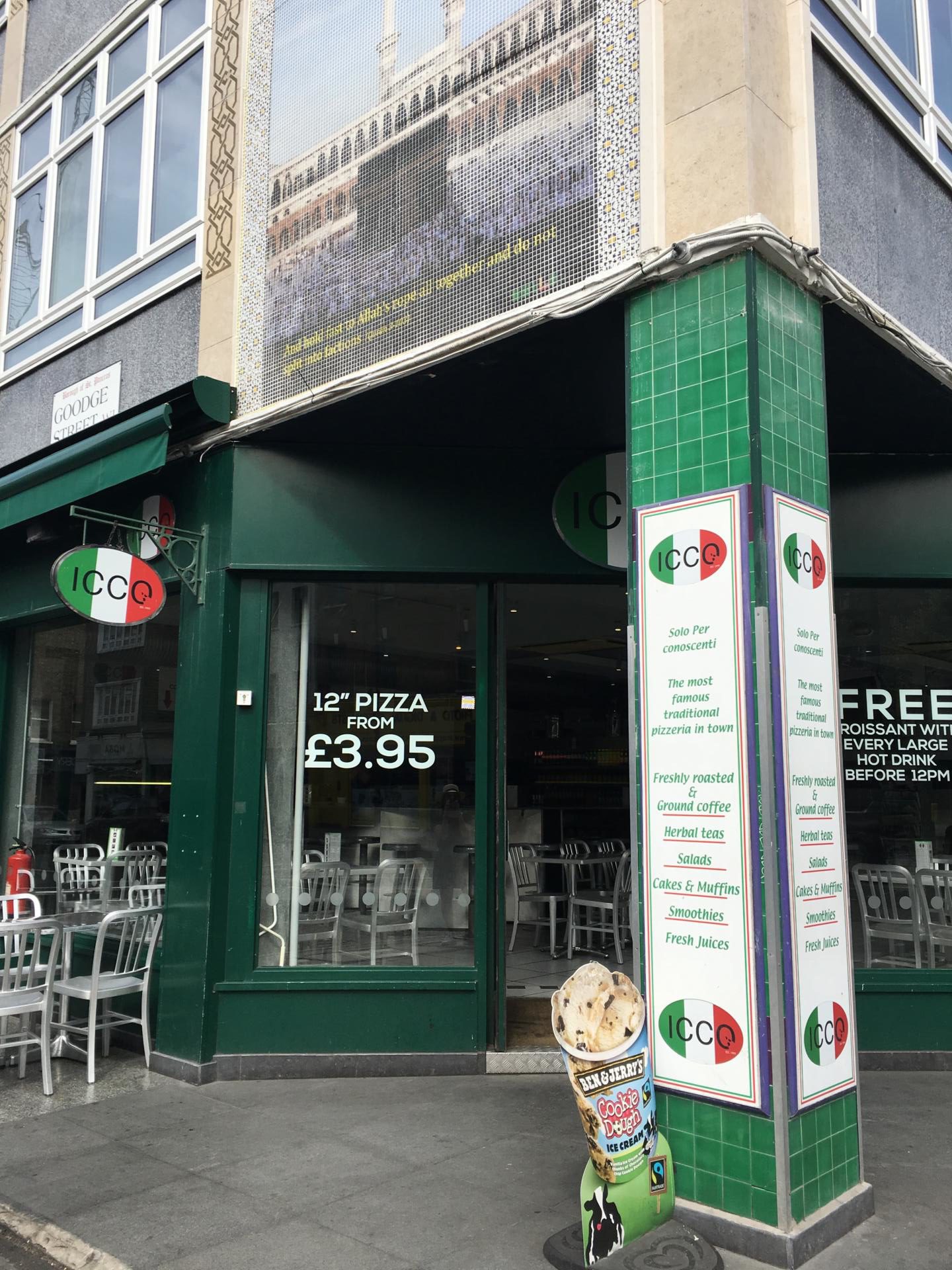 My Old Favorite Cheap Pizza Joint
The Court – Where Everyone Knew My Name
Your chance to see the Queen, Prince William and Kate (aka The Duke and Duchess of Cambridge) and Prince Harry! When my mother and I visited London back in 2004 we actually did see the Queen!
Buckingham Palace is beautiful. E was a little surprised by how "small" it looked. I think he was just comparing it to the White House which, from the front, is a very imposing structure. We were in town just after the Queen's birthday celebrations, so the Palace and the surrounding areas were still all done up with decorations. We also got a kick out of the guards. How can they stand so still?!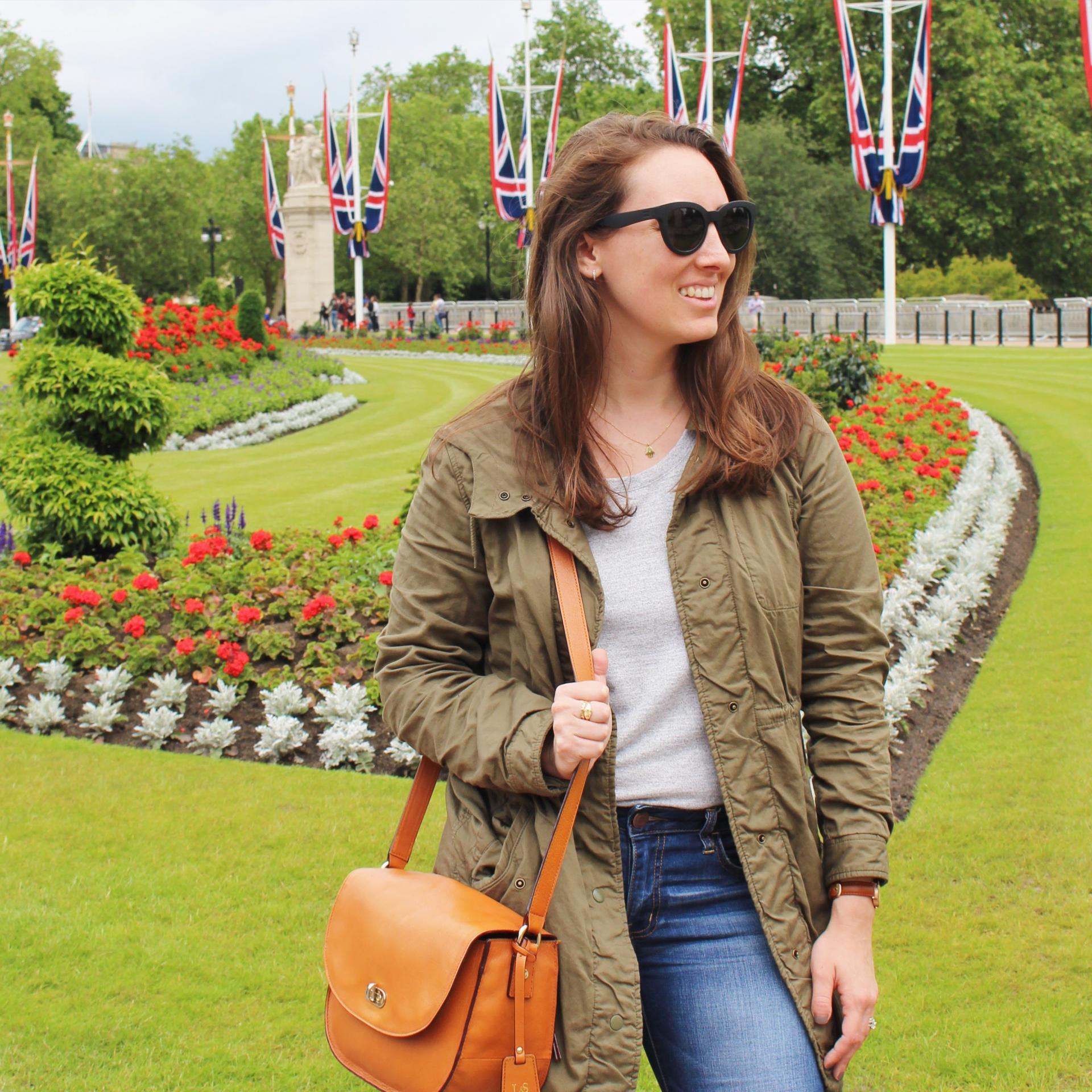 Jacket: J.Crew (old, similar HERE and HERE), Top: J.Crew (old, similar HERE), Bag: Lo & Sons, Jeans: Old Navy, Watch: Freedom to Exist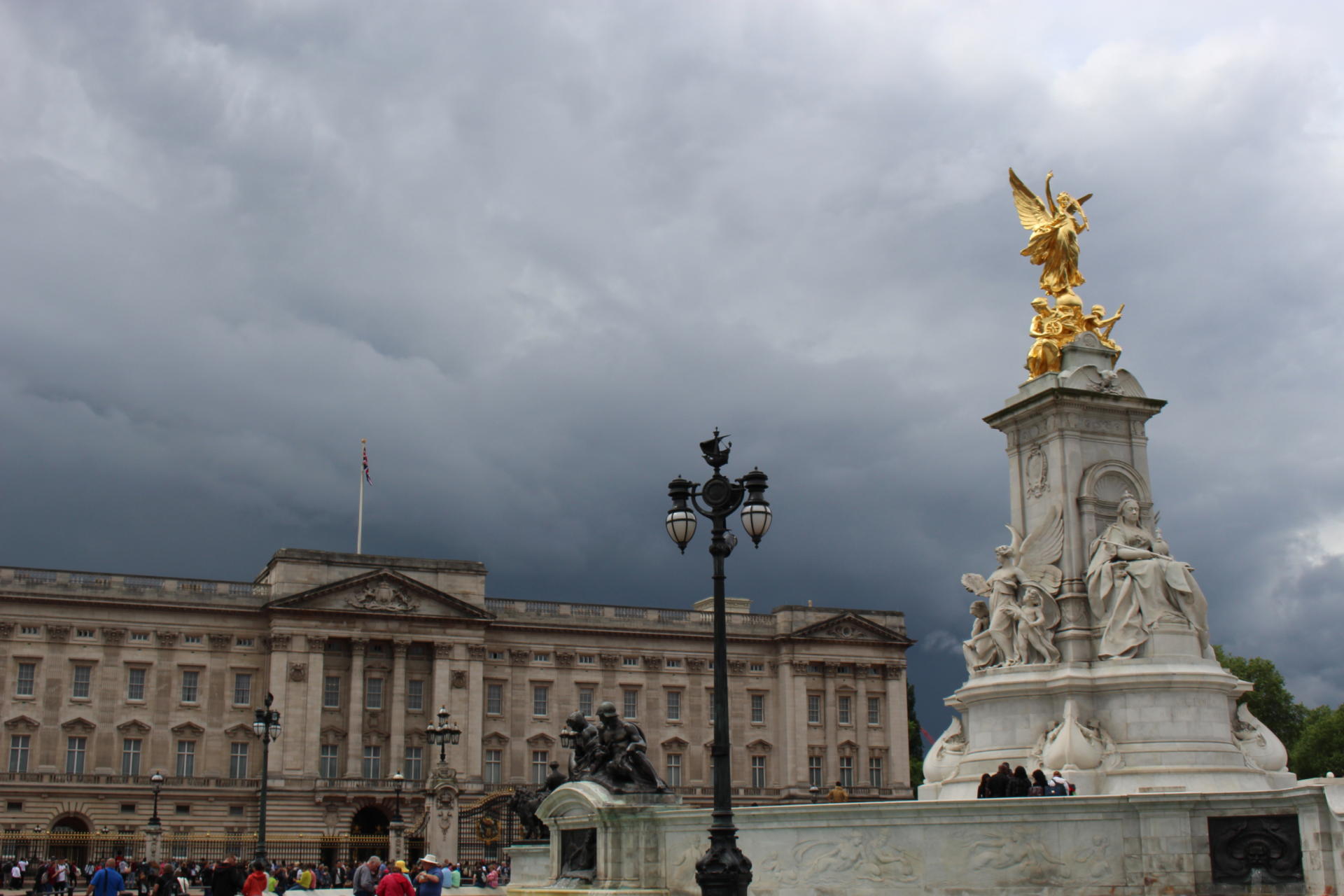 Dark Clouds Over Buckingham Palace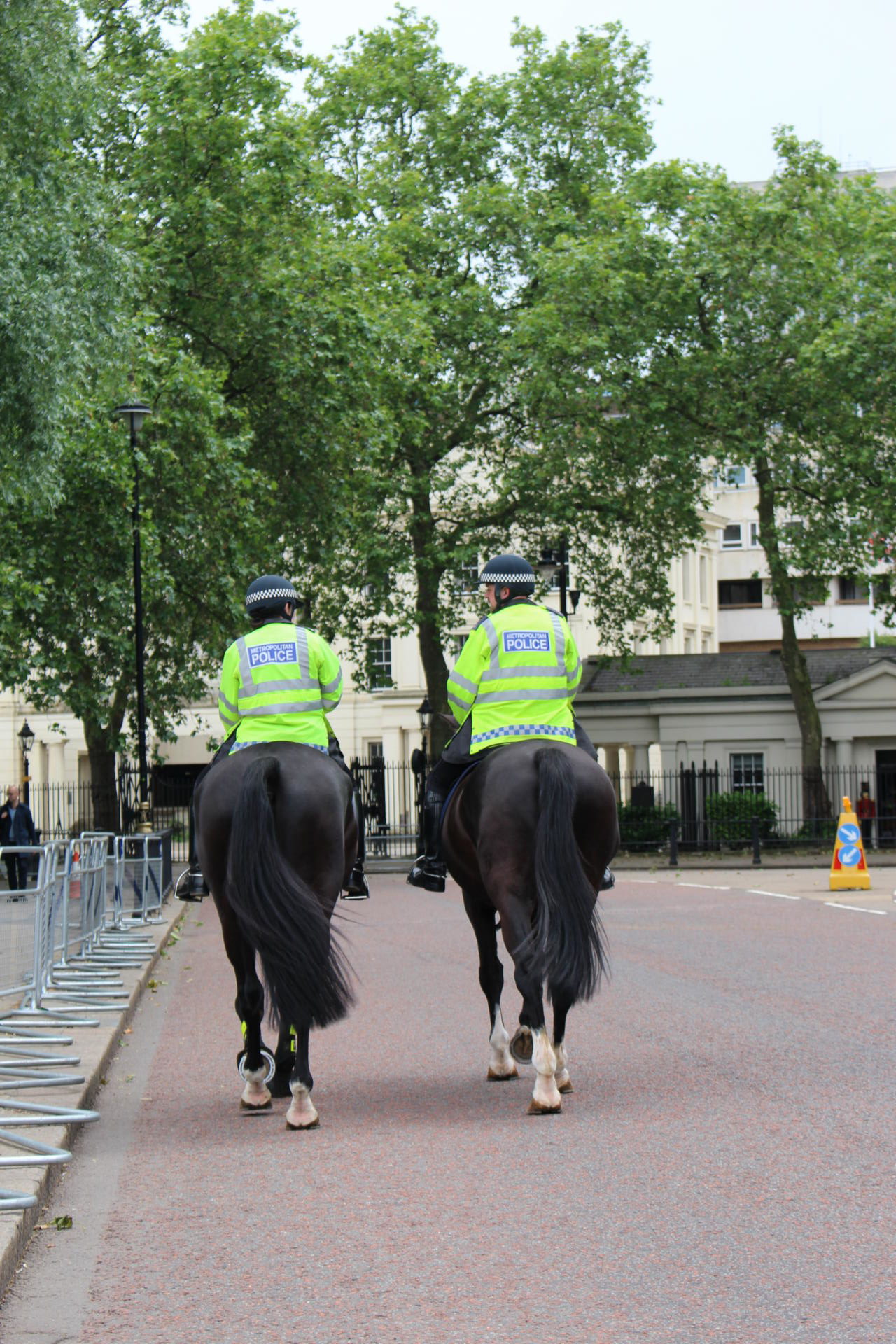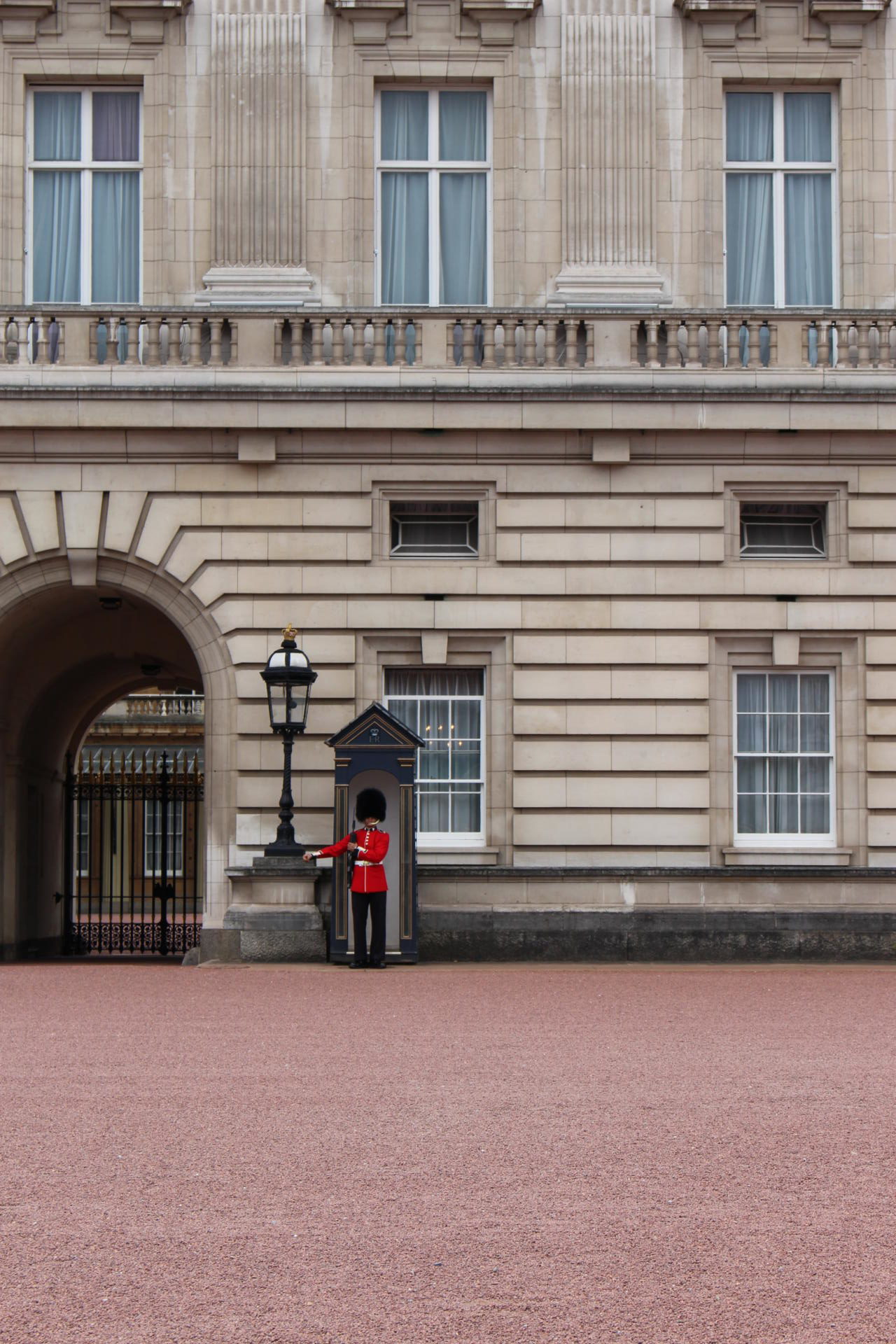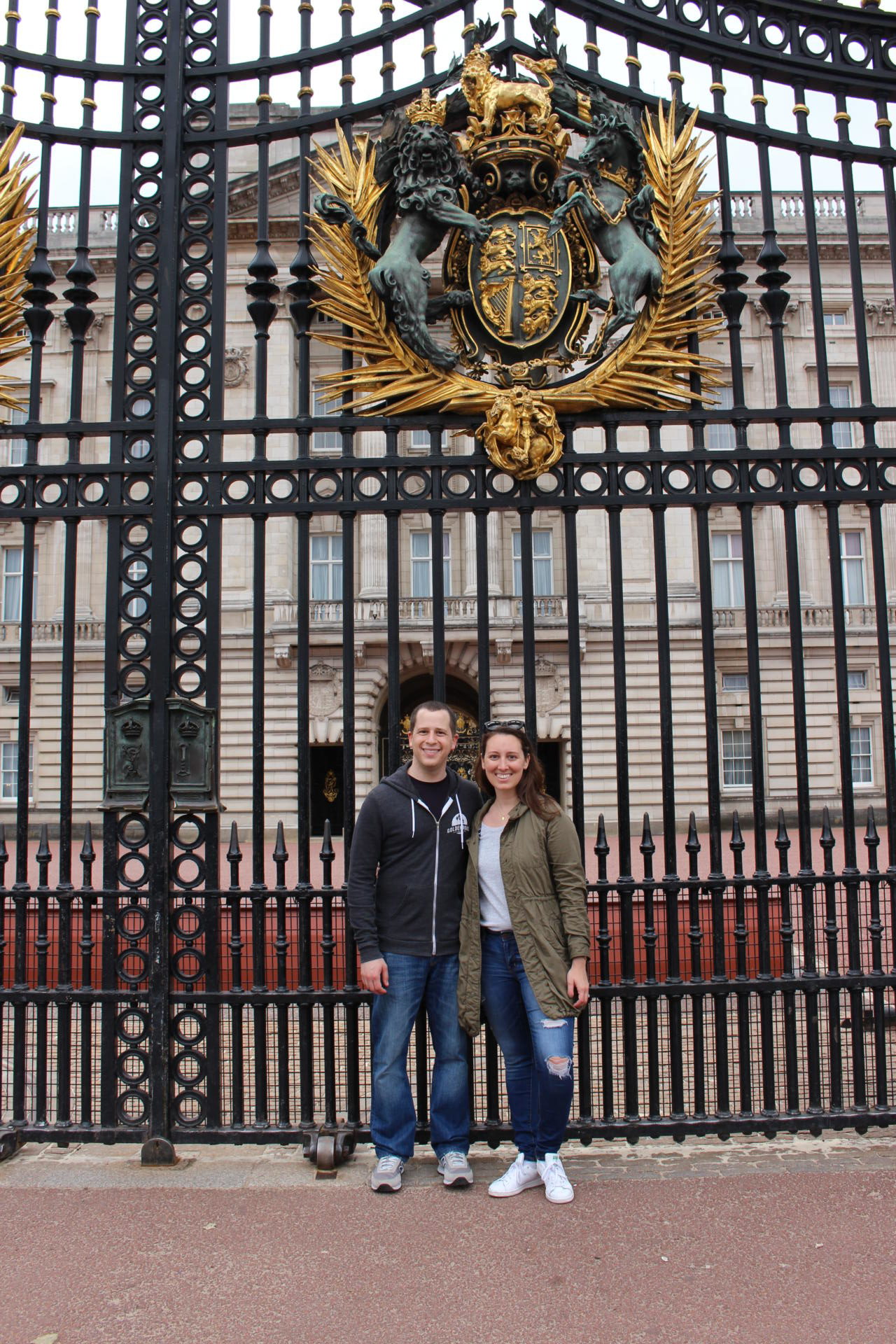 London has a GREAT theater scene. Many shows debut in London and then make their way to Broadway. E isn't into musicals, so I selected The Spoils. E is a big fan of Kunal Nayyar from The Big Bang Theory
. The Spoils is "the razor-sharp new comedy written by and starring…Jesse Eisenberg." The show stars Jesse, Kunal Nayyar, Alfie Allen, Katie Brayben, and Annapurna Sriram. The show centers around Jesse's character, Ben, who seems intent on spoiling everything that's good around him. We loved it!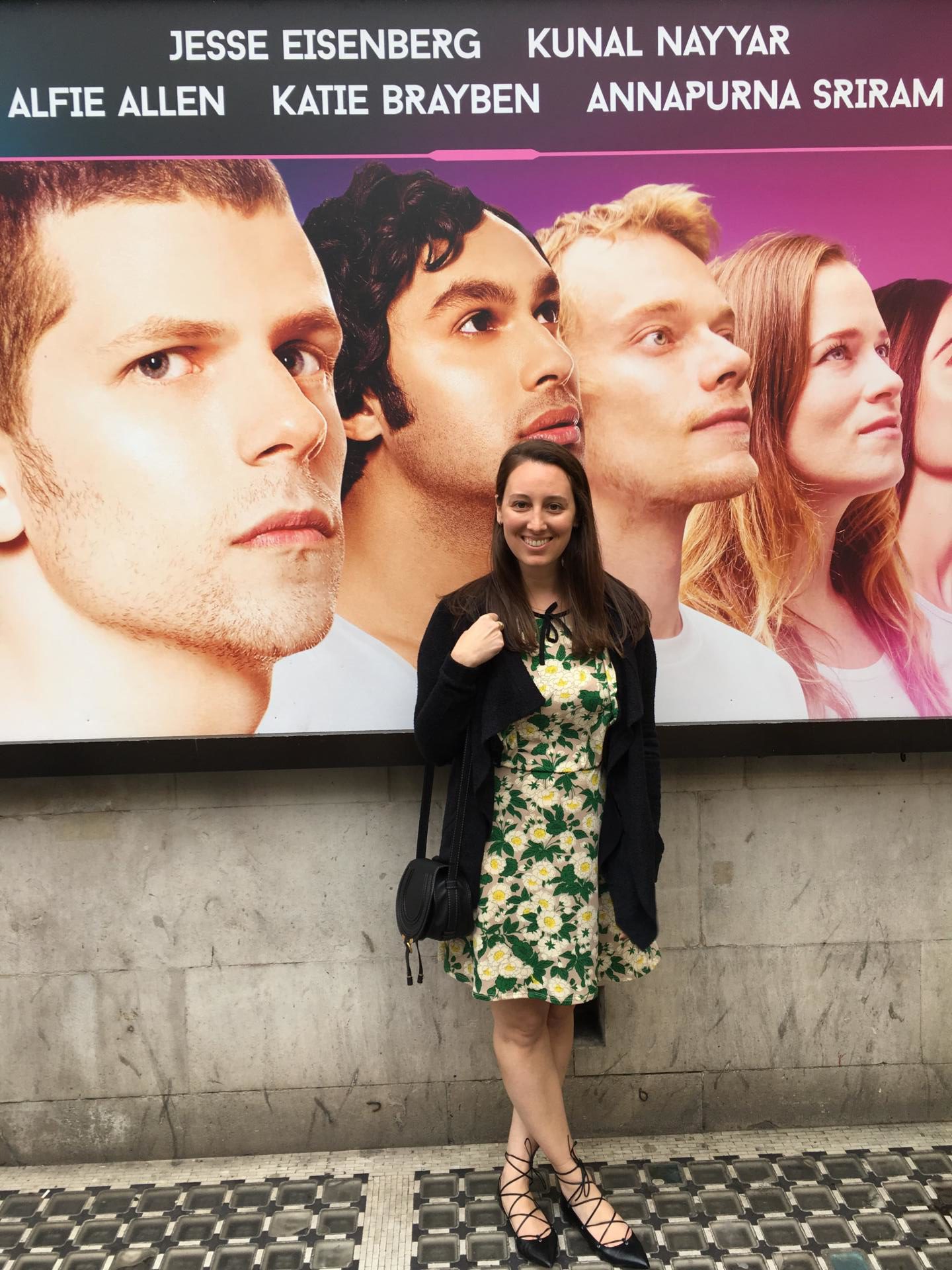 Dress: Asos, Sweater: Barefoot Dreams, Shoes: J.Crew, Bag: Chloe
Where To Eat and Drink
If you haven't heard of Chef Yotam Ottolenghi by now, you must be living under a rock. He has had several WILDLY successful cookbooks called Ottolenghi: The Cookbook, Jerusalem, Plenty, Plenty More, NOPI, and more. Chef Ottolenghi has several restaurant locations in and around London. We ate at the Belgravia location for lunch on our first day, which is located on a cute little street lined with shops. We elected to eat in instead of doing take away.
Every day the menu changes. You can select as few or as many dishes as you want. I elected to order seared tuna  with  sweet chilli, soy and sesame sauce, fresh rainbow beet salad and roasted aubergine with feta yoghurt, pistachios, basil, aleppo chilli and fried mint. ALL OF THE SPICES AND FLAVORS. E ordered the seared beef fillet with horseradish, rocket and wholegrain mustard sour cream sauce and a wild rice salad. Everything was DELICIOUS! We licked our plates clean. As the grand finale we ordered a strawberry and blackberry financier. It was so light! Every bite was better than the next. I wish we had been able to eat here more than once, but there were just so many other restaurants we wanted to visit. So much to eat, so little time! What I will say is that Ottolenghi was one of our favorites.
Chef Ottolenghi, PRETTY PLEASE open a location in New York City! I am begging you!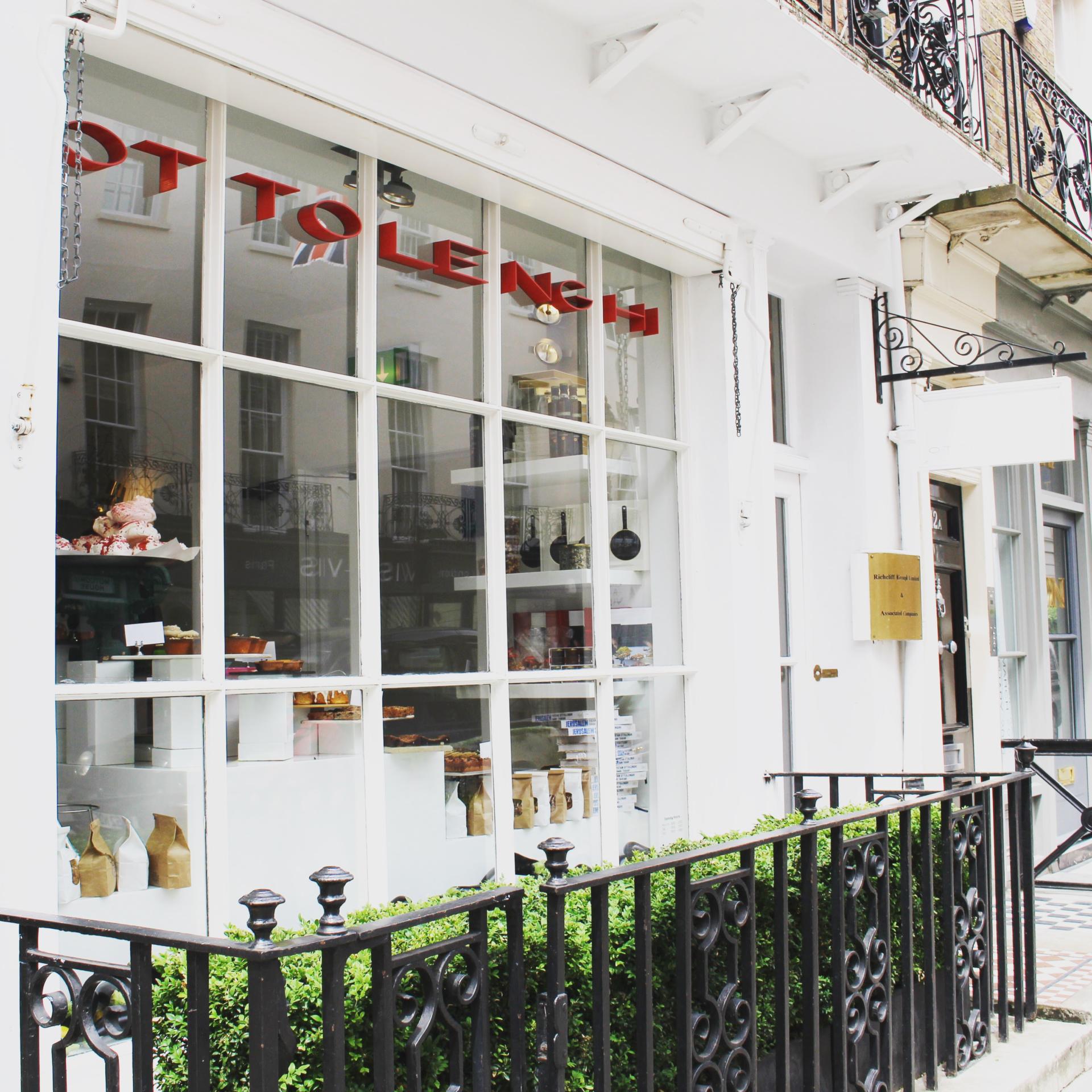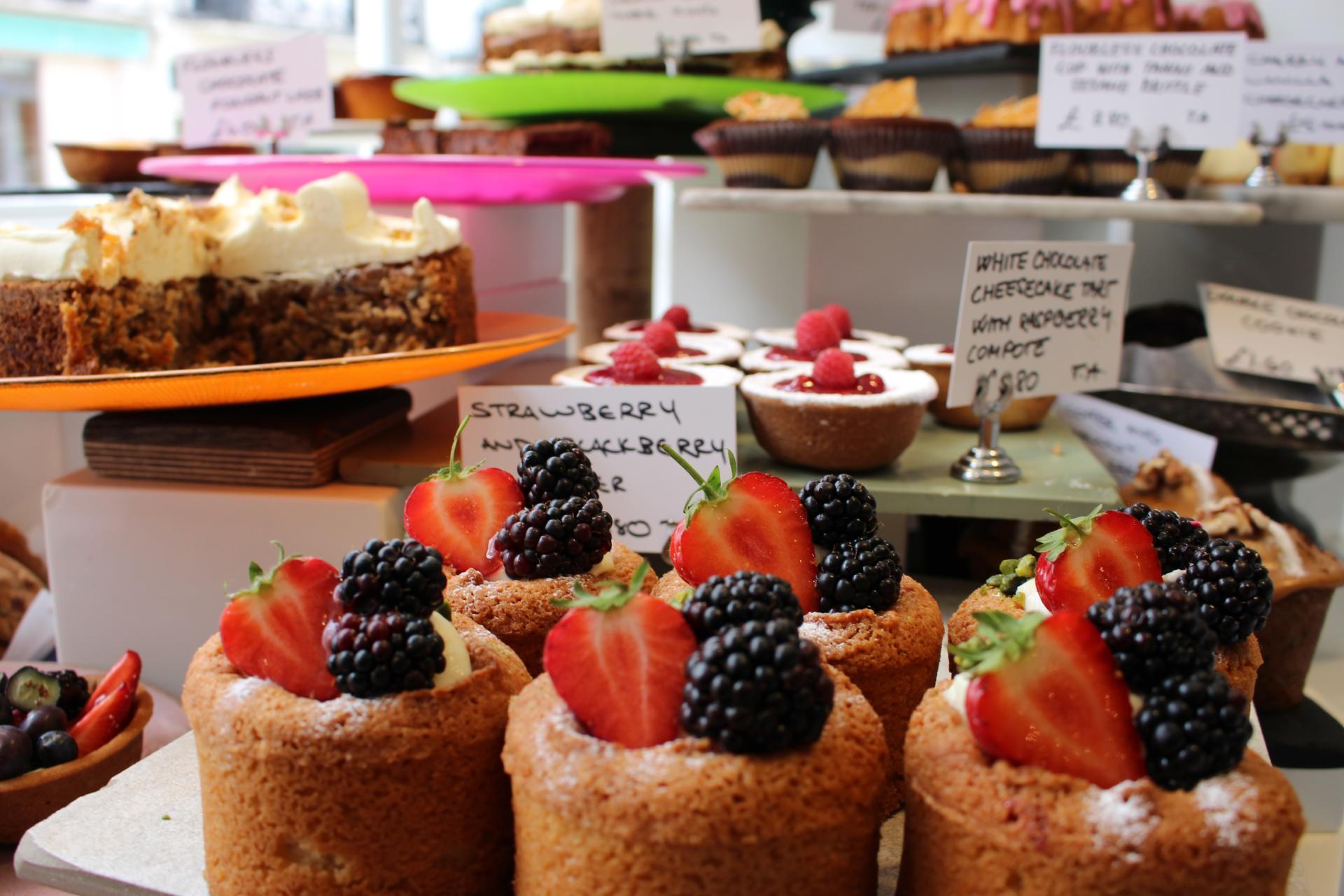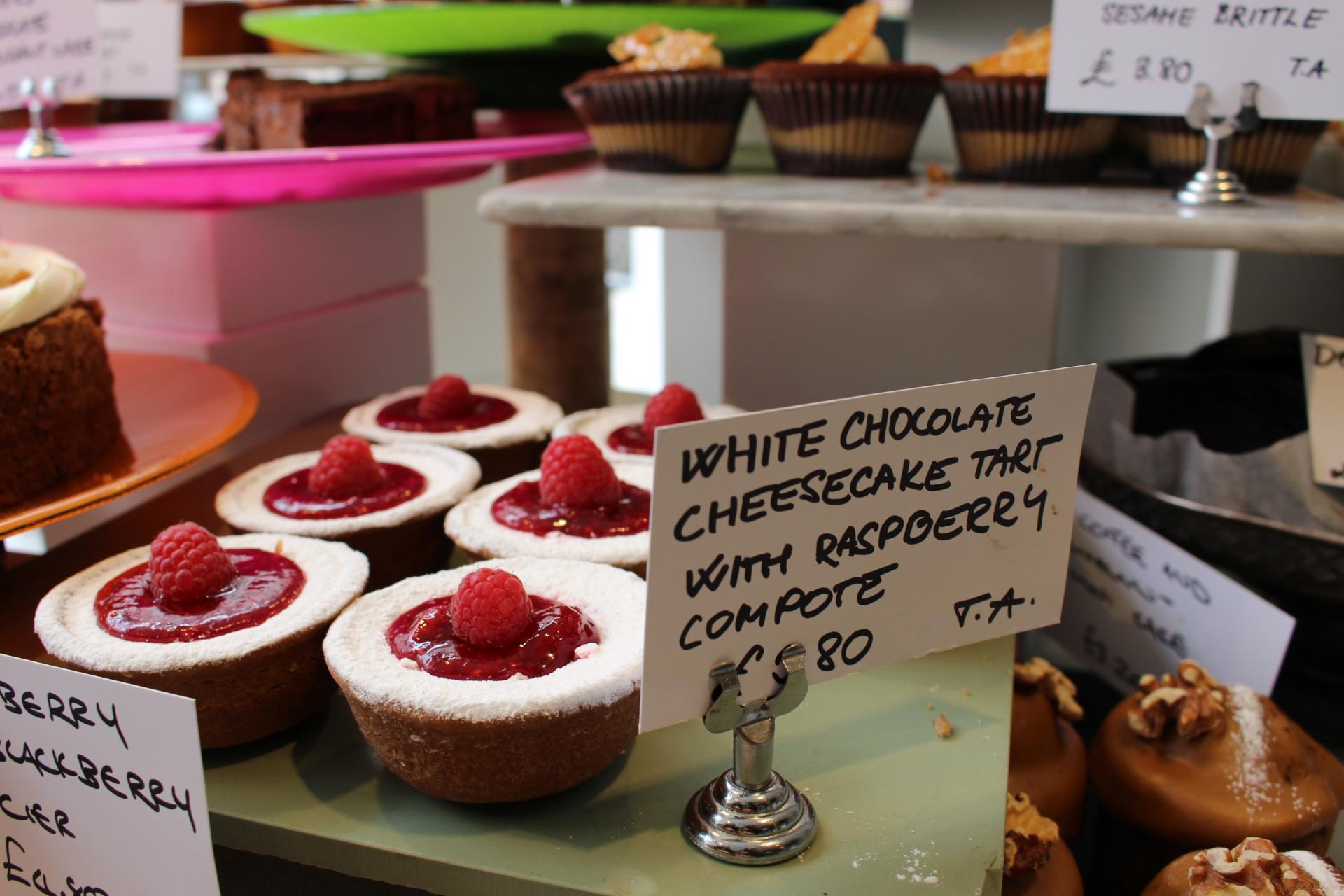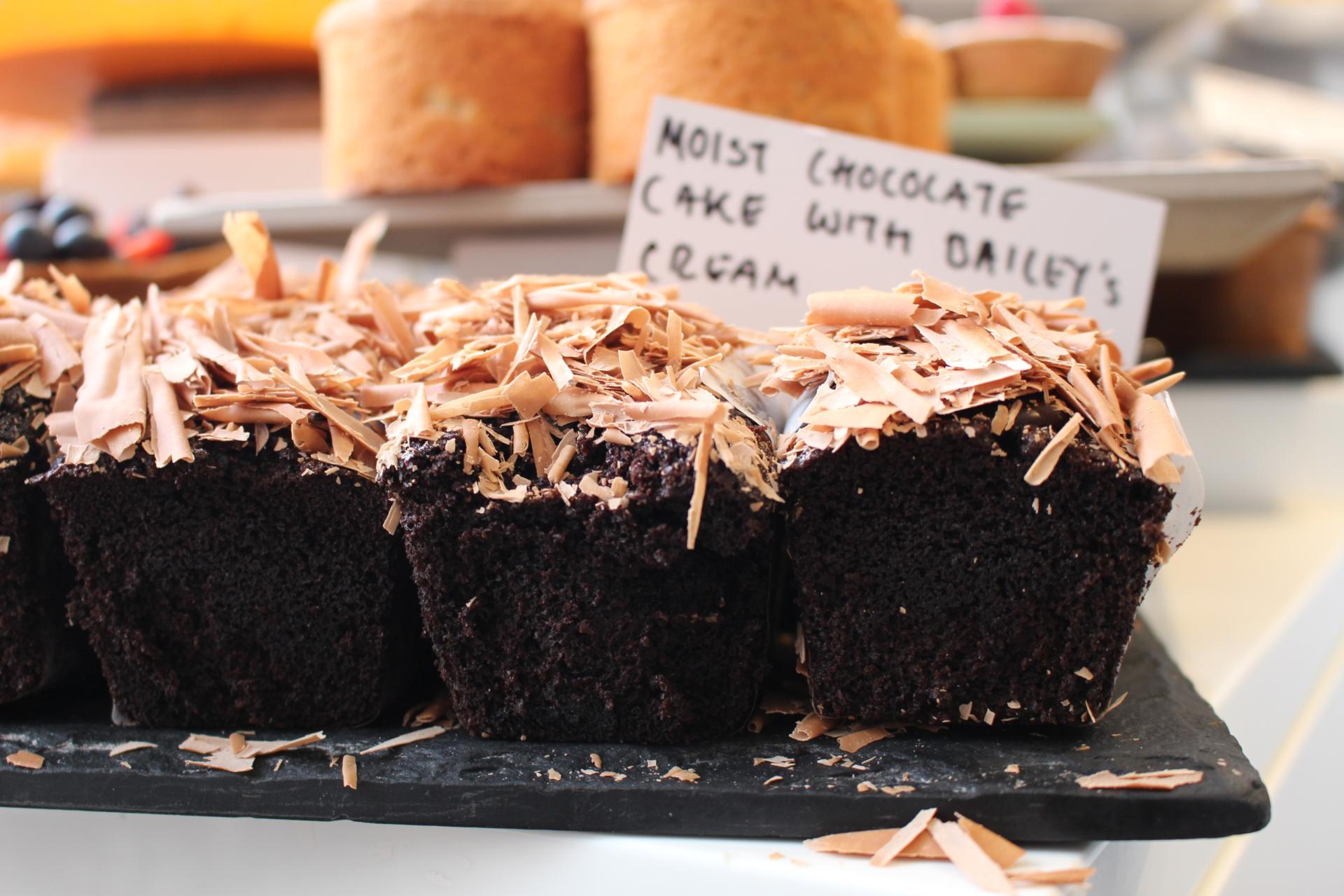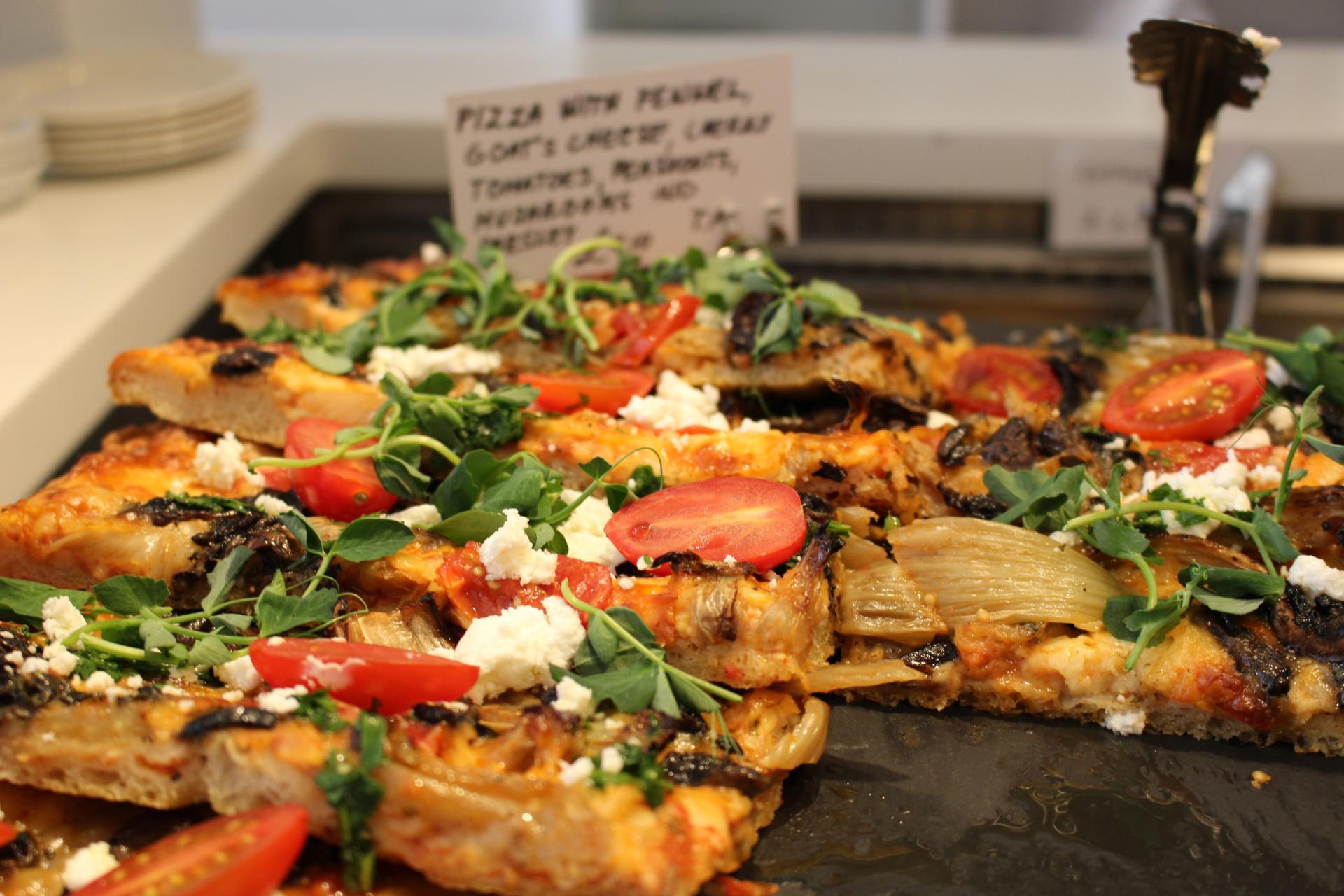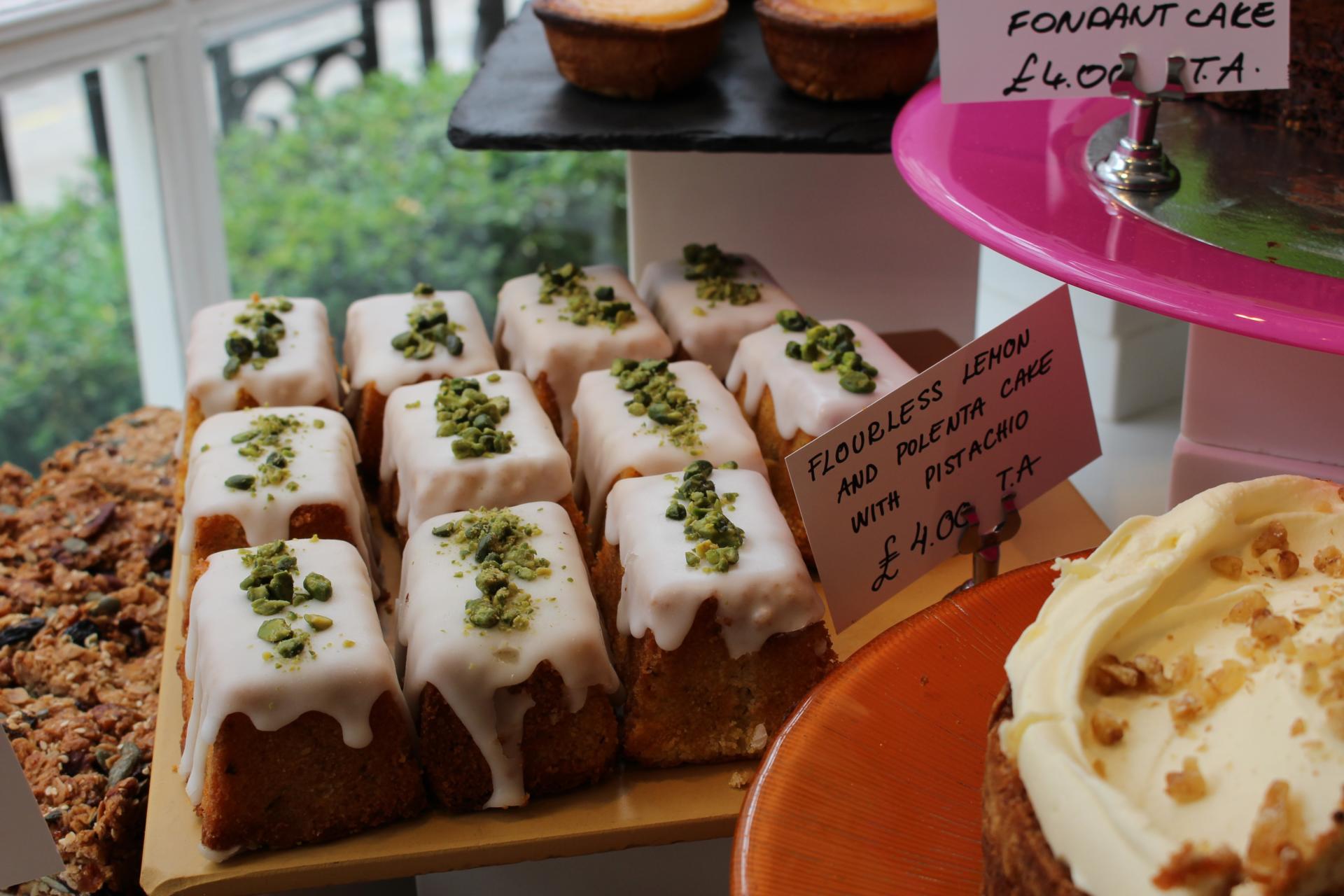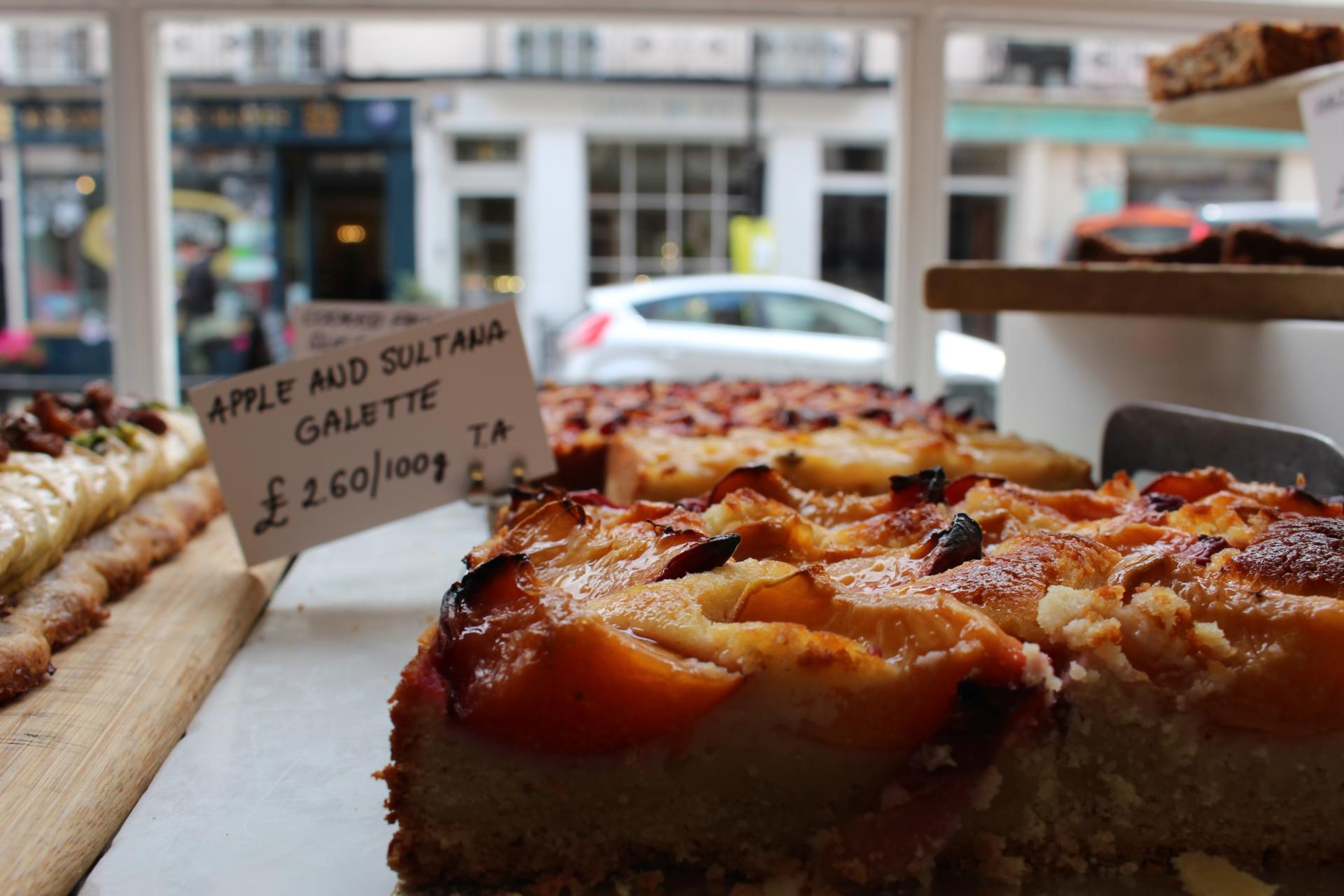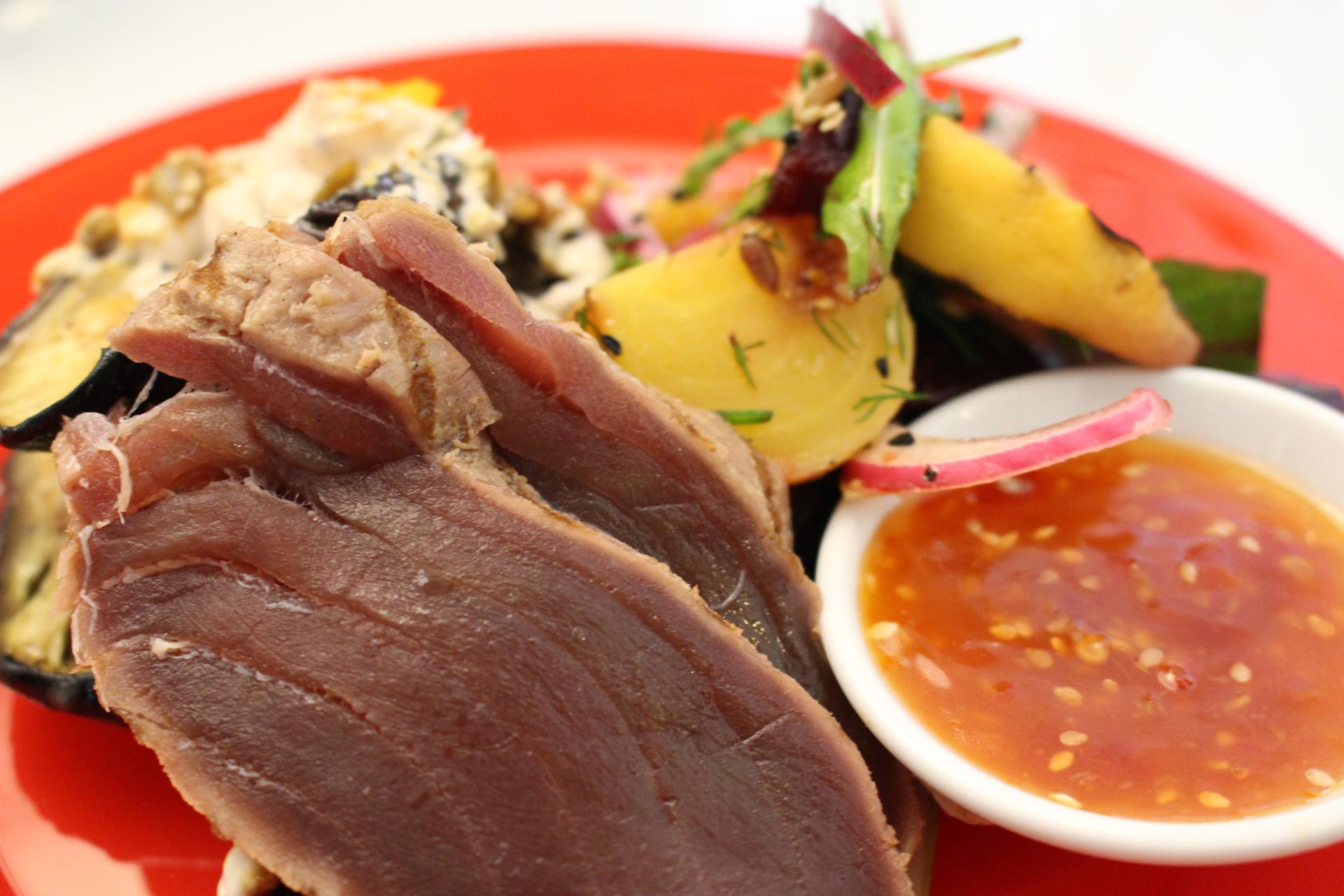 My Lunch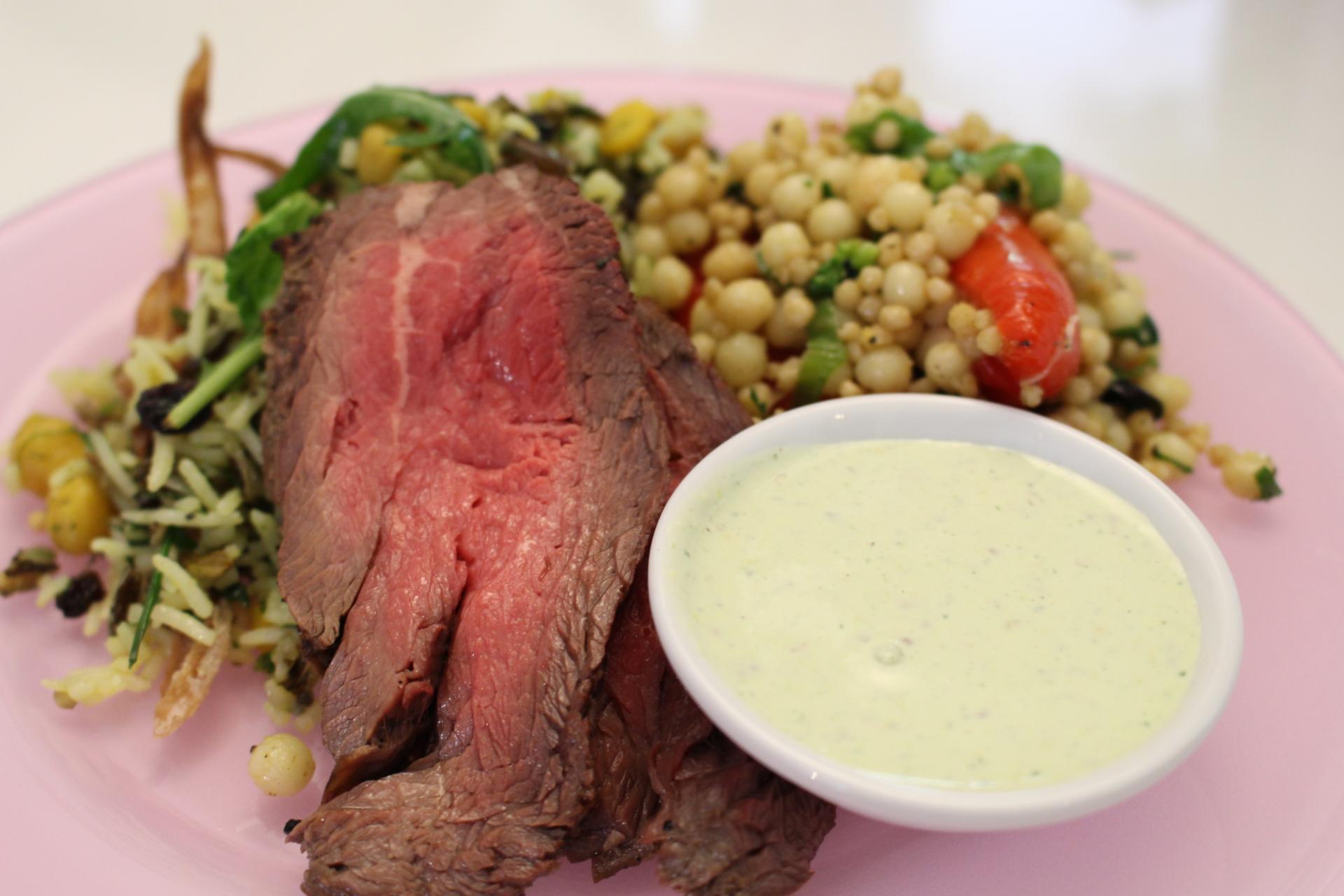 E's Lunch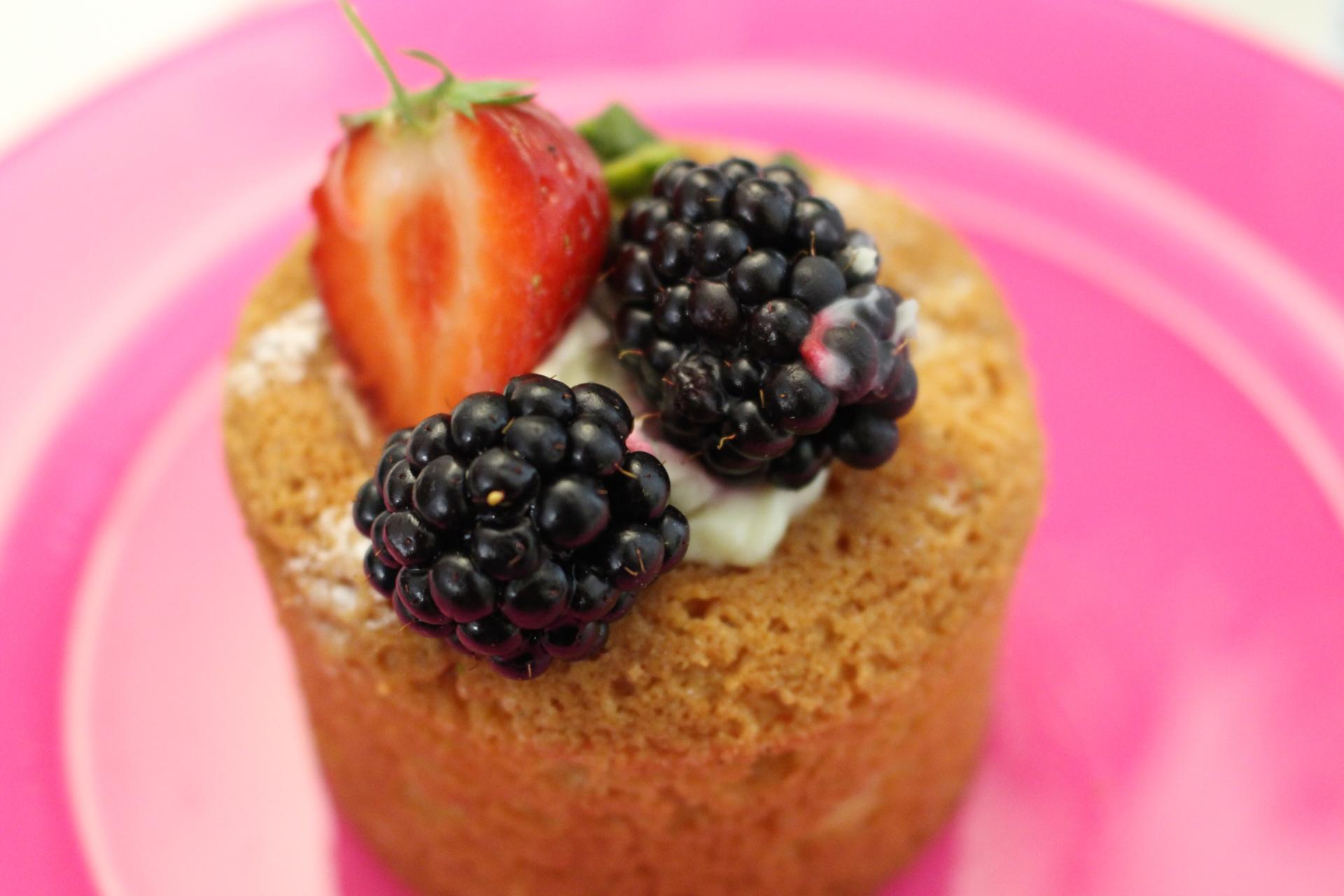 ALWAYS Order Dessert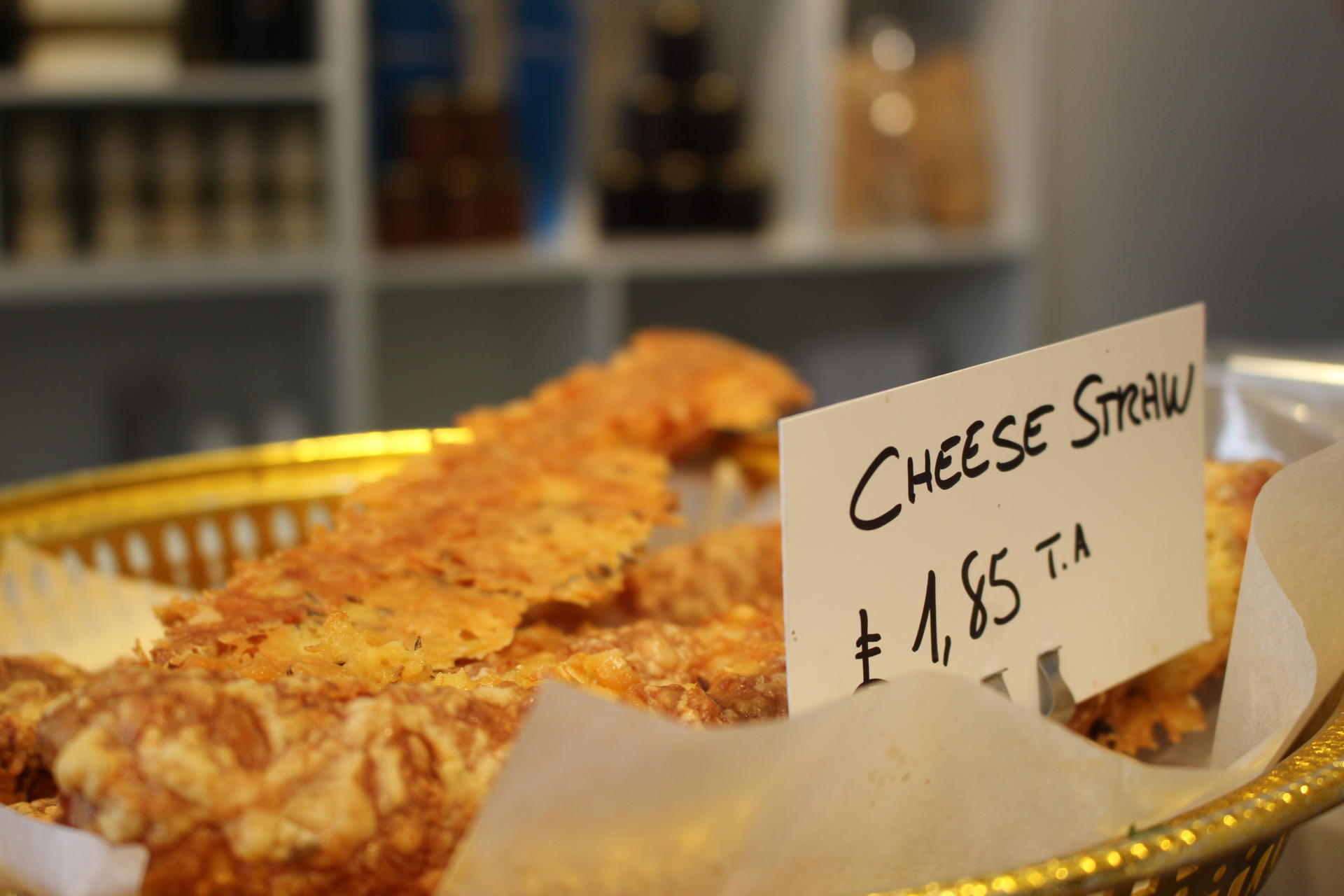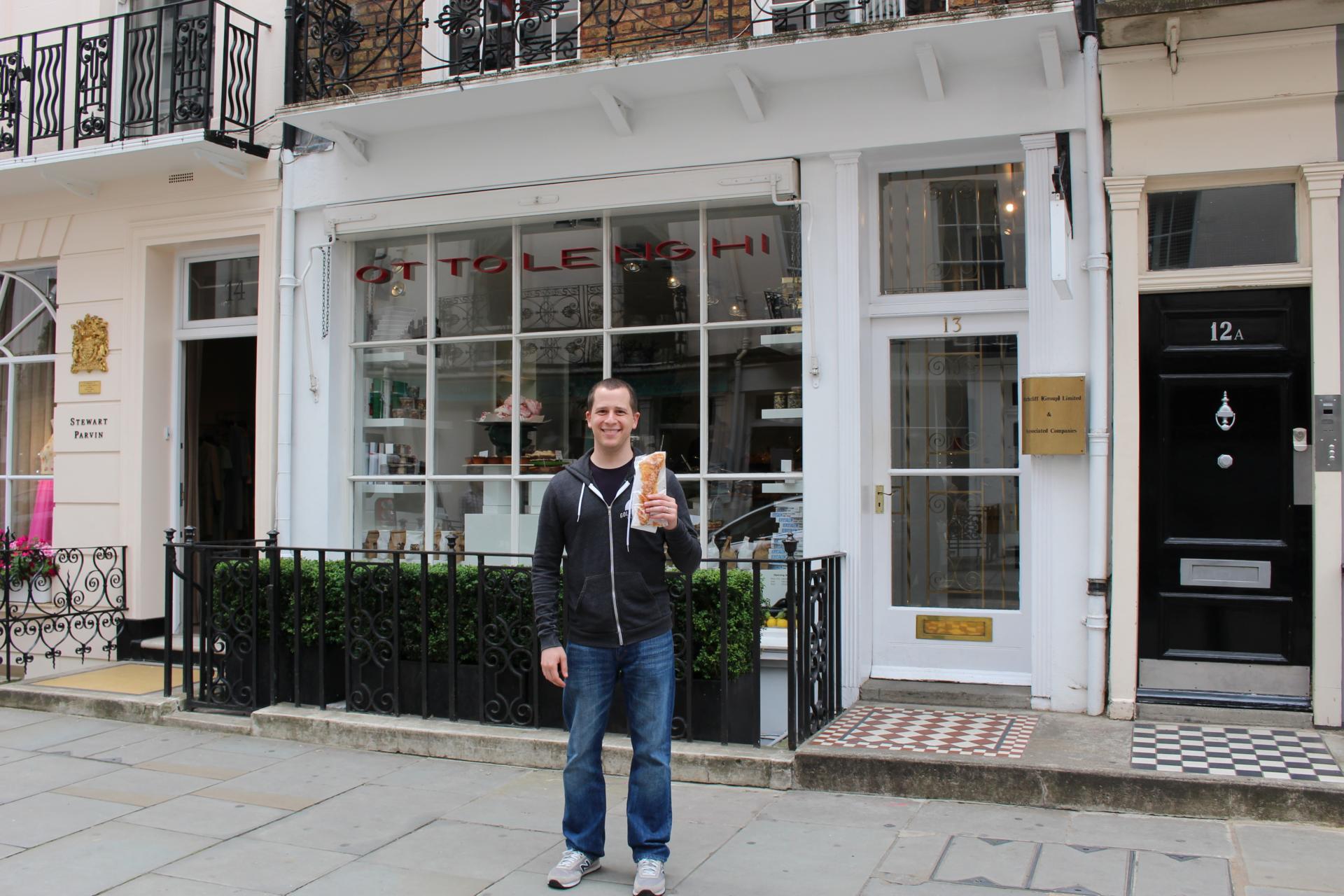 Otherwise know as "The Cubitt." We stopped in at The Cubitt for pint or two after our window shopping excursion at Harrods. It is located on Elizabeth Street which is a cute little street lined with shops, cafes and beautiful homes. A co-worker who grew up in Belgravia (lucky co-worker) recommended we check it out due to E's love of beer.
We arrived right around 4:30PM, which seemed to be about the time that everyone was leaving work and heading to their local pub. By the time we were done with our first round, the pub was PACKED!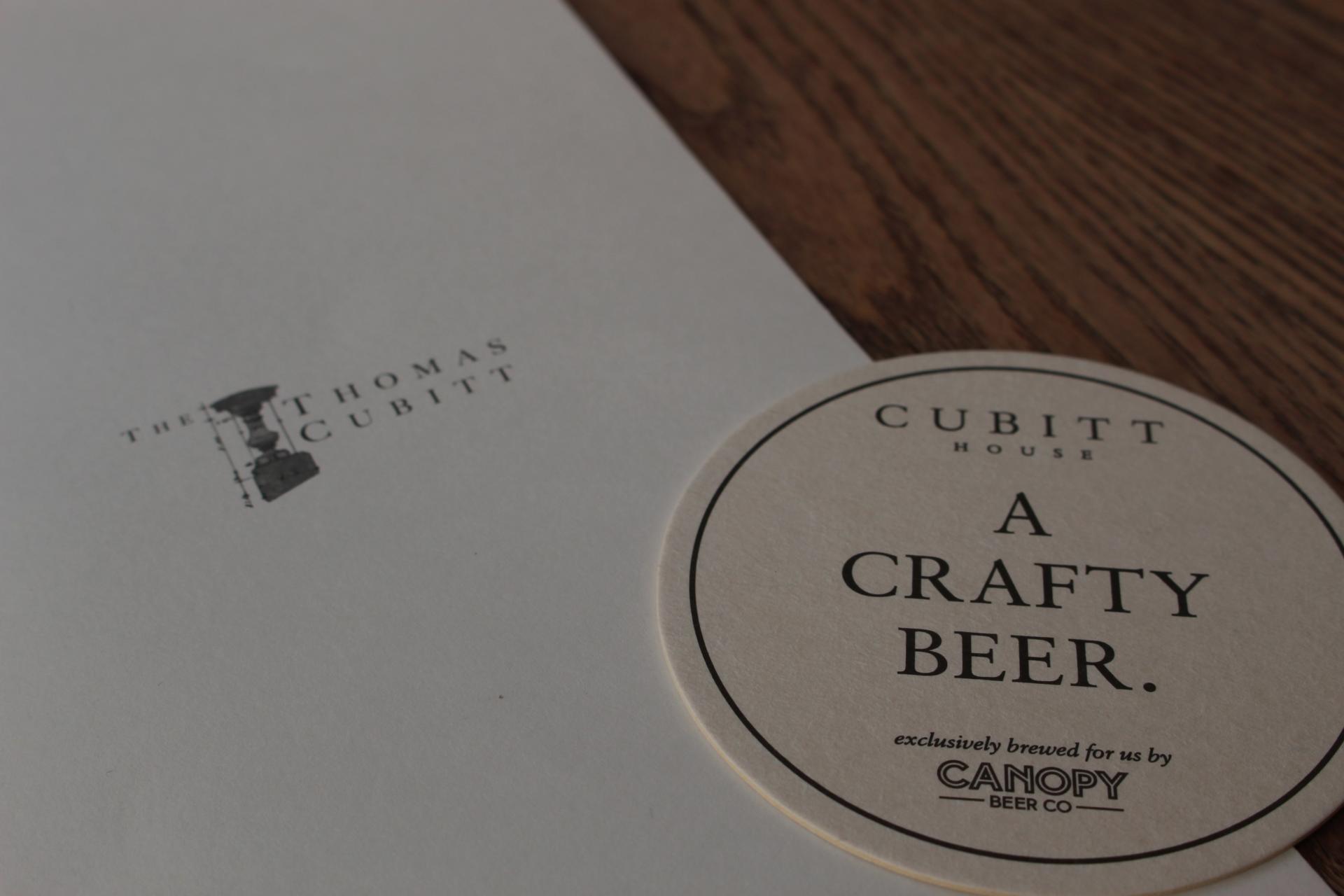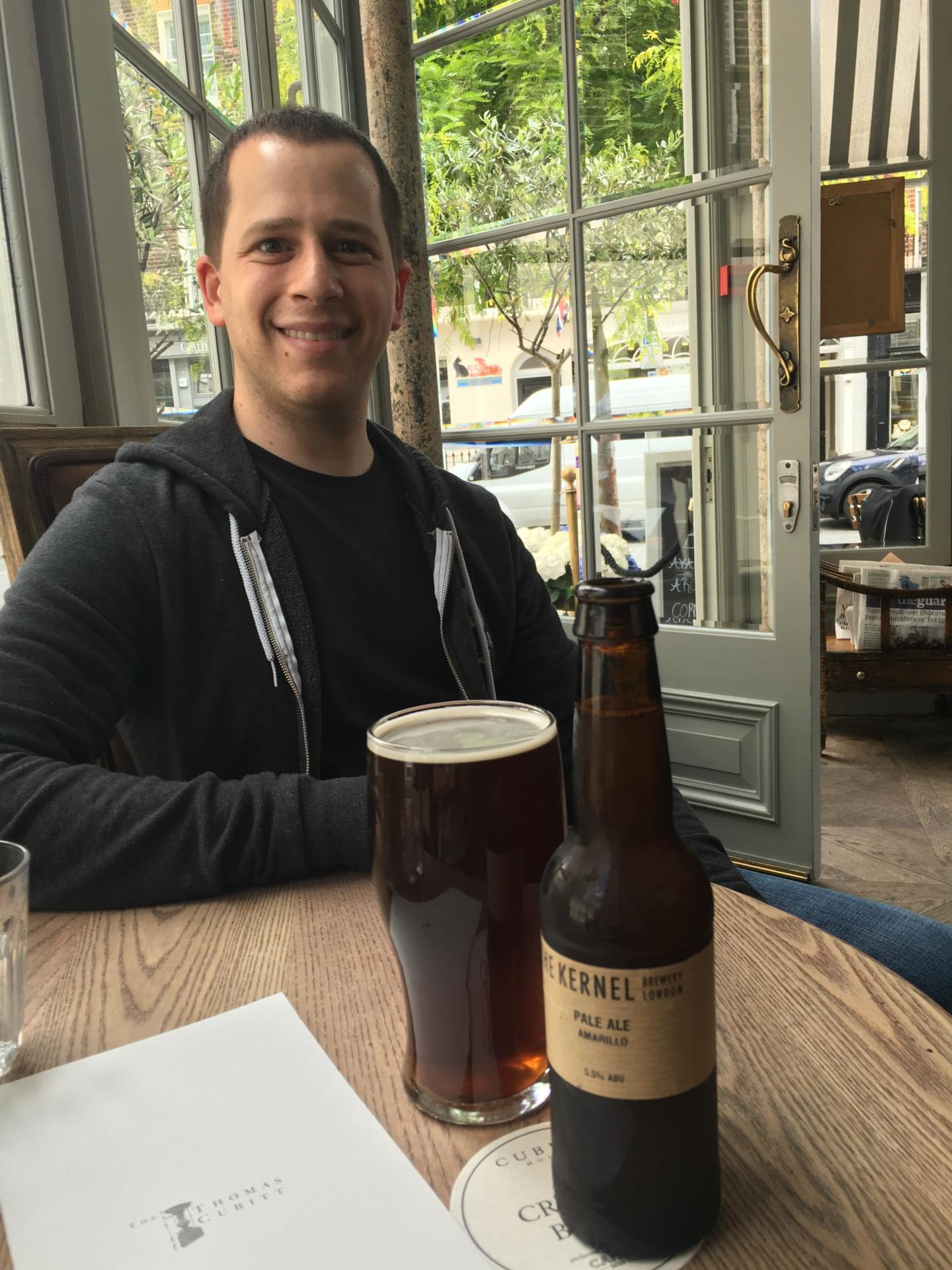 Located in Notting Hill, George's Portobello Fish Bar is anything but a tourist trap. It is loved by locals and tourists alike. I think we were actually the only tourists in the place! It is actually Chef Jamie Oliver's favorite shop!
After reading about it on The Londoner, I knew we HAD to try it! E and I ordered what they are famous for: fish, chips and smashed peas. Our meals, which came with a drink, were 8 pounds each! What a steal!! We sat ourselves at the little bar inside and went to town. This was some of the best fish and chips we had ever had! And the portions were HUGE. There was no way we were going to be able to finish everything. Luckily for us, our food was already in takeaway containers. We just popped them into a bag and were on our way.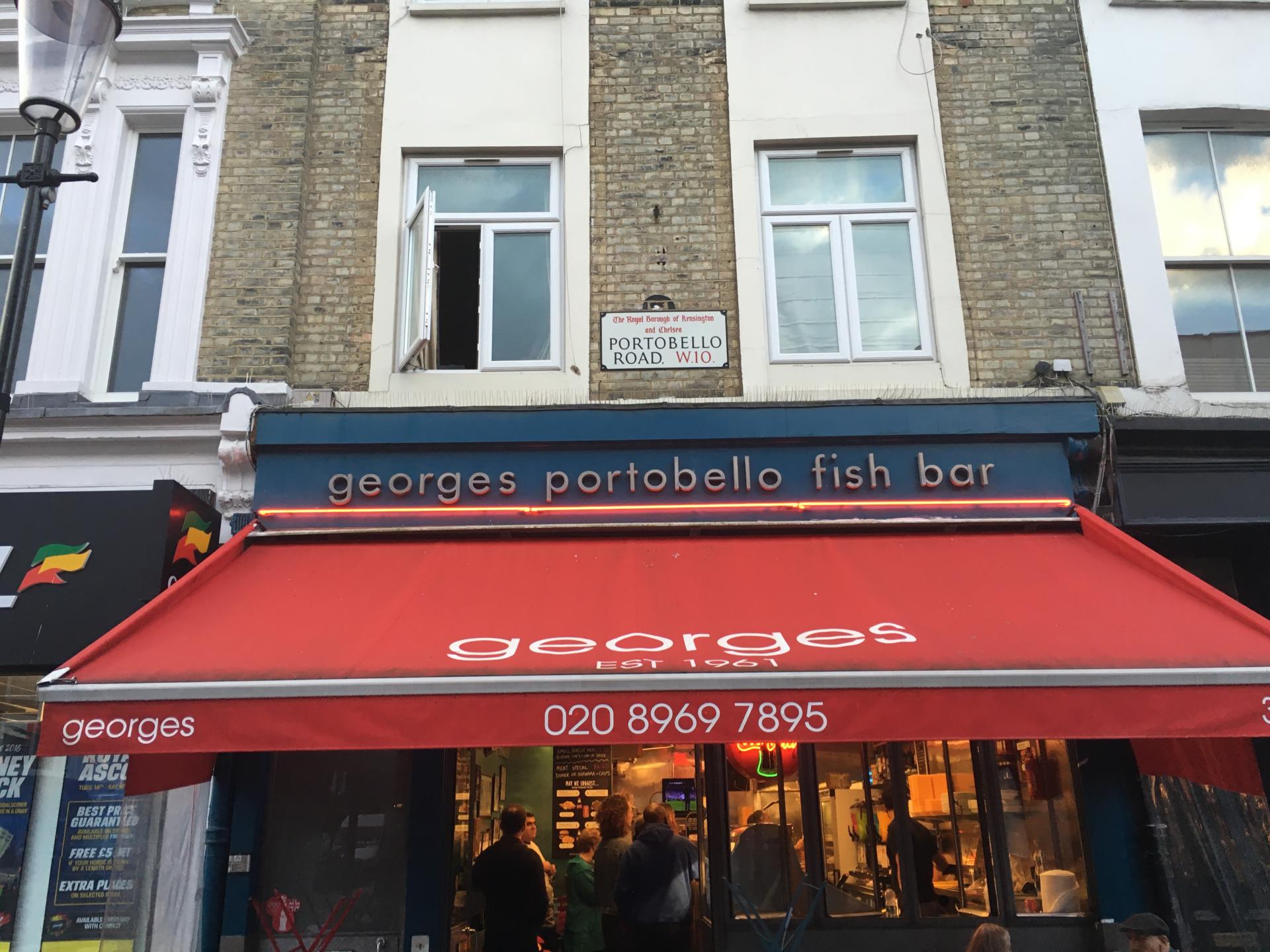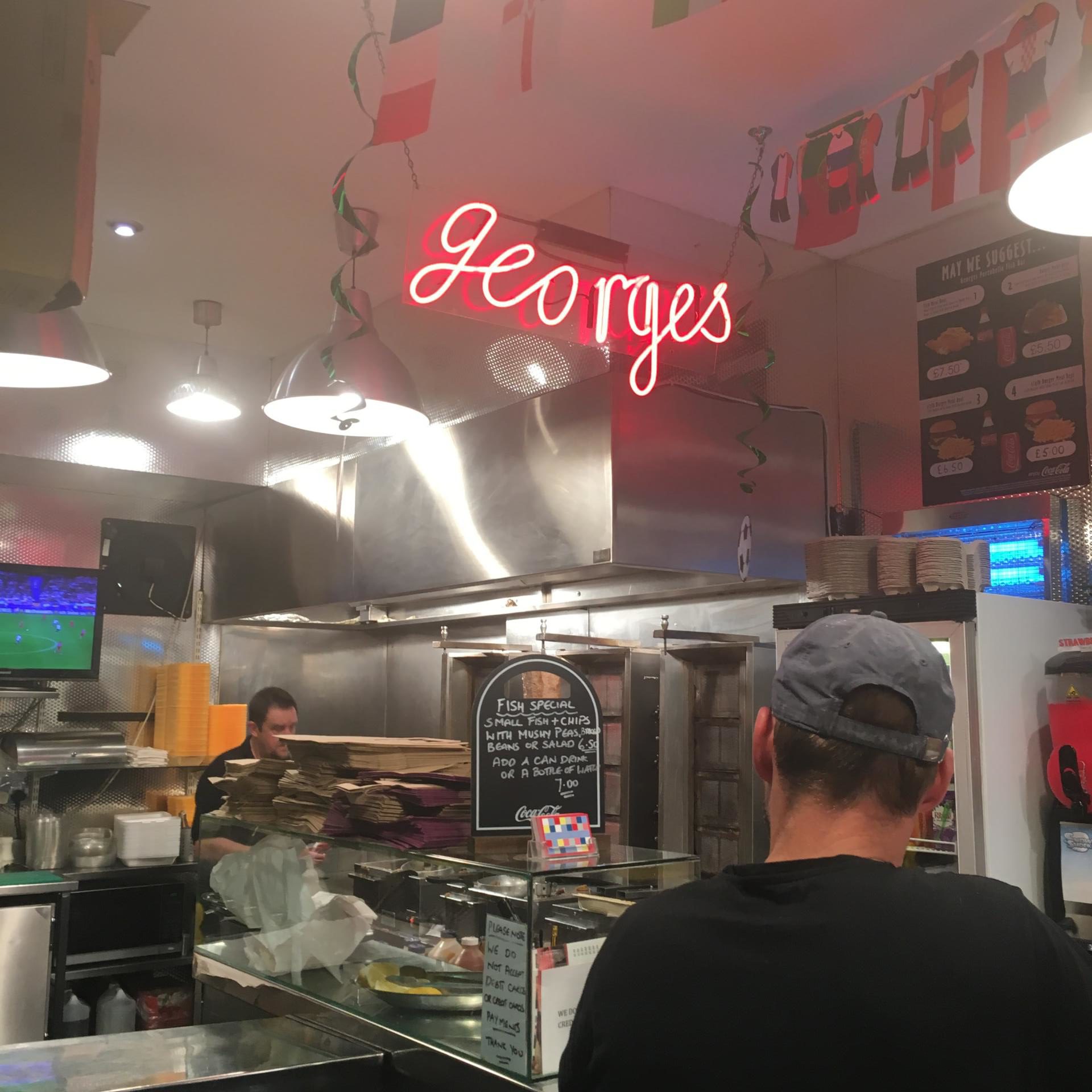 Fish + Chips + Mashed Peas = DELICIOUS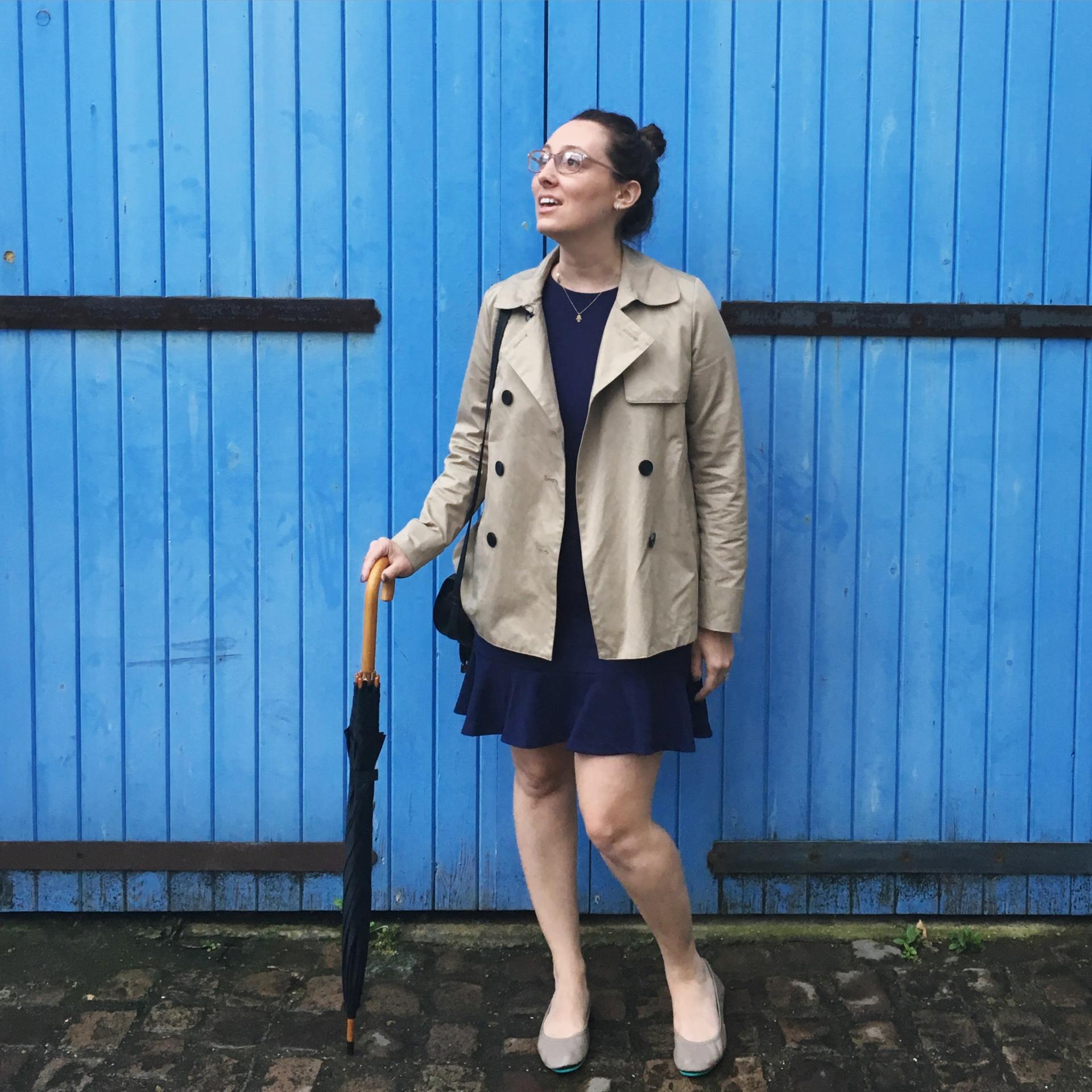 One of Notting Hill's Many Colorful Doors
YOU MUST GO HERE. There are so many different food stalls, it would be impossible to eat something from every one, unless of course you went on multiple days… I knew we did something wrong! I was overwhelmed by all of the choices!
We originally went to get cheese toasties at Kappacasein but, unfortunately, they were closed the one day we went! Of course!
We did however visit the Bread Ahead Bakery stall. I had been DYING to try their donuts. We of course had to order three of them. We selected the raspberry, creme caramel and salted honeycomb and classic vanilla filled donuts. My personal favorite was the raspberry! The donuts were filled to the brim and were fried to perfection. They were little fluffy pillows of excellence. I see why they were voted the best donut in London!
We visited various other food stalls, stopping to try lots of tasty treats along the way. E couldn't get over the paella stall. They were making a MASSIVE seafood paella like we had never seen before. The farm stands were filled to the brim with beautiful produce.
We also stopped to pickup a few souvenirs at the Richard Bramble stall. I love his artwork and ceramics. Thankfully they are also online because there were a few pieces I was worried about having to transport in my carry on back to the States. I will definitely be ordering this bowl and cheese platter sometime soon…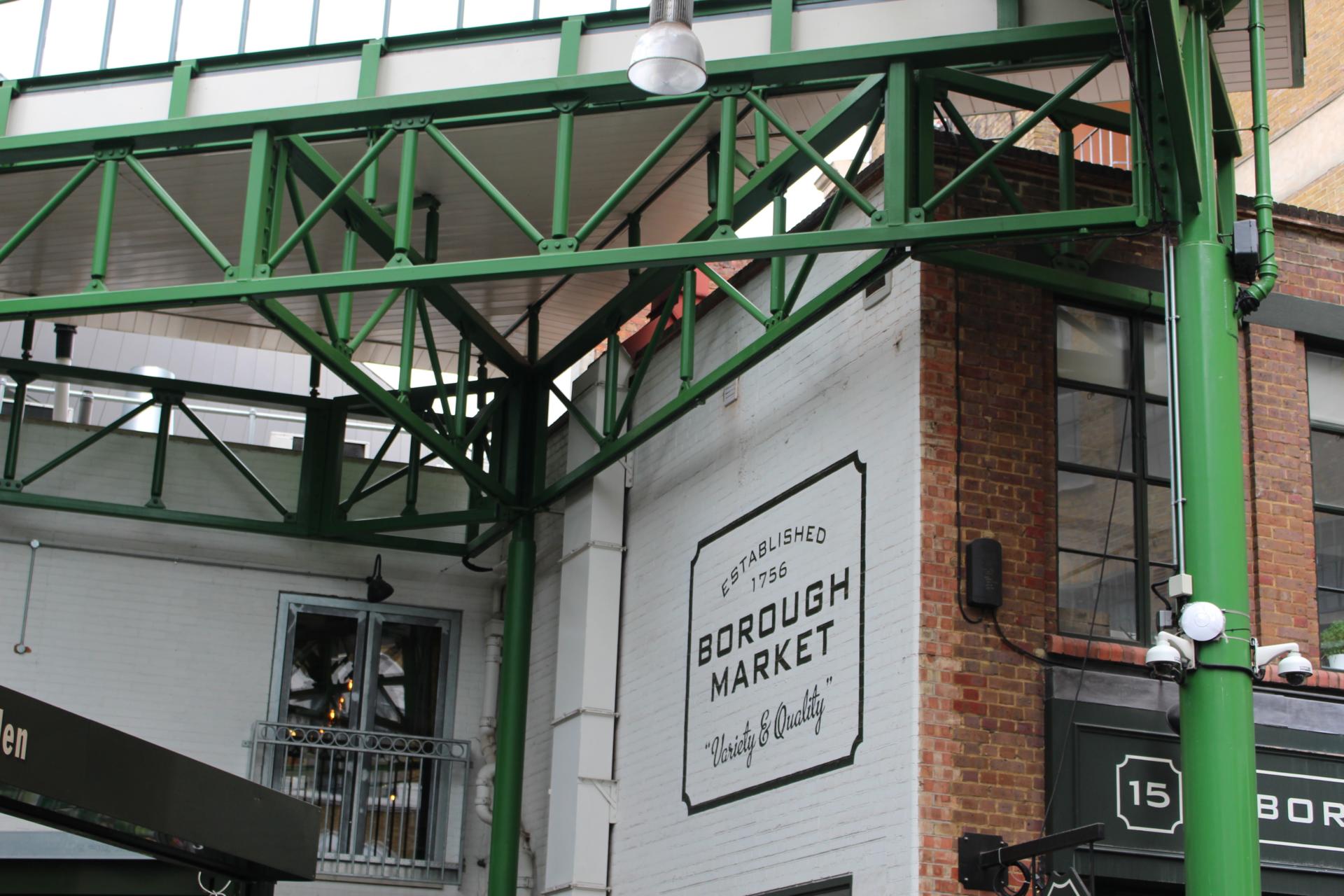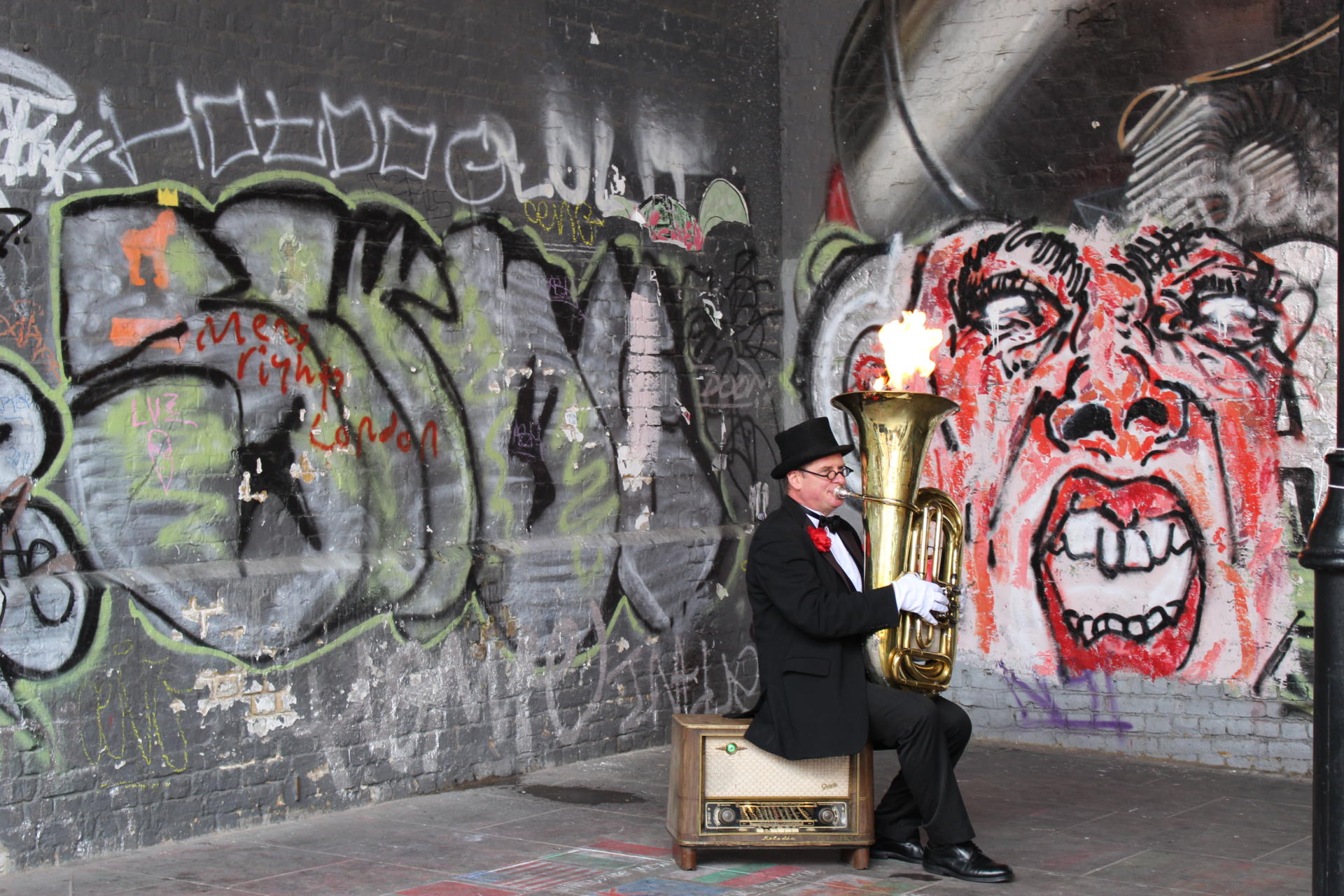 Yes, There is Fire Coming Out of that Tuba!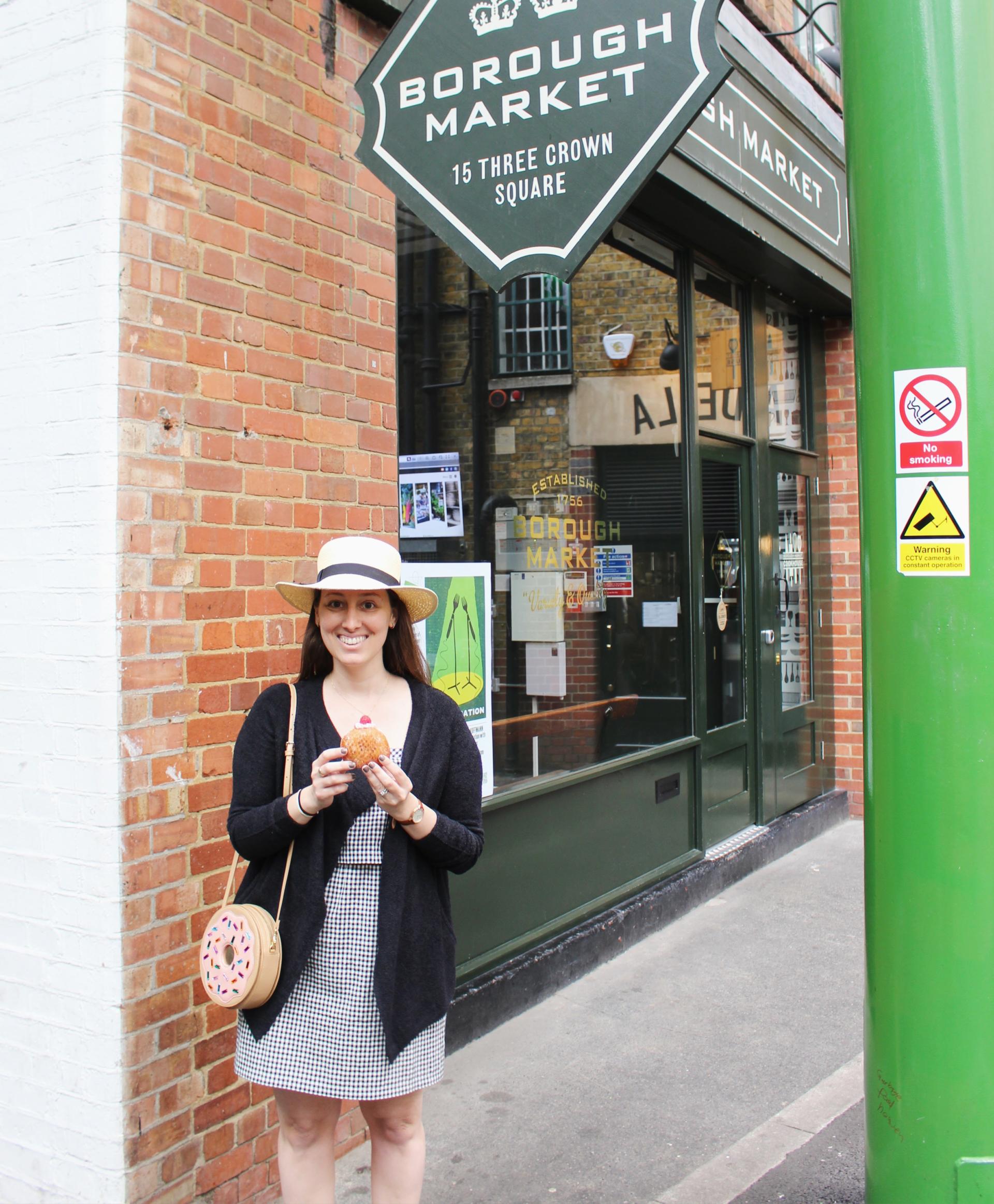 A Girl and Her Raspberry Ripple Bread Ahead Donut
Dress: Sezane, Sweater: Barefoot Dreams, Bag: Patricia Chang, Hat: J.Crew (old, similar HERE)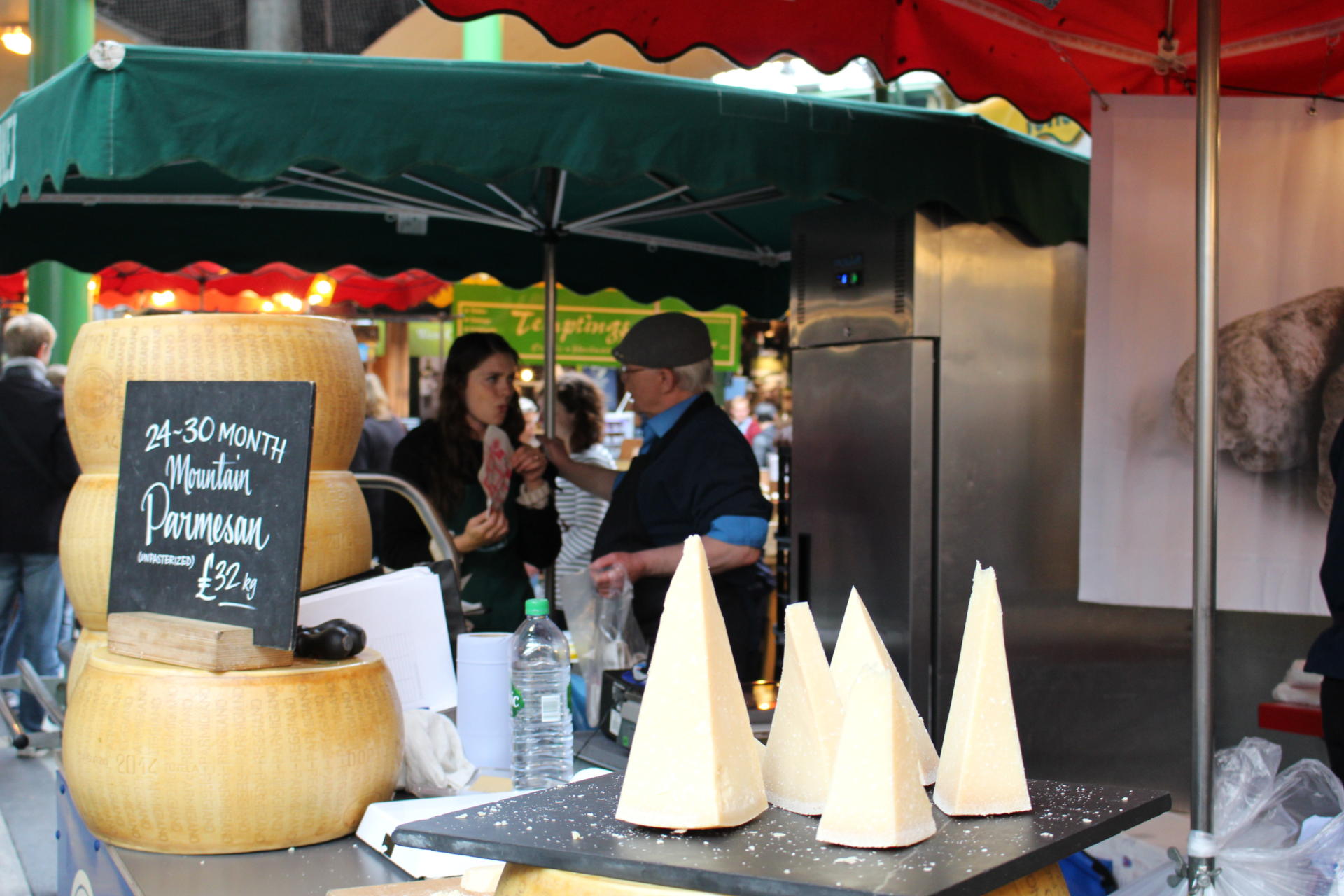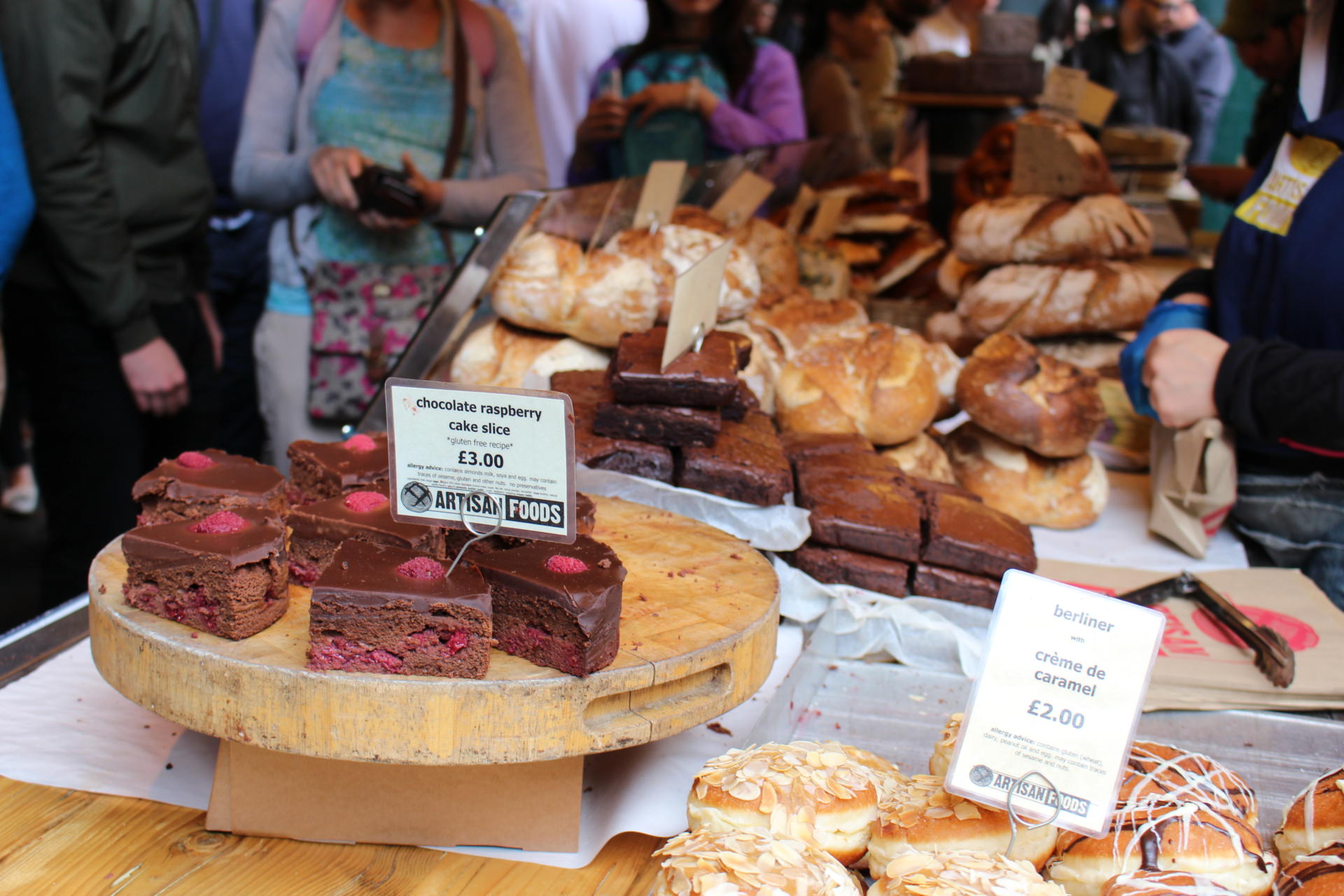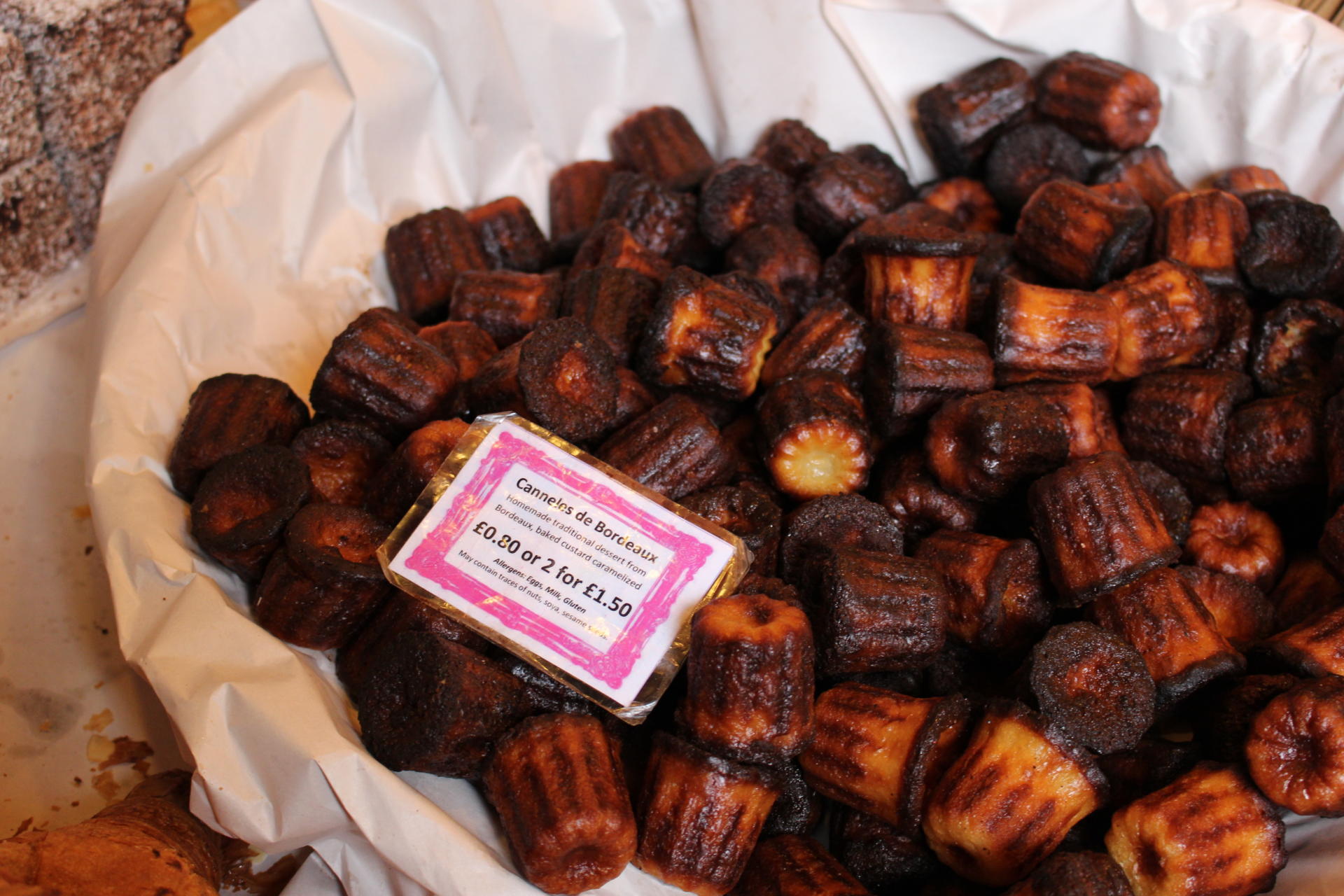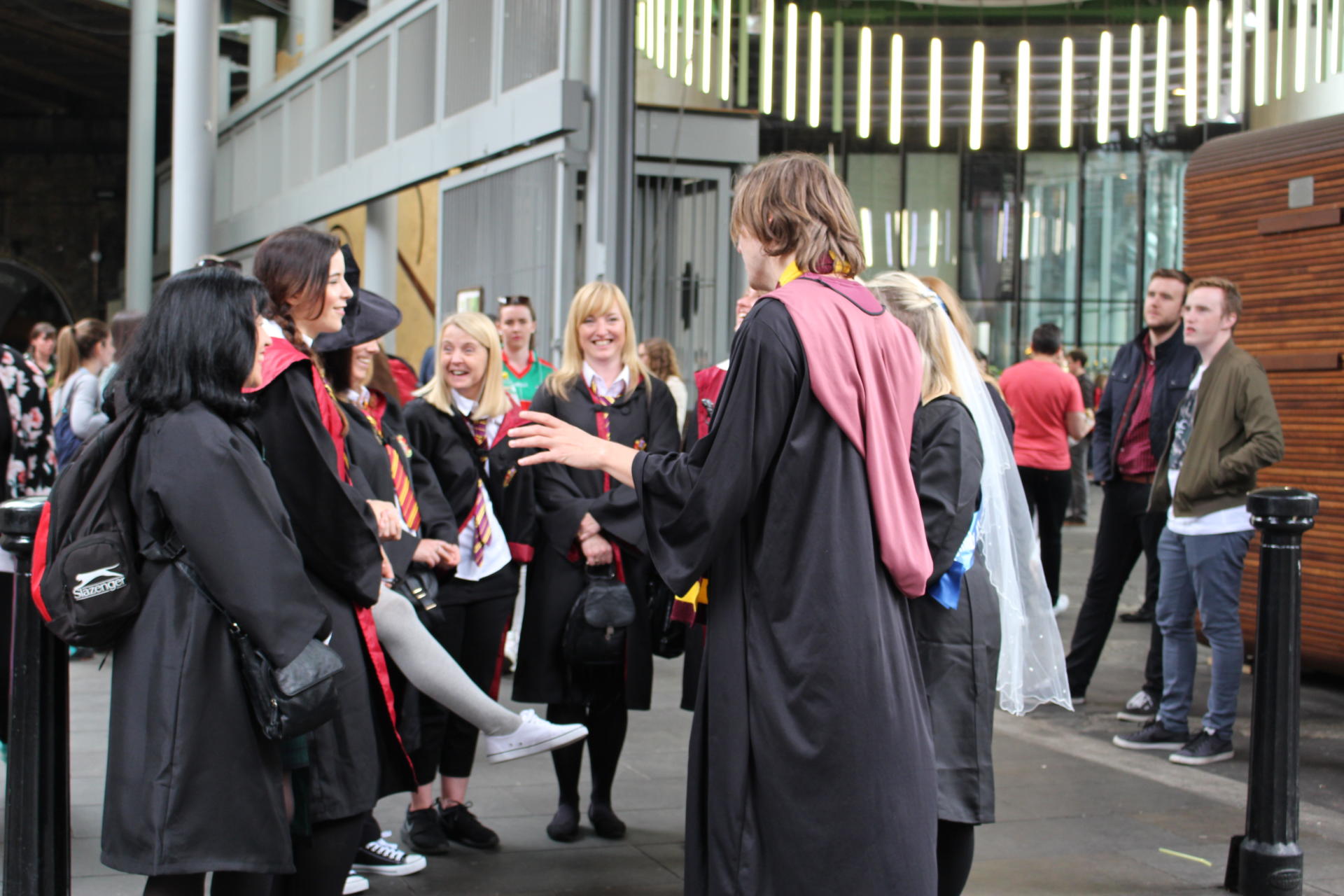 Adults Dressed in Harry Potter Garb on a Harry Potter Tour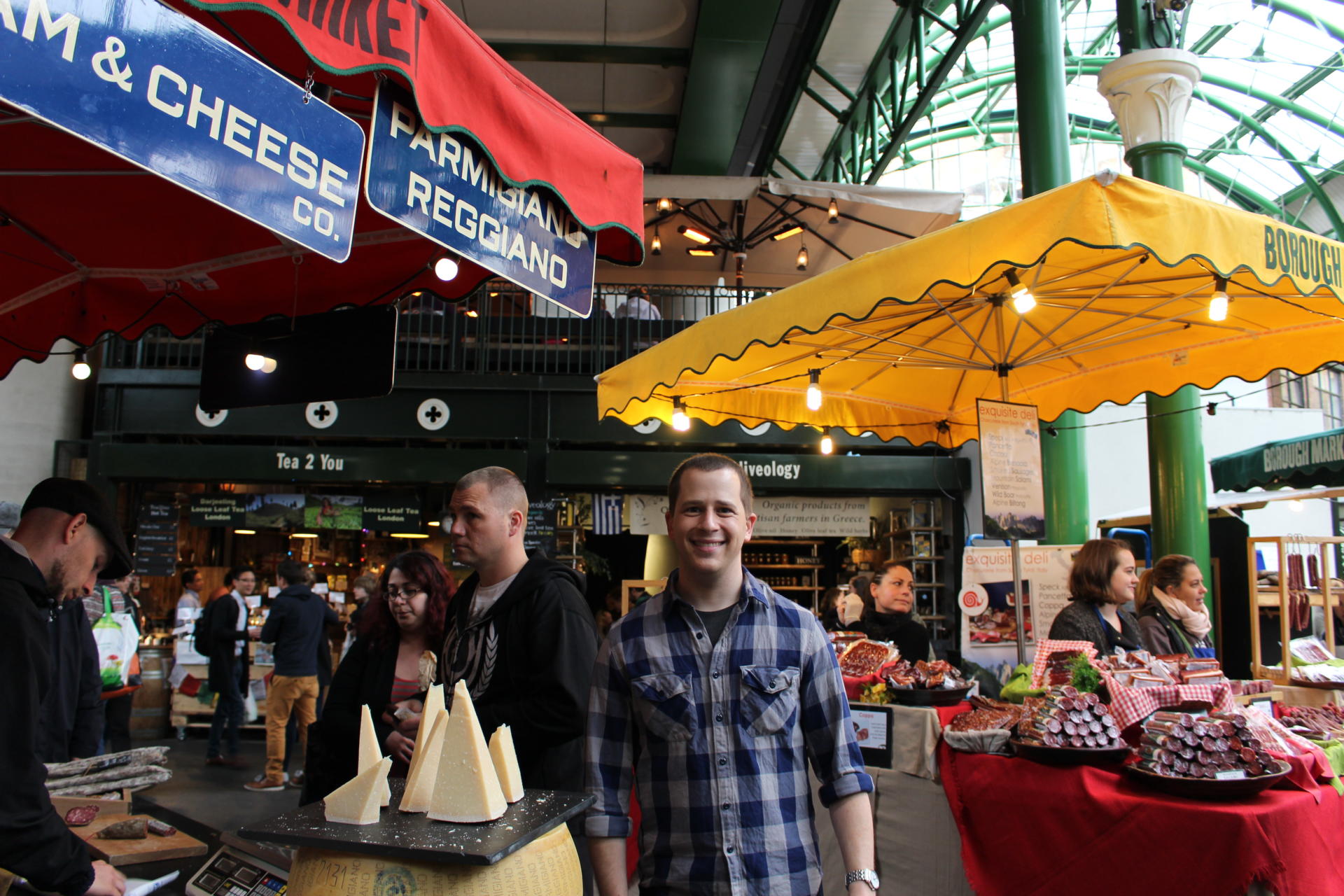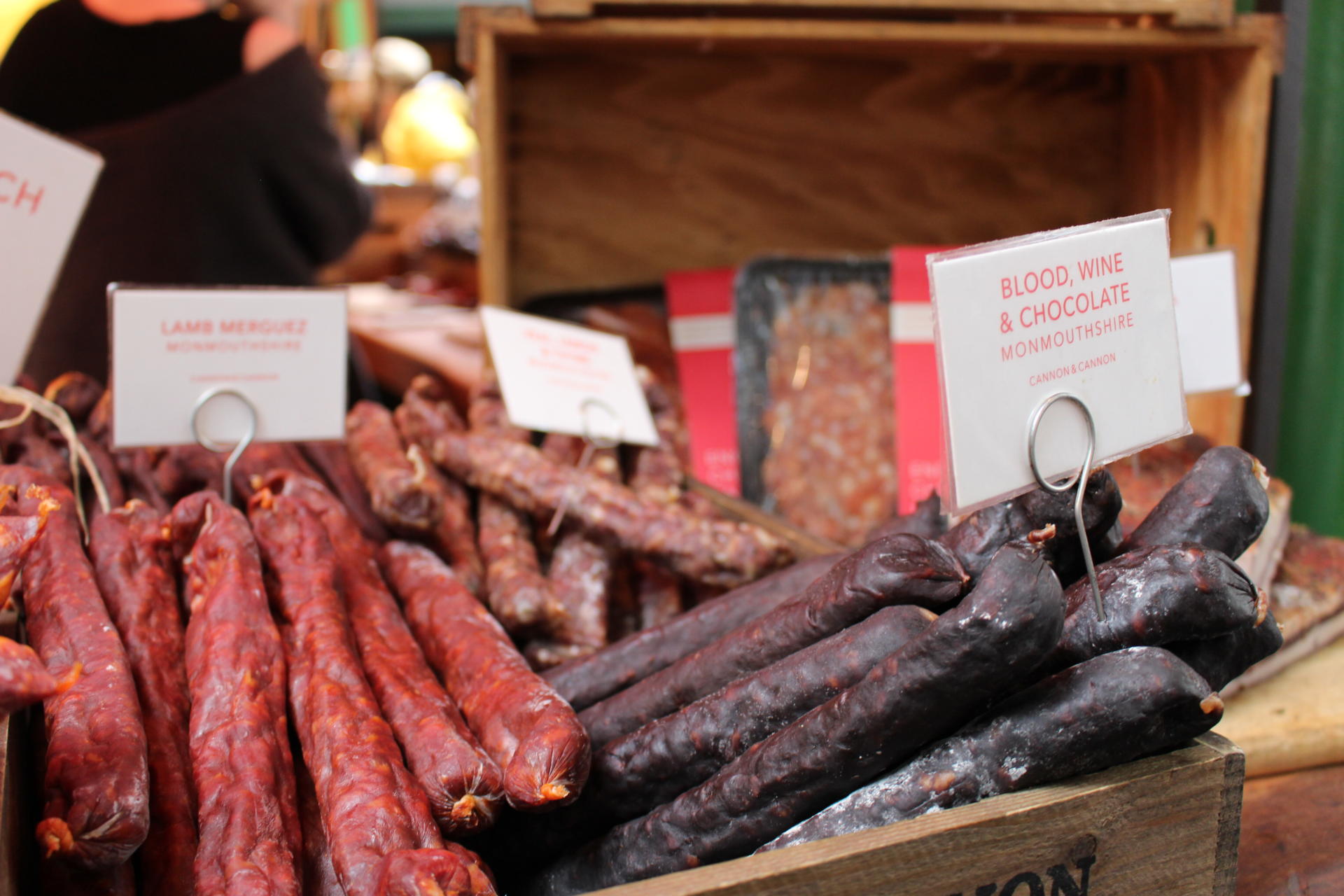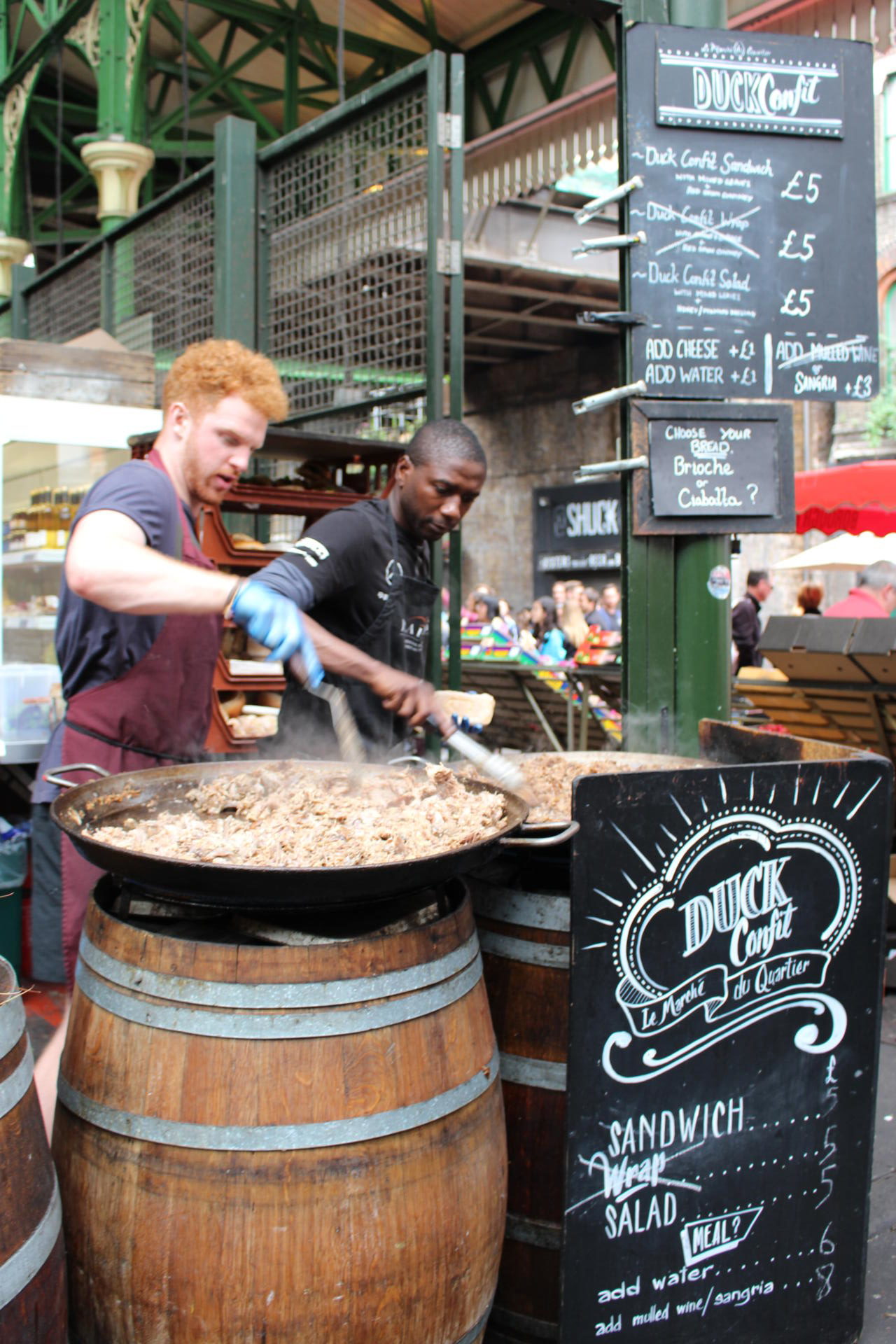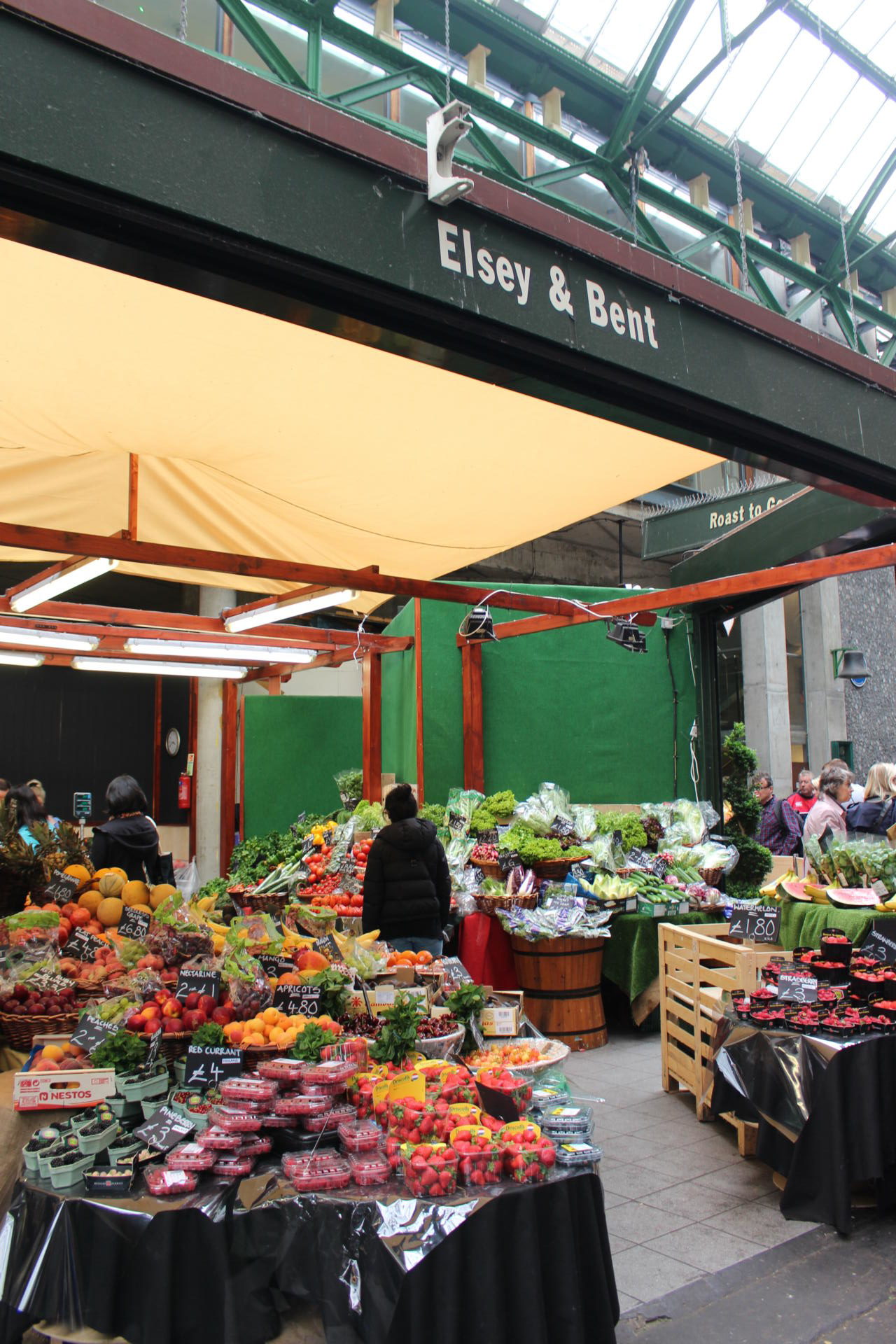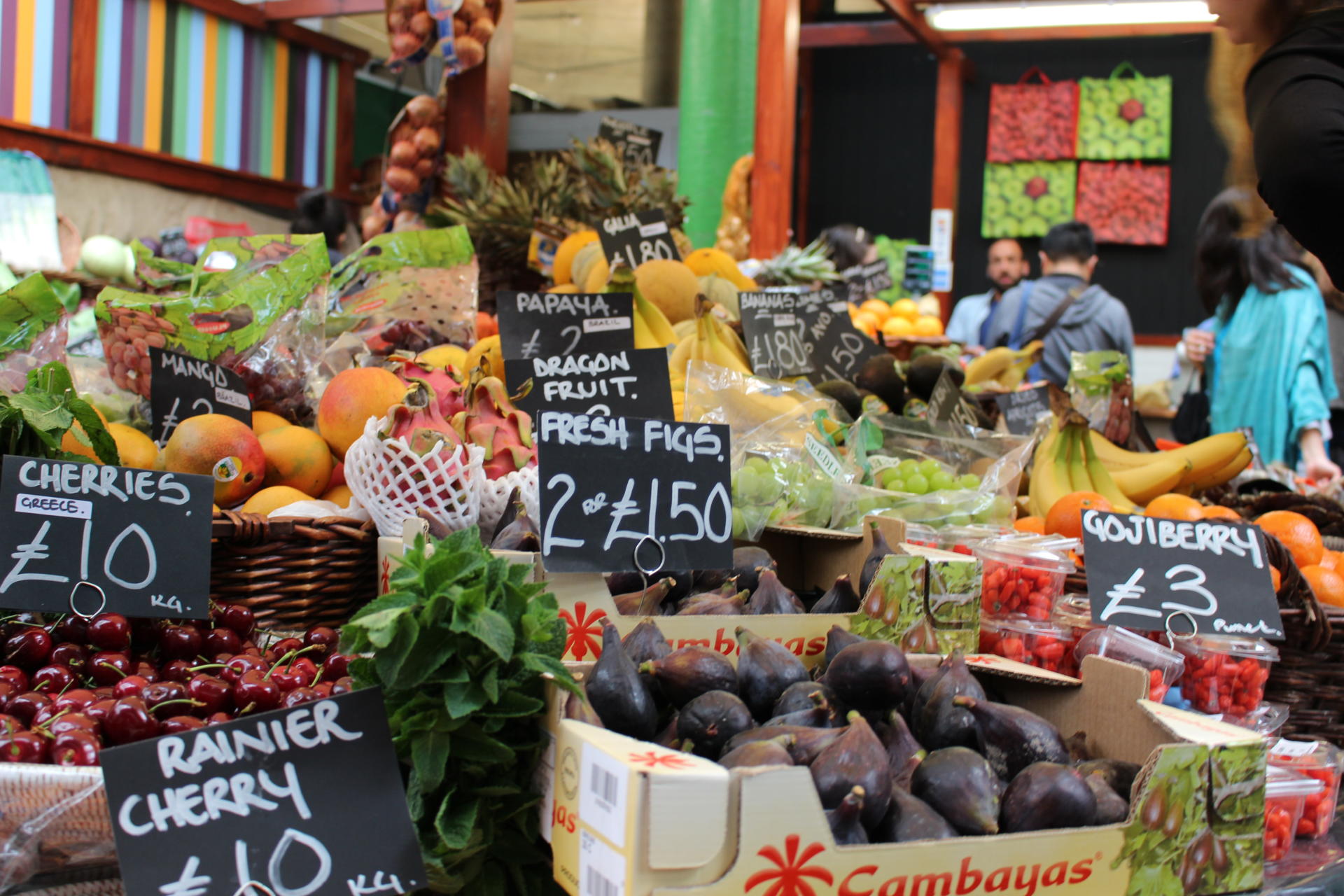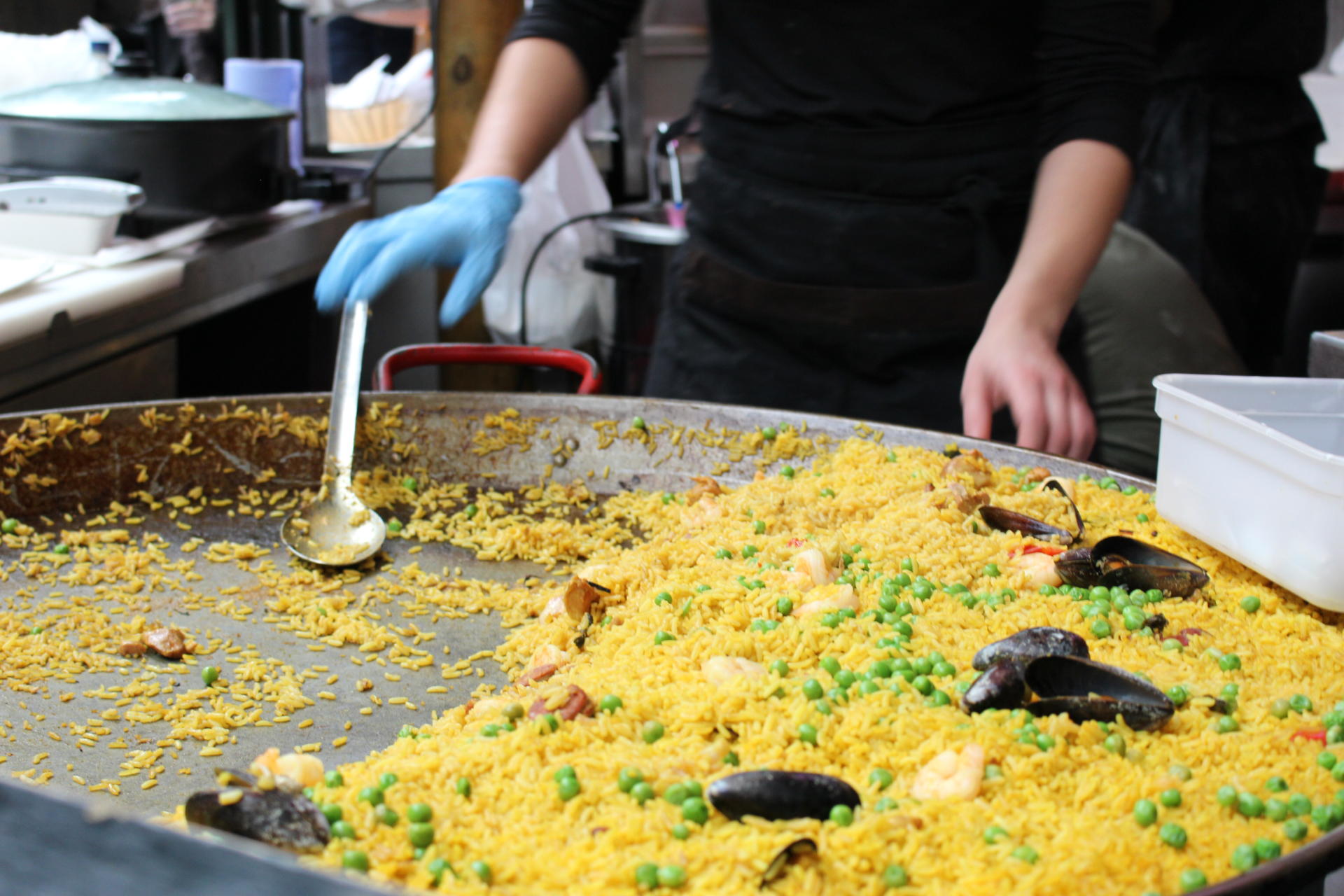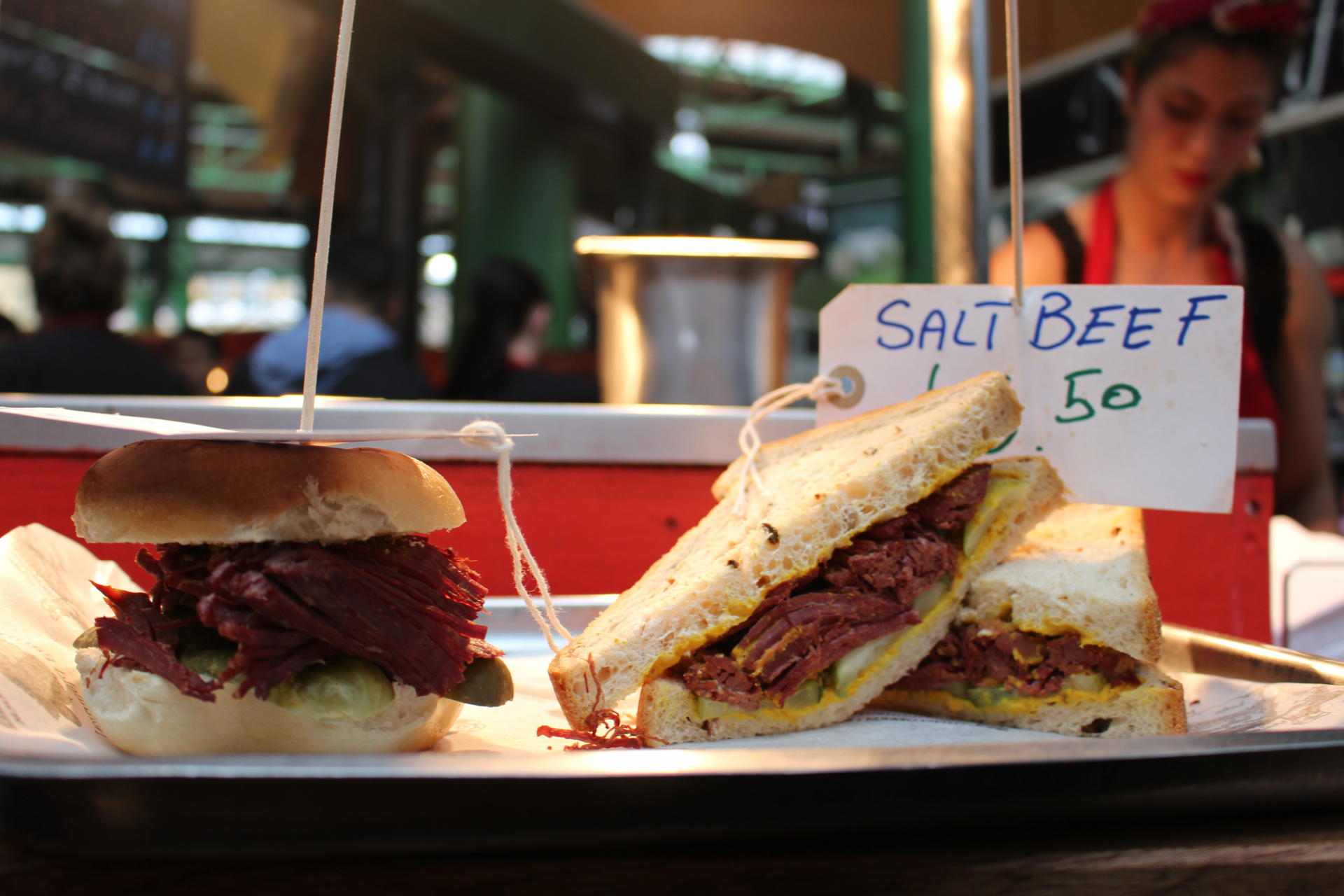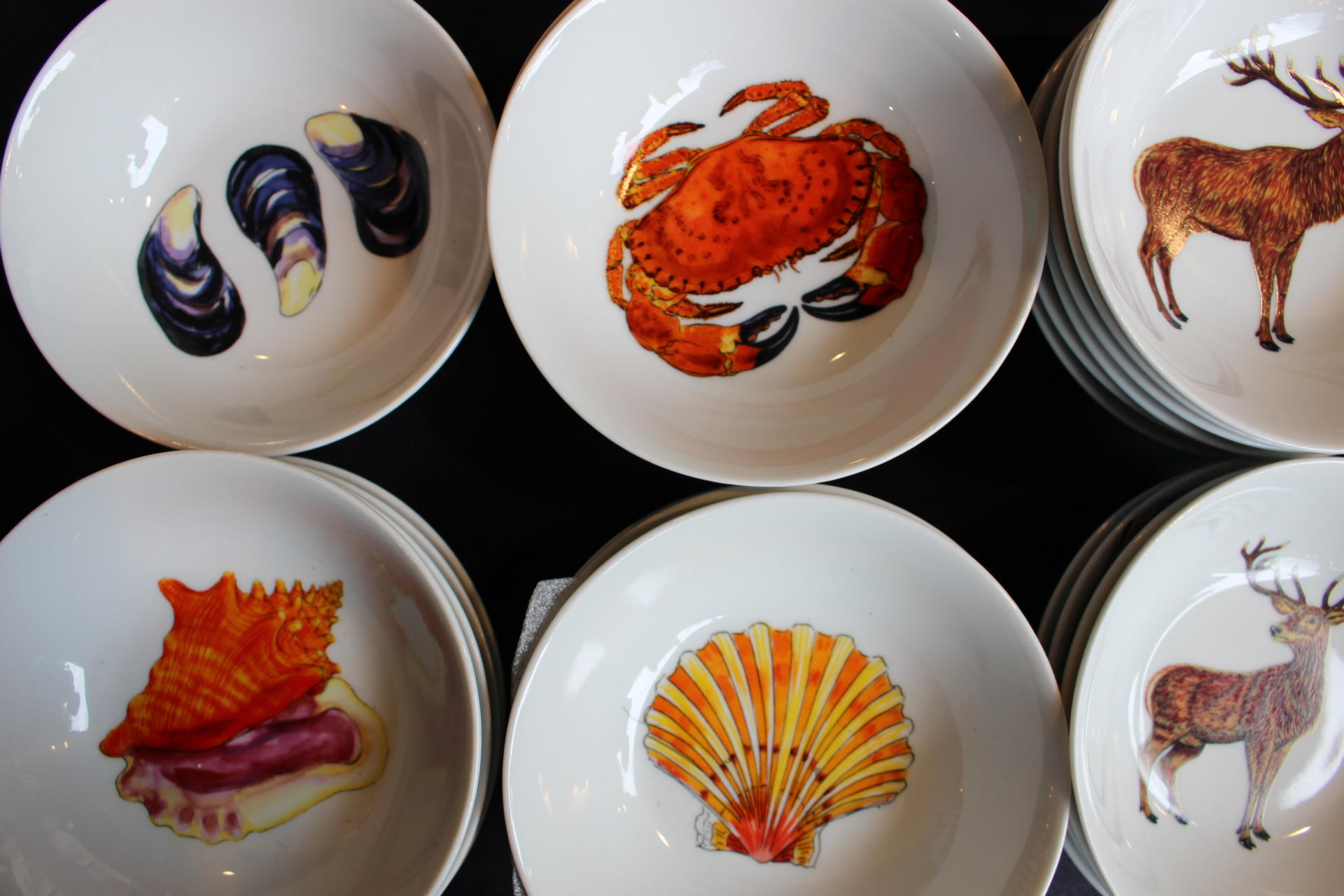 Richard Bramble Ceramics – I WANT ALL OF THEM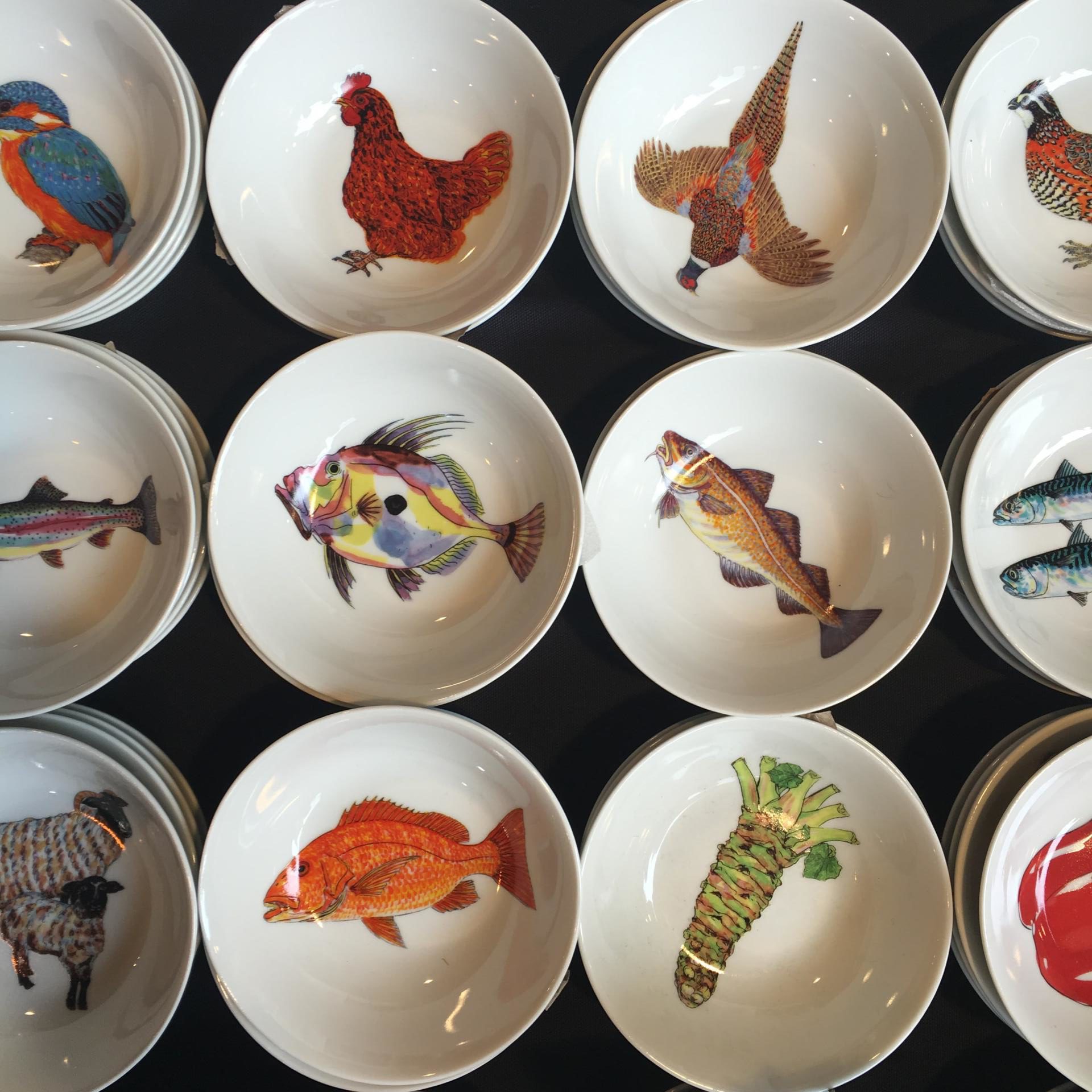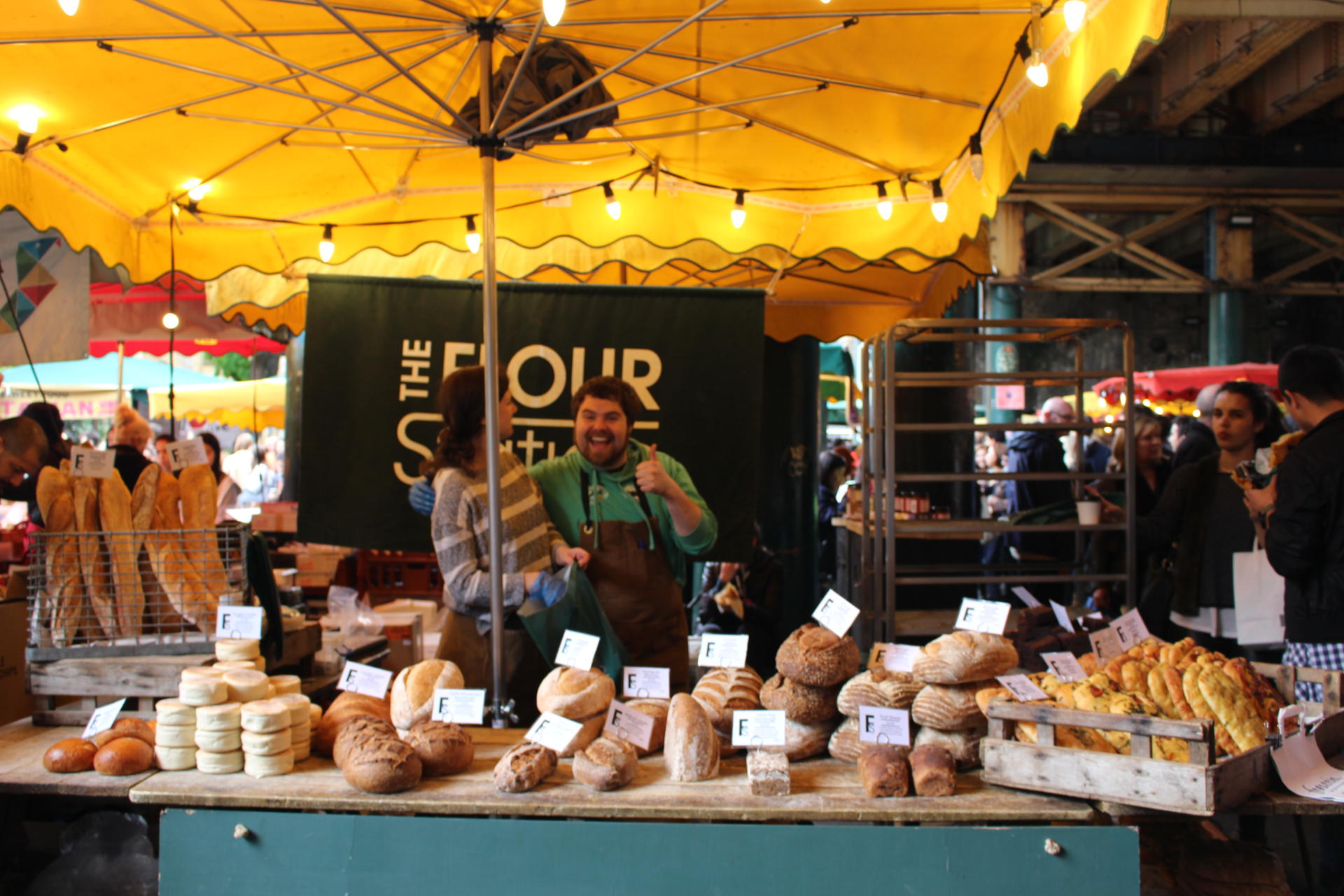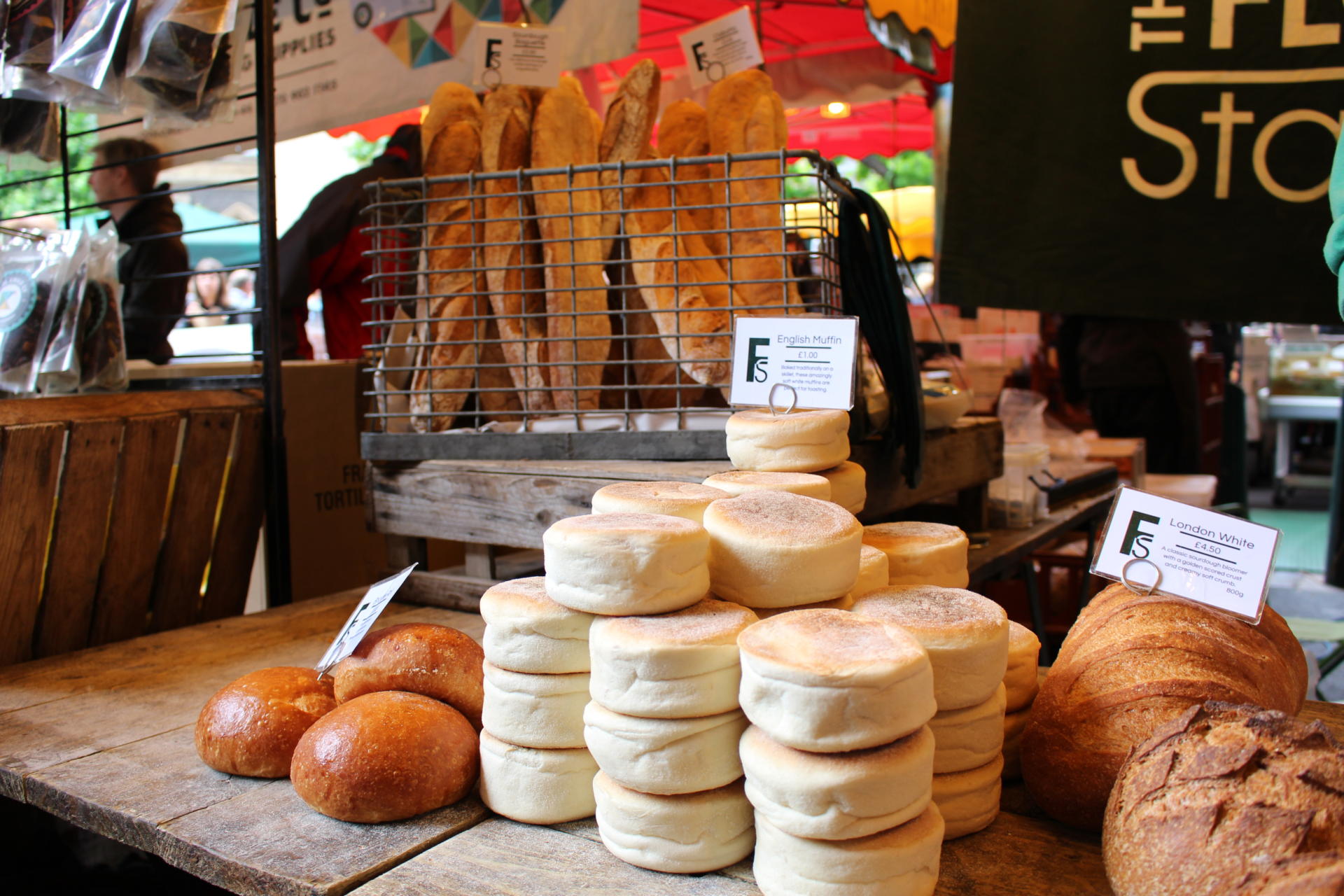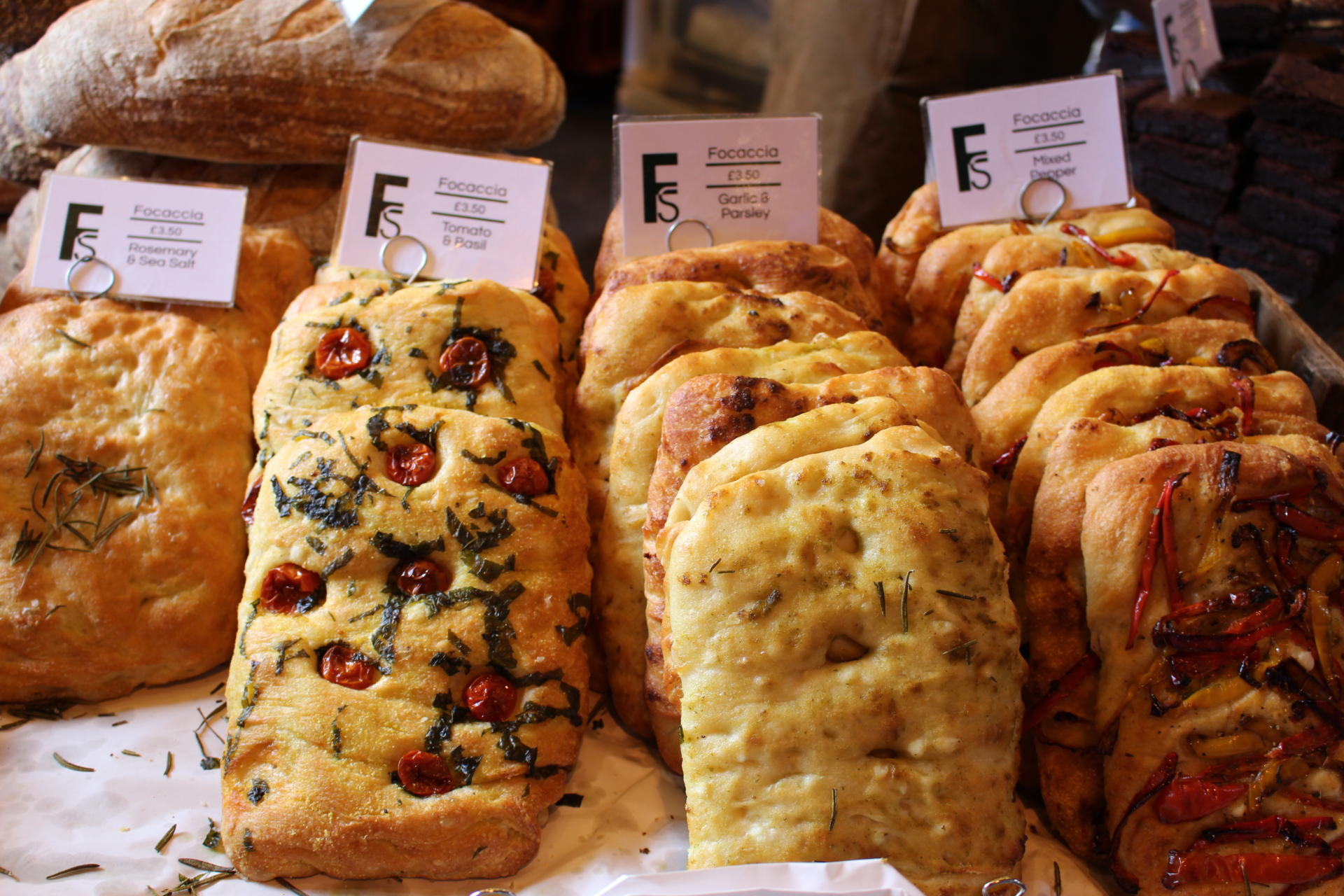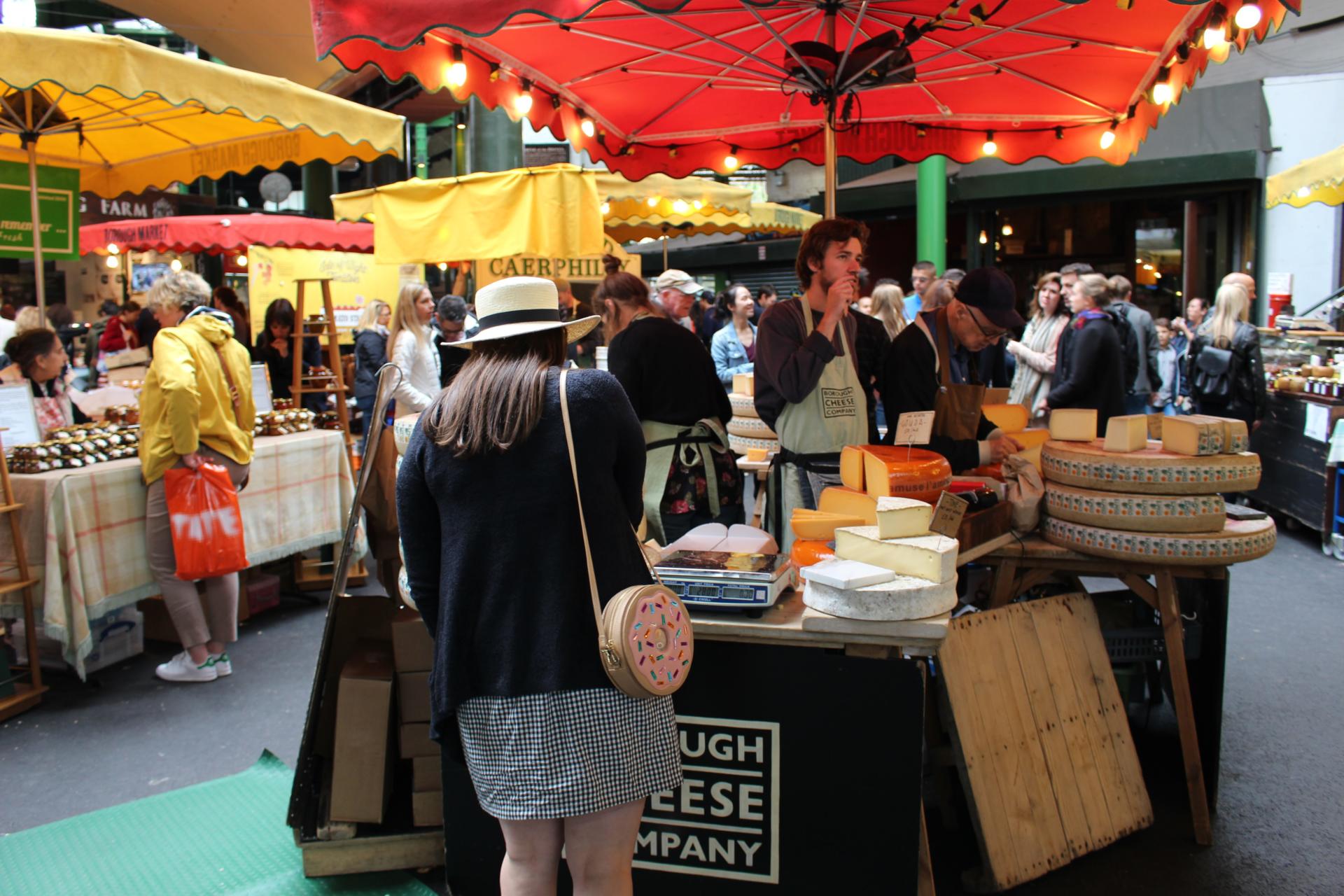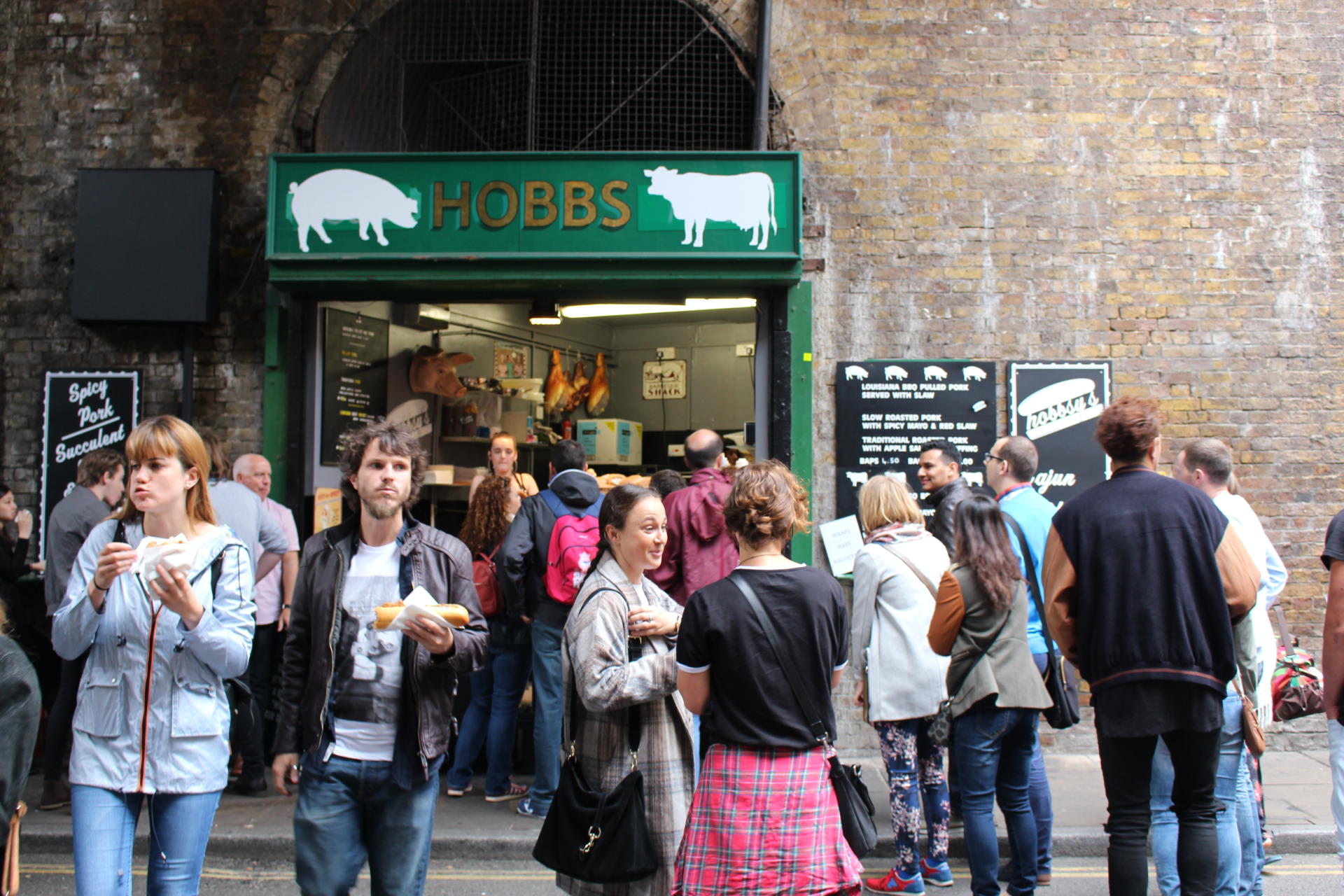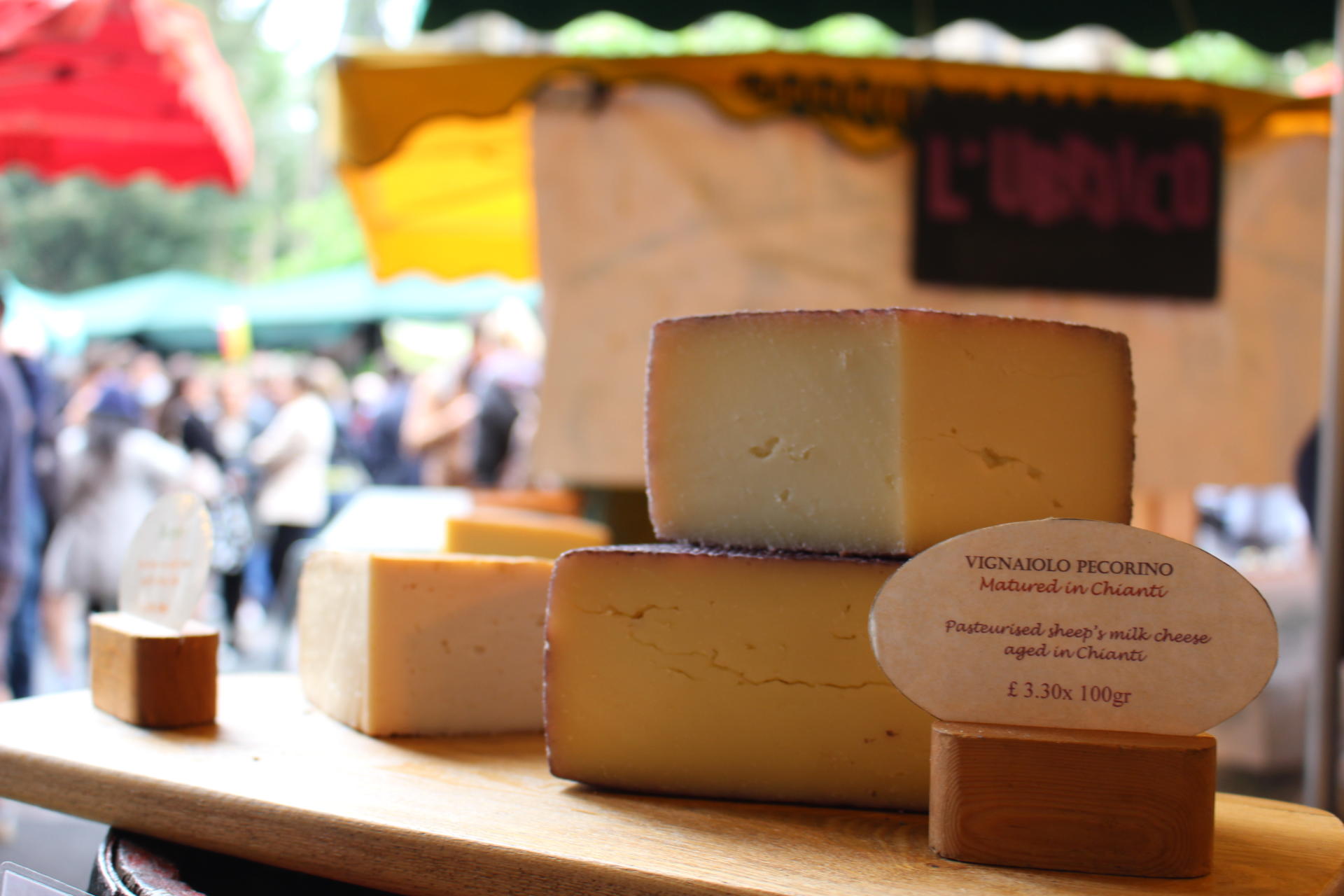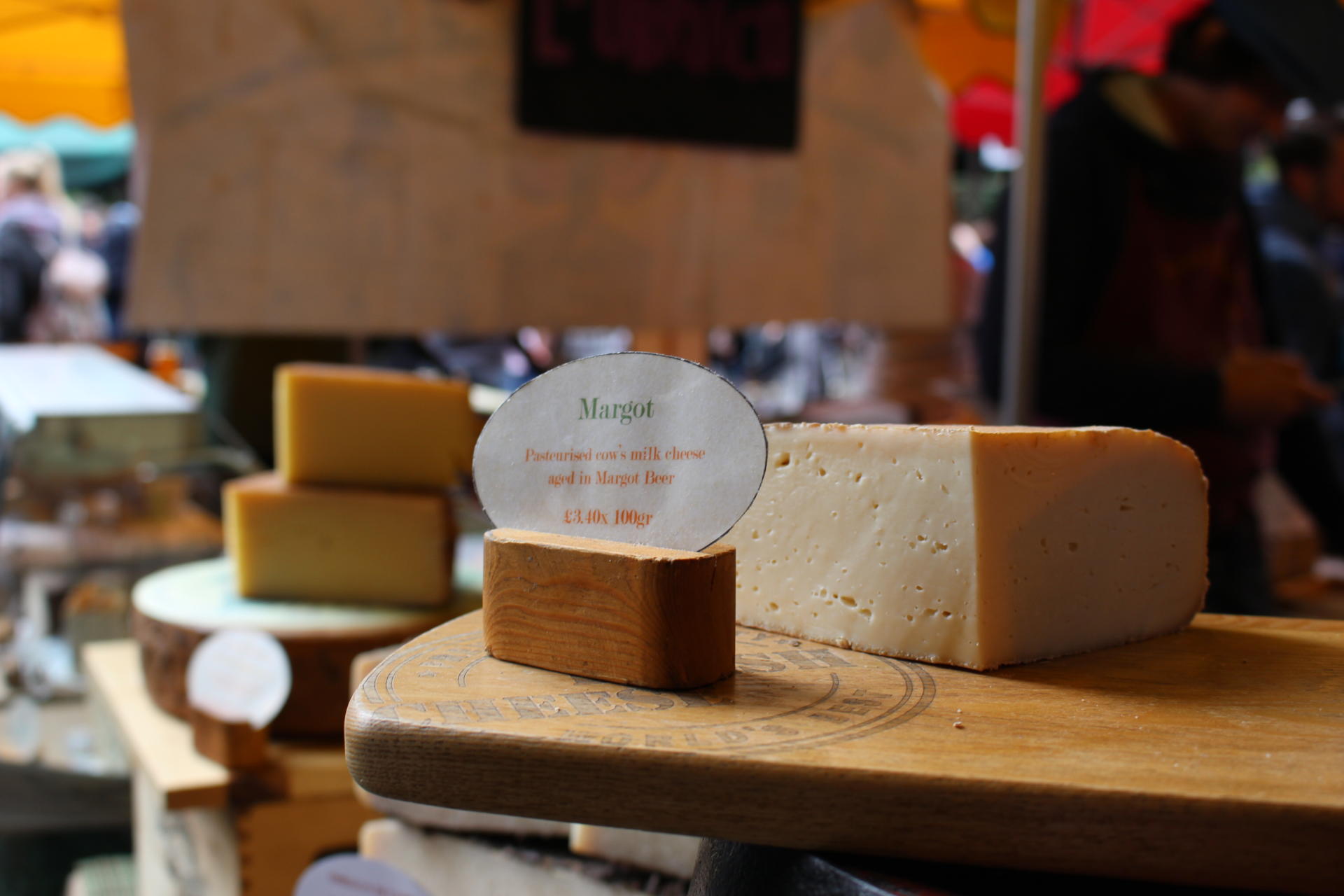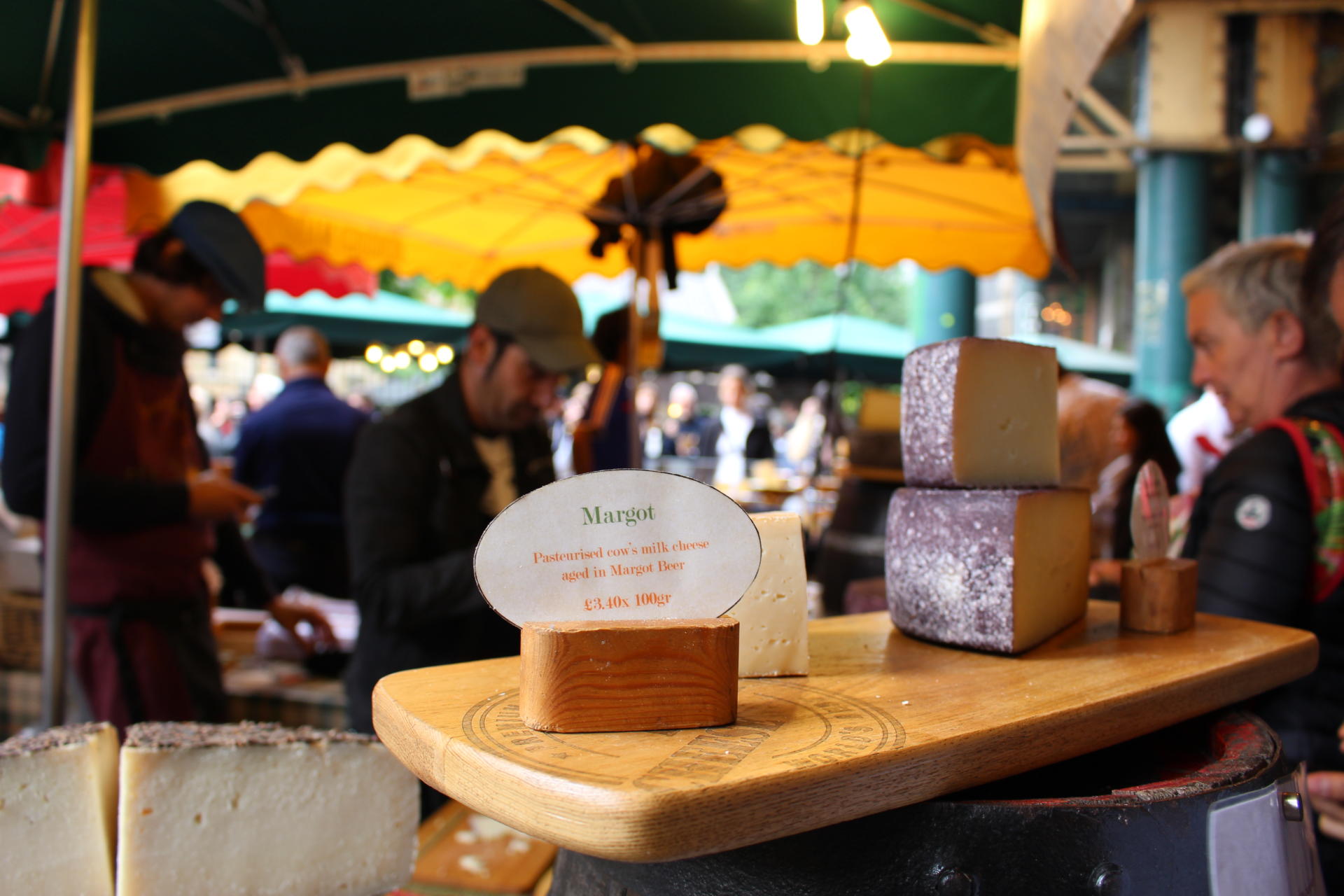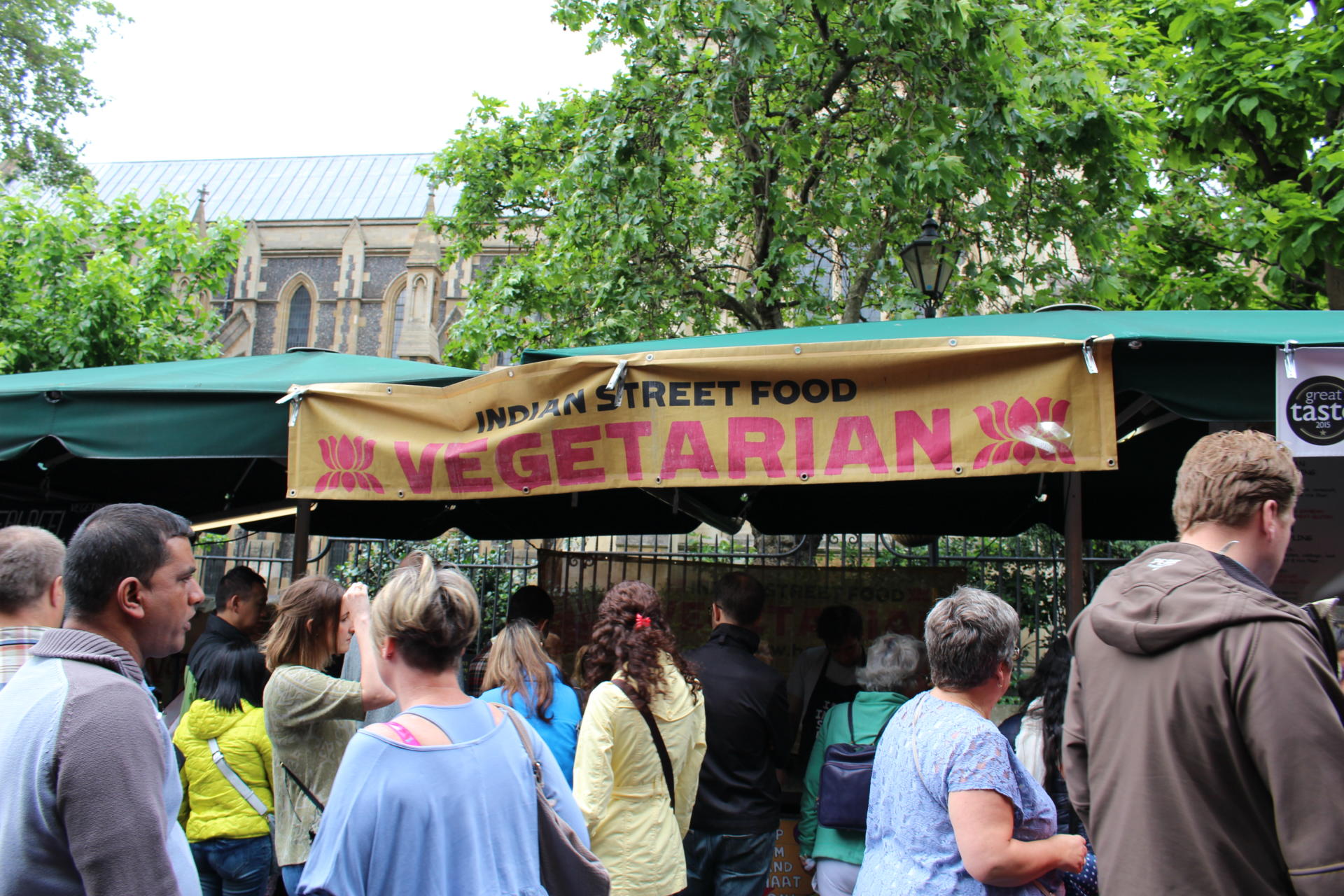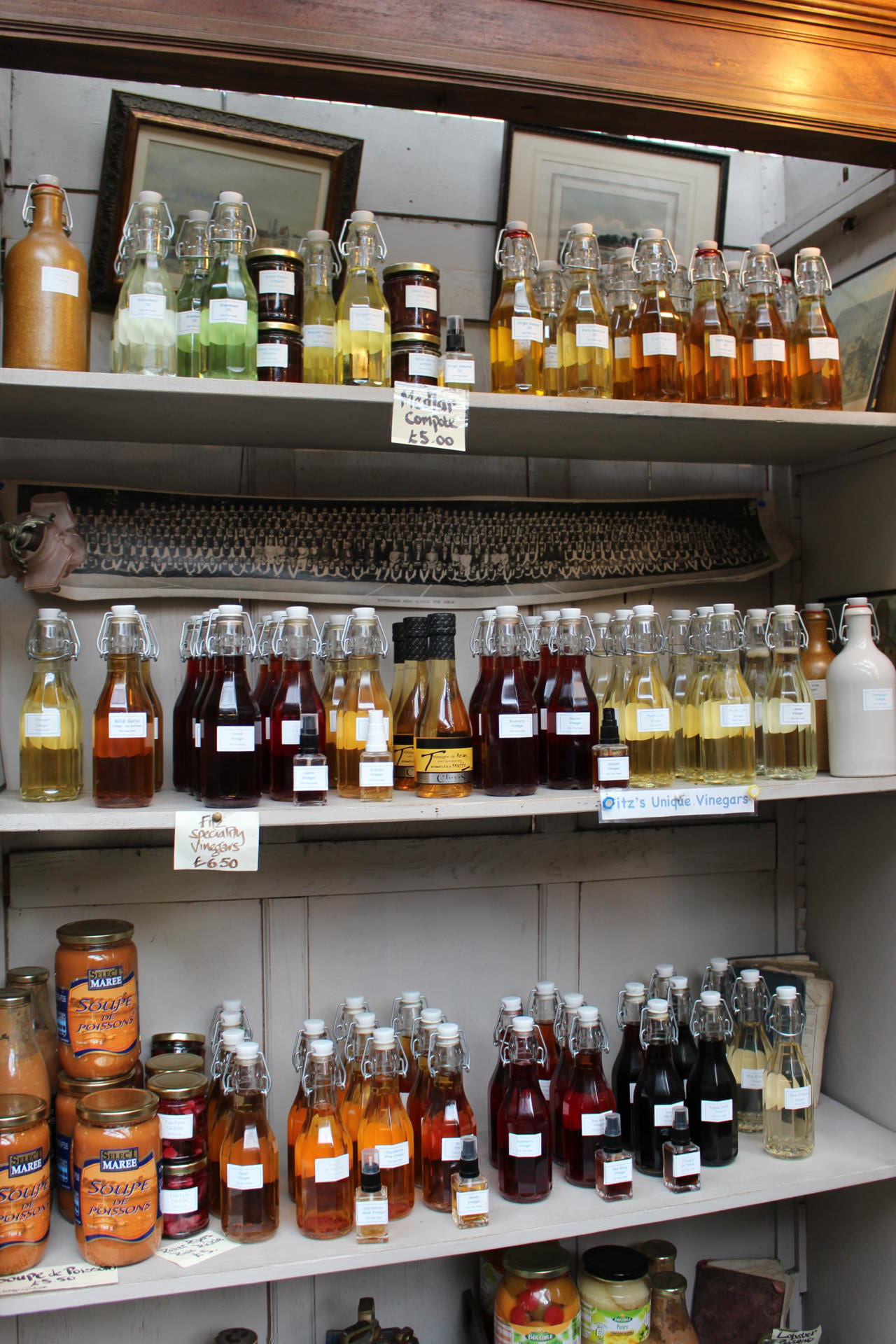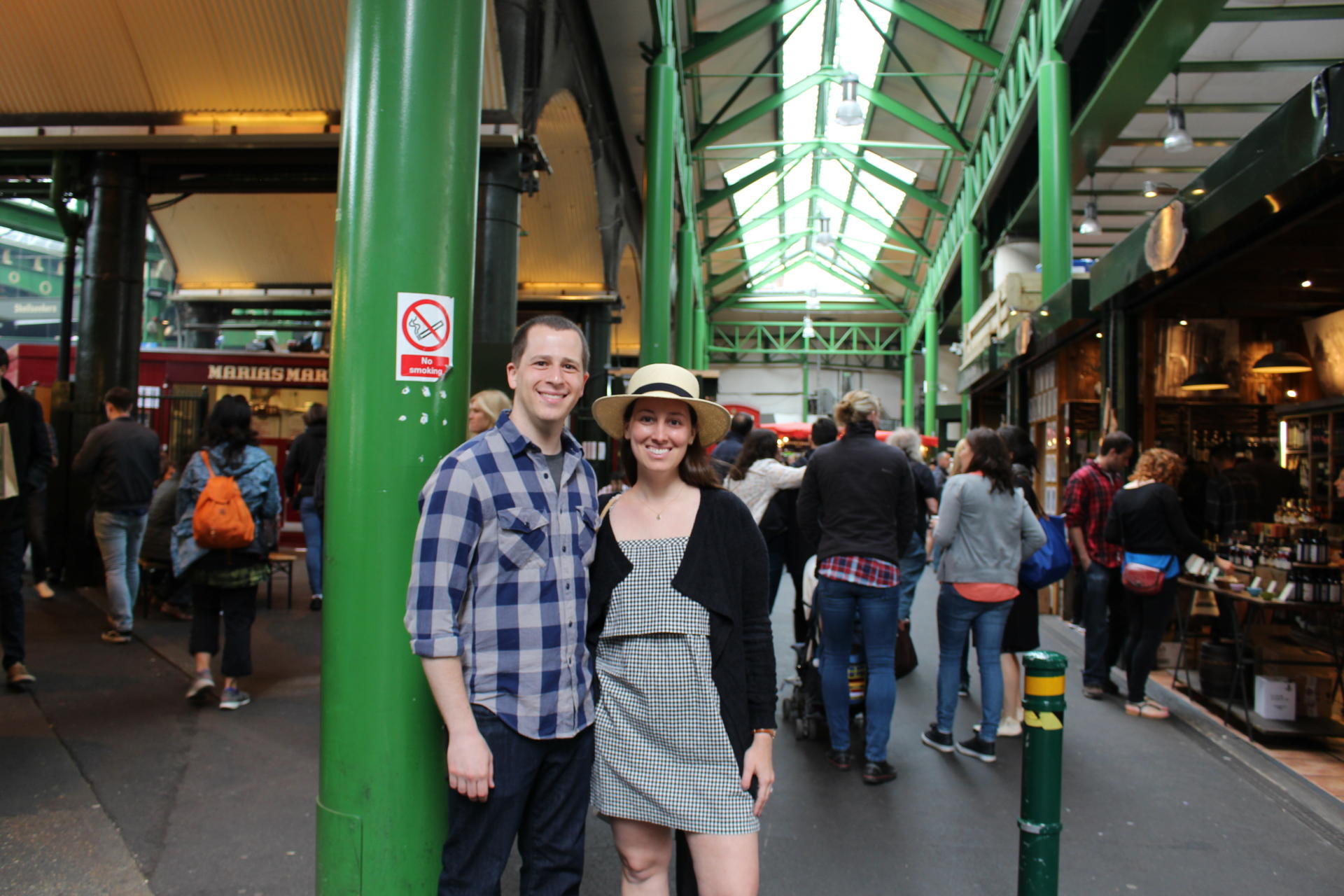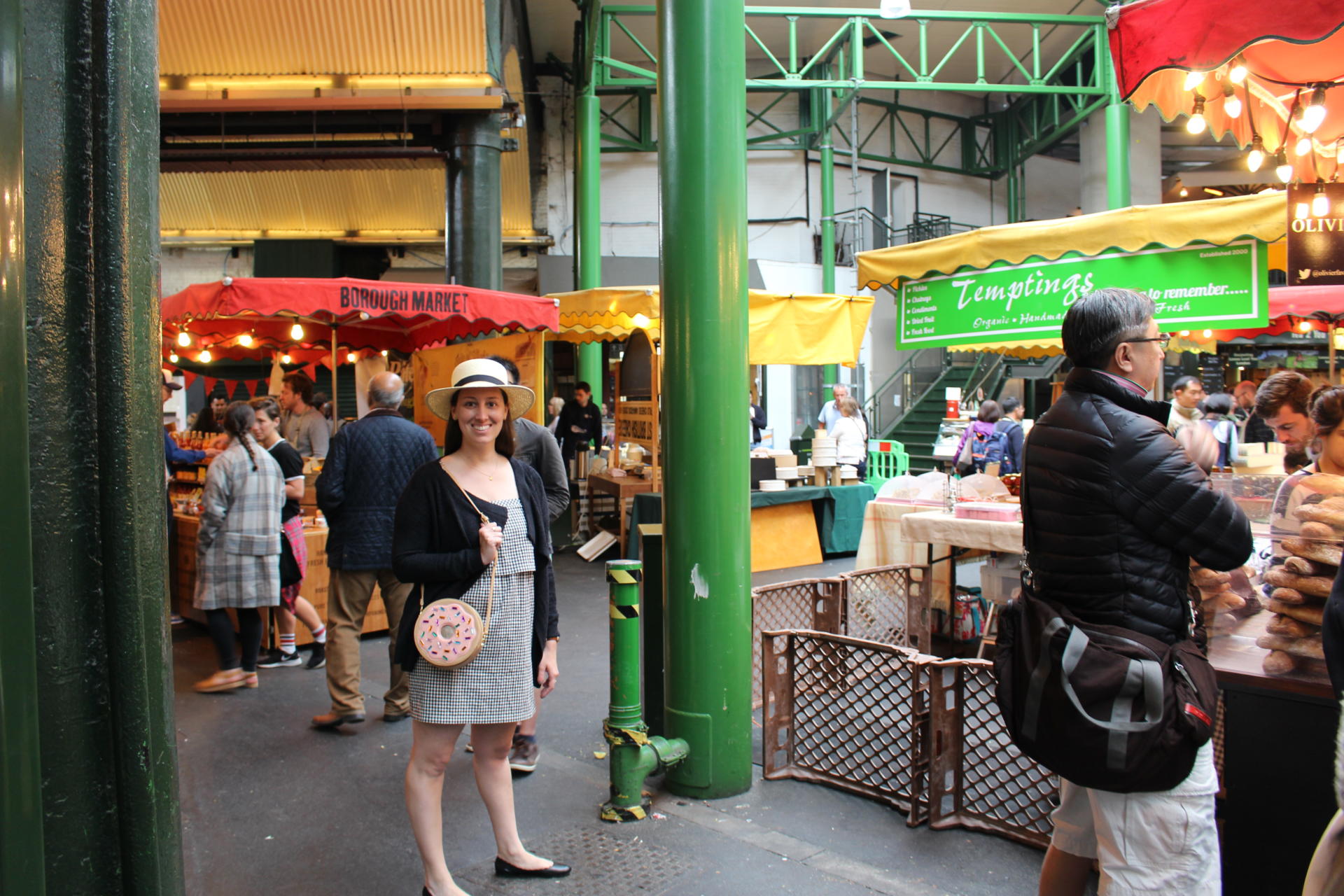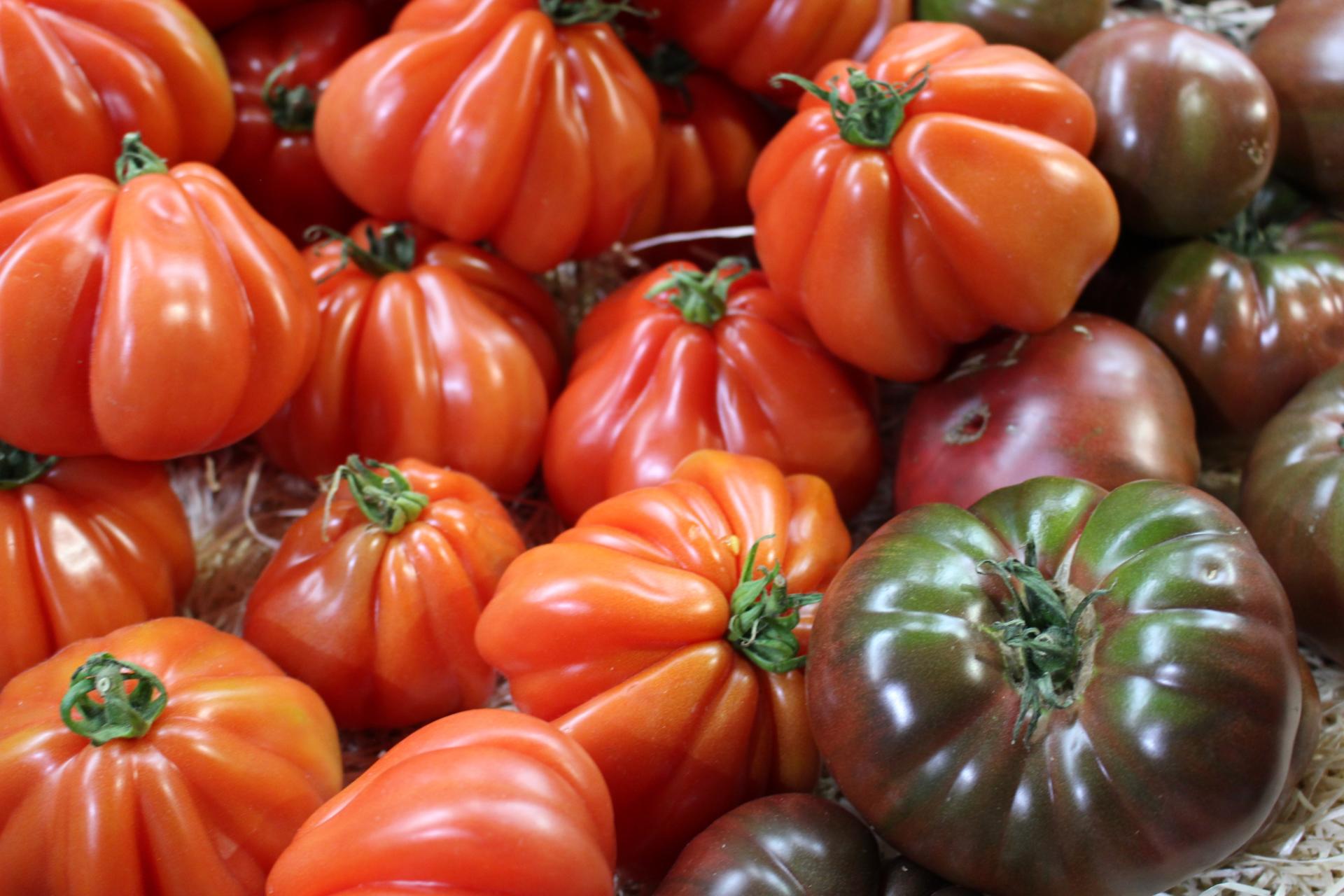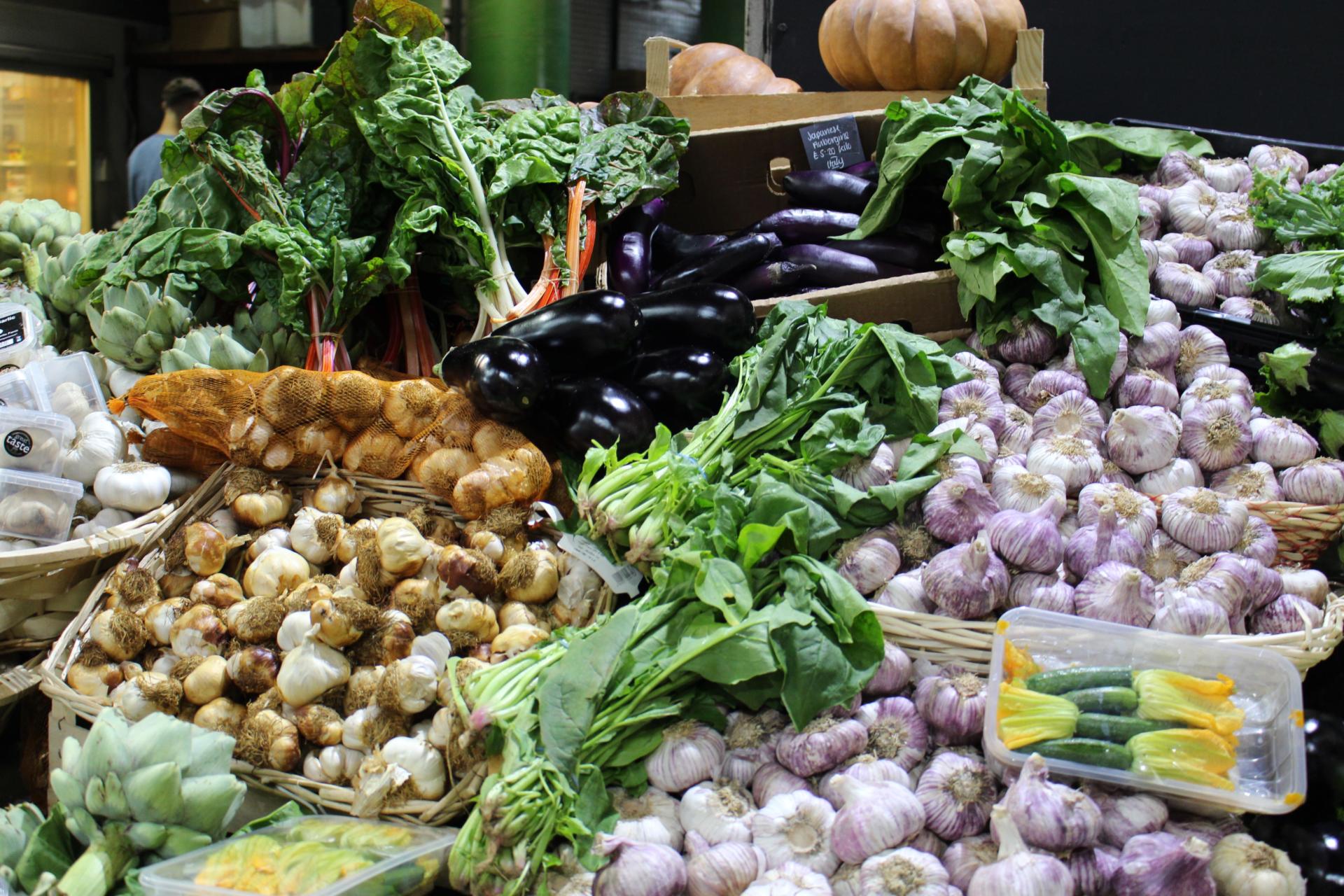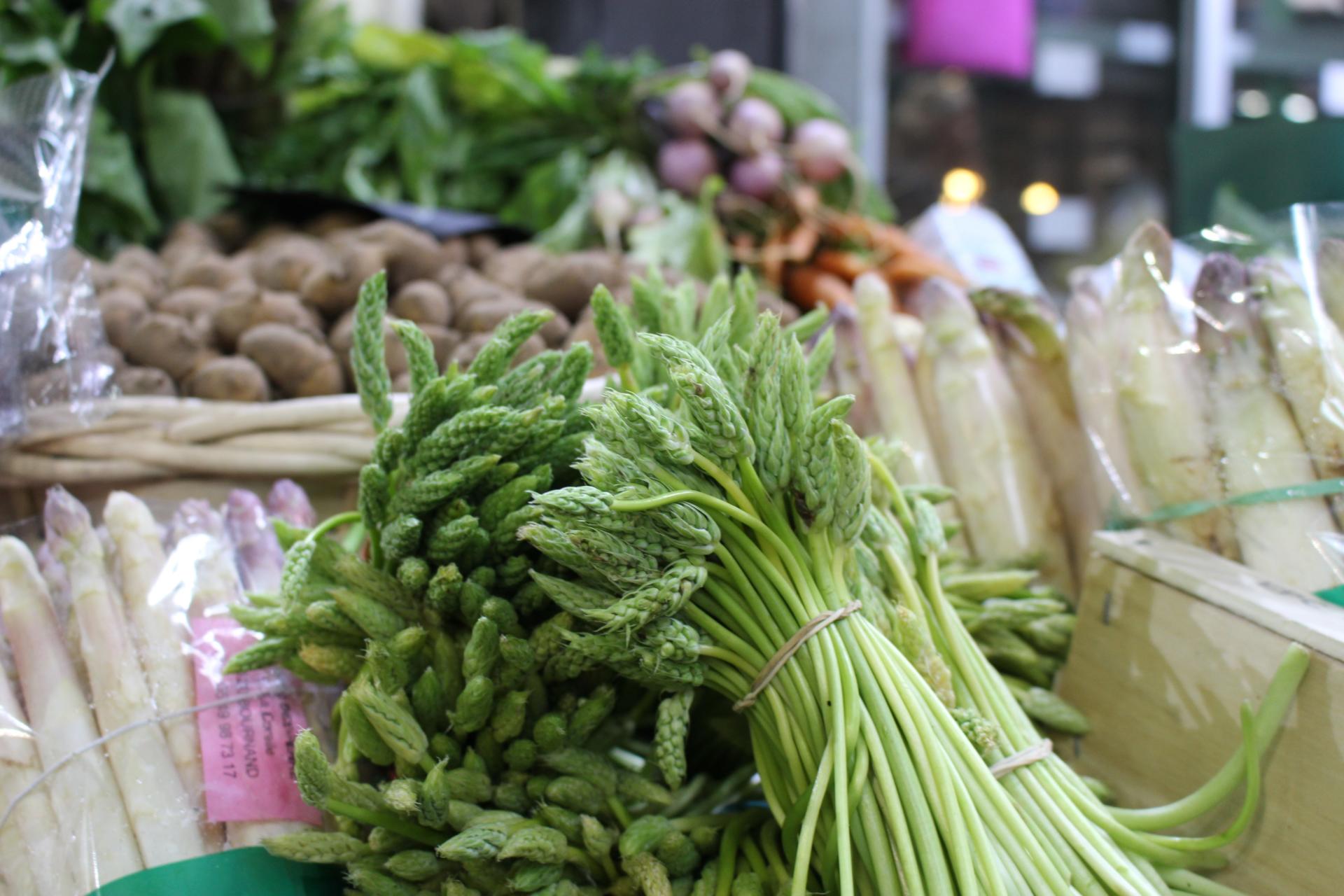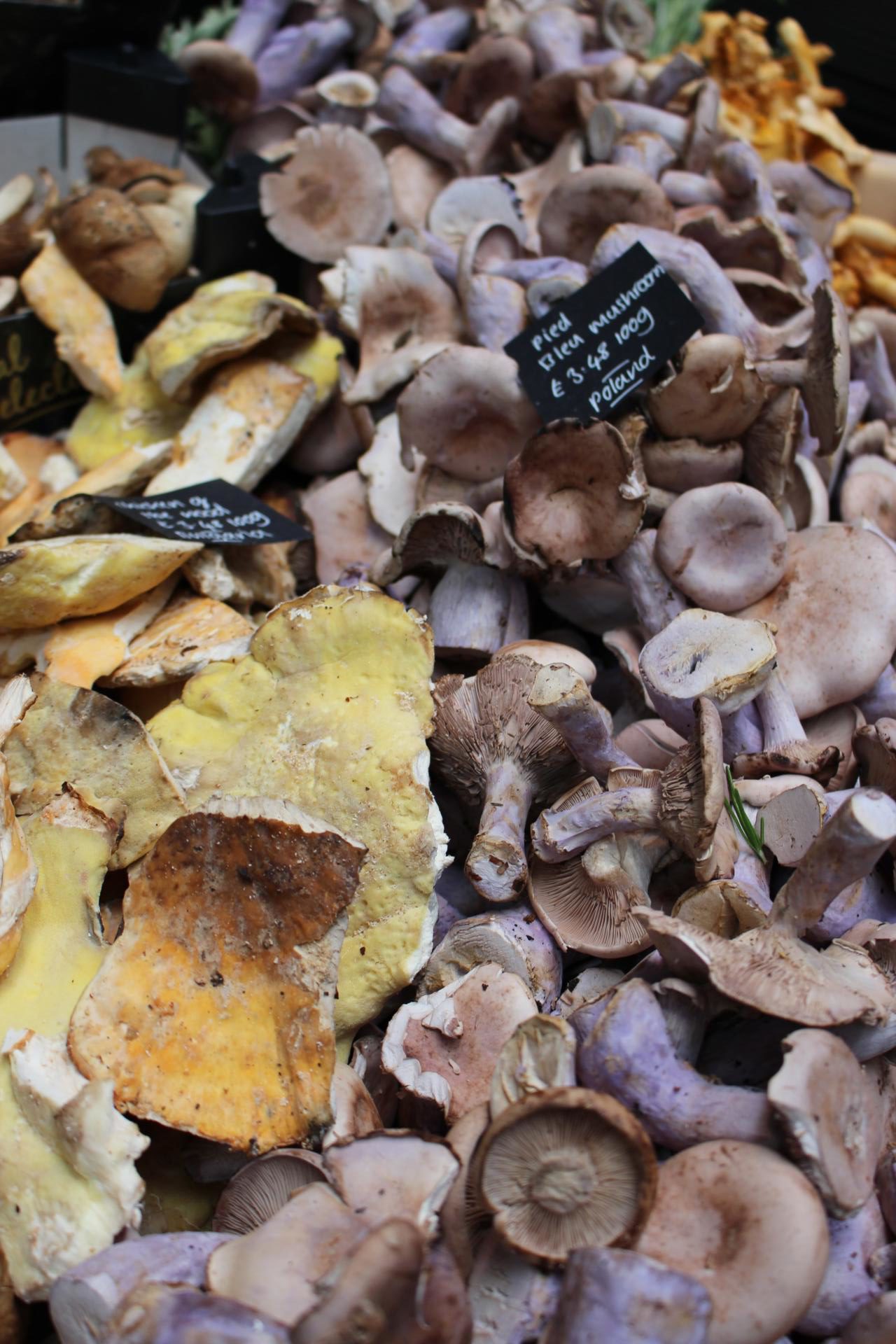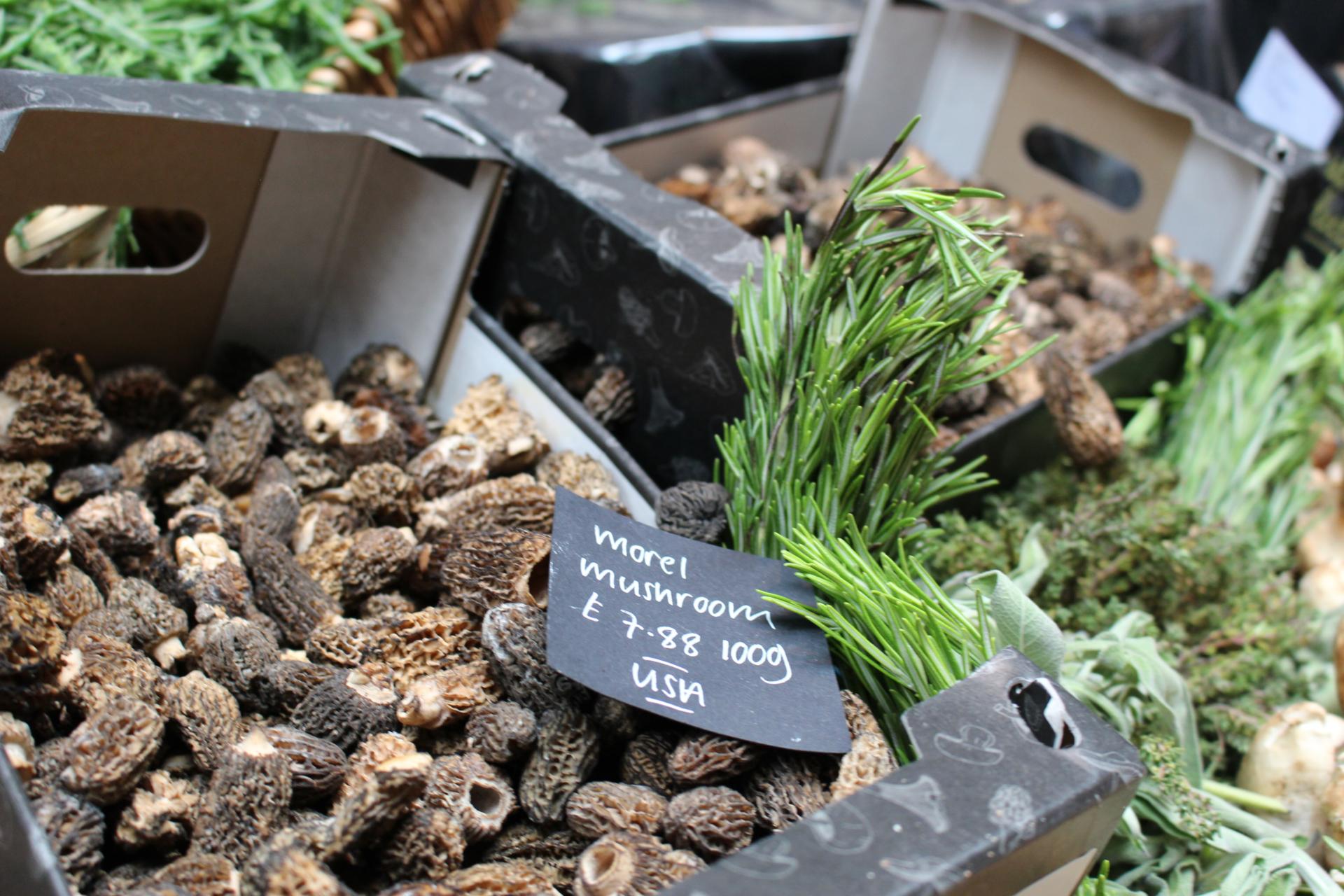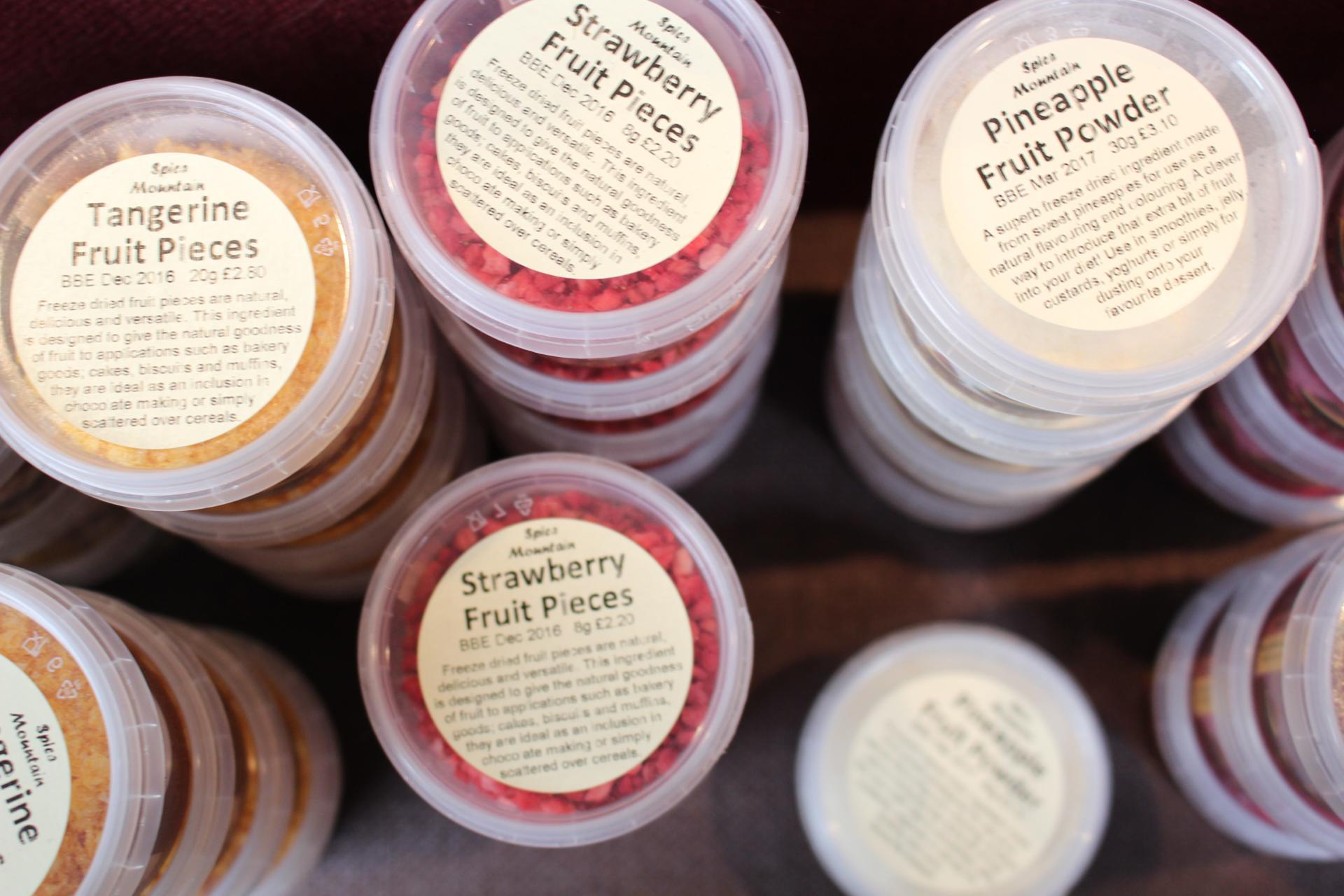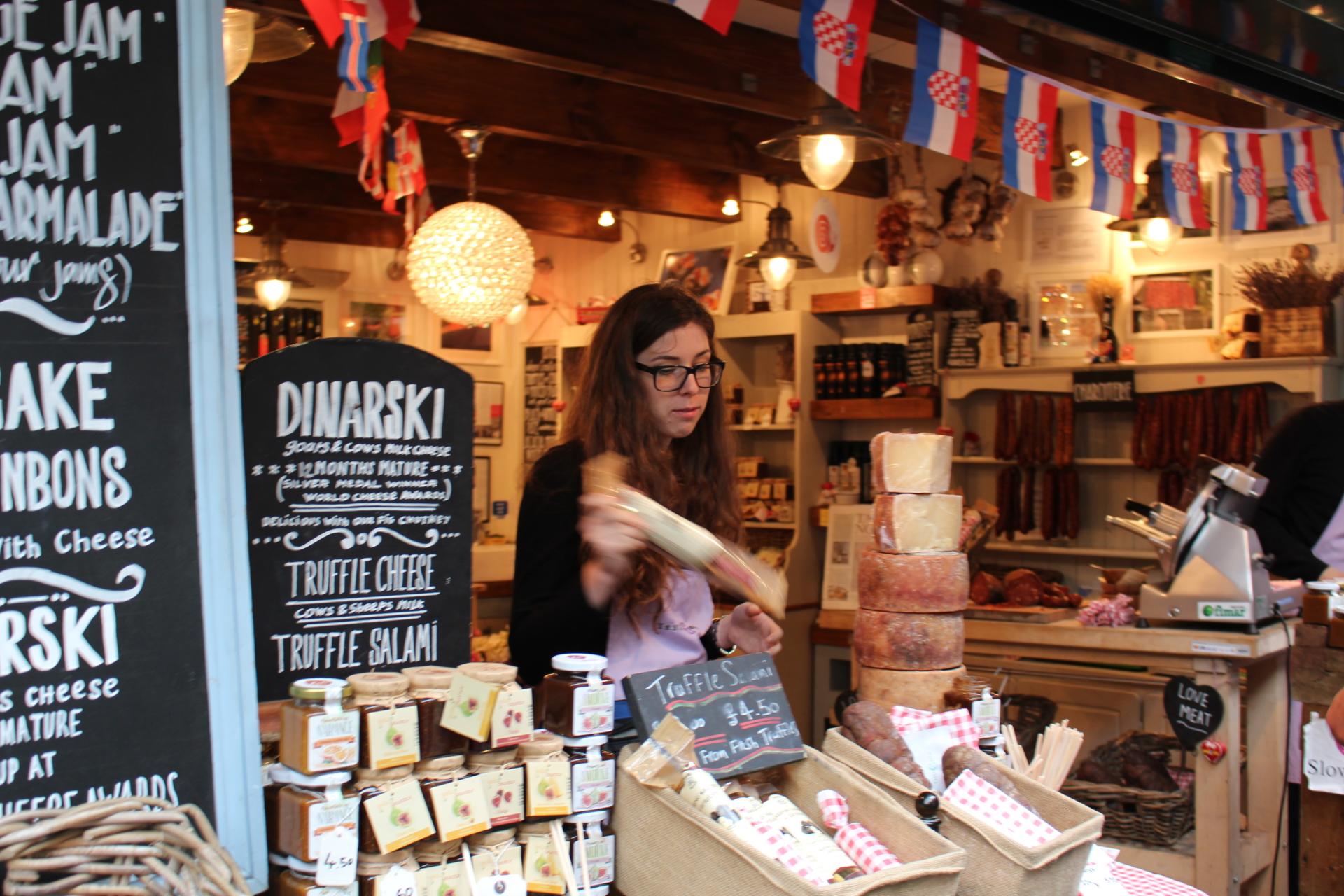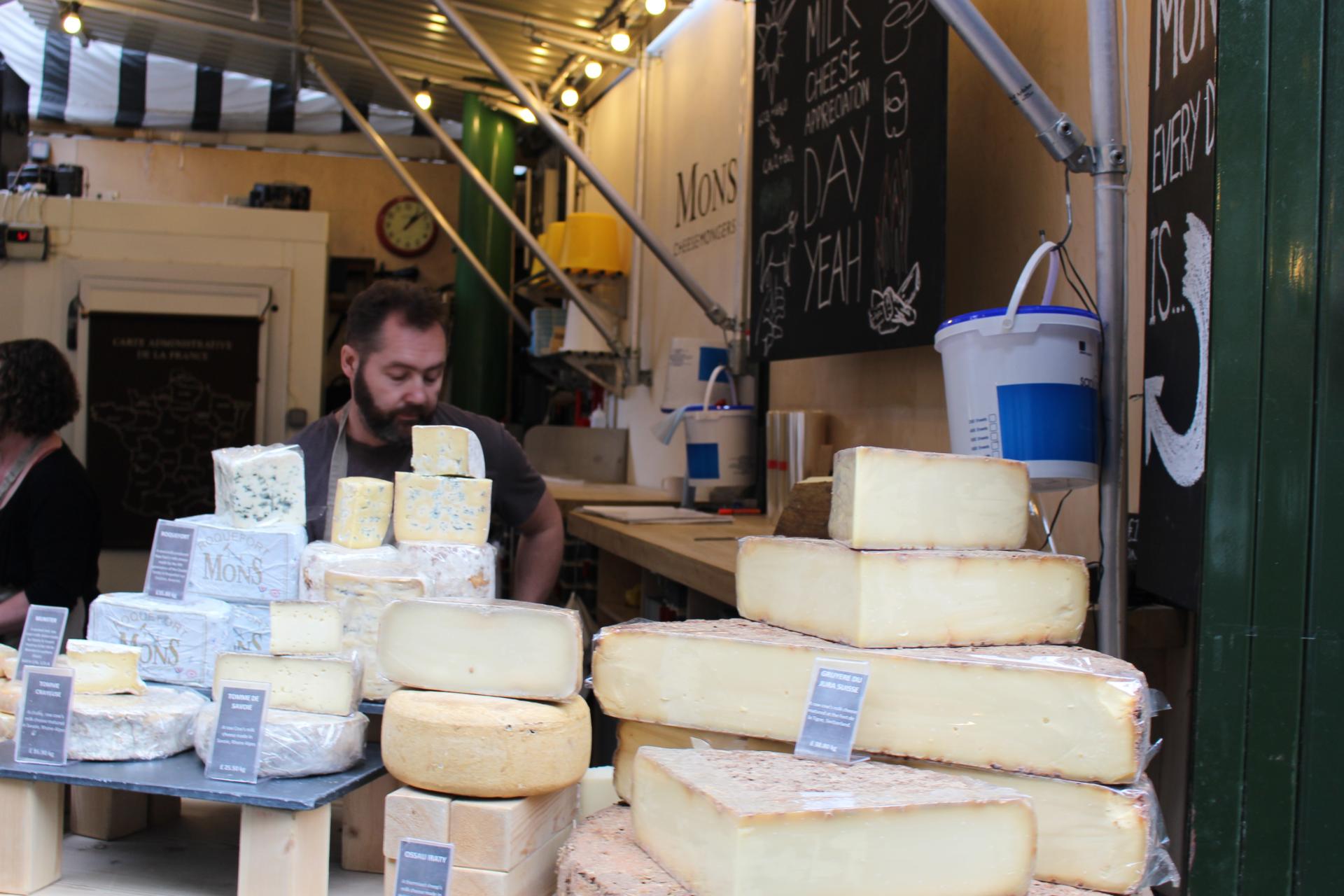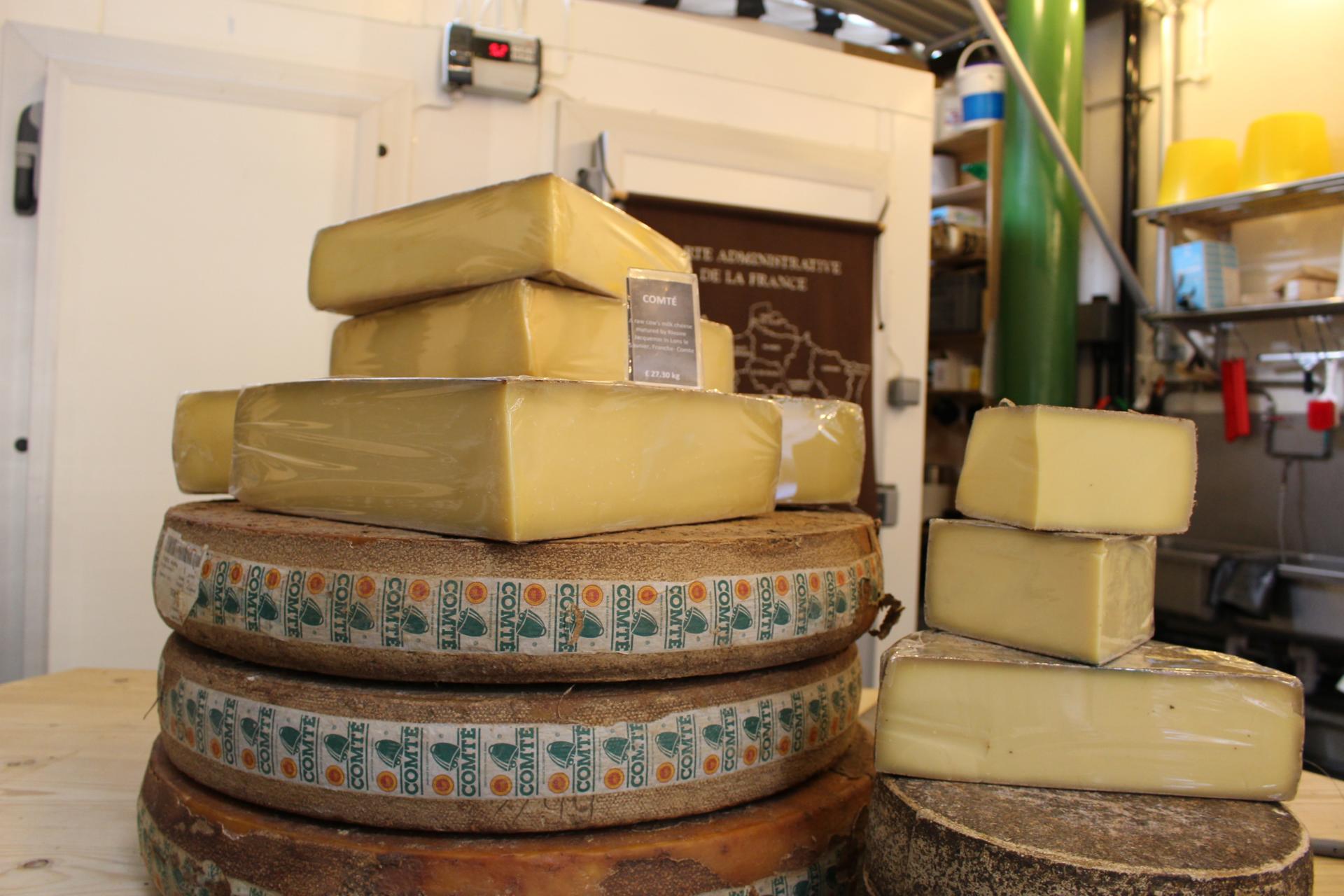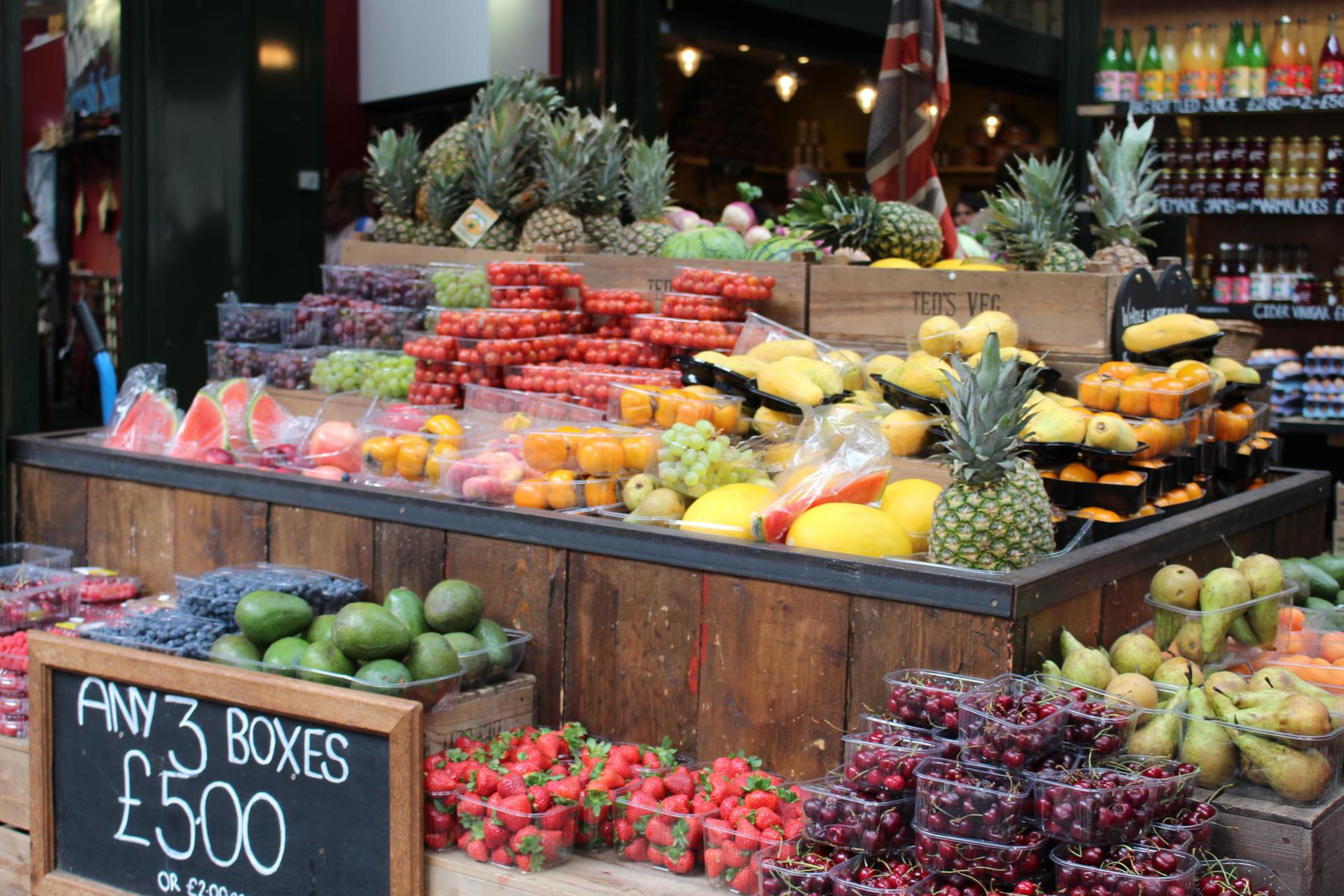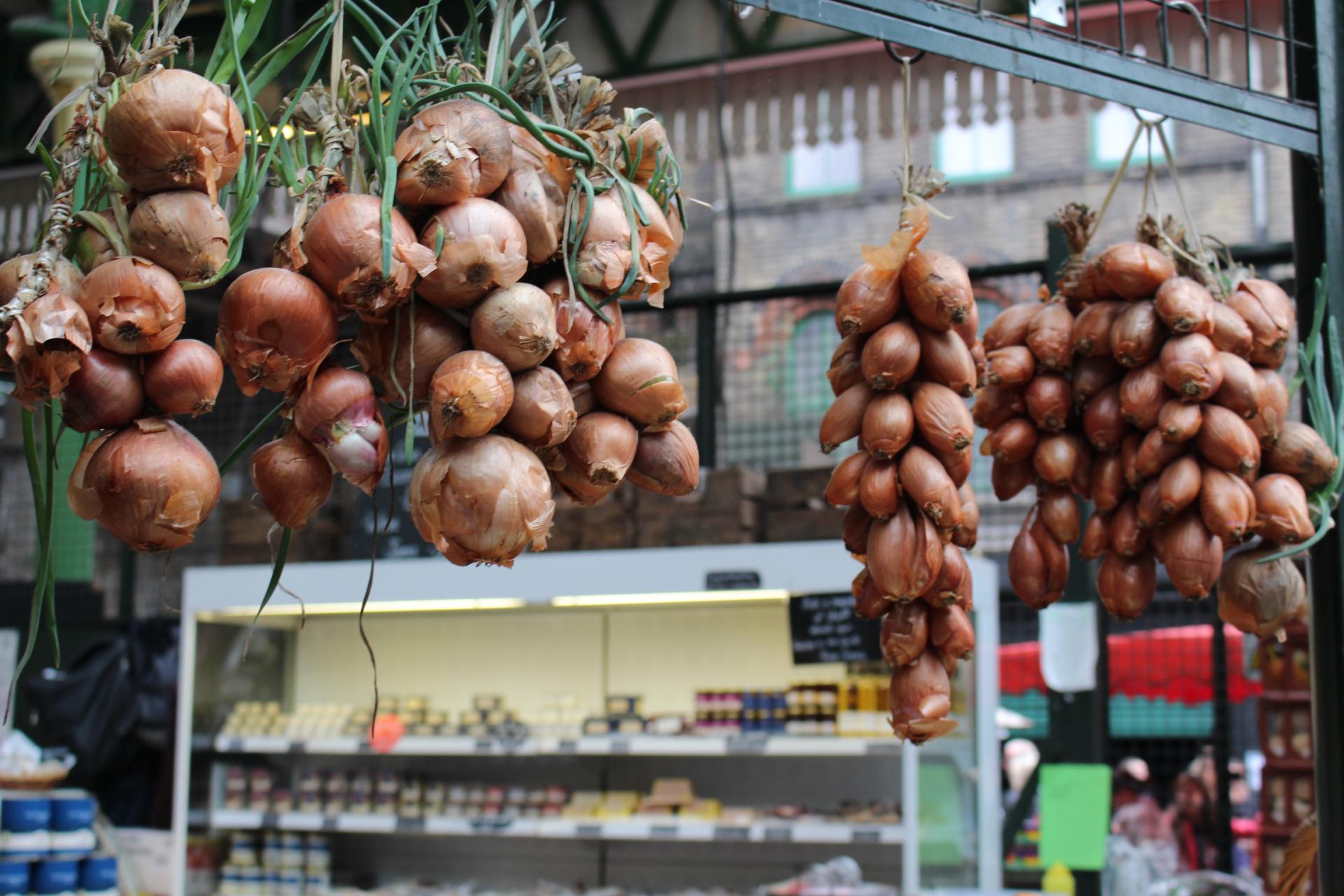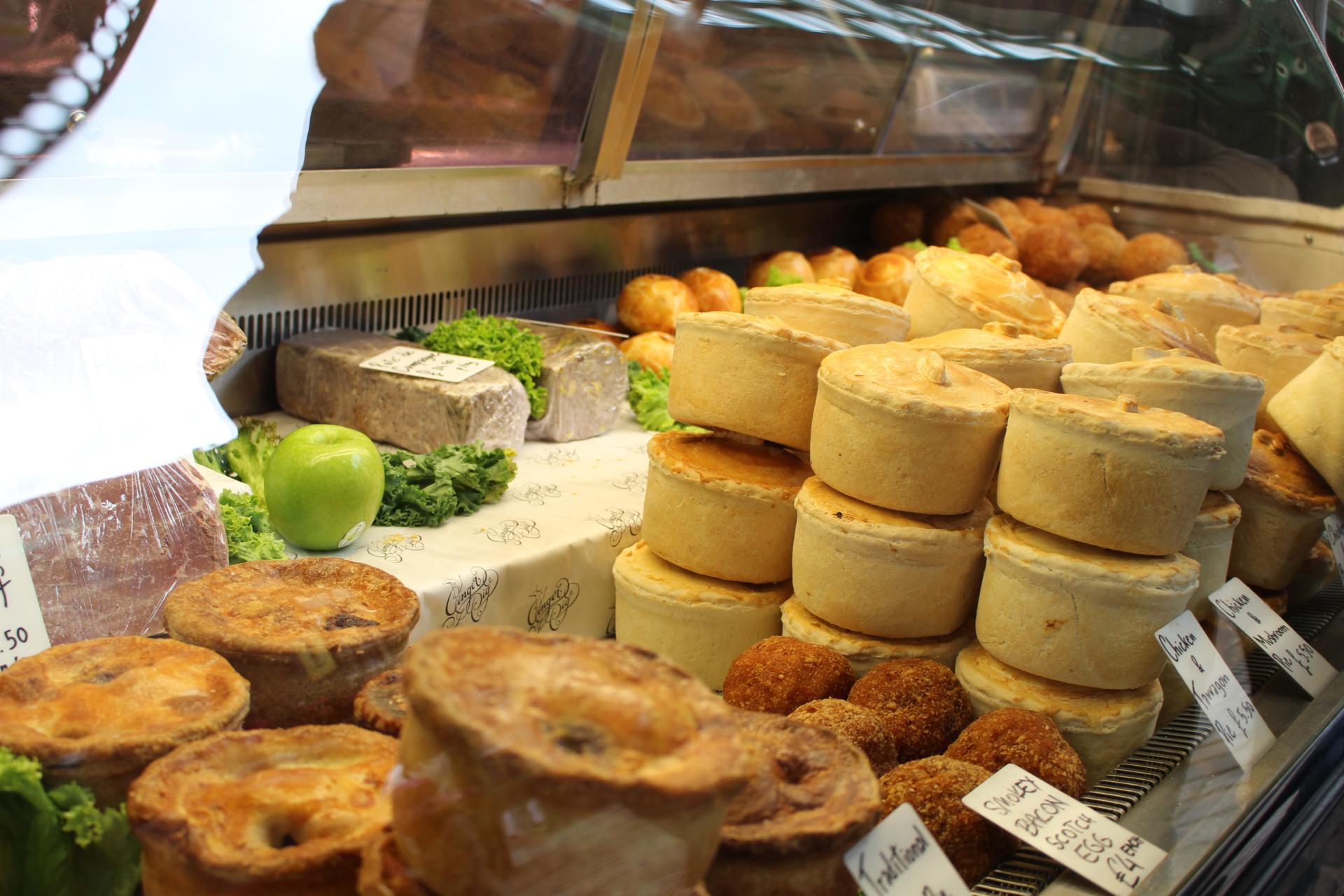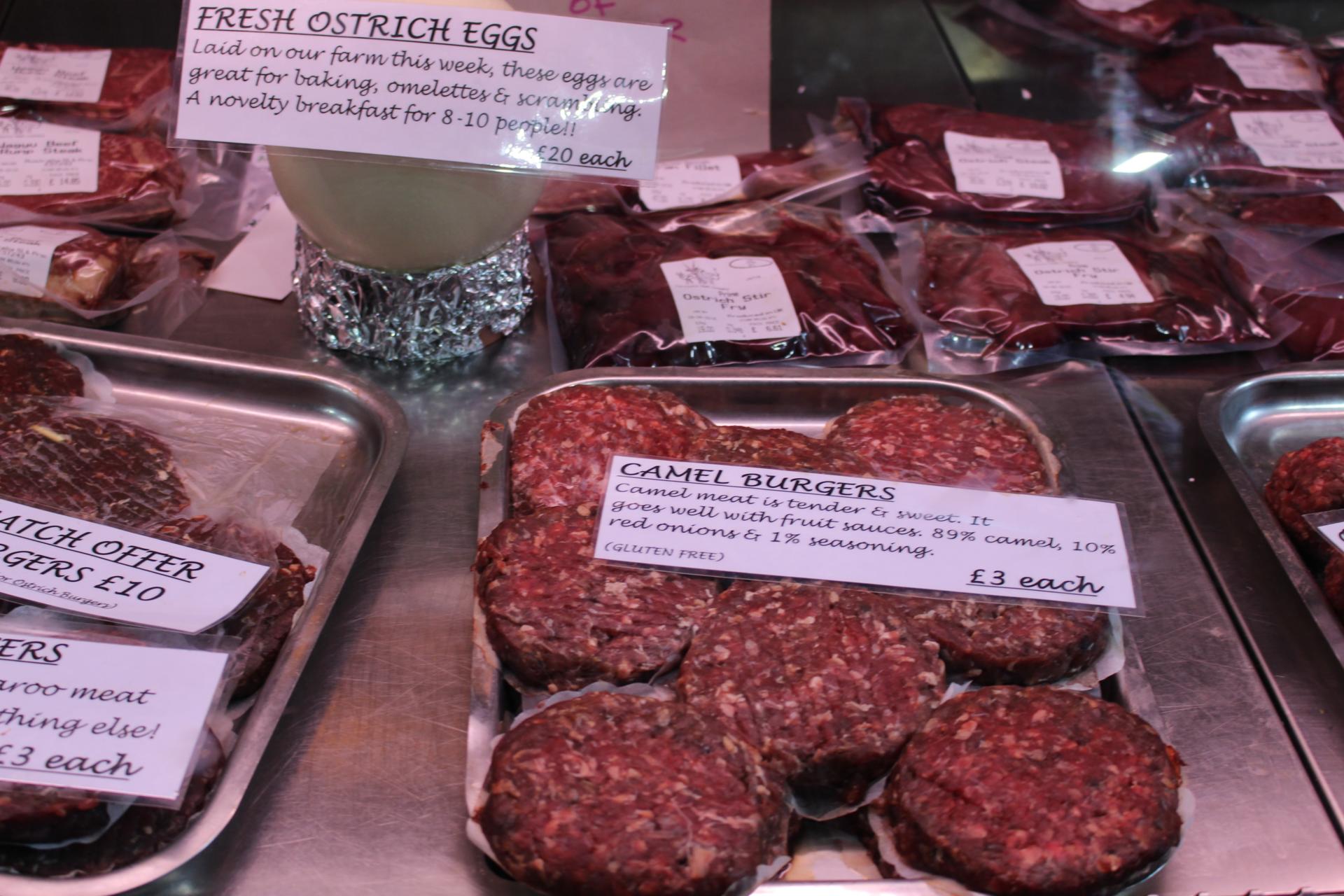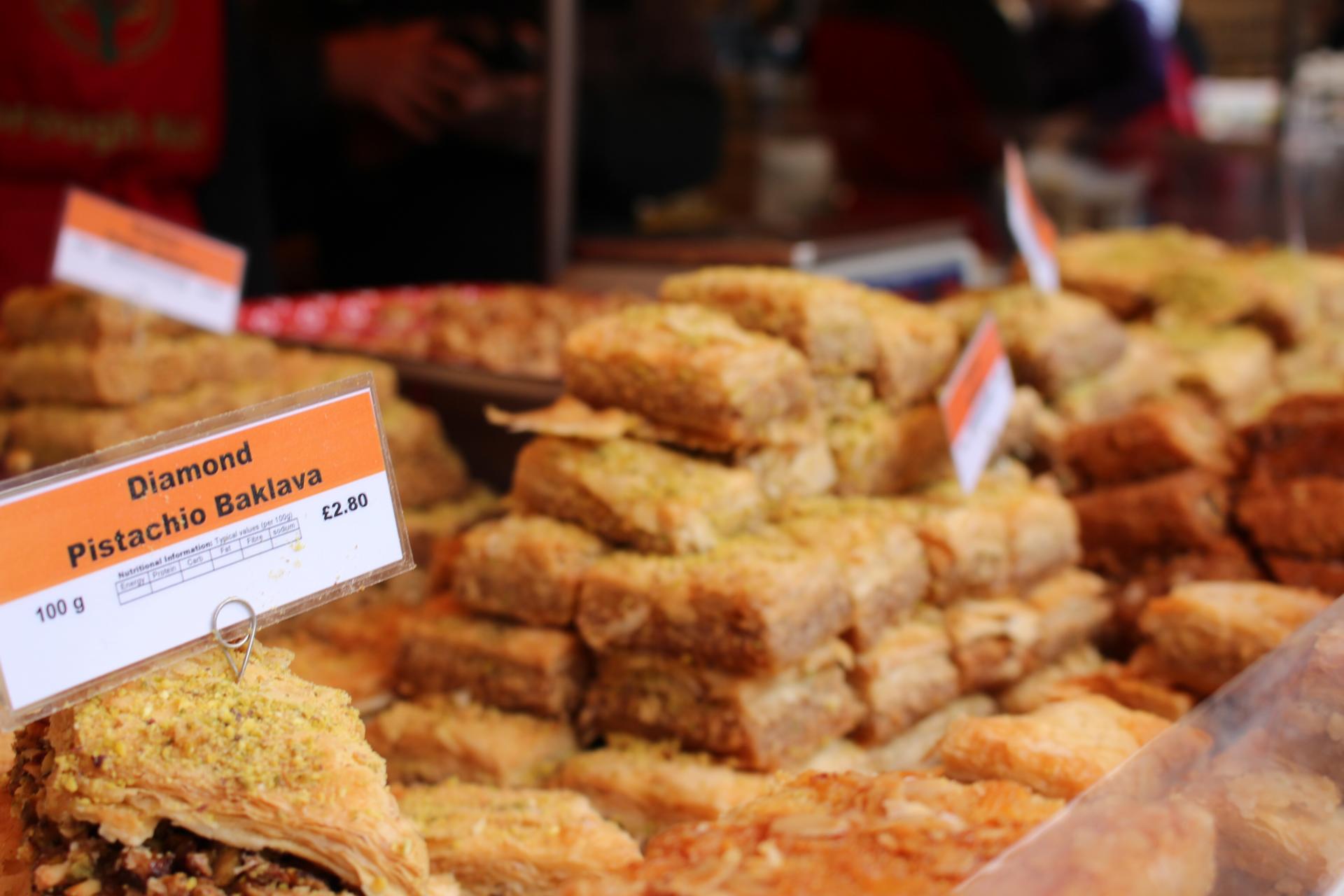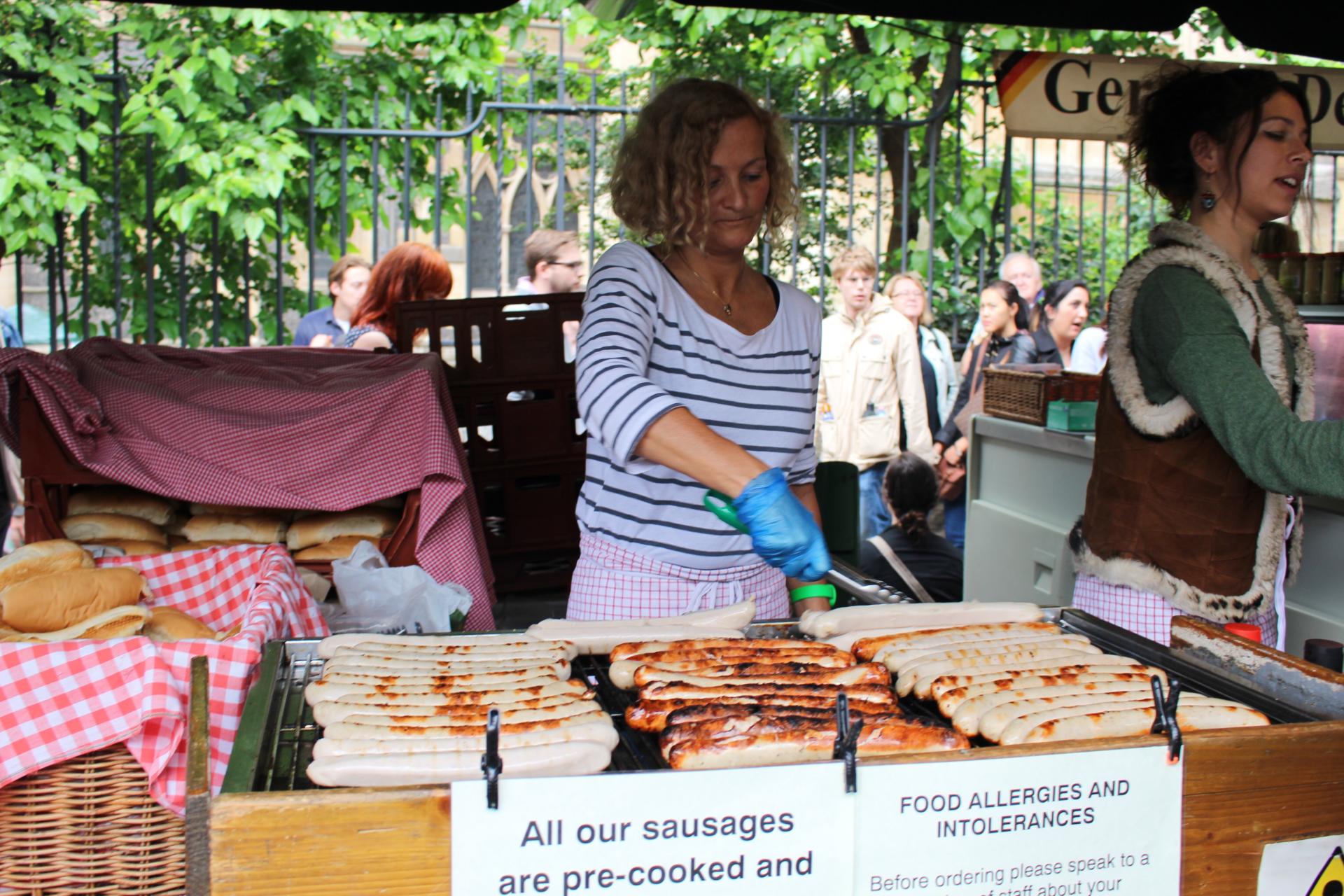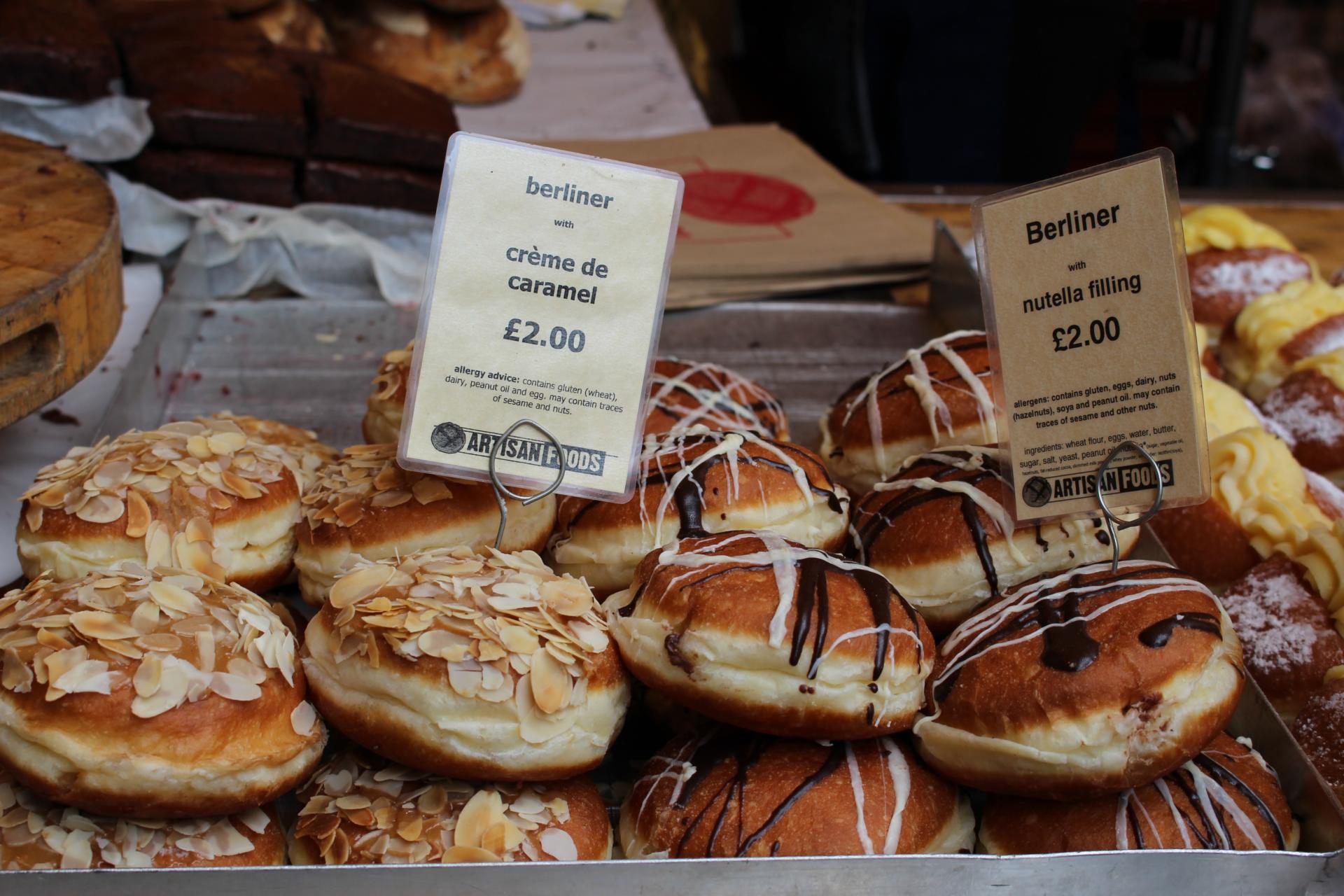 As this trip was a celebration of my birthday, our 4th wedding anniversary and the beginning of E's residency we decided to splurge a little and have high tea at Sketch. I made a reservation online months ahead of time. I HIGHLY recommend doing so if you plan on visiting Sketch. It is VERY popular right now and hard to get a table otherwise.
Upon our arrival we were greeted and told our table was just about ready. We waited in the Glade room until the table was set. Afternoon Tea is served in the Gallery. It is a pink dream! The walls are filled with David Shrigley's artwork and the tables are filled with his ceramic tableware. I wanted to take a tea set home with me! Fortunately they are available for sale online! E and I really appreciated David Shrigley's sense of humor, both with his artwork and the ceramic collection. Every time we looked up we would find another funny piece of art on the wall.
Once we were seated in the Gallery we ordered our first pot of tea. We went with a green tea since we are still quite obsessed from our time in Japan. Then it was time for food!!! Word to the wise – COME HUNGRY. It may not look like a lot at first, but the Afternoon Tea at Sketch involved several courses. It just keeps coming! And if you want more of any one thing, they will bring you more! First they brought our a tower of snacks including assorted finger sandwiches and pastries. They are all beautifully arranged and delicious. We ate the entire tower! Then came the hot scones with clotted cream and a selection of jams. The grand finale involved more pretty in pink pastries. At the end, we didn't have room for even one more bite!
While enjoying your afternoon tea, definitely take a trip to the sketch loo. It was like nothing I had ever seen before. In my mind, it evokes memories of Star Wars, Star Trek and the Despicable Me Minions. When I walked in all I could think of was "beedo….beedo….beedo." The stalls are actually pods. I felt like I was going to shoot off into space when I sat down on the toilet. It was an experience. Don't worry, I took many a snap from inside and outside my pod! I just couldn't get over how cool it was.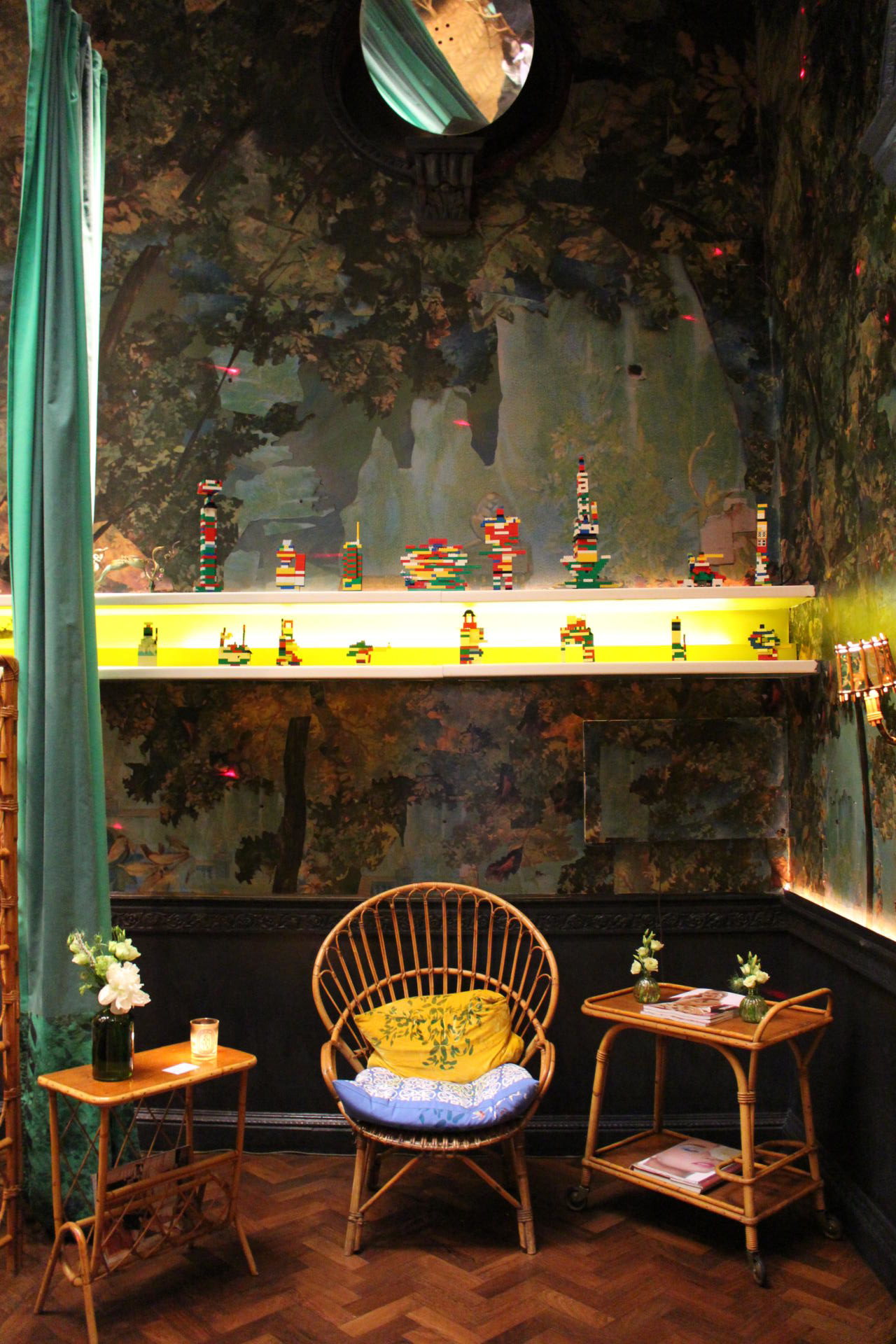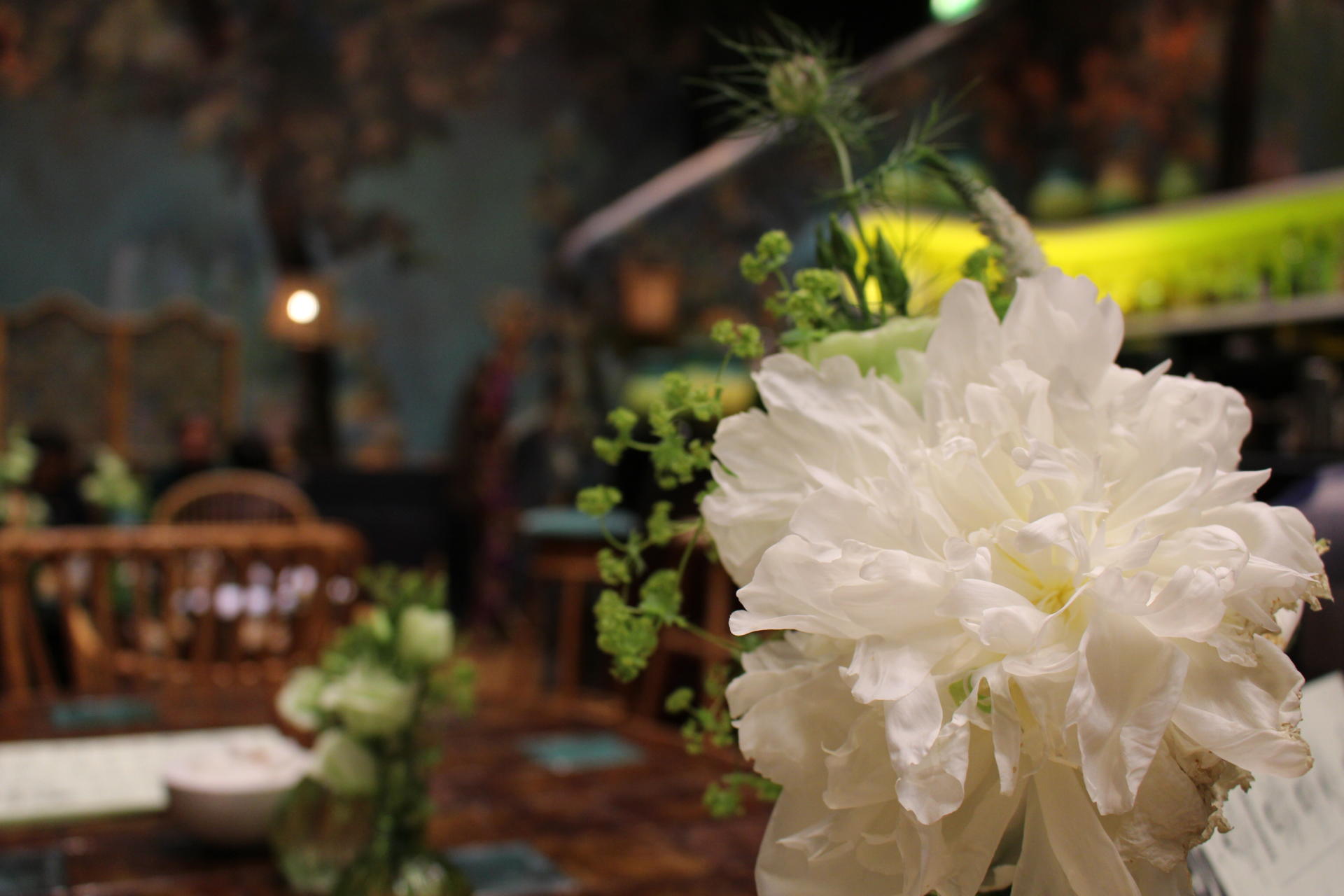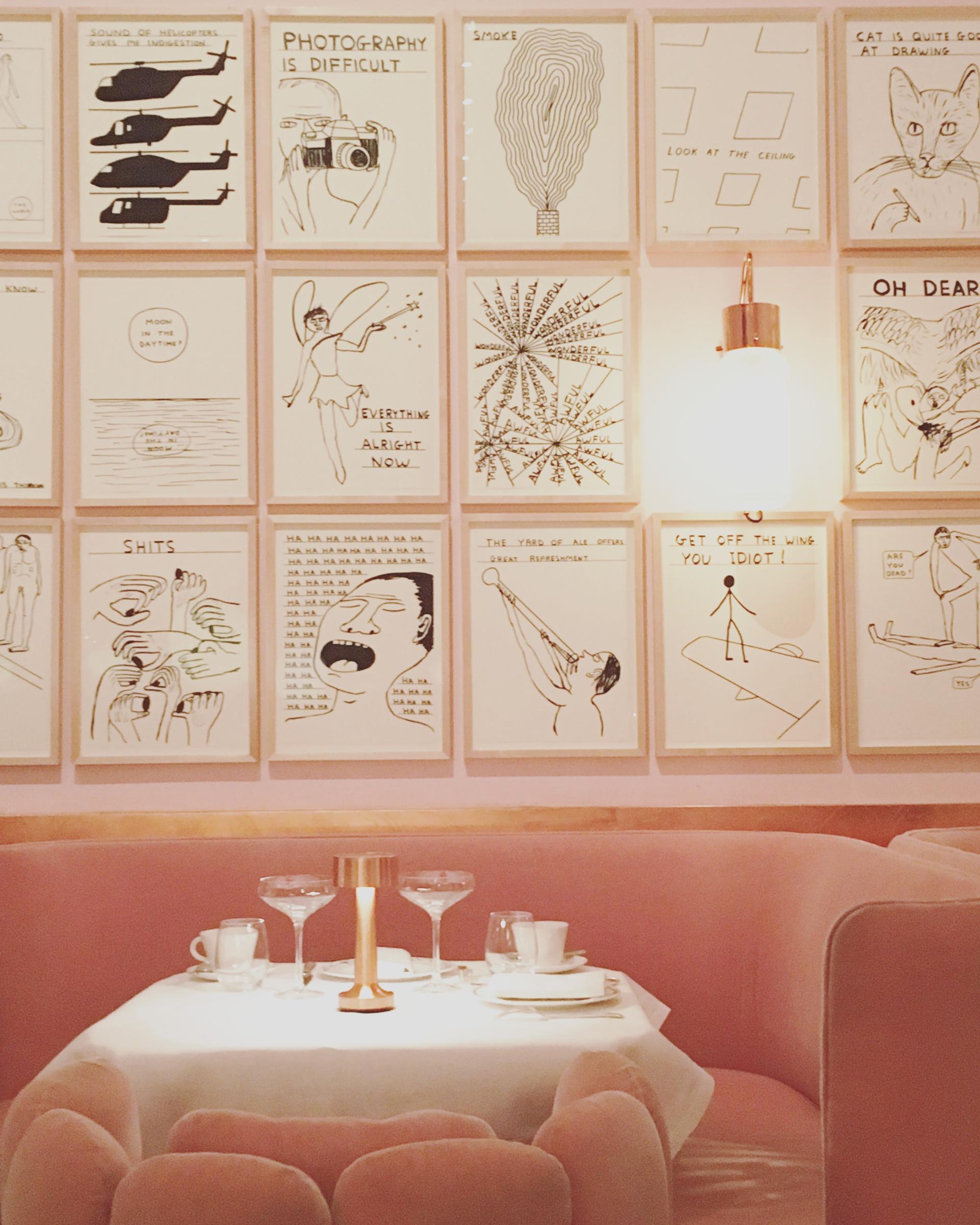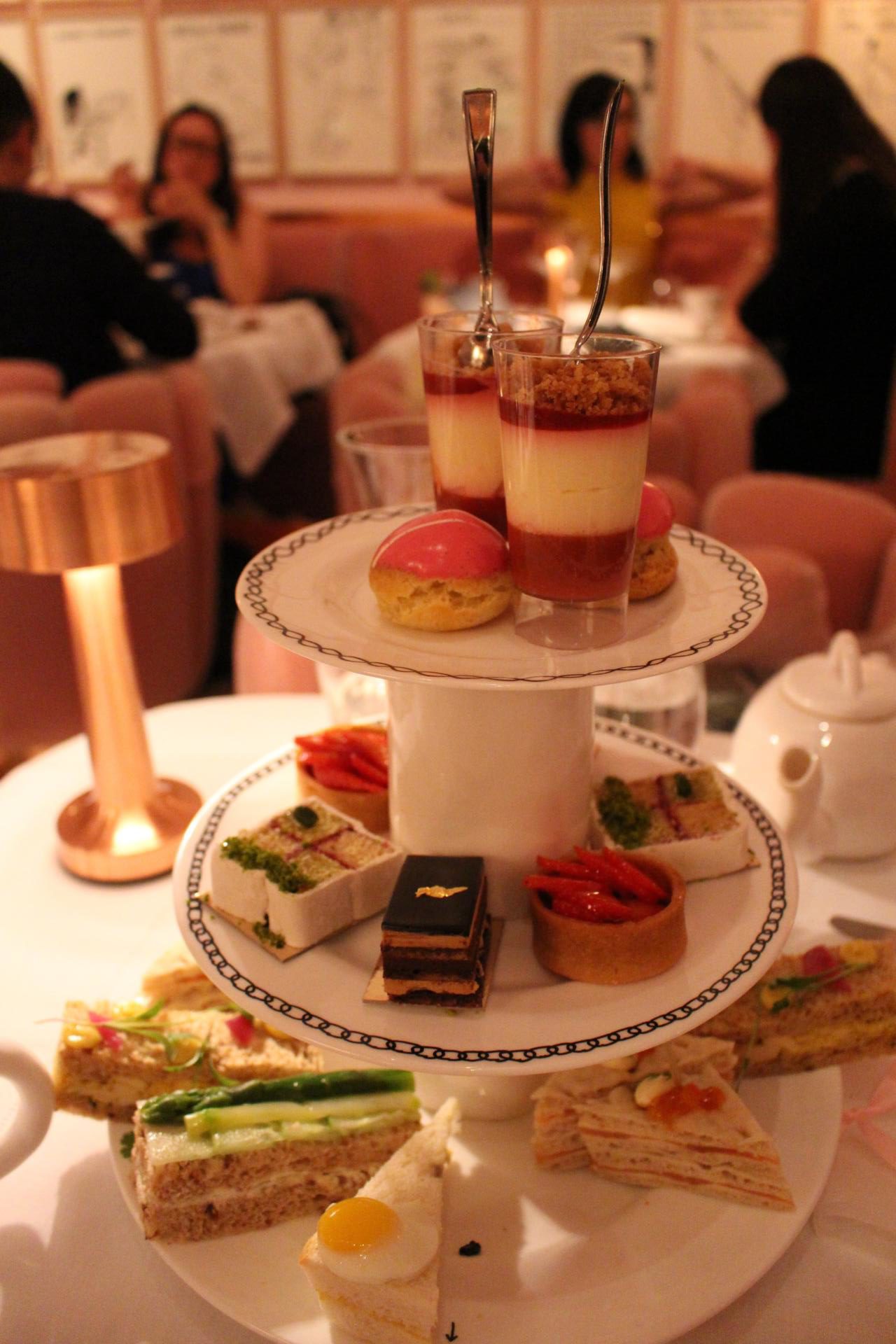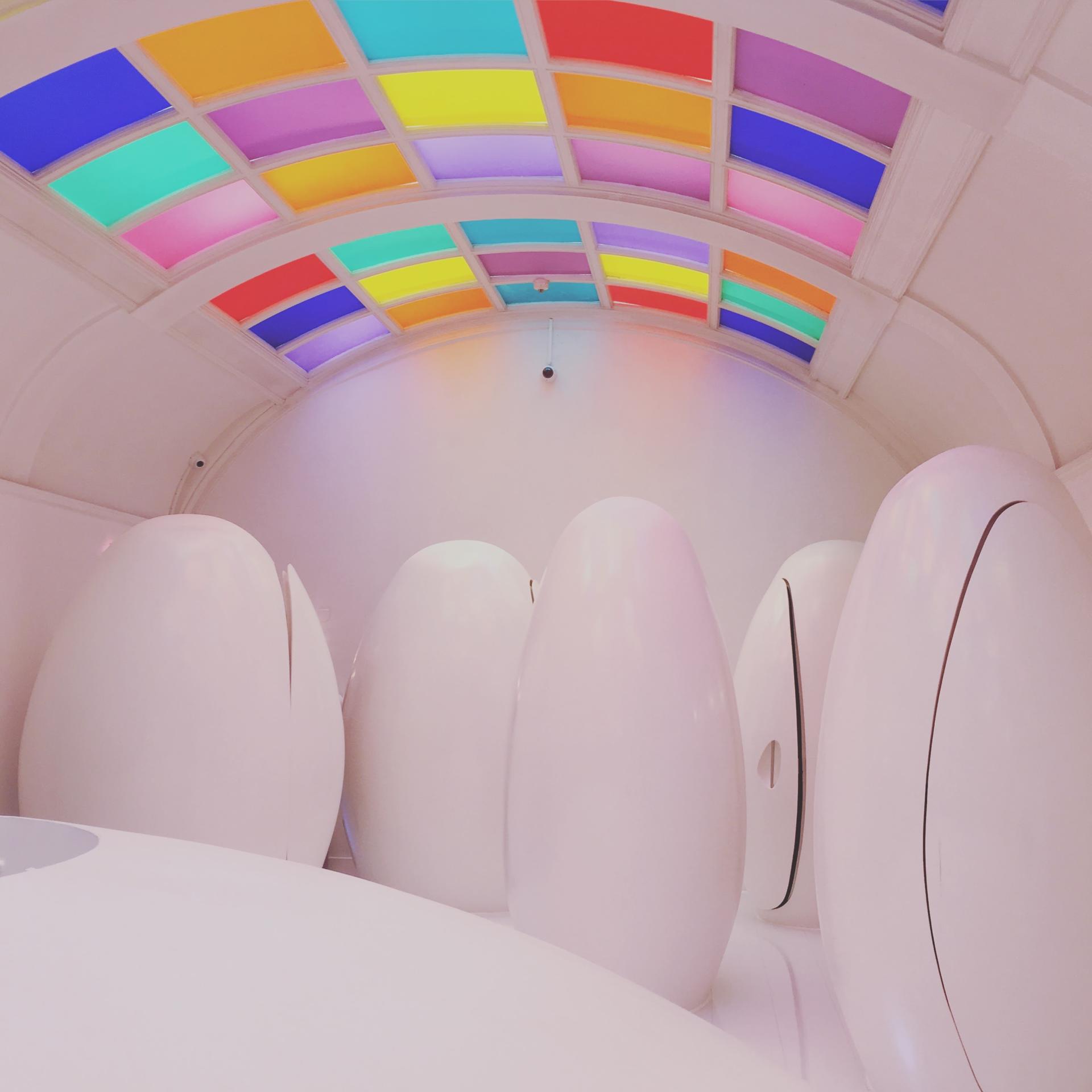 While we may not have been able to afford anything beyond a little Harrods stuffed bear in Harrods, I knew I had to show E the Harrods Food Hall. It spans an ENTIRE floor at Harrods and Harrods takes up an entire city block!
The Harrods Food Hall reminded us so much of the food halls found in the Japanese Department Stores such as Tokyu Hands. All of the food is organized by category and can be found in different rooms. Everything is in its right place and is beautifully arranged. I wouldn't expect anything less than perfection from the British!
They even had beautiful rose water donuts! While they looked divine, we had just come from our epic feast at Ottolenghi and couldn't fathom eating one more bite. I also was still savoring my meal.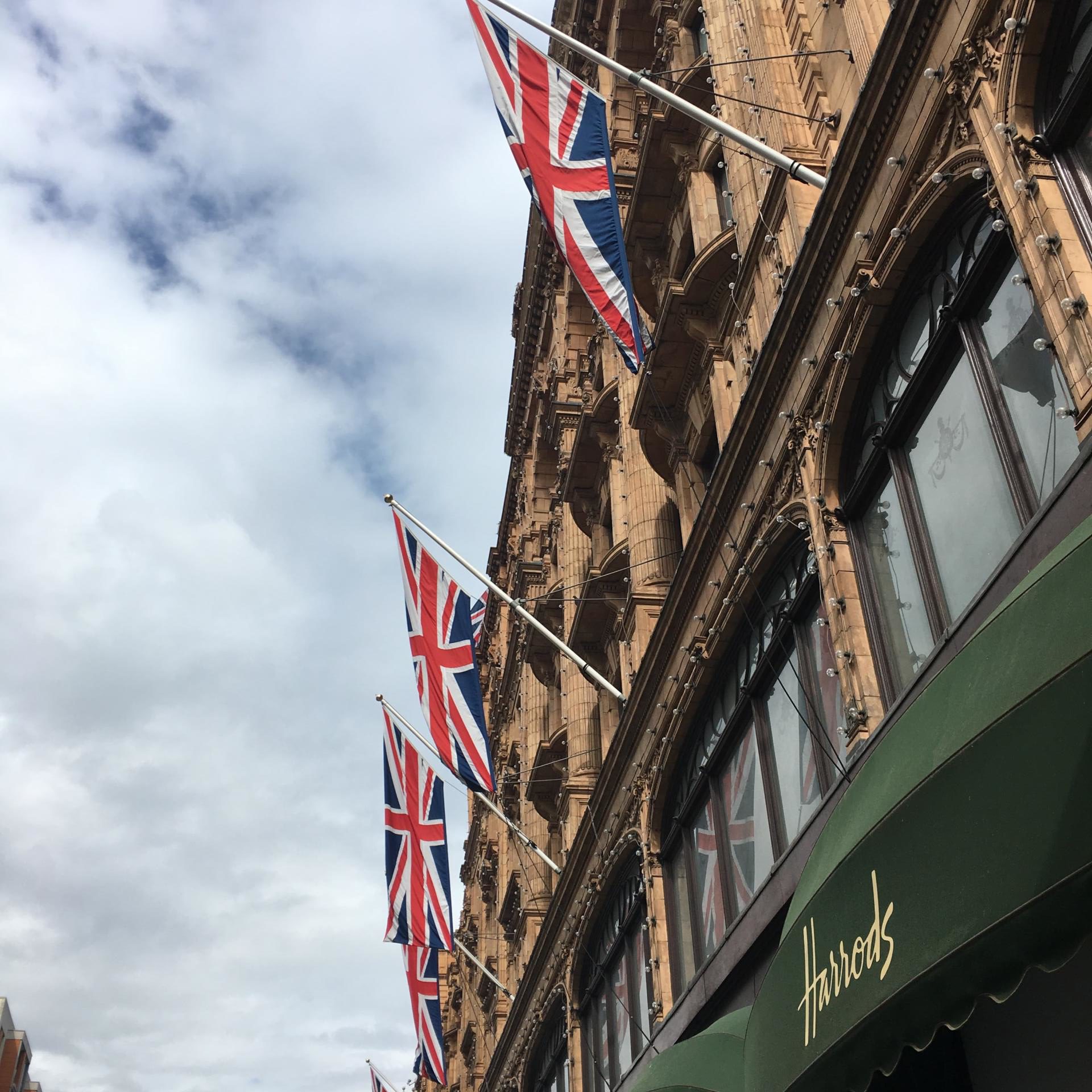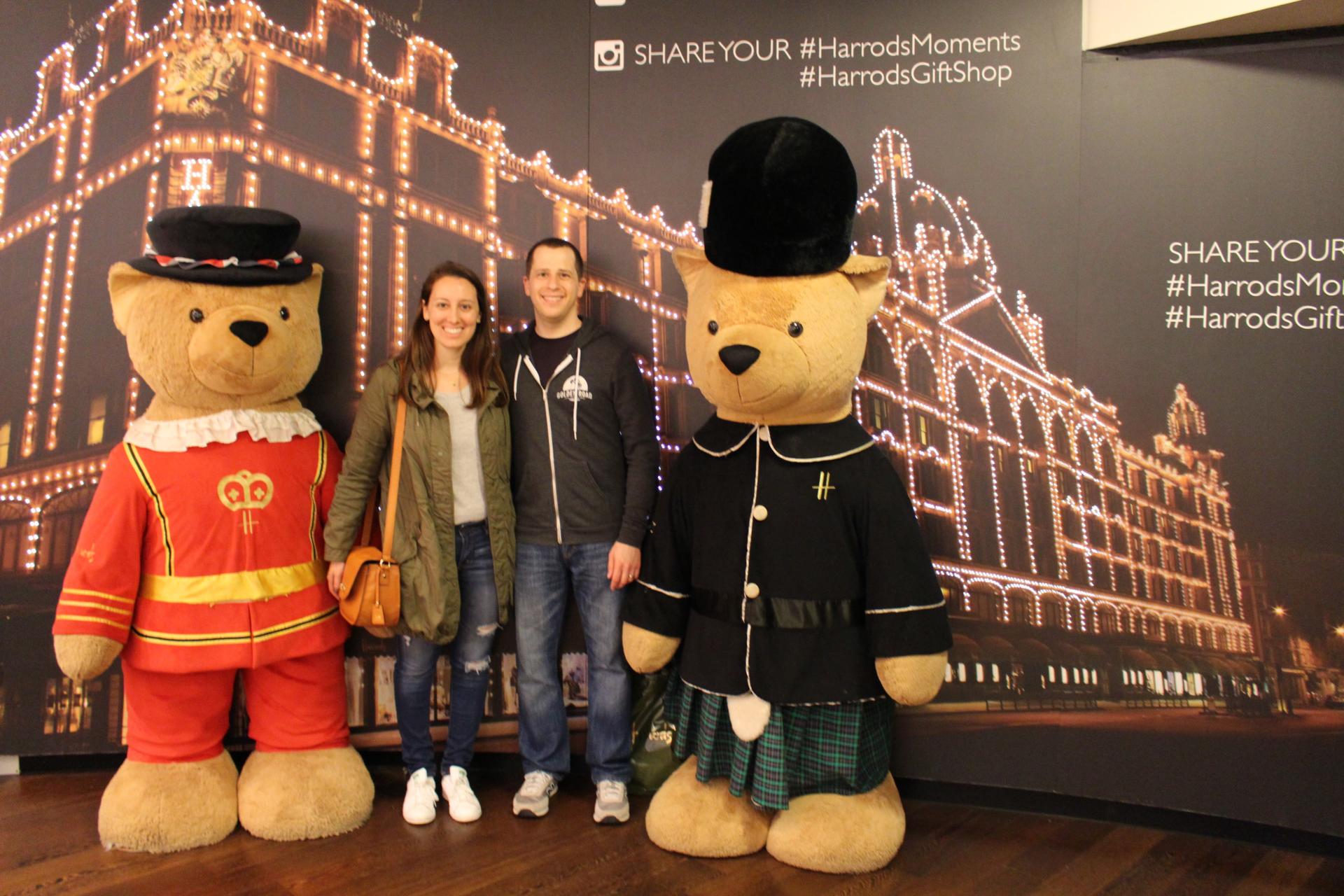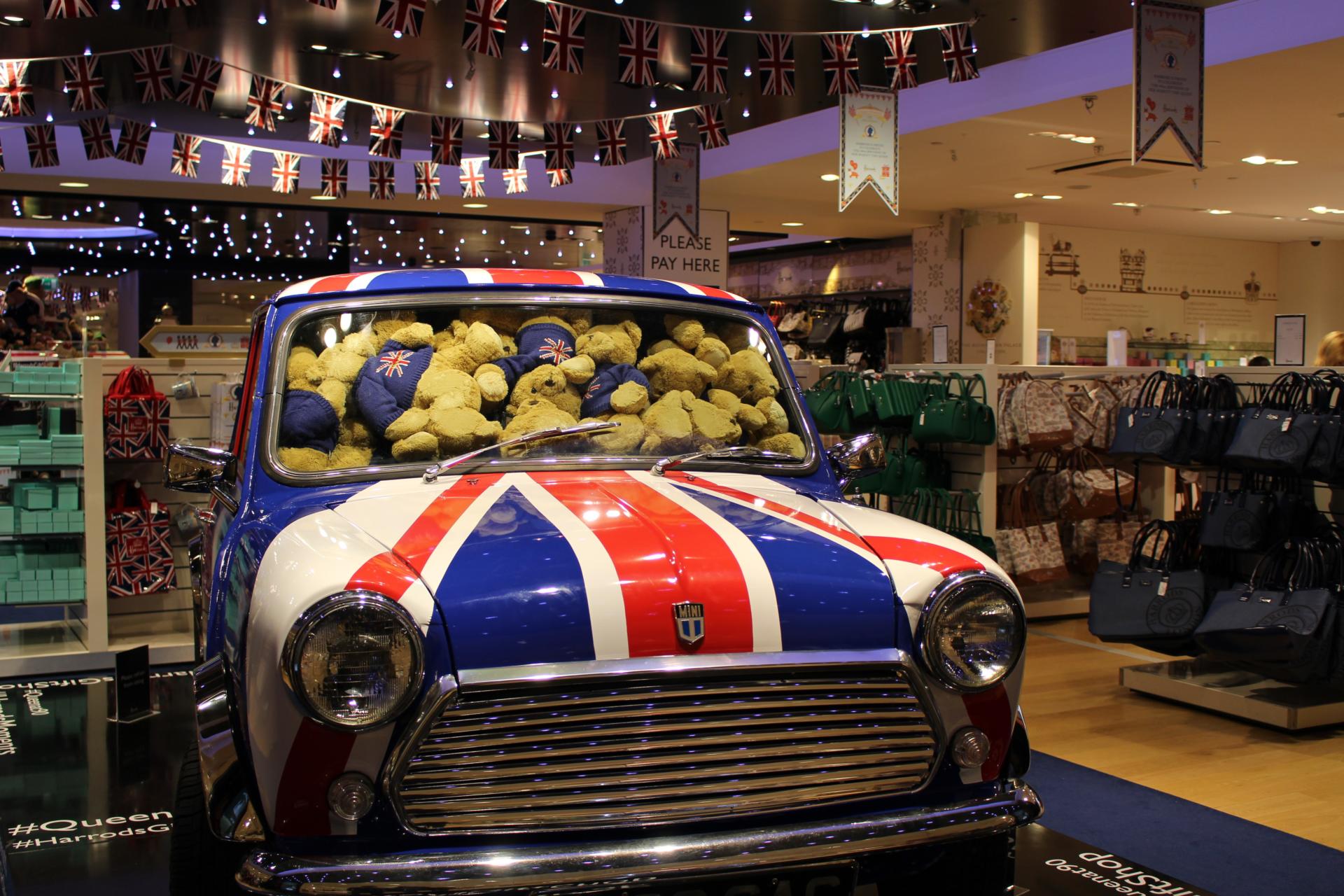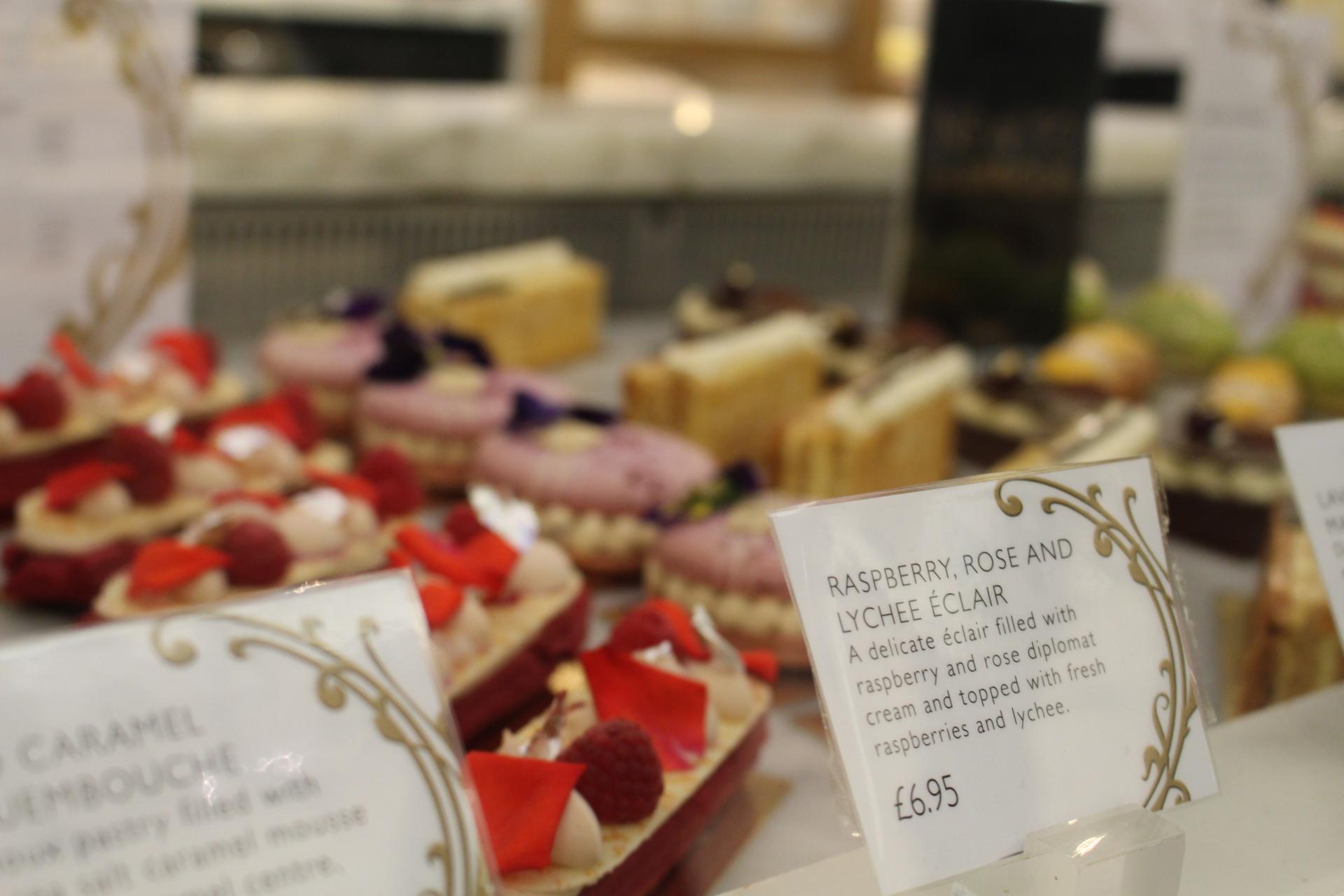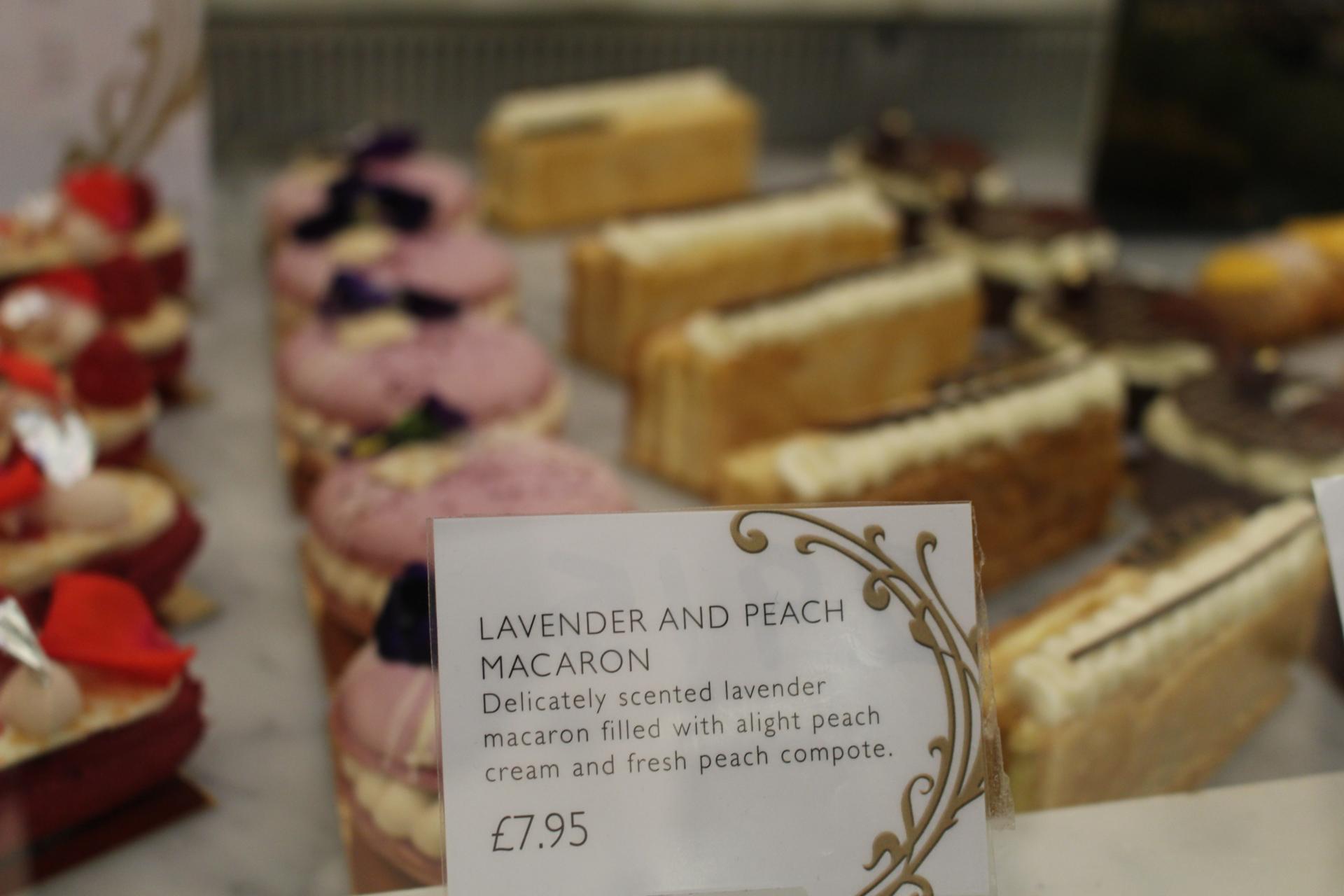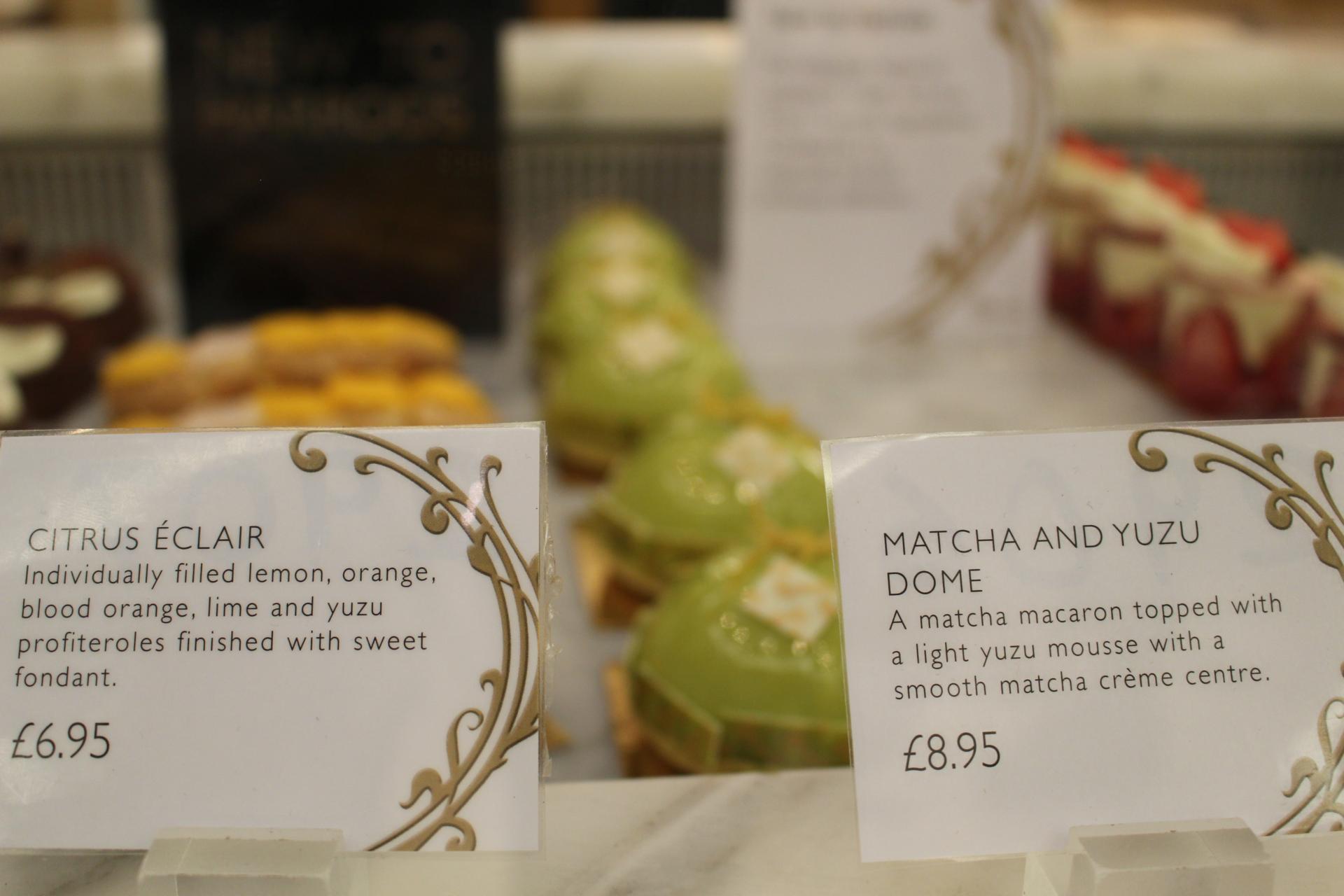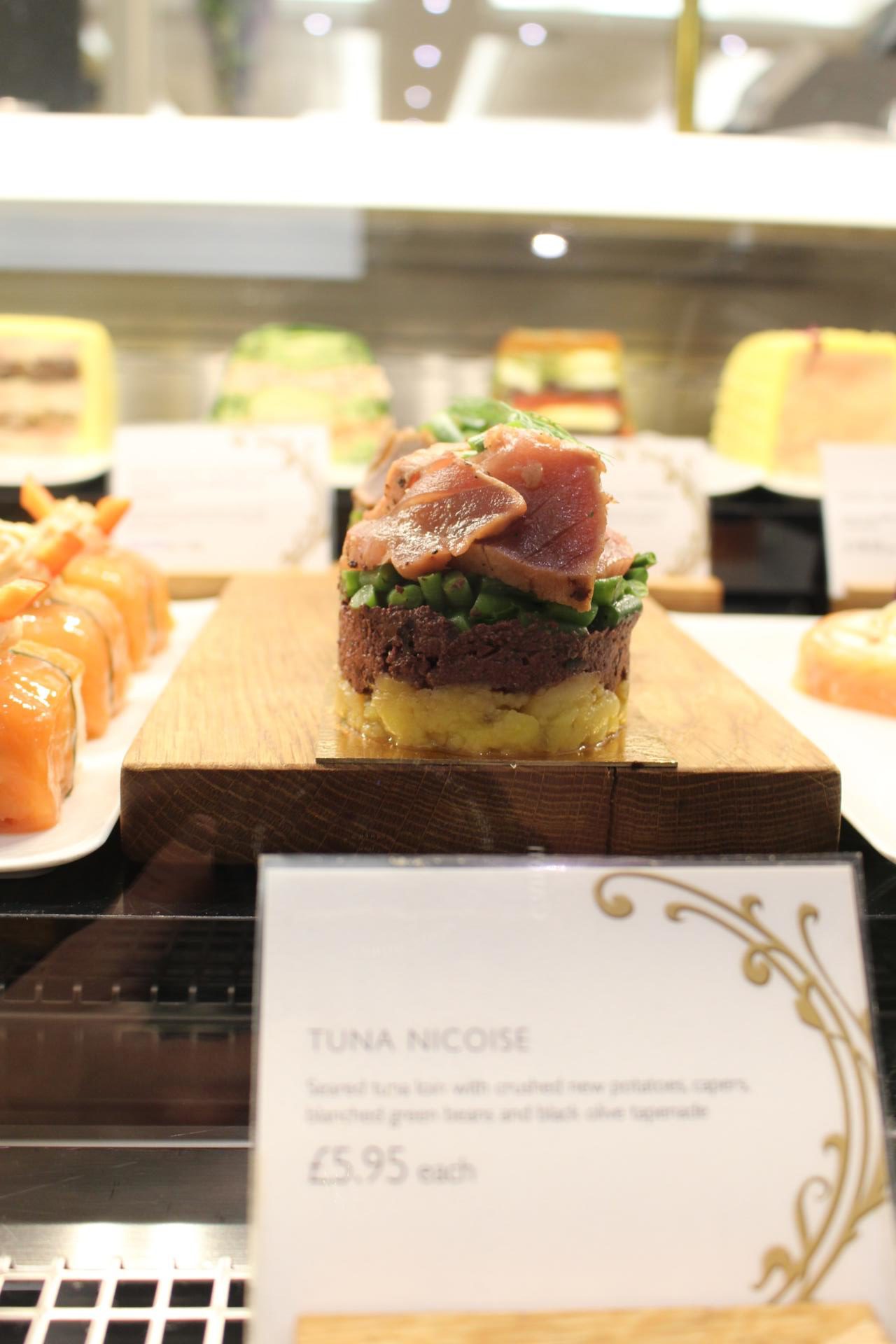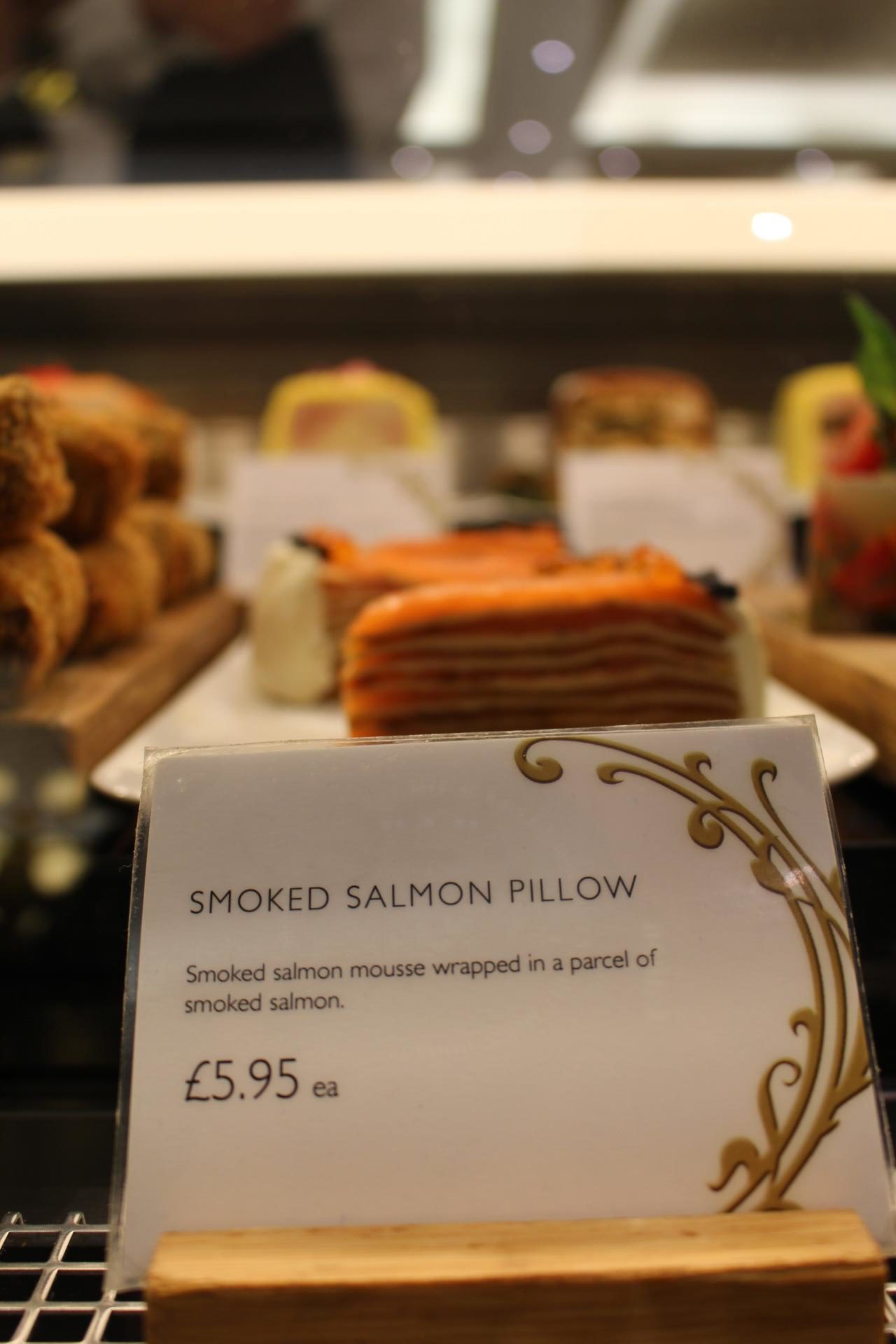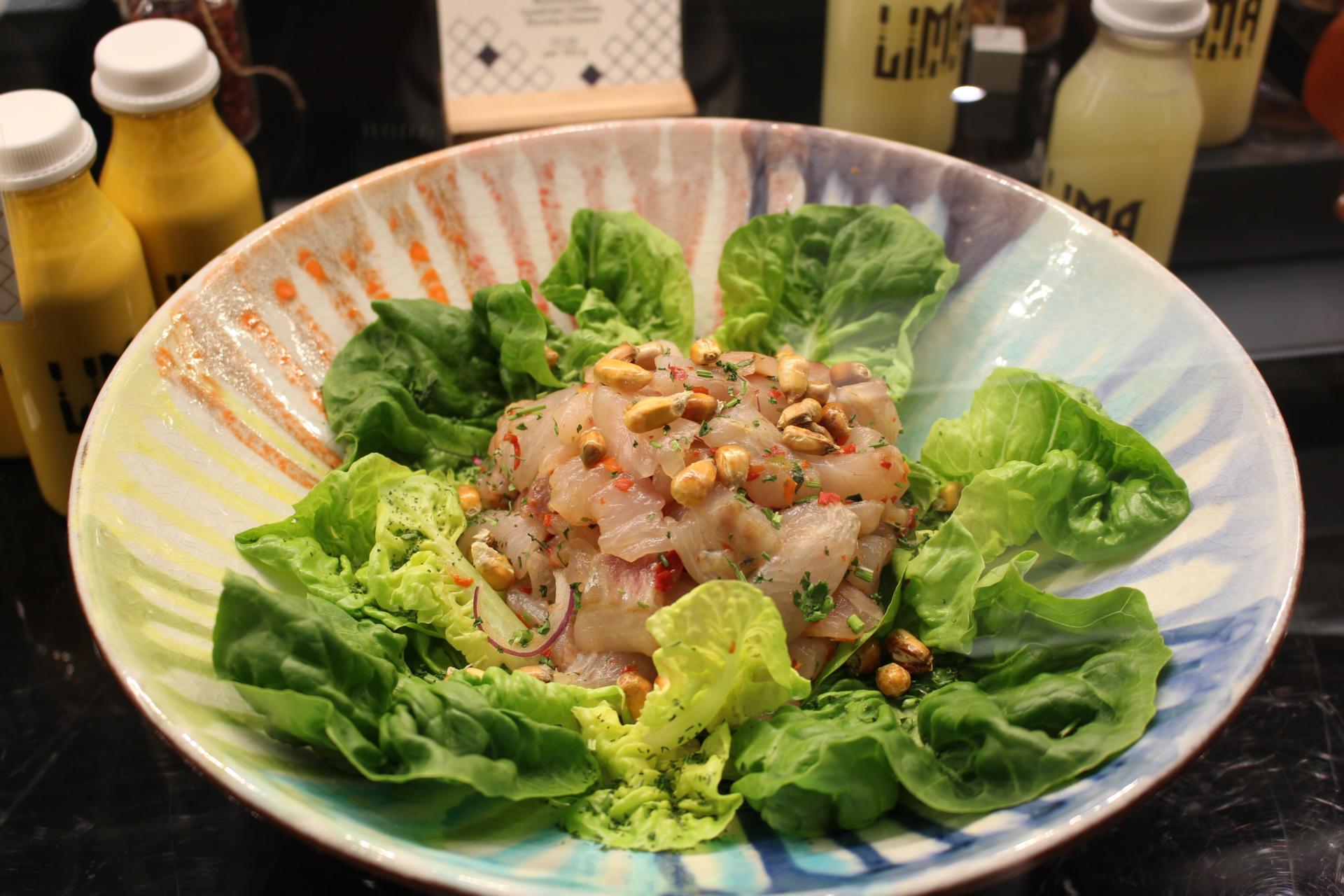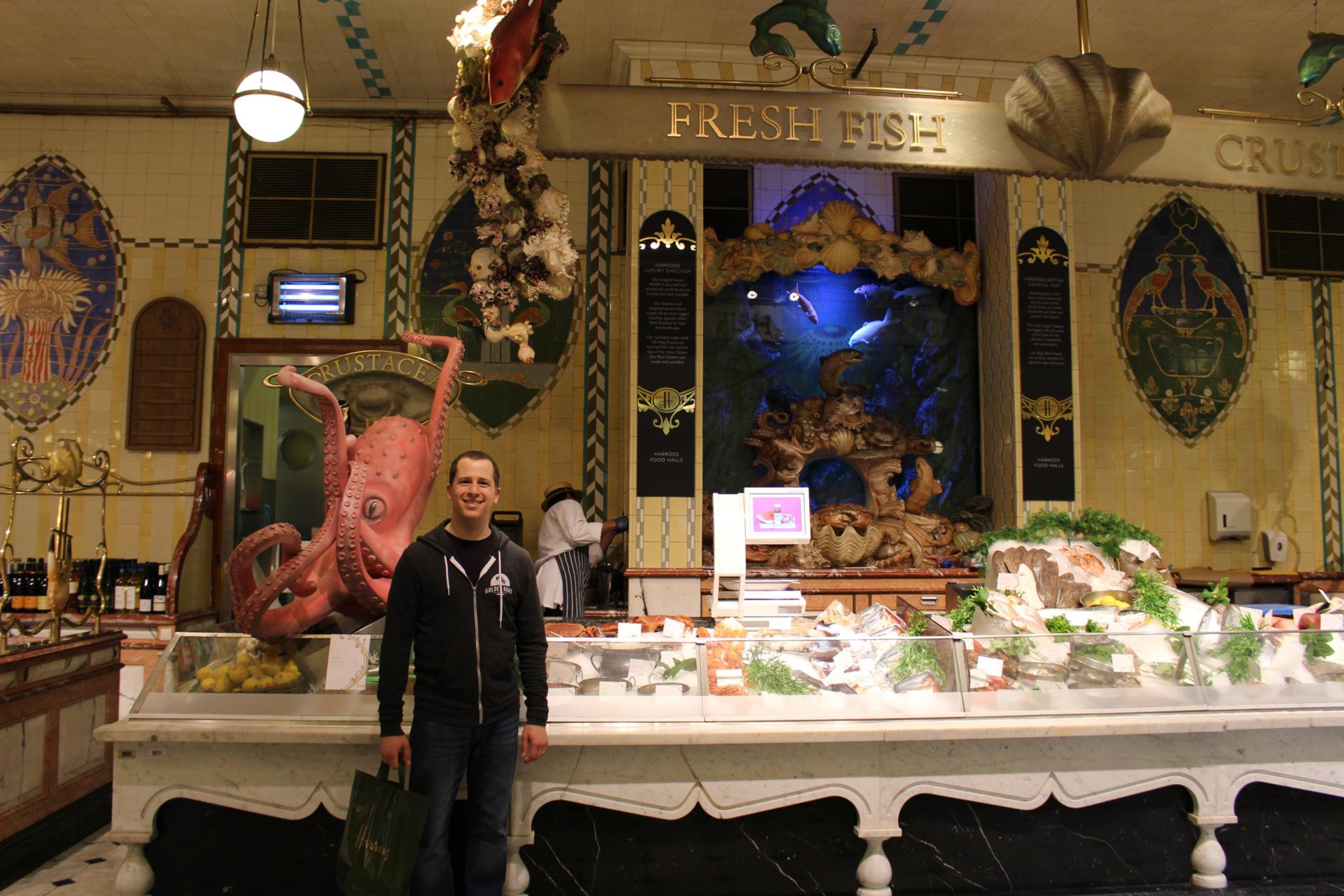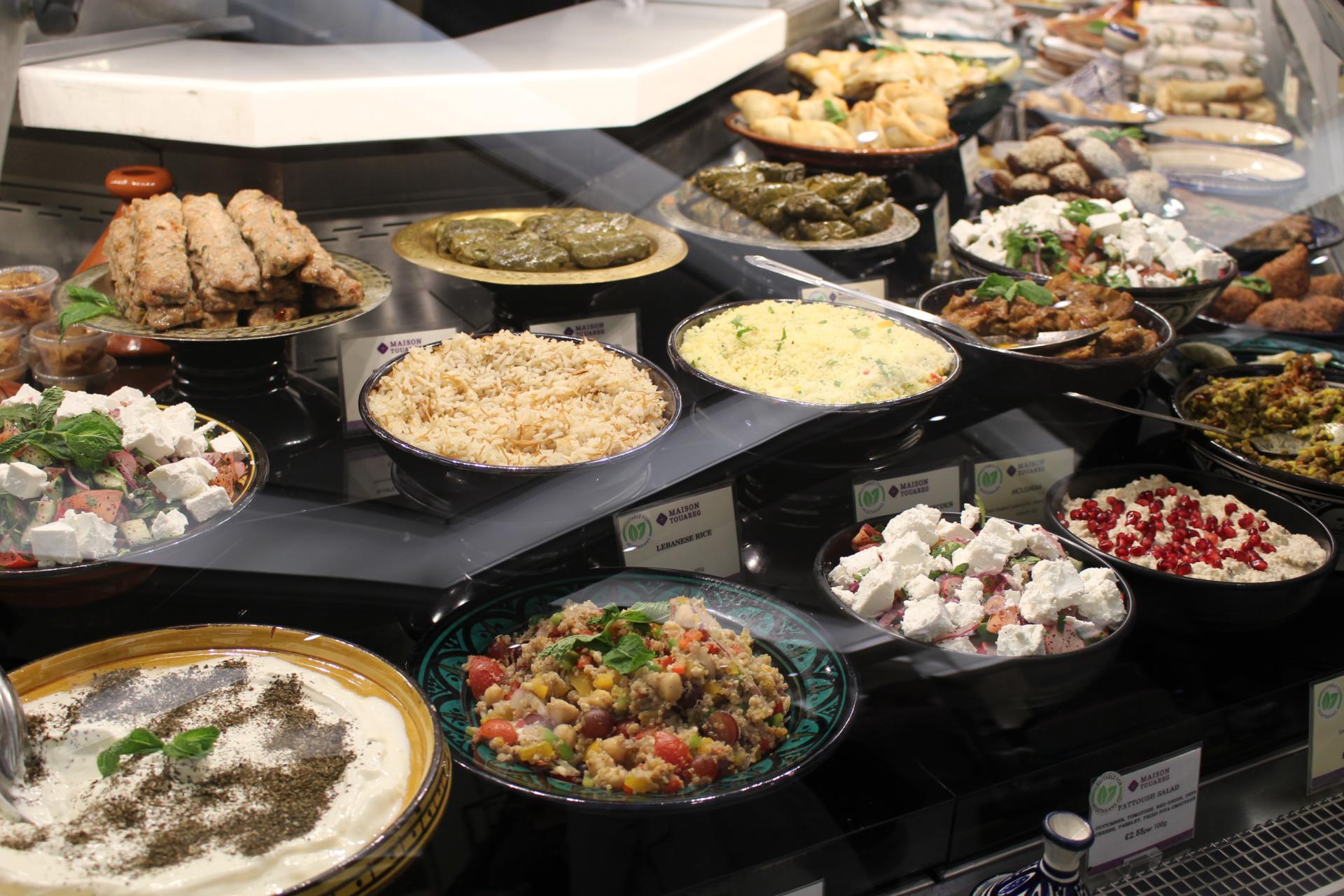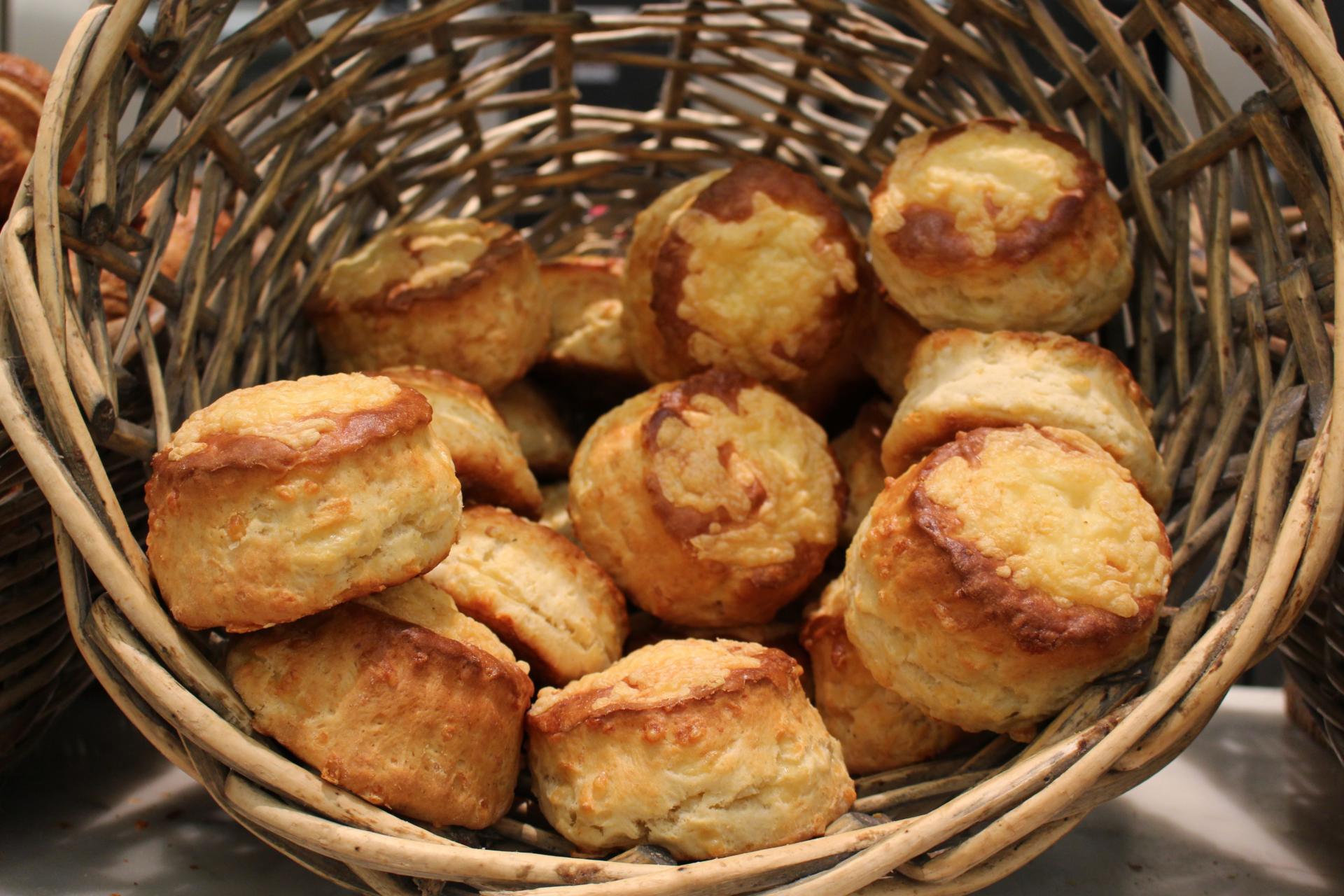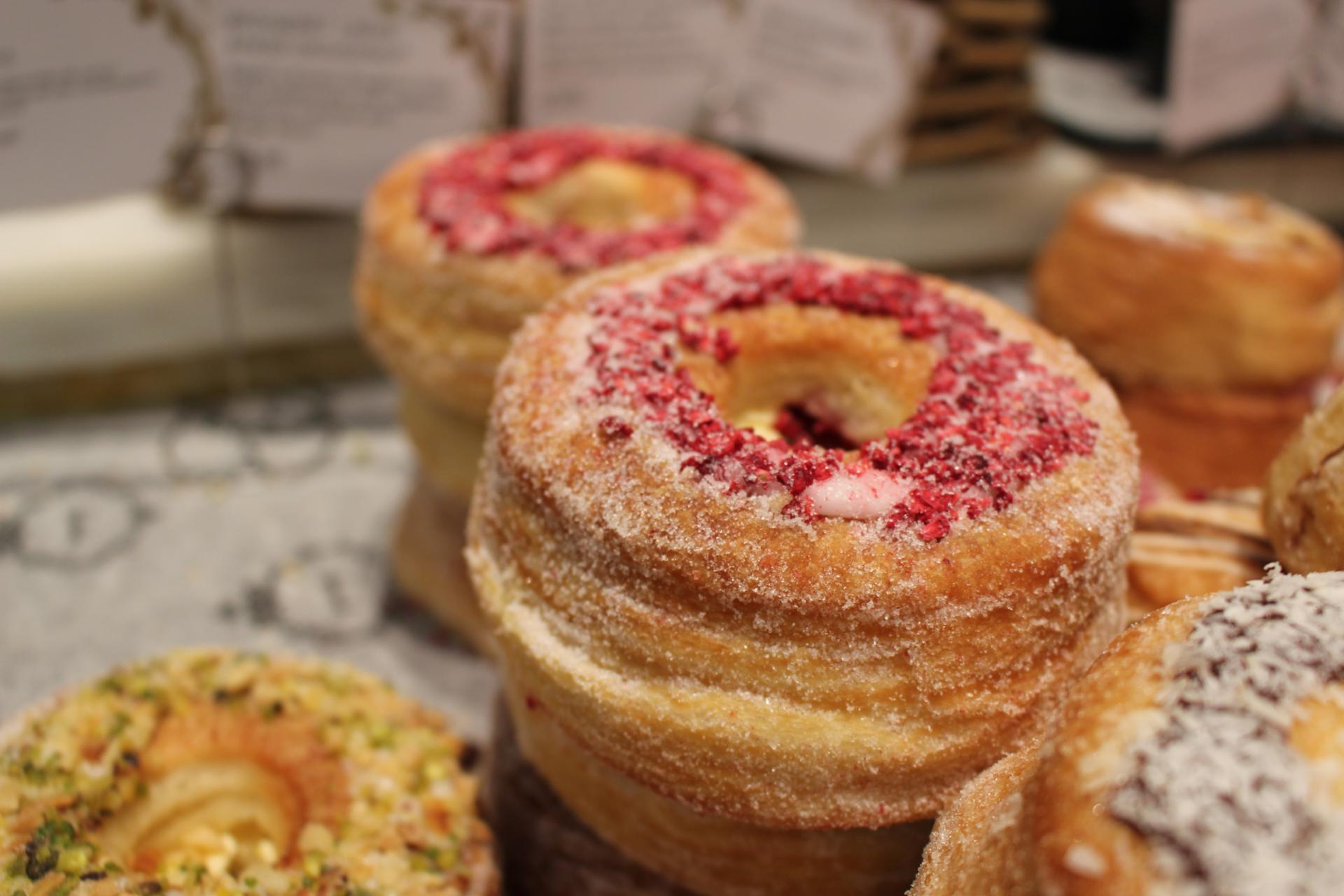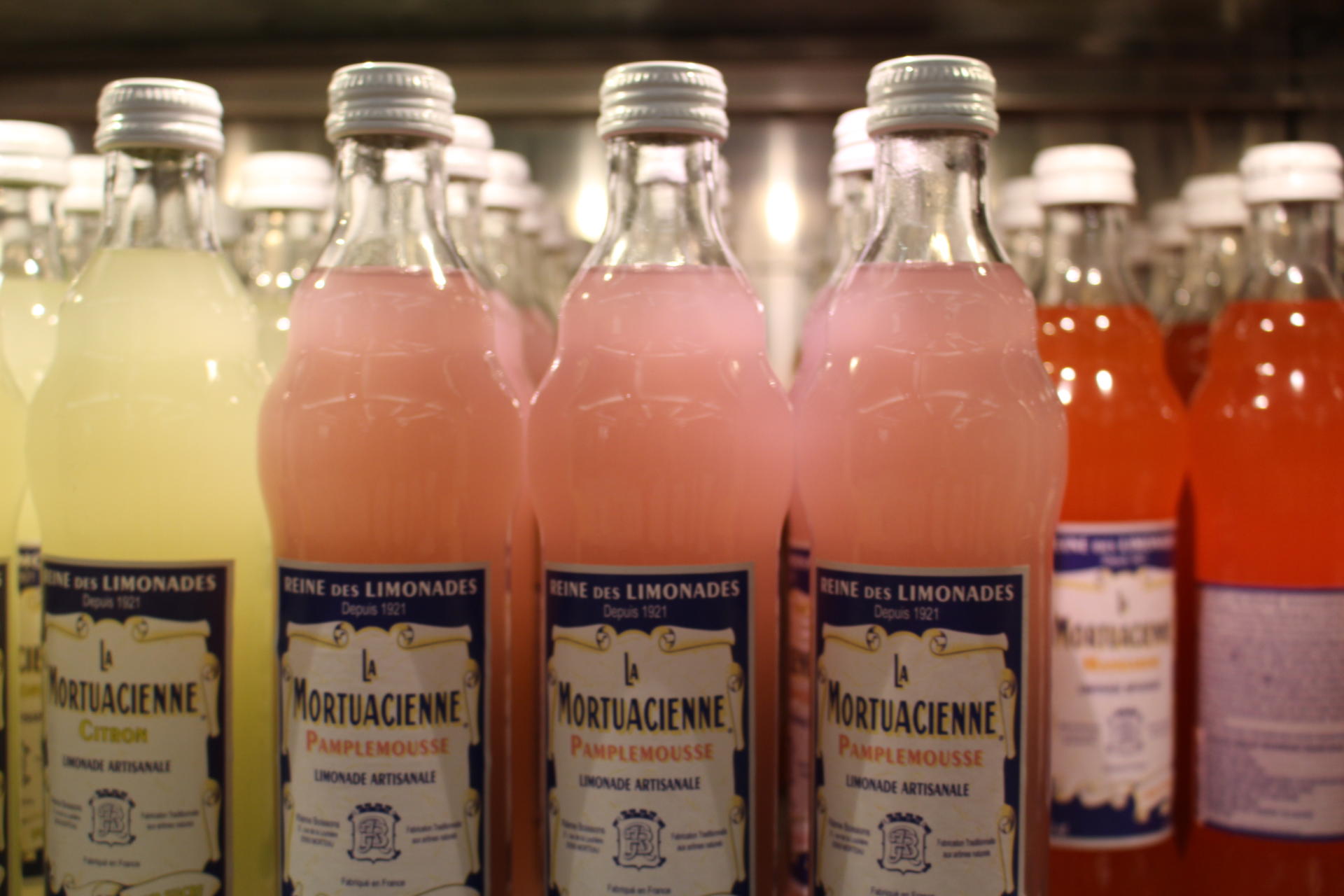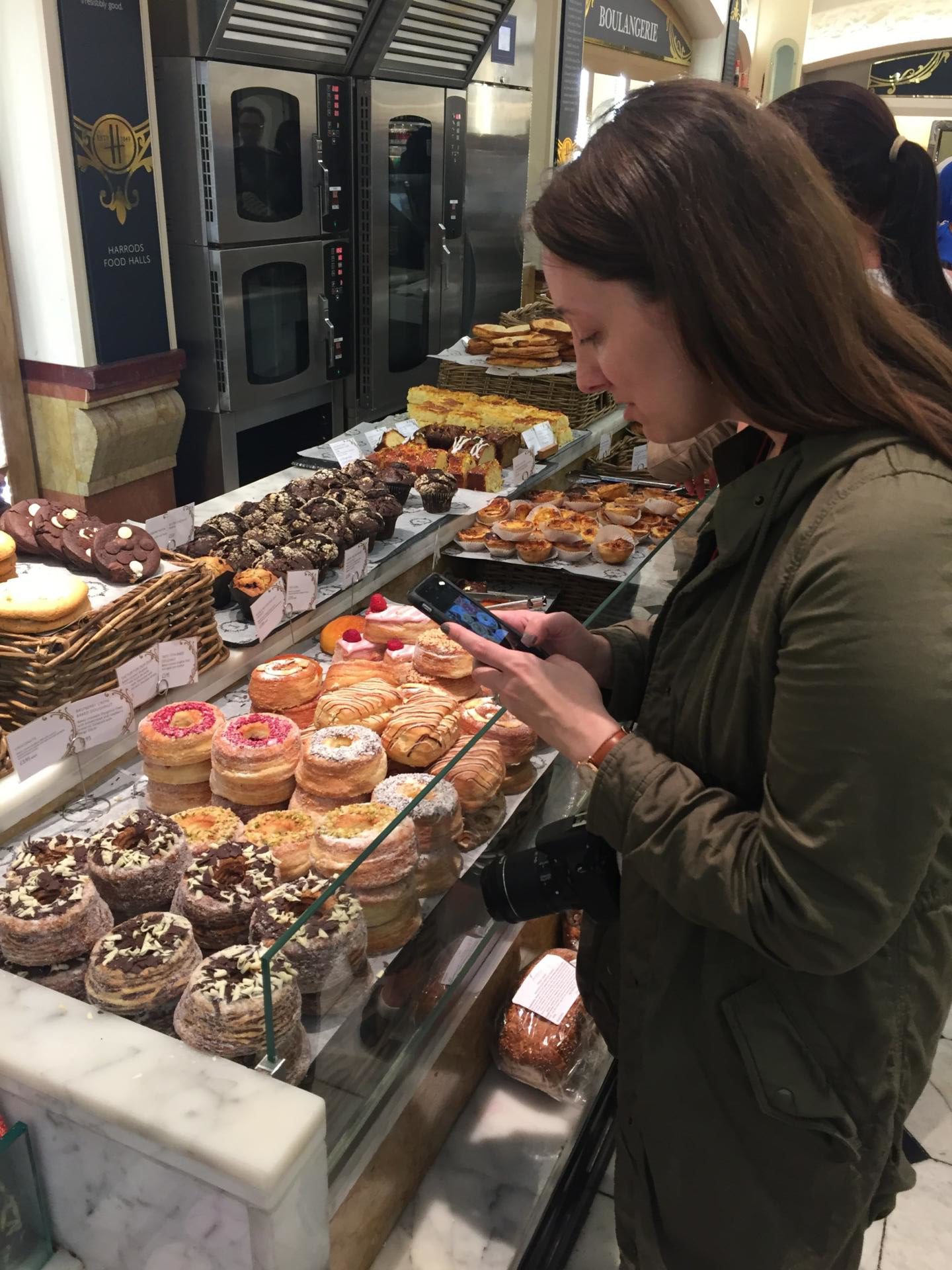 The Modern Pantry in Clerkenwell
I had heard great things about The Modern Pantry so I scheduled us for brunch. It seemed like perfect place to meet up with my one of my friends from my time studying abroad.
What I didn't realize at the time was that the tube going in that direction was going to be down. We ended up taking the bus most of the way but we made it in one piece. Unfortunately that meant that my friend had to wait alone in the restaurant for a bit. Sad face.
When we arrived, I was amazed by the actual restaurant structure. It is a beautiful brick building. When we entered the restaurant, I fell in love with the minimalist decor. It was such a beautiful setting to eat brunch! Even the bathroom at was beautifully decorated. I LOVED their pink mirror!
They also have larger rooms to host parties upstairs. My friend pointed out that it would be a great place to host a hen night (aka bachelorette party). I agreed wholeheartedly!
The menu was great as well. Lots of Jessica friendly options. I ordered the two fried eggs with toast, fried haloumi cheese, slow-roast tomatoes, and wilted spinach. E and my friend both ordered two fried eggs with toast, grilled chorizo, slow-roast tomatoes, and plantain fritters. The food was fresh, full of flavor and delectable.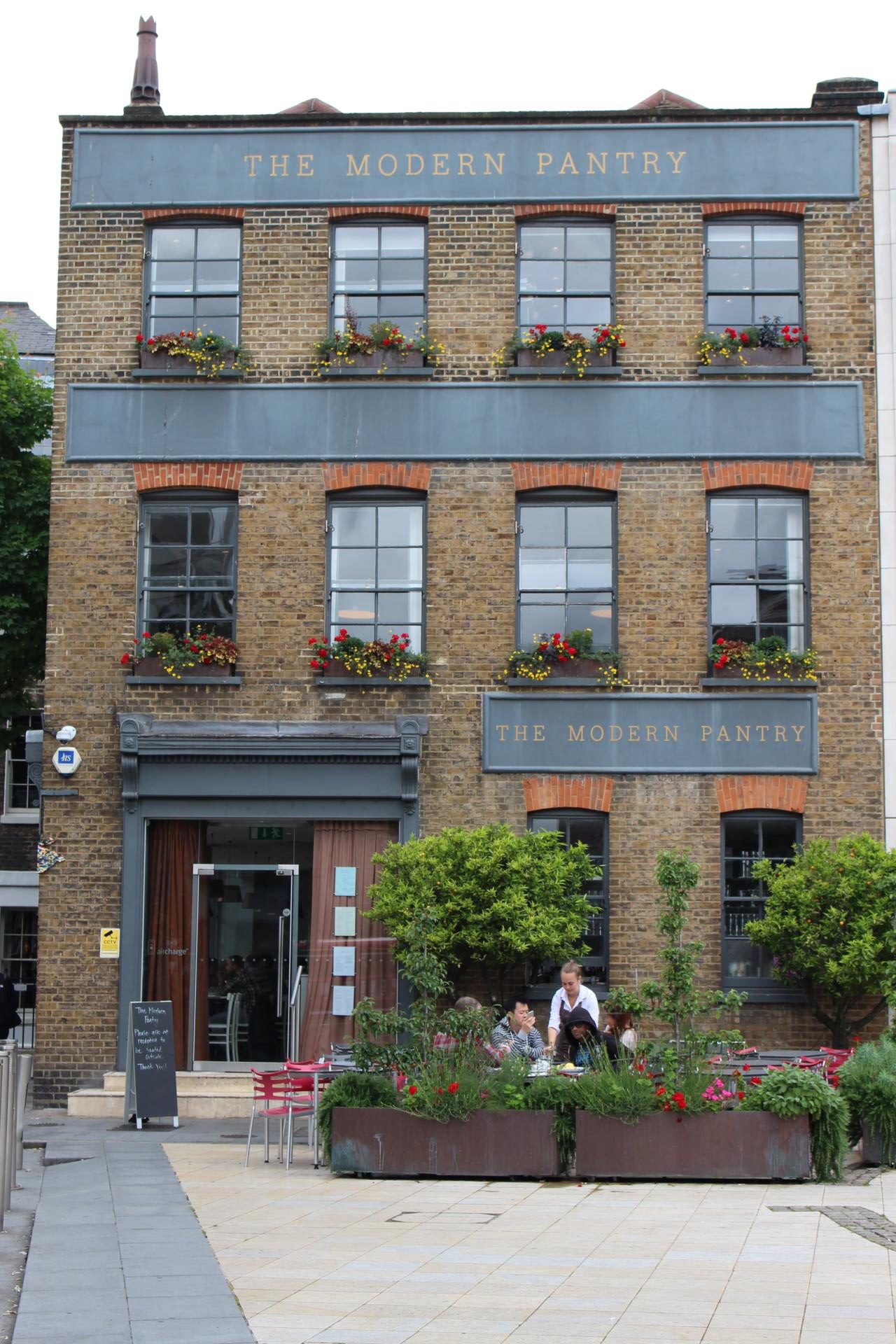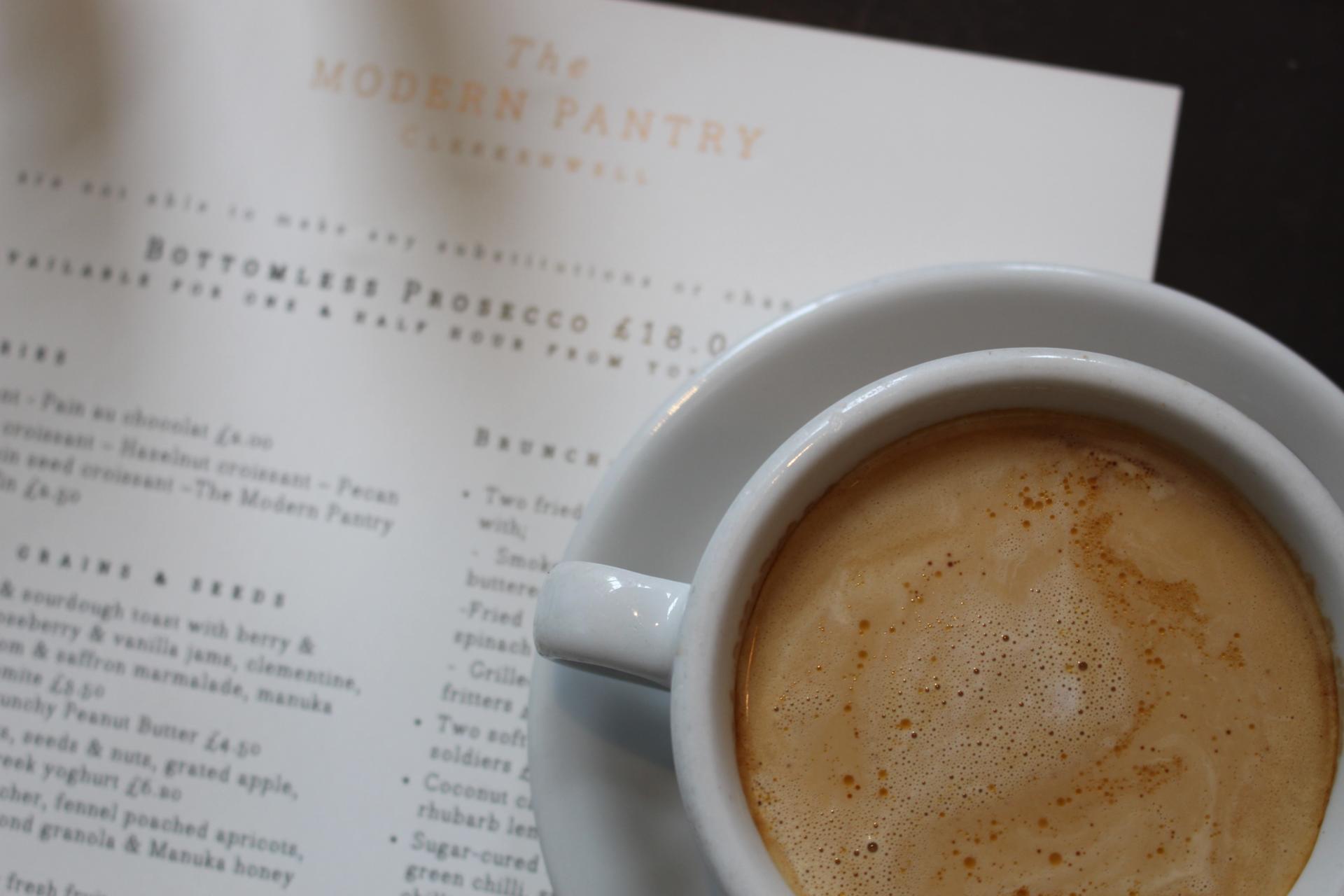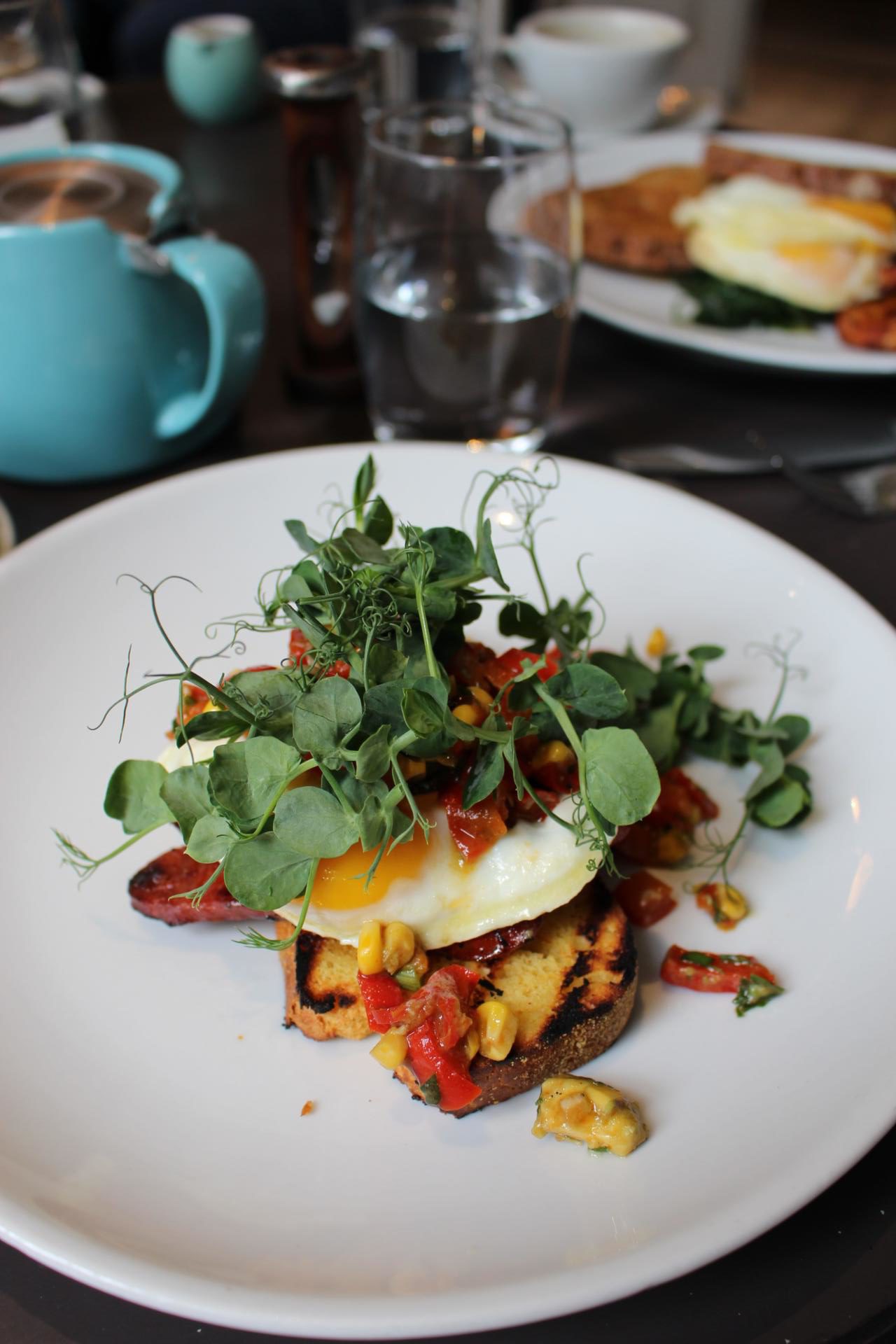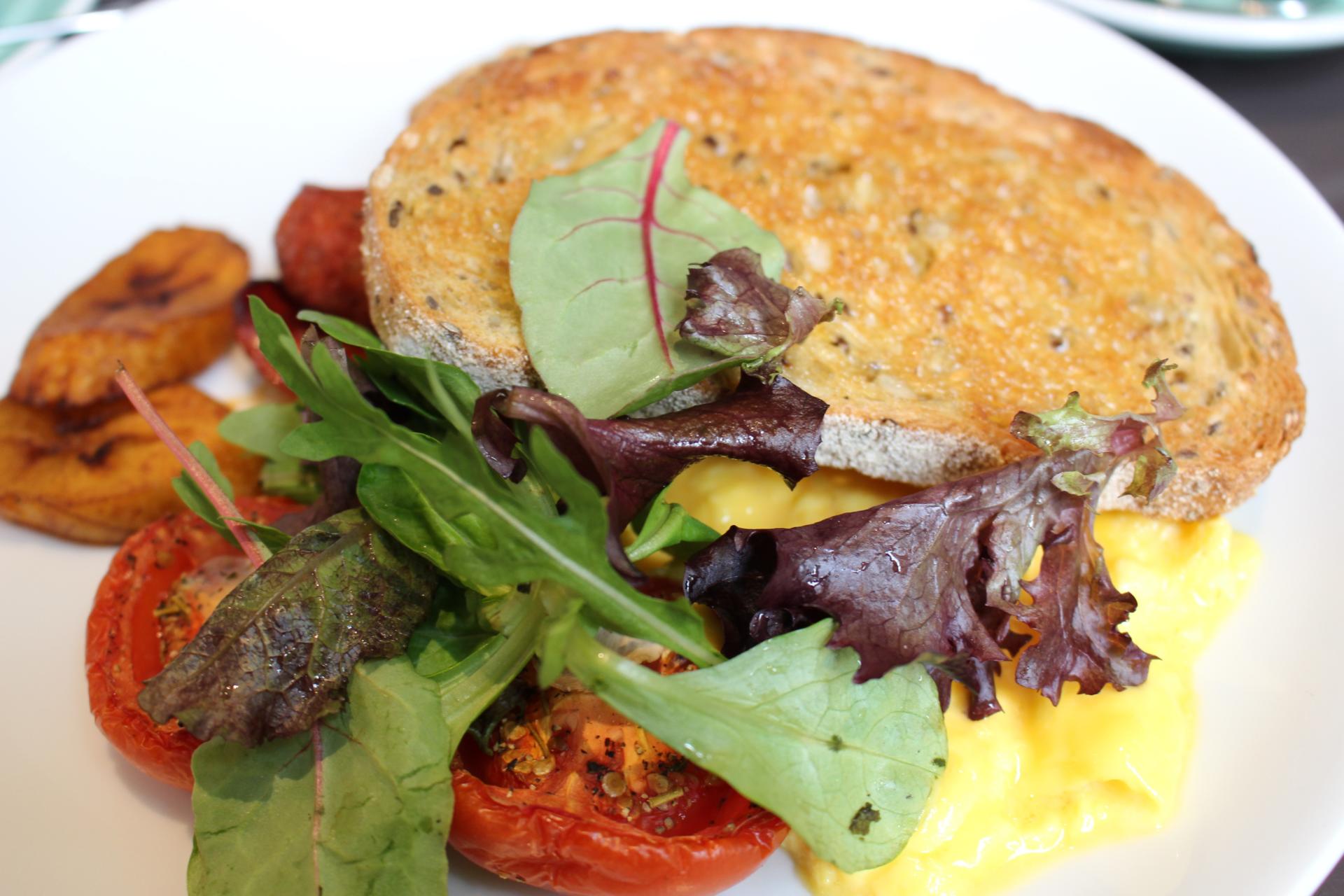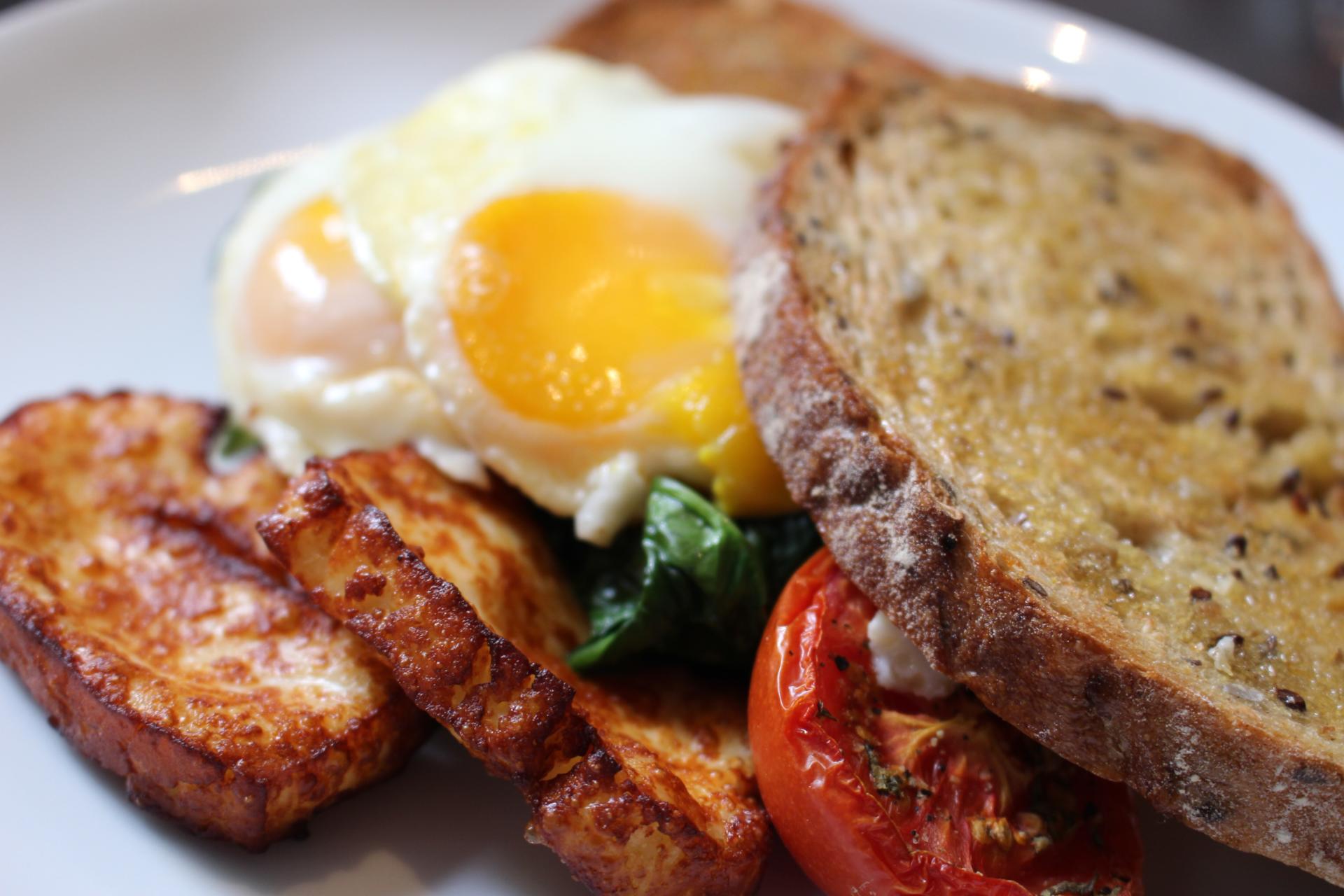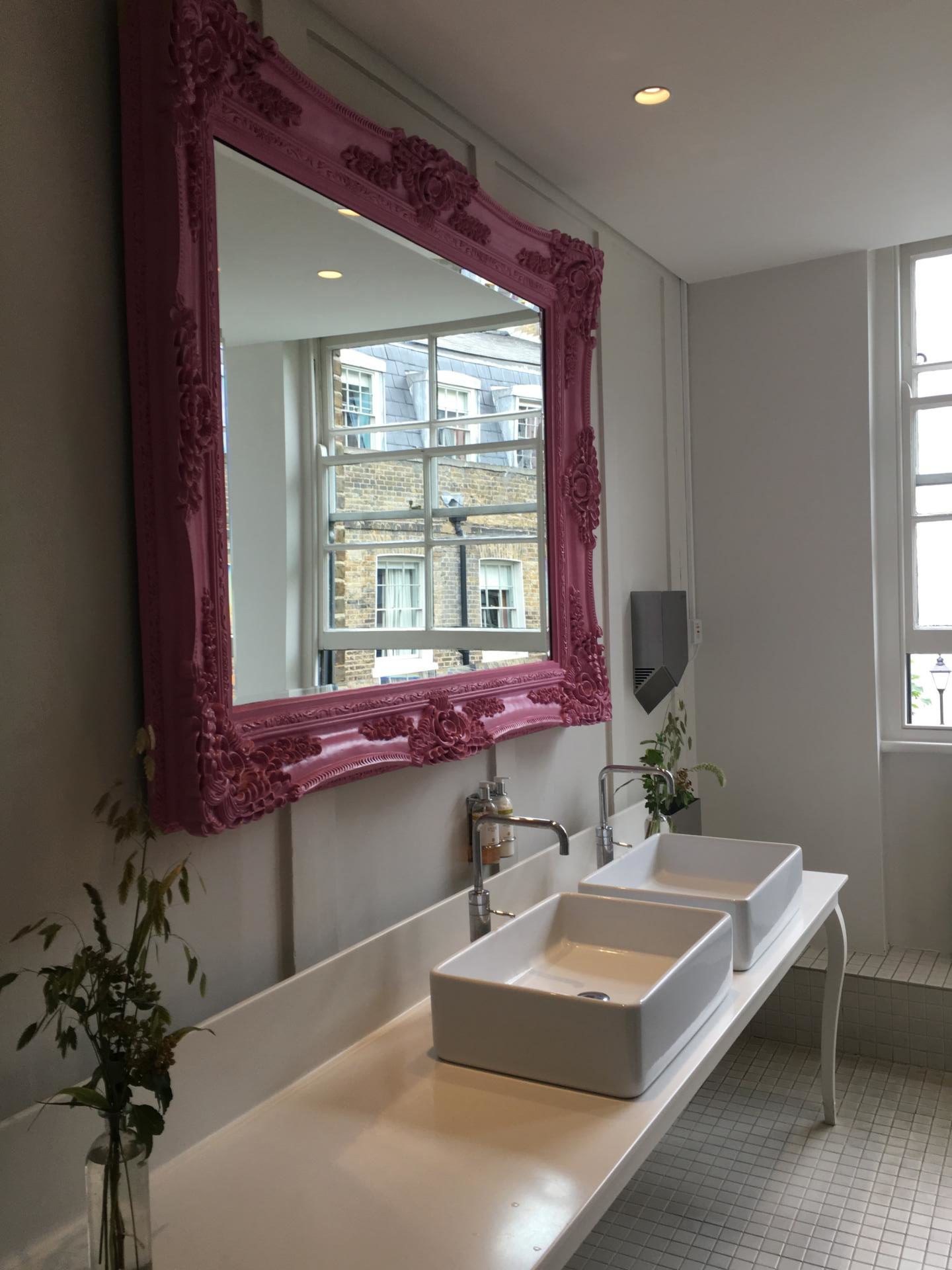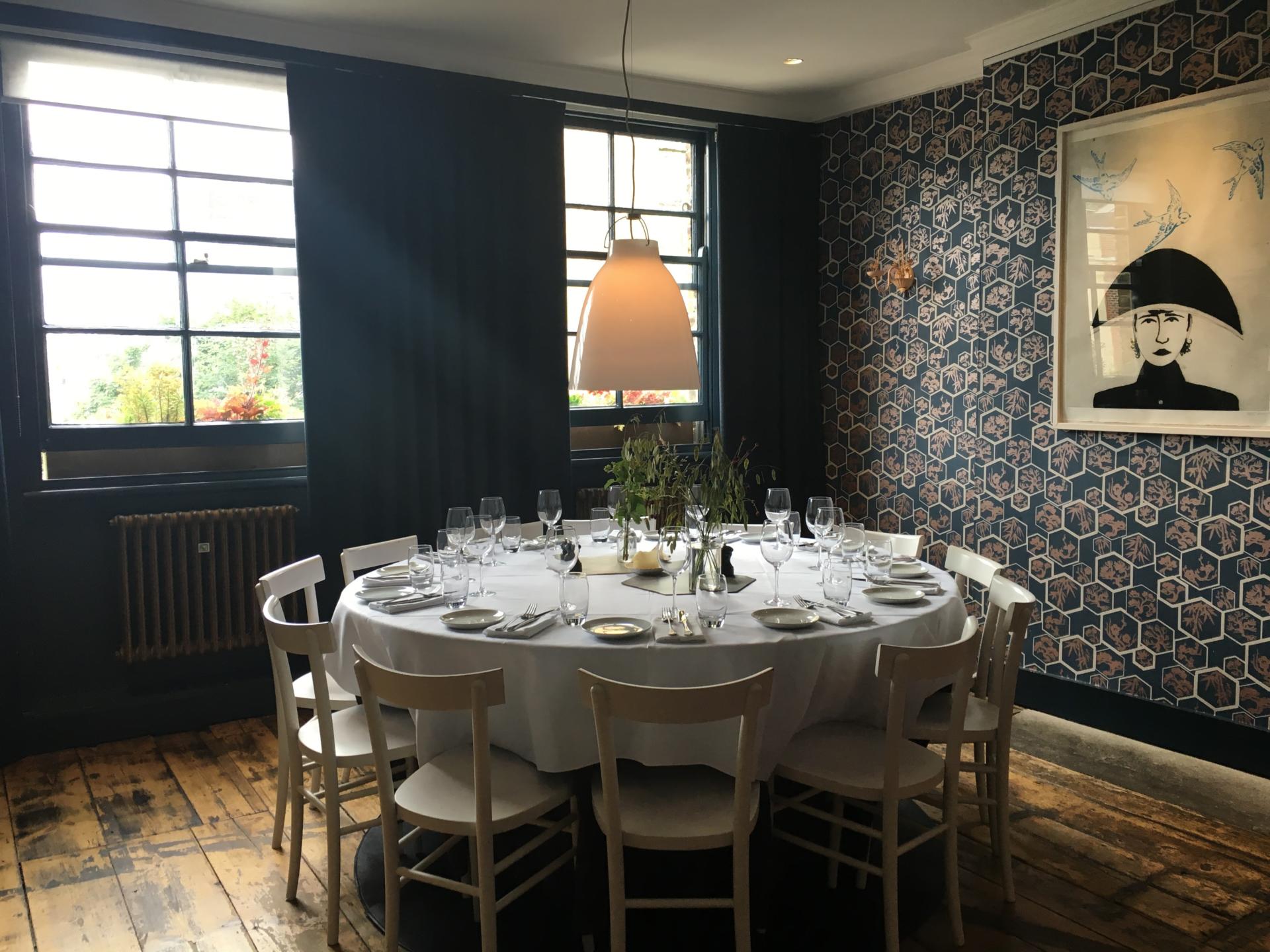 When we arrived back from our day trip to Brussels, E and I were starving. How that was possible still amazes me to this day. We ate A LOT in Brussels. Lucky for us there was a Franco Manca location right around the corner from The Kensington Hotel. Franco Manca is a well known chain, with locations all around London. Their specialty is Sourdough Pizza. Different right?!
When we arrived, every single seat in the entire place was taken. Just as we were about to go wait outside, a couple at a communal table got up. It was our lucky day! We sat ourselves down and ordered some beer (of course). We scanned the menu and decided to split a classic tomato, mozzarella and basil pie. The sourdough crust was really different! We really liked it a lot. And E liked his beer. All was right in the world! Right about halfway through our meal it started to POUR outside. Of course we didn't bring umbrellas. So we ran back to The Kensington Hotel in the rain.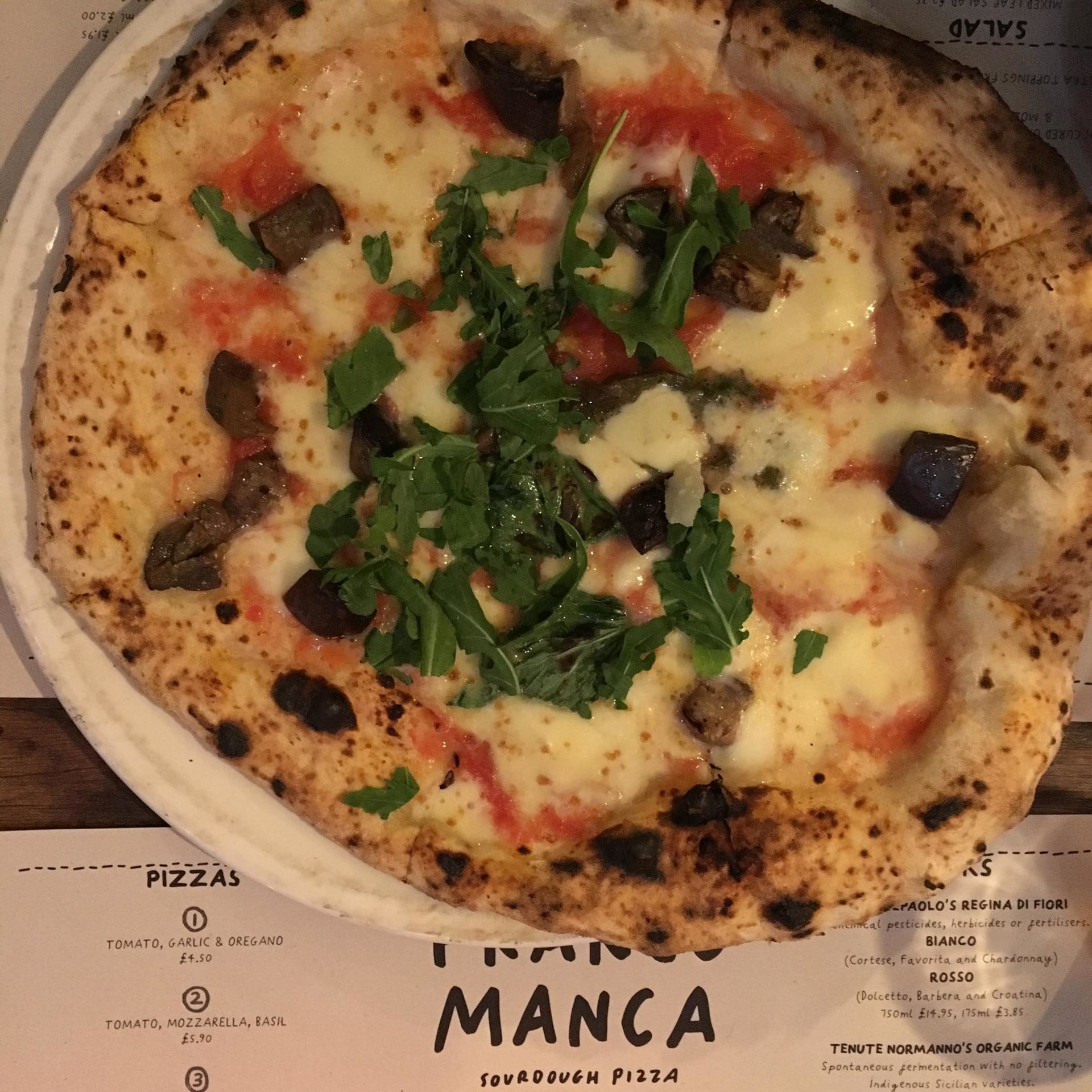 Dishoom came highly recommended by some friends of ours. It is my understanding that it is one of the hot new restaurants in London and it is quite hard to get a table. Thankfully we were able to make a reservation for brunch online!
Dishoom serves Indian inspired cuisine. All of the flavors are bold and bright. This is not your typical Indian restaurant. Every dish they serve has its own special little twist. When you walk in, it feels like you are walking into an old Indian movie. The decor is so incredible. We were seated immediately upon arrival and couldn't wait to dive into the menu.
They had such an interesting breakfast/brunch menu! Our waitress highly recommended the Naan Rolls. So we did! E ordered the Bacon and Egg Naan Roll while I ordered the Egg Naan roll. The Naan roll was slathered with a little cream cheese, chilli tomato jam and fresh herbs. HOLY MOLY was that good. I ordered a side of grilled mushrooms, knowing full well that E won't eat any of them (he hates mushrooms). ALL FOR ME! To drink I ordered a Green Darjeeling tea while E ordered the House Chai. Both were perfection. This was our last real meal in London and boy was it a great way to end our culinary adventures!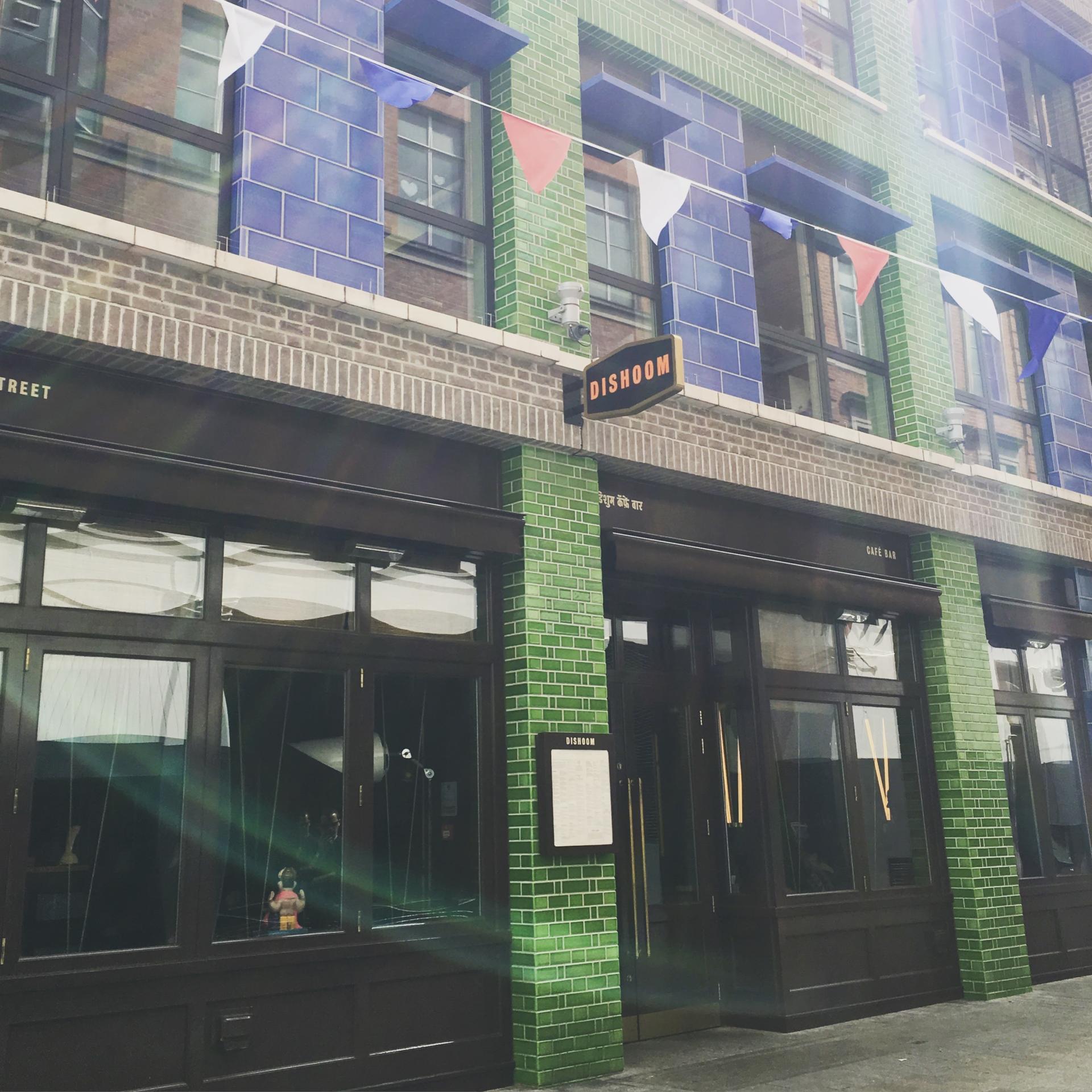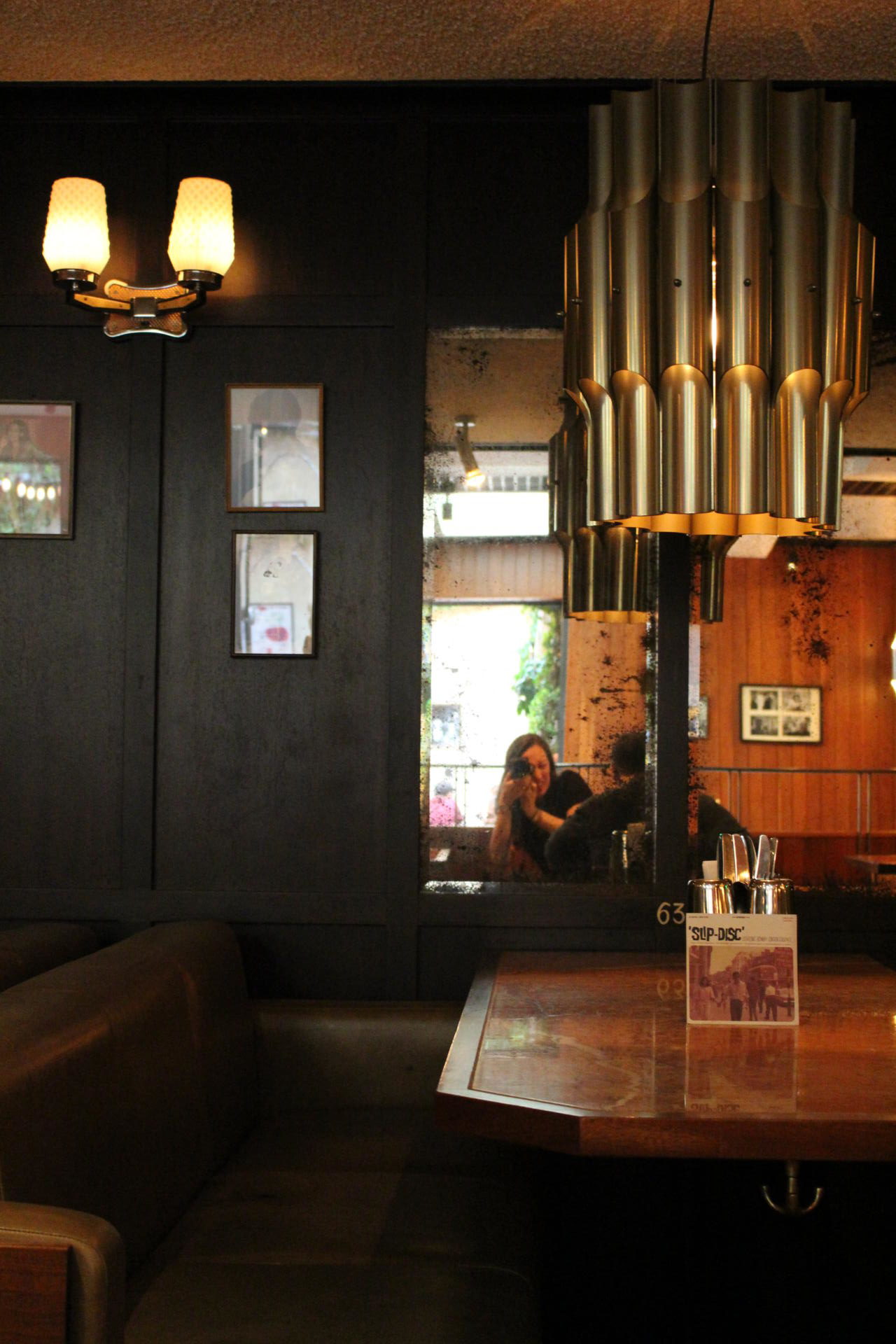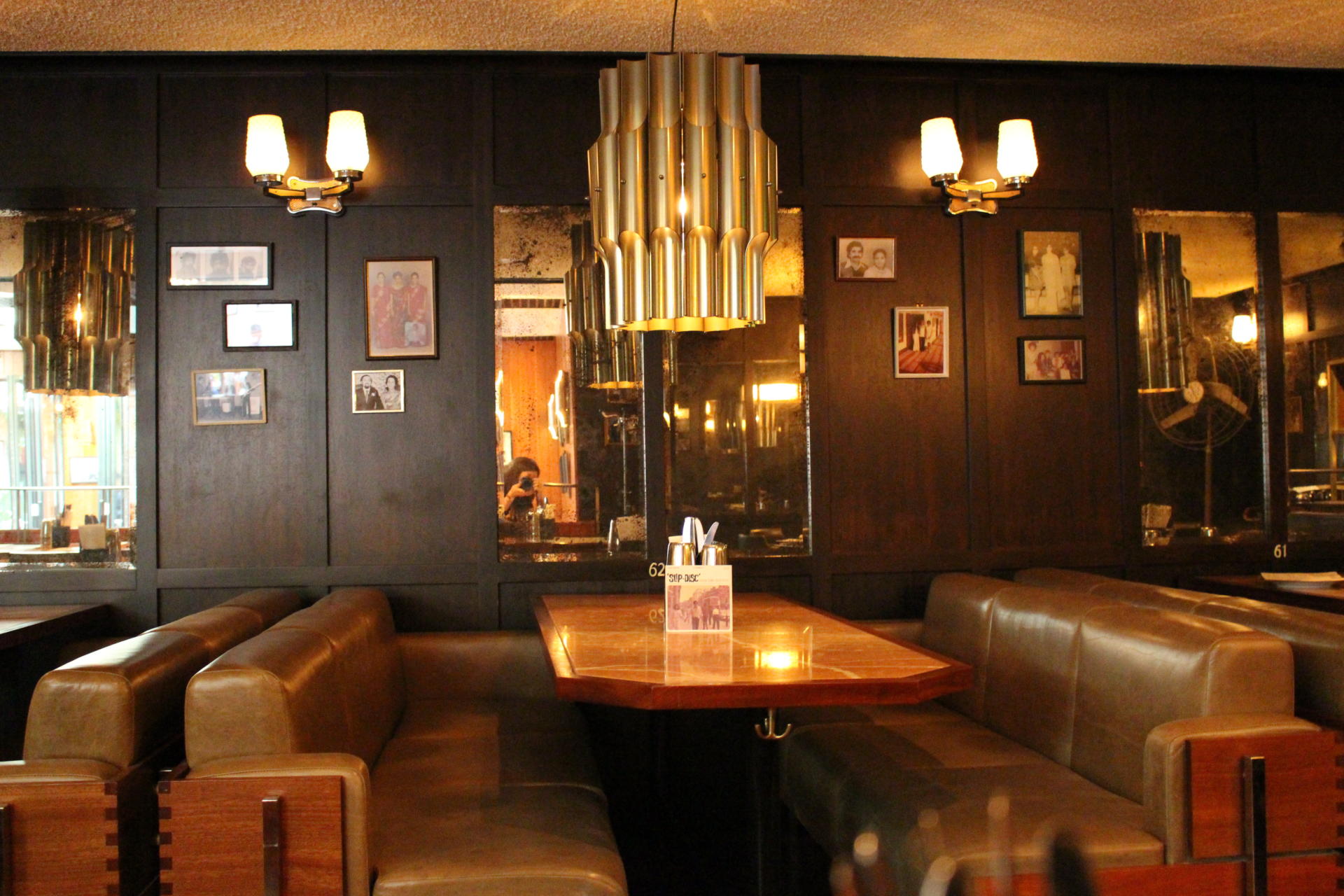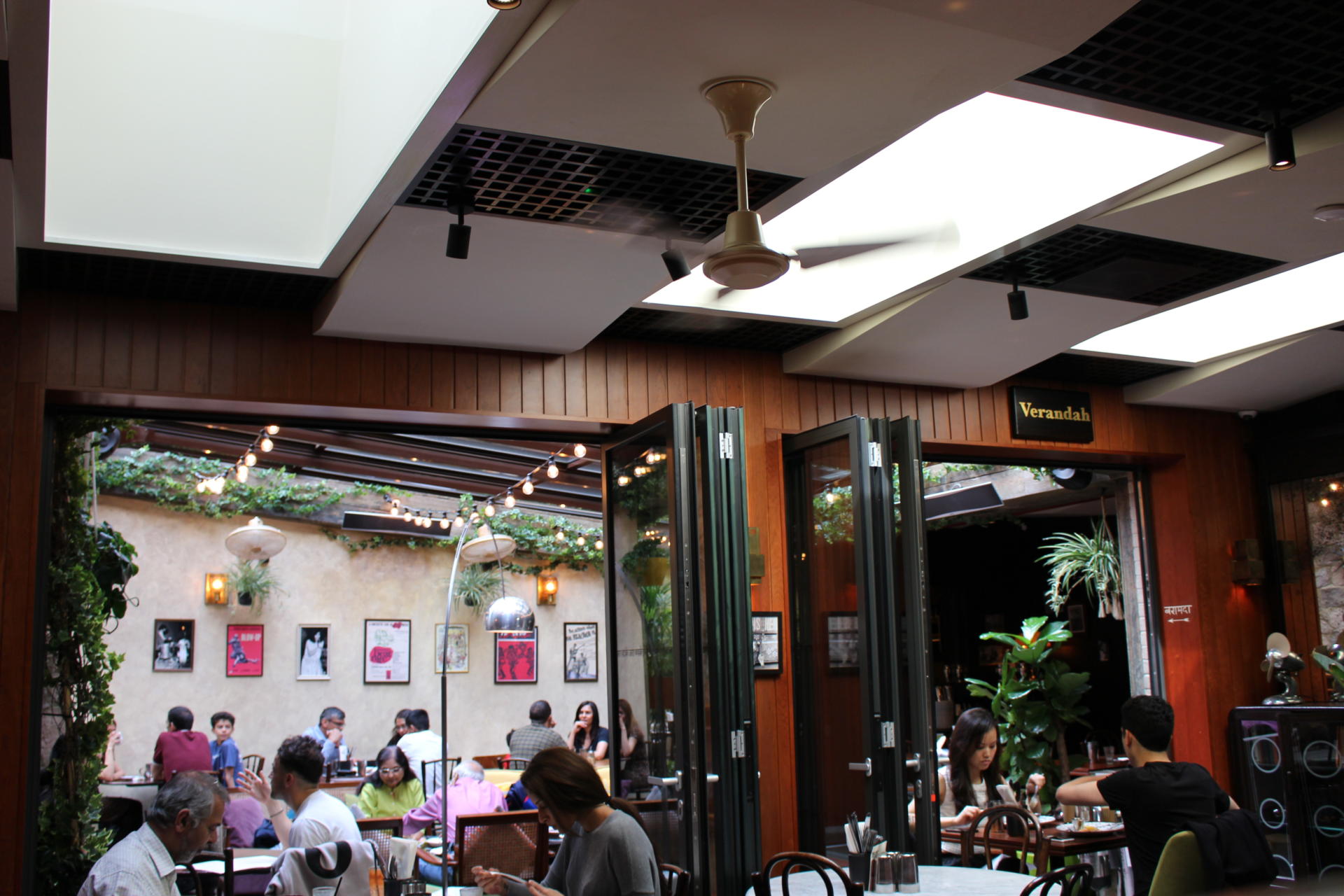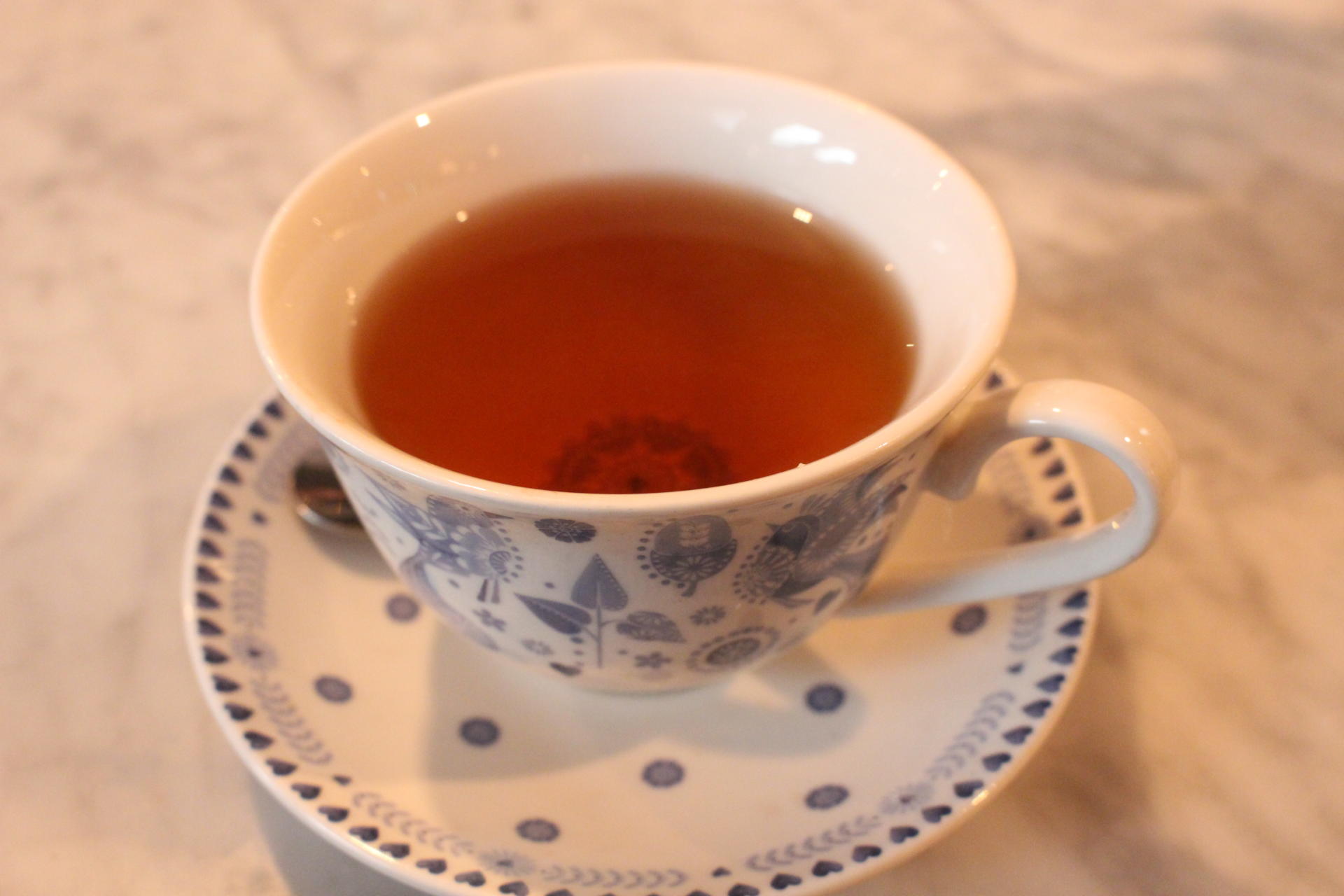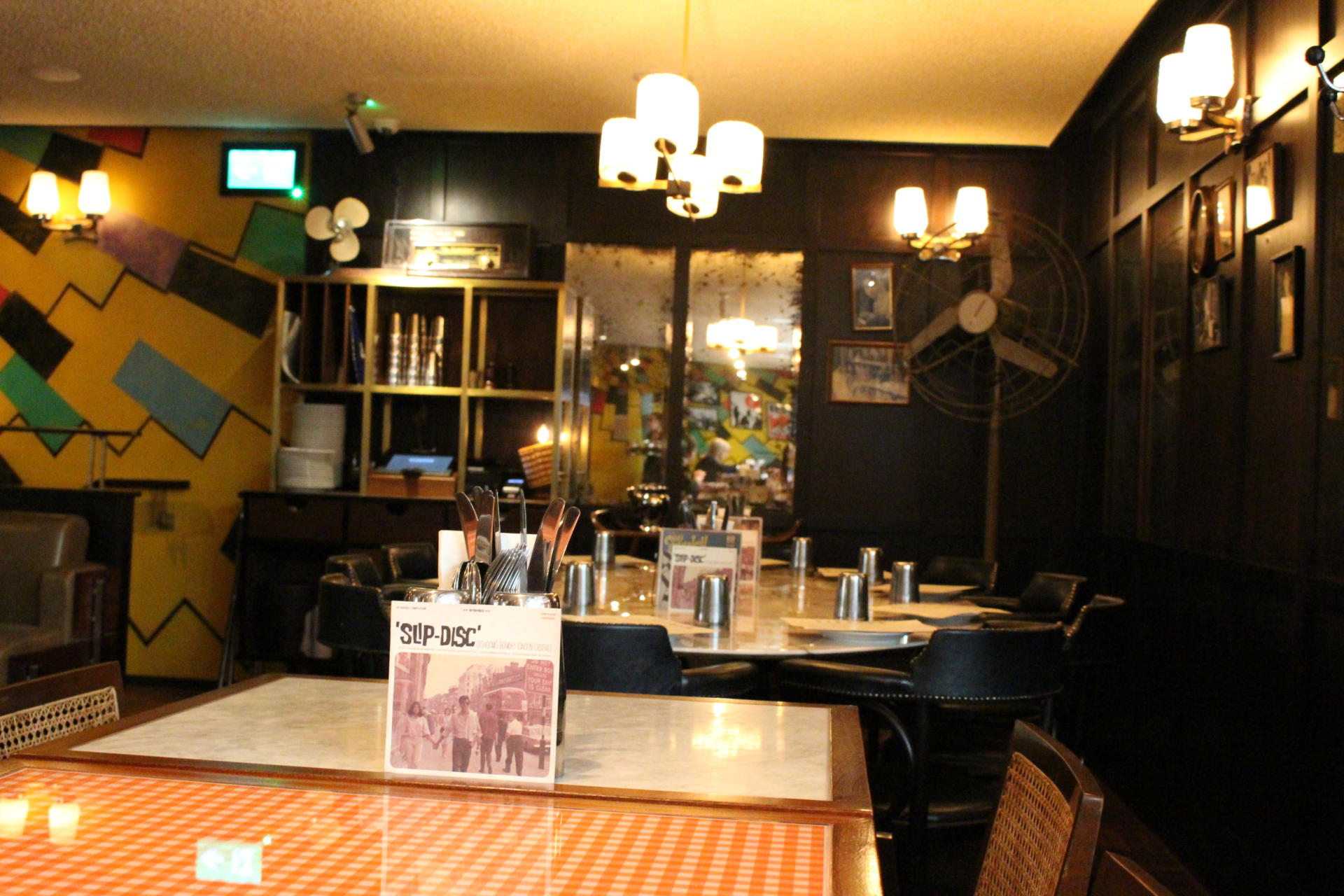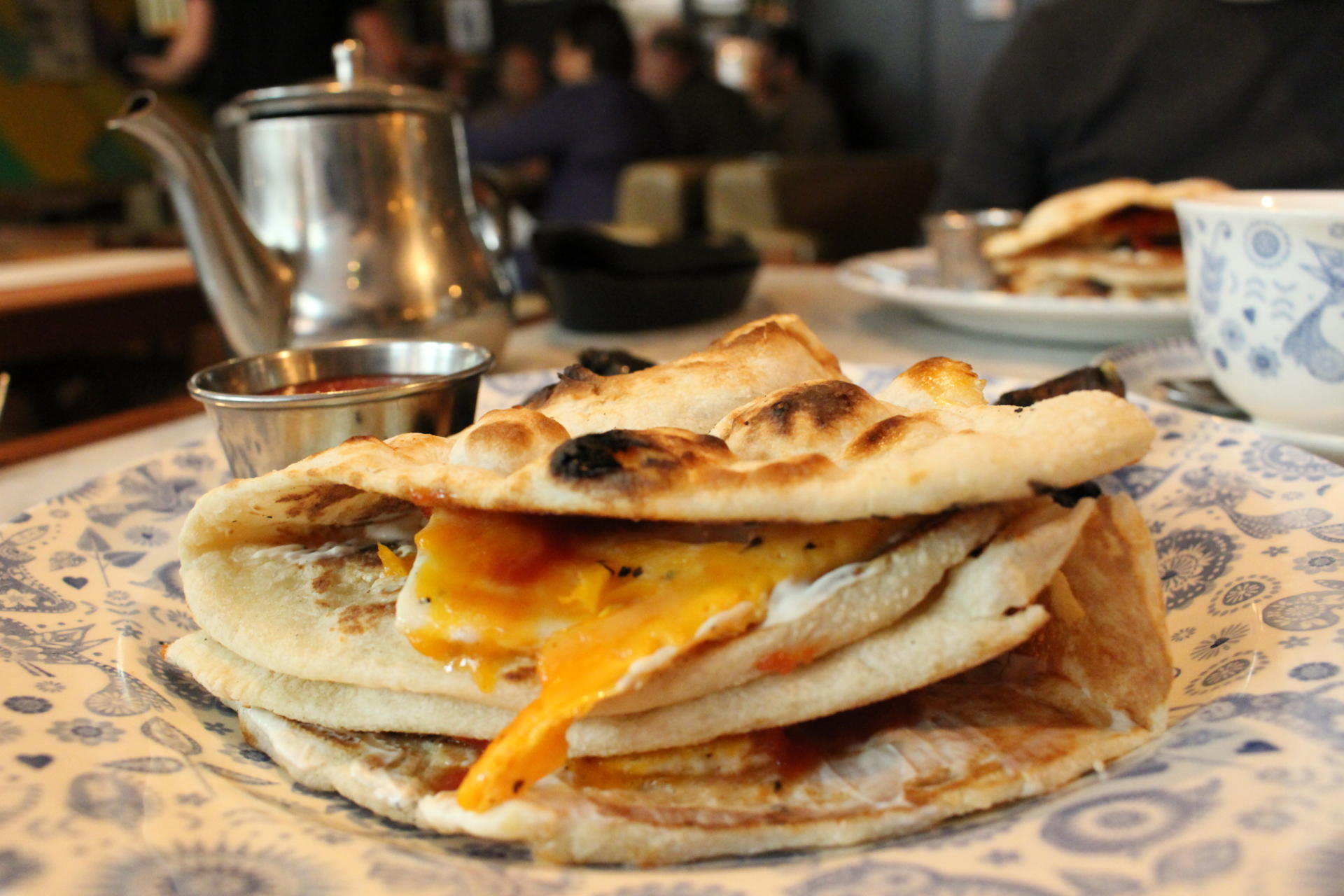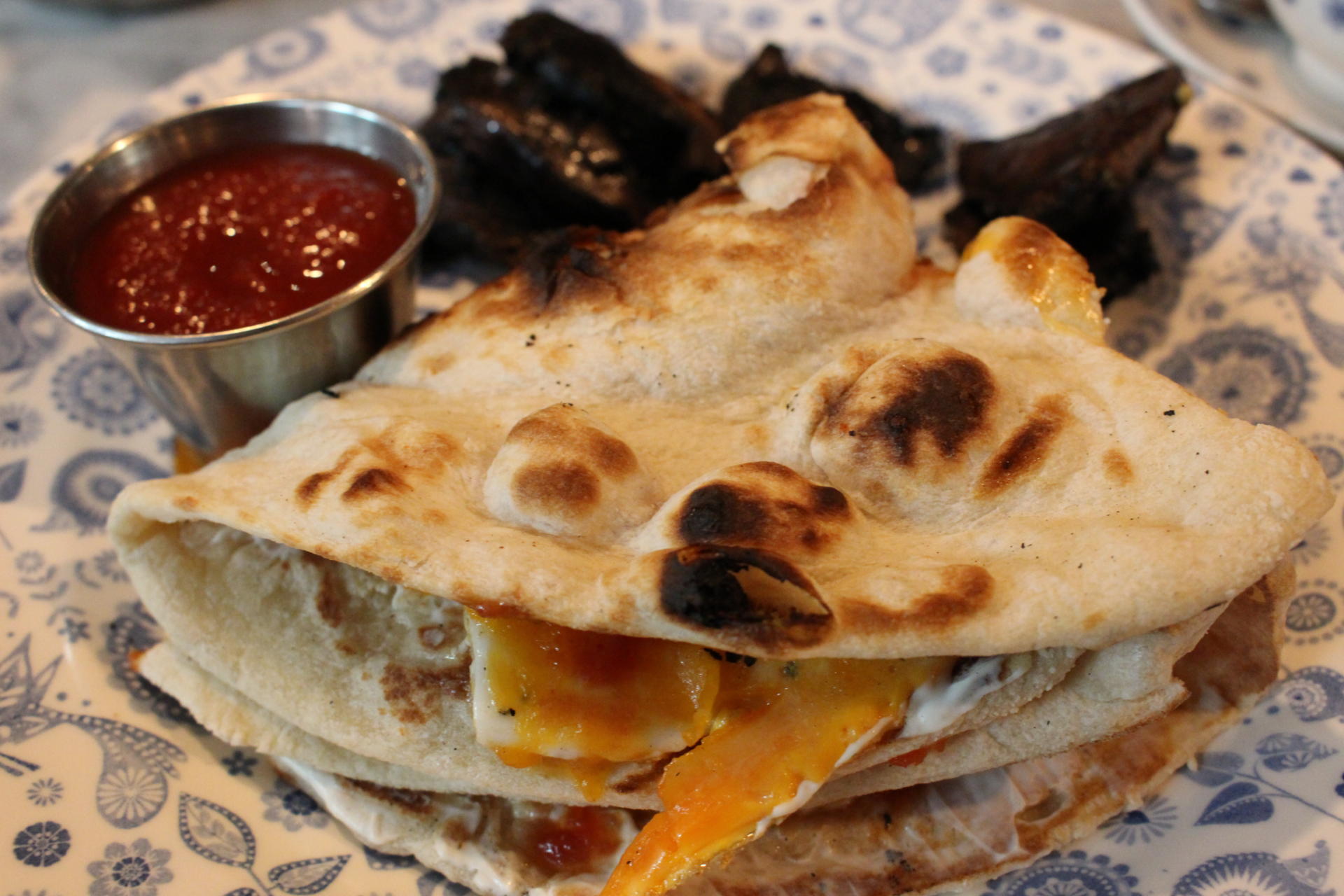 Our dinner at Nando's was our only "fast food" meal in London and it wasn't bad! We were desperate one night for dinner and nothing else was open so we stopped into Nando's for a quick bite. E ordered peri peri chicken while I ordered a veggie burger. We were both pleased with our meals but I am not sure we would eat here again unless we needed to.
Where To Shop
Post-Dishoom, E and I wandered into Liberty London to find me a teacup as my trip souvenir. I actually ended up coming home with two teacups. I selected a Mrs. Moore Alice in Wonderland teacup as well as a truly British teacup from Burleigh. I was so pleased with both I couldn't just pick one! Sometimes E indulges my crazy. This just happened to be one of those times!
Post Liberty London, I was in a shopping mood so I convinced E to stop into Office for a few minutes. When I laid my eyes on these black suede mules, I knew I HAD to have them. I had been eyeing a similar pair from Marais USA but they cost significantly more money. Trying on the black suede mules only made me love them more. E wasn't sure how I was going to get them on the plane. Our bags were already packed and were quite stuffed! But I made it work! They are my favorite new shoes, second only to my new M.Gemi loafers. You can see me wearing there here!