We have been on a riced cauliflower kick ever since (FINALLY) finding it at Trader Joe's. I know we are a little late to the riced cauliflower party. We had been wanting to try it for a while, but every time I was at Trader Joe's they were sold out!
Last night for dinner, E and I decided to pan sear some cod with Italian seasoning, and I was looking for a side dish to complement it. I thought it would be a fun idea to pair the riced cauliflower with tomatoes and cheese. Typically, I wouldn't pair cheese with fish, but this was actually perfect. We will be eating leftovers for lunch today!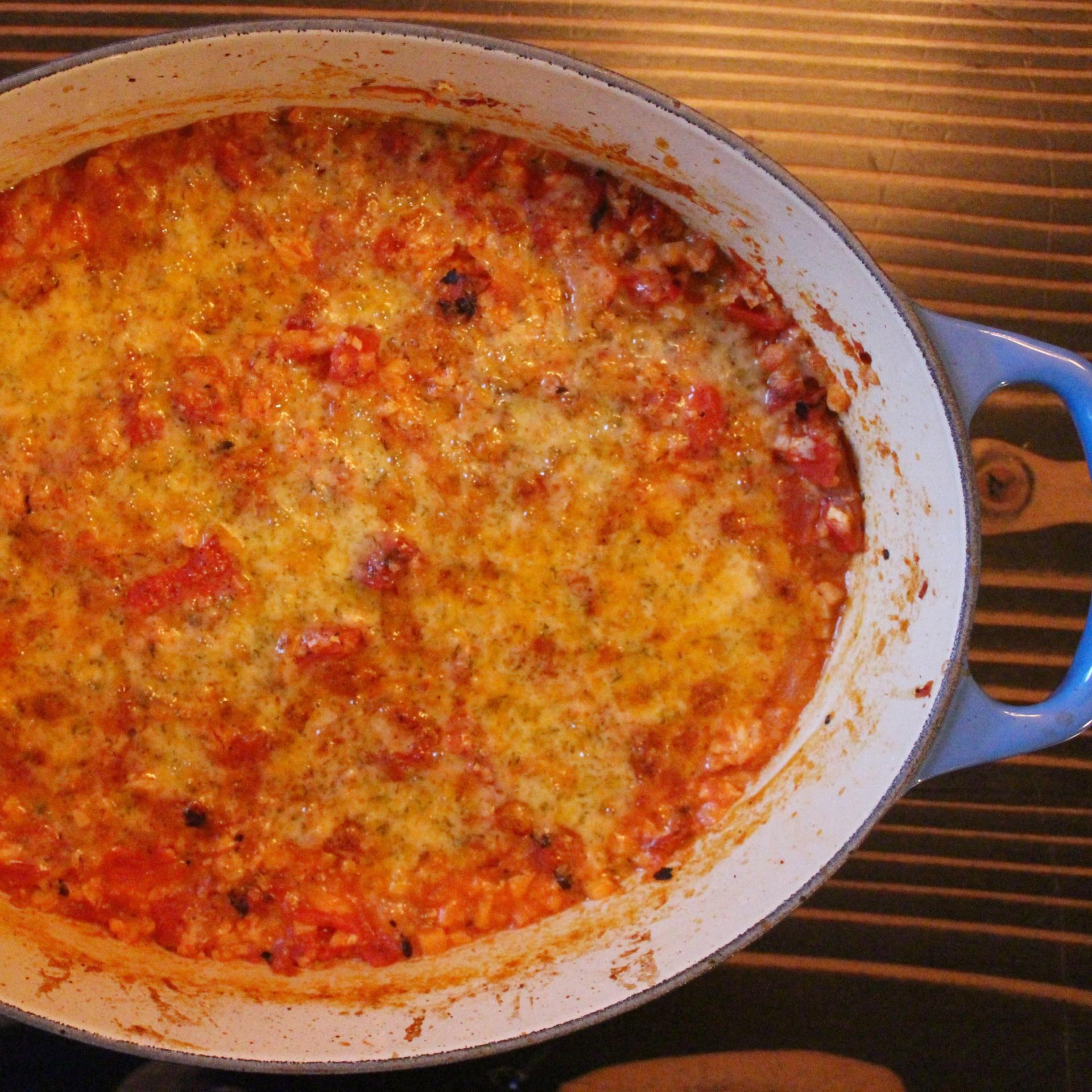 Ingredients:
Trader Joe's Fresh Riced Cauliflower, 1 bag
Tomato, 1 large, diced
Onion, 1, diced
Garlic, 2 large cloves, minced
Tomato Paste, 1 tablespoon
Extra Virgin Olive Oil ("EVOO"), 3 tablespoons
Trader Joe's Diced and Fire Roasted Tomatoes, 1 can
Red Pepper Flakes, to taste
Sea Salt, to taste
Cabot Garlic and Herb Cheddar, 1 cup, shredded
Directions:
Heat your Le Creuset Dutch Oven on the stove-top on medium heat. Add the EVOO.
Sauté the diced onion until translucent and minced garlic until fragrant.
Add the tomato paste and sauté until the onion and garlic are a bright shade of red.
Add the diced fresh tomato to the pan and sauté until some of the liquid from the tomato has come out.
Then add the entire bag of the riced cauliflower to the pan. Once all of these ingredients are combined add the entire can of the canned tomatoes.
Turn the heat down a bit and simmer for 10-15 minutes, stirring occasionally so the bottom does not burn.
Cover with a layer of shredded cheese and broil on high for 8-10 minutes, or until the cheese is completely melted and slightly browned.
Serve immediately!