Sunday morning rolled around, and E and I couldn't decide what we wanted for breakfast. Since we did Blue Apron the previous week, the fridge was looking rather sparse. I did, however, still have tons of tomatoes leftover from our weekly CSA box. What do you do when life gives you a box full of garden fresh cherry tomatoes and three ripe Roma tomatoes? Make sauce, of course!
E loves spicy everything, so I decided to make a quick spicy tomato sauce to put on top of over easy eggs (for me) and scrambled eggs (for him). They were delicious together. The sauce had a spice that hit you right in the back of the throat. It was just what we wanted! And it was the perfect way to start our Sunday!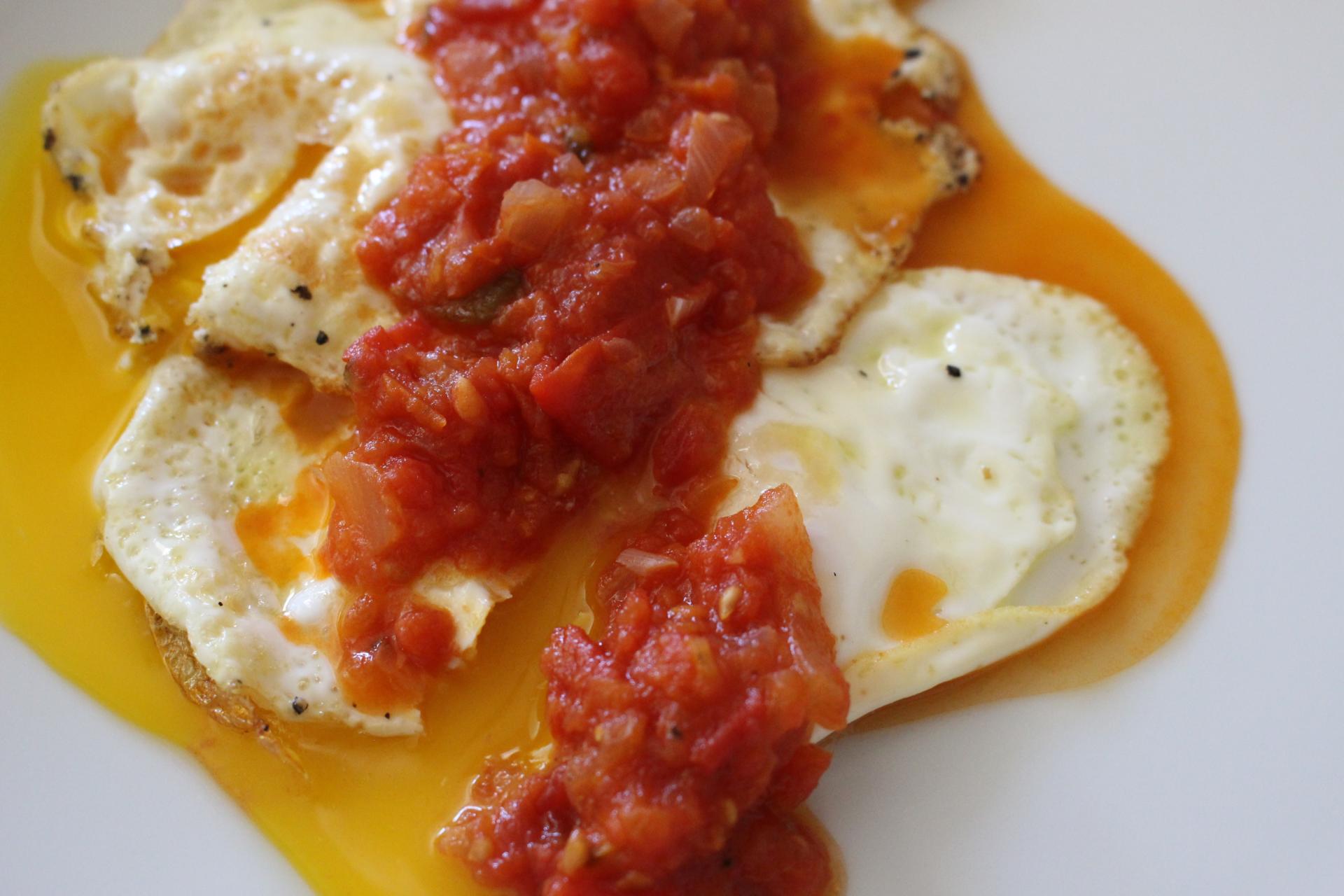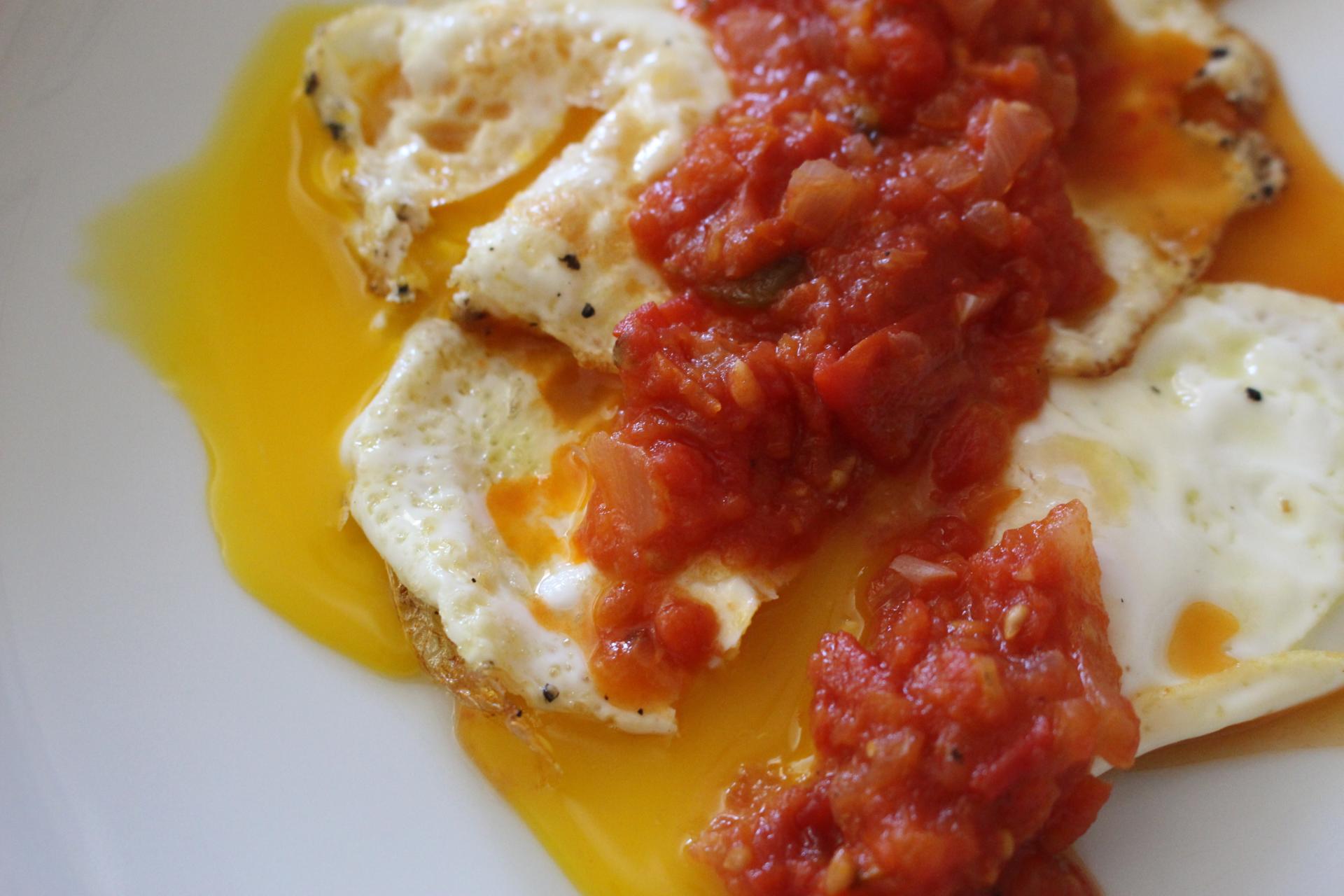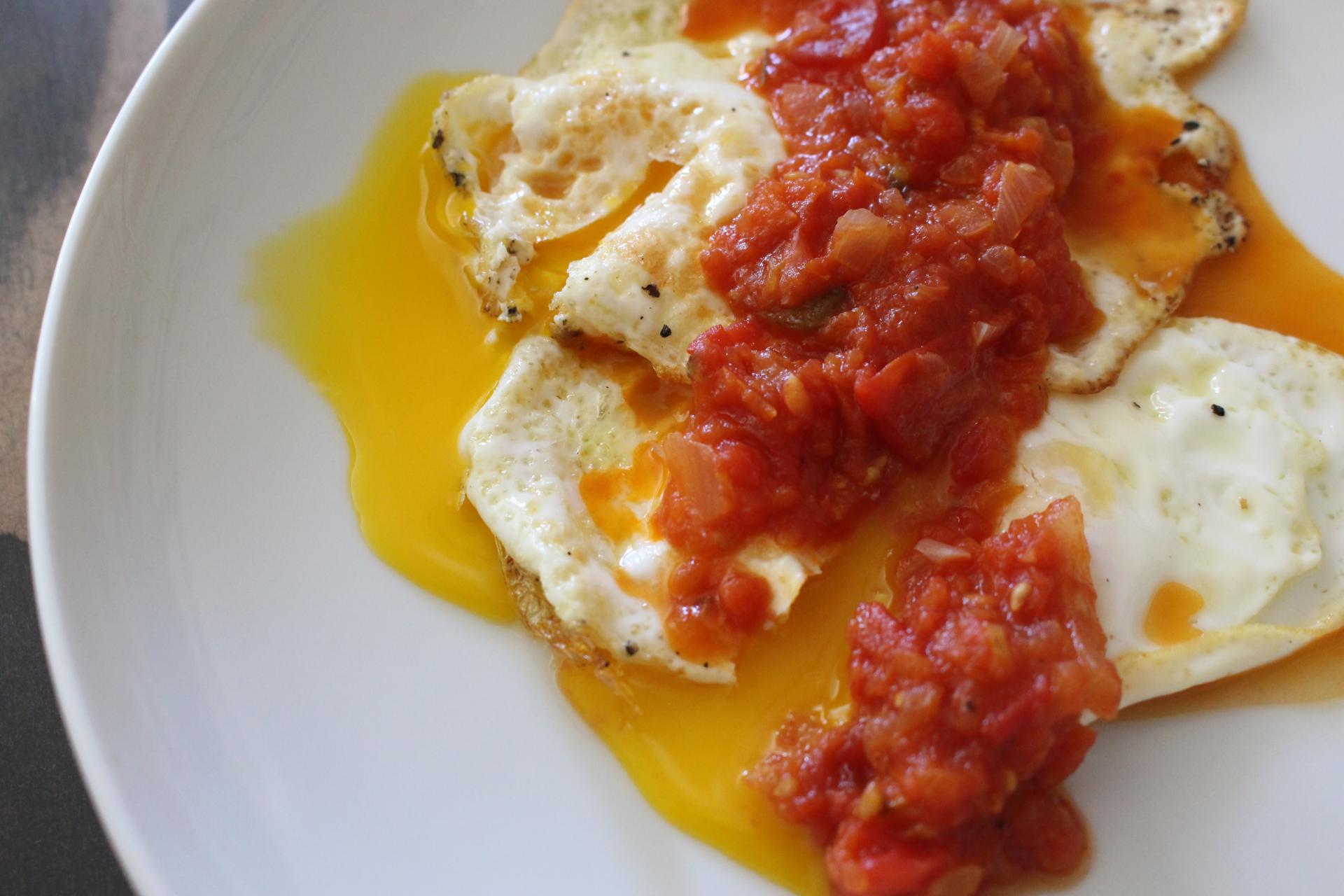 Ingredients:
Eggs, 2 per person
Cherry Tomatoes, 1 cup, sliced in half
Roma Tomatoes, 2, cut into 8ths
Onion, 1, small, diced
Extra Virgin Olive Oil ("EVOO"), 4 tablespoons
Garlic, 2 small cloves, minced
Ro-Tel Chunky Diced Tomatoes & Green Chilies
, 1 can
Tomato Paste, 1 tablespoon
Sea Salt, to taste
Crushed Red Pepper Flakes, to taste
Fresh Ground Pepper, to taste
Red Wine, 1/4 cup (optional)
Directions:
Heat your Cast Iron Casserole on medium heat. Drizzle in two tablespoons of EVOO into the casserole.
Once the EVOO is glistening, add the onions and garlic. Once the onions are translucent add the tomato paste. Mix until the onions and garlic are covered. Season with salt, pepper and crushed red pepper flakes.
Add the roma tomatoes and cherry tomatoes to the pan. Saute for 2-3 minutes on medium heat.
Add the whole can of diced tomatoes and stir to combine. Simmer for 2 minutes. If you are adding the red wine, add it here.
Allow to simmer for an additional 7-8 minutes.
Pull the pan off the stovetop and allow to cool for 10-15 minutes. Once cooled, with your Cuisinart Hand Blender, blend on low speed for 10-20 seconds for a chunky sauce, 30-40 seconds for a smooth sauce. I went for chunky!
Once your sauce is blended, in a smaller skillet, fry up two over easy eggs. Season with a little salt and pepper.
Plate the eggs and top with the sauce. Cut into one of the eggs to let all of that yolky goodness out!