A few weeks ago, I came down with a HORRIBLE cold. The kind of cold that keeps you home from work. I was in desperate need of some Jewish penicillin, aka chicken soup. Unfortunately, I didn't have the ingredients for homemade chicken soup, and my stockpile of frozen chicken soup was completely gone. I did, however, have the ingredients for a hearty vegetable soup. I basically used whatever vegetables I had in the refrigerator!
This recipe is very easy, and the results were delicious! And it also has a nice little kick. It definitely woke up my sinuses!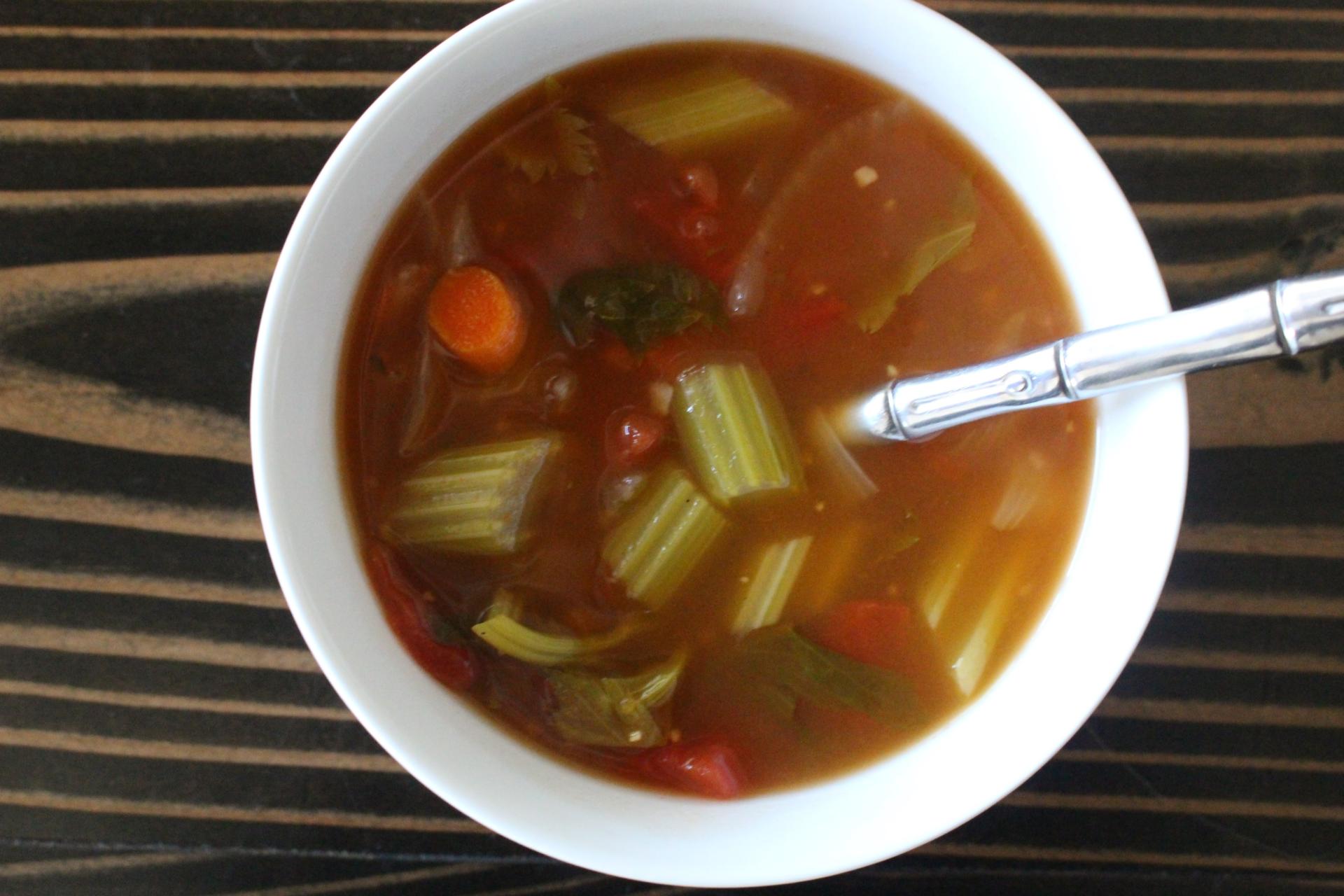 Ingredients:
Baby Carrots, 10, chopped
Celery with Leaves, 6 stalks
Trader Joe's Vegetable Stock, 3 cups
Tomato Paste, 1 tablespoon
Trader Joe's Diced Tomatoes with Chilies, 1 can
Onion, 1, chopped
Garlic, 2 cloves, minced
Extra Virgin Olive Oil ("EVOO"), 2 tablespoons
Sea Salt, to taste
Fresh Ground Pepper, to taste
Crushed Red Pepper Flakes, to taste
Directions:
Heat your dutch oven on the stove top with 2-3 tablespoons of EVOO.
Once the EVOO is glistening, add the onions and garlic. When the onions start to turn translucent, add the tomato paste, celery, celery leaves, and carrots. Cook for 2-3 minutes. Season with salt, fresh ground pepper, and crushed red pepper flakes.
Then add the entire can of diced tomatoes and chilies. Stir to combine and cook for another 2-3 minutes.
Pour in the entire container of vegetable stock and stir to combine. Turn the heat to low and cook for 30 minutes or until the vegetables are fork tender.
Serve hot!