Looking for an easy, delicious and protein packed dessert for Thanksgiving? Well I have just the recipe for you! I LOVE cheesecake but it is usually not healthiest dessert option. And fresh fruit, while delicious, isn't dessert to me. Unless of course it is covered in chocolate!
I have partnered with Muuna, a new reimagined cottage cheese, this holiday season to find new ways to incorporate cottage cheese into our diets. This cheesecake is light and fluffy but not too sweet. You won't even miss the cream cheese! The cranberry compote is tangy and seasonally appropriate! It will make such a nice end to your Thanksgiving feast!
I had never really been a huge fan of cottage cheese. The texture was always an issue for me. My father has been on a self imposed diet over for the last year and he eats cottage cheese every single morning. He has lost a TON of weight! So when Muuna reached out, I picked up a couple cups of their cottage cheese at my local supermarket so I could give it a try. The texture of Muuna is definitely different than regular cottage cheese. It is actually creamy! If you love greek yogurt, like I do, then you will LOVE Muuna!
Muuna is available in single and multi serve containers, that can easily be enjoyed at breakfast and lunch or as a mid-morning and afternoon snack, at home or while on the go! They come in a variety of flavors! My favorites are the strawberry and blueberry. Muuna is low calorie, high in protein, contains no high fructose corn syrup or stevia and is free of artificial flavors, colors and sweeteners. Muuna is also gluten-free and certified Kosher. Basically, it is the perfect snack! You should definitely check it out!
Scroll down for the recipe!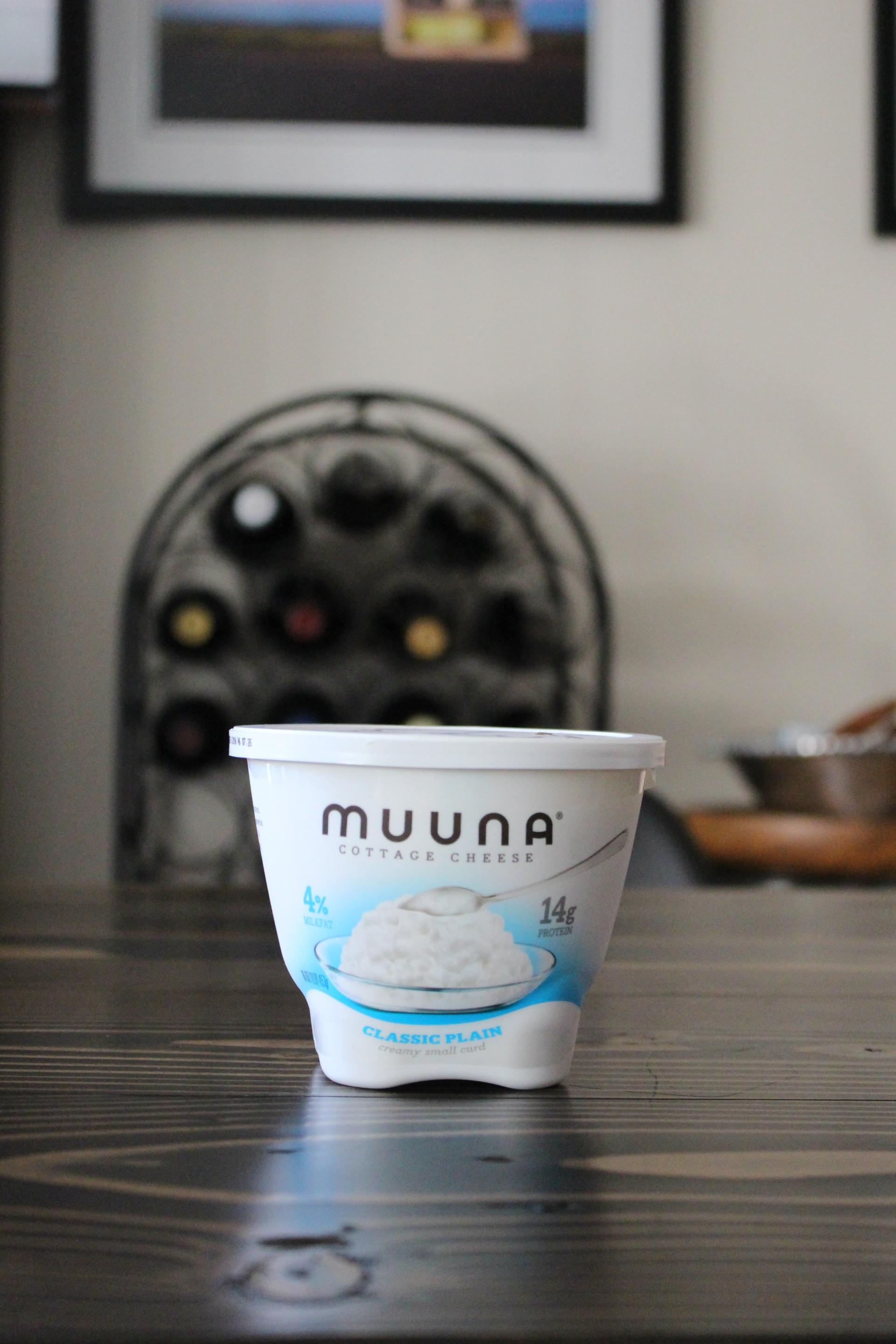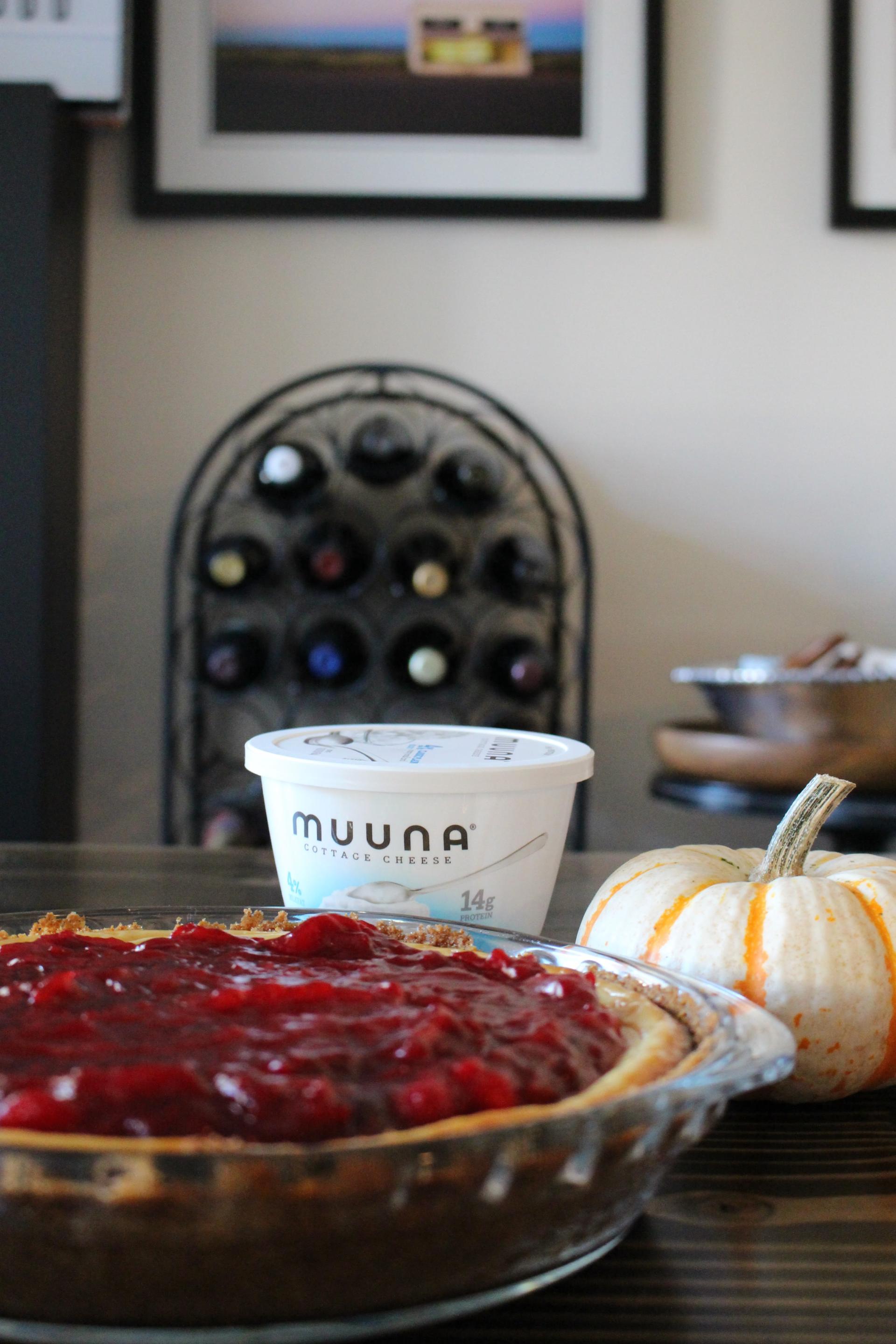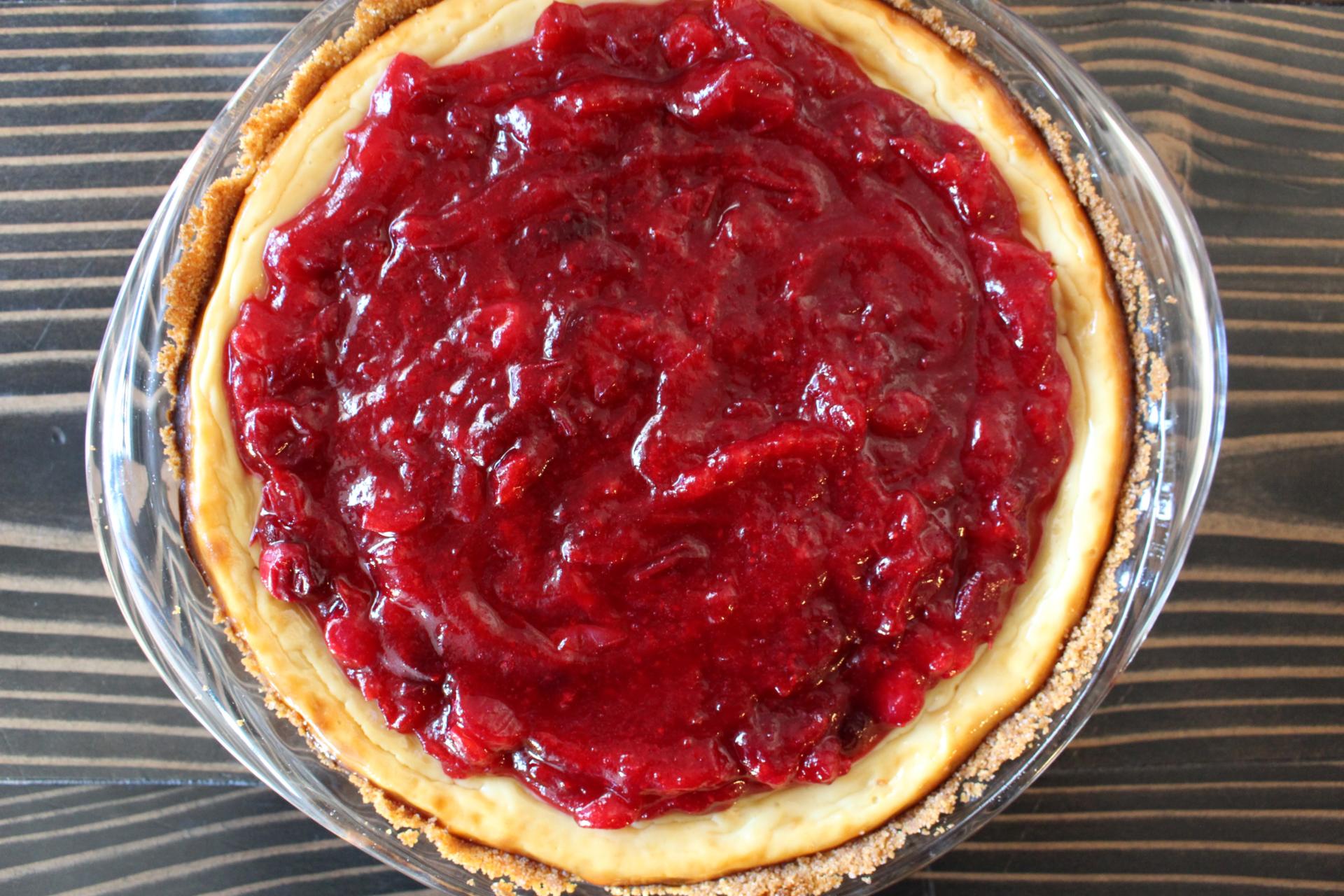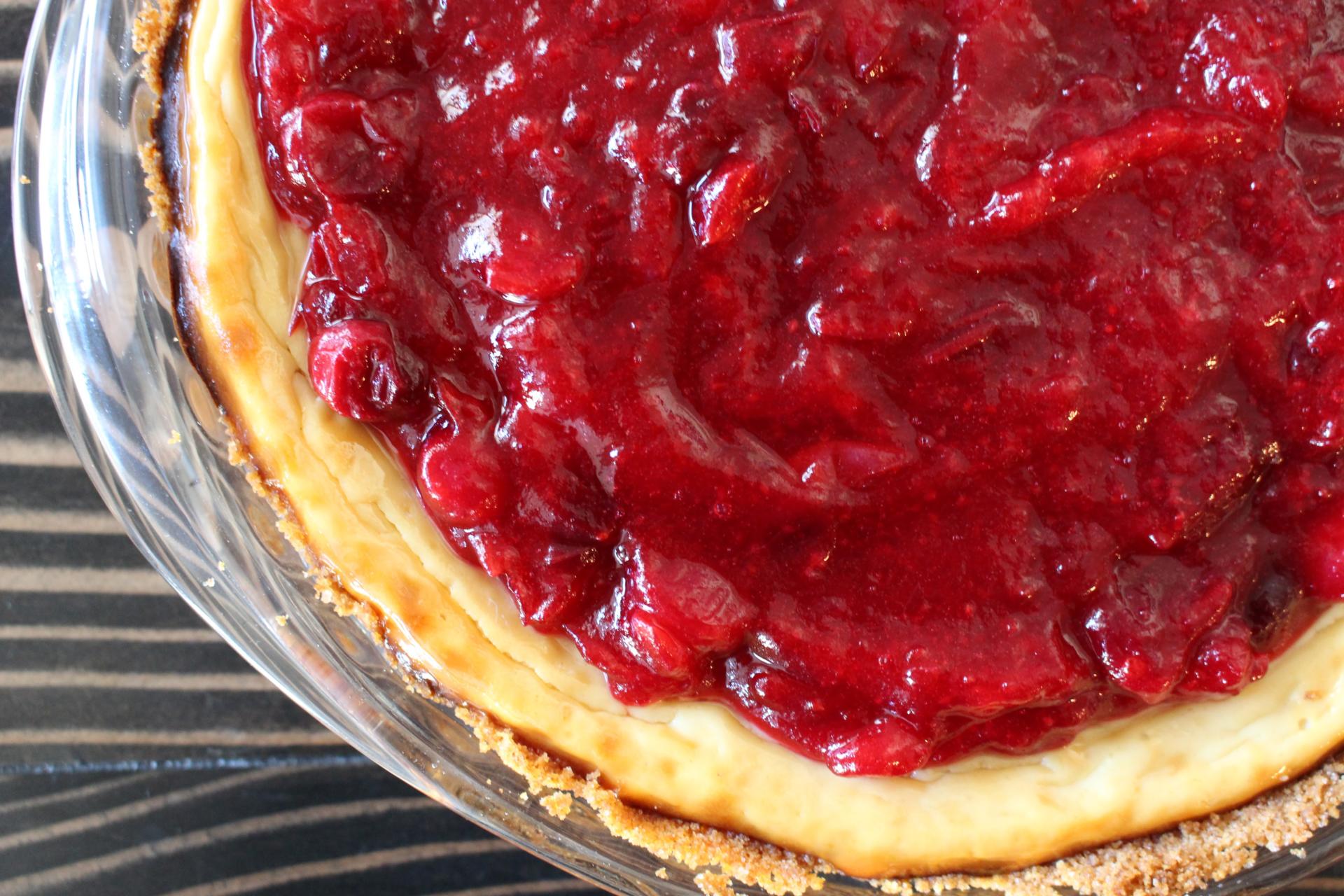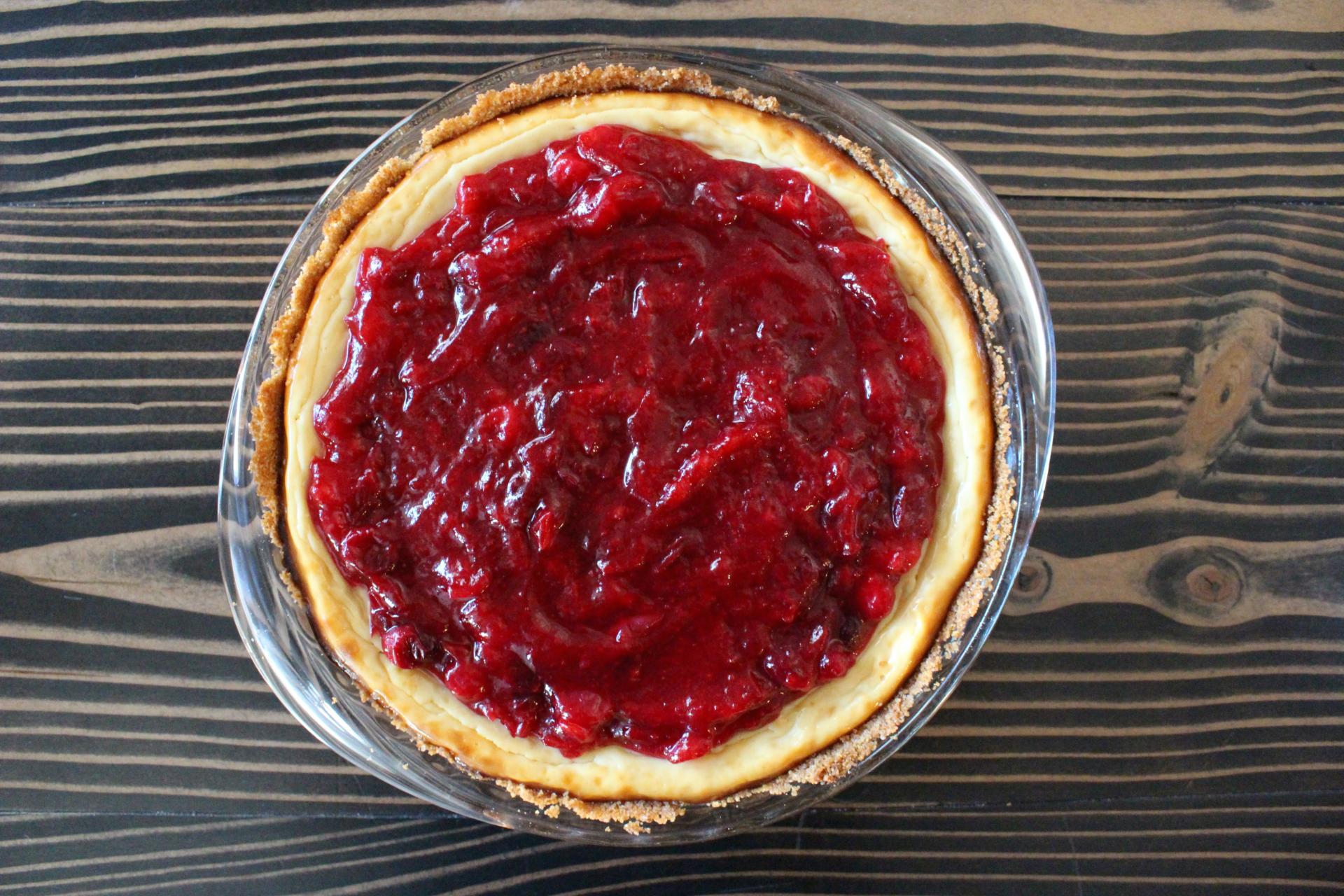 Ingredients:
Cranberry Compote:
Fresh Cranberries, 1 bag
Sugar, 1/2 cup
Water, 3 tablespoons
Crust:
Graham Crackers, 2 sleeves
Sugar, 1/4 cup
Butter, 6 tablespoons, melted
Pumpkin Pie Spice, 1 teaspoon
Cheesecake Filling:
4% Muuna Cottage Cheese, 1 large container
Vanilla Bean Greek Yogurt, 1 cup
Maple Syrup, 1/4 cup (I used Hill Farmstead's Bourbon Barrel Aged Maple Syrup and it added a nice smoky flavor)
Flour, 2 teaspoons
Eggs, 2
Vanilla Extract, 1 teaspoon
Directions:
Cranberry Compote:
In a small saucepan mix everything together. Bring to a boil and then turn to low. Allow to simmer for 10-15 minutes, stirring frequently.
Remove from the heat and allow to cool.
Crust:
Place the graham crackers into your food processor. Pulse until you have small crumbs.
Melt the butter in a  small saucepan.
In a large bowl mix together the crumbs, melted butter, sugar and pumpkin pie spice.
Spray your Pyrex Pie Plate with Pam.
Press the crust mixture into the Pyrex.
Cheesecake Filling:
Preheat the oven to 350 degrees Fahrenheit.
In a blender, blend together the cottage cheese and greek yogurt until it is smooth.
In a small bowl, mix together the eggs, flour, maple syrup and vanilla extract.
Empty the contents of the blender into a larger bowl and then add the mixture from the smaller bowl.
Fold everything together.
Pour the cheesecake filling into the Pyrex.
Bake for one hour or until the cheesecake is set.
Allow to fully cool before topping with the cranberry compote.
Chill in the refrigerator before serving!
For more information, visit www.muuna.com or join the conversation on Facebook, Twitter and Instagram with #Muuna.
Thank you Munna for partnering on this post.