Thanksgiving is a day to spend with family, and a time to reflect on everything we have to be thankful for in this world. This year (and every year), I am thankful for my husband, my family, my friends, my health and, of course, my readers!
E and I are headed to Los Angeles to spend the holiday with my family. I am so excited to spend time with them and to eat my mother's famous turkey and pumpkin muffins! They are my favorite things to eat, after donuts, of course.
When packing for Thanksgiving, I am looking for comfortable classics. I don't want to fuss about anything when I am chilling with the fam. Lately, I have been LIVING in these AYR jeans. They are already packed in the suitcase for fear that I will wear them and get them dirty before our trip. They have just enough stretch that I won't feel constricted after eating all of the turkey. Lately, I have been all about the J.Crew sweater set. Strange, I know. This sweater set makes me feel like Jackie O. Especially when paired with this chunky tortoise shell necklace. So chic! And these pointed camel flats are my new favorites. They are so incredibly comfortable and don't hurt the fronts of my toes after a long day of wearing them.
The final touch to my outfit is my new Daniel Wellington watch! I LOVE watches and I had been DYING for a Daniel Wellington for over a year. I love a good leather band but, this time, I wanted something a little different. The red, white and blue strap is so light and fun! Another great thing about Daniel Wellington watches is that the bands are interchangeable. I bought mine with the red, white and blue band, but I can always buy a leather band later and swap it out. I love when timepieces are versatile like that. And now through December 31, 2016, you can order a Daniel Wellington watch for yourself or as a gift at a 15% discount with the code WHATSFORDINNER.
Hope you have an amazing Thanksgiving, and safe travels to you all!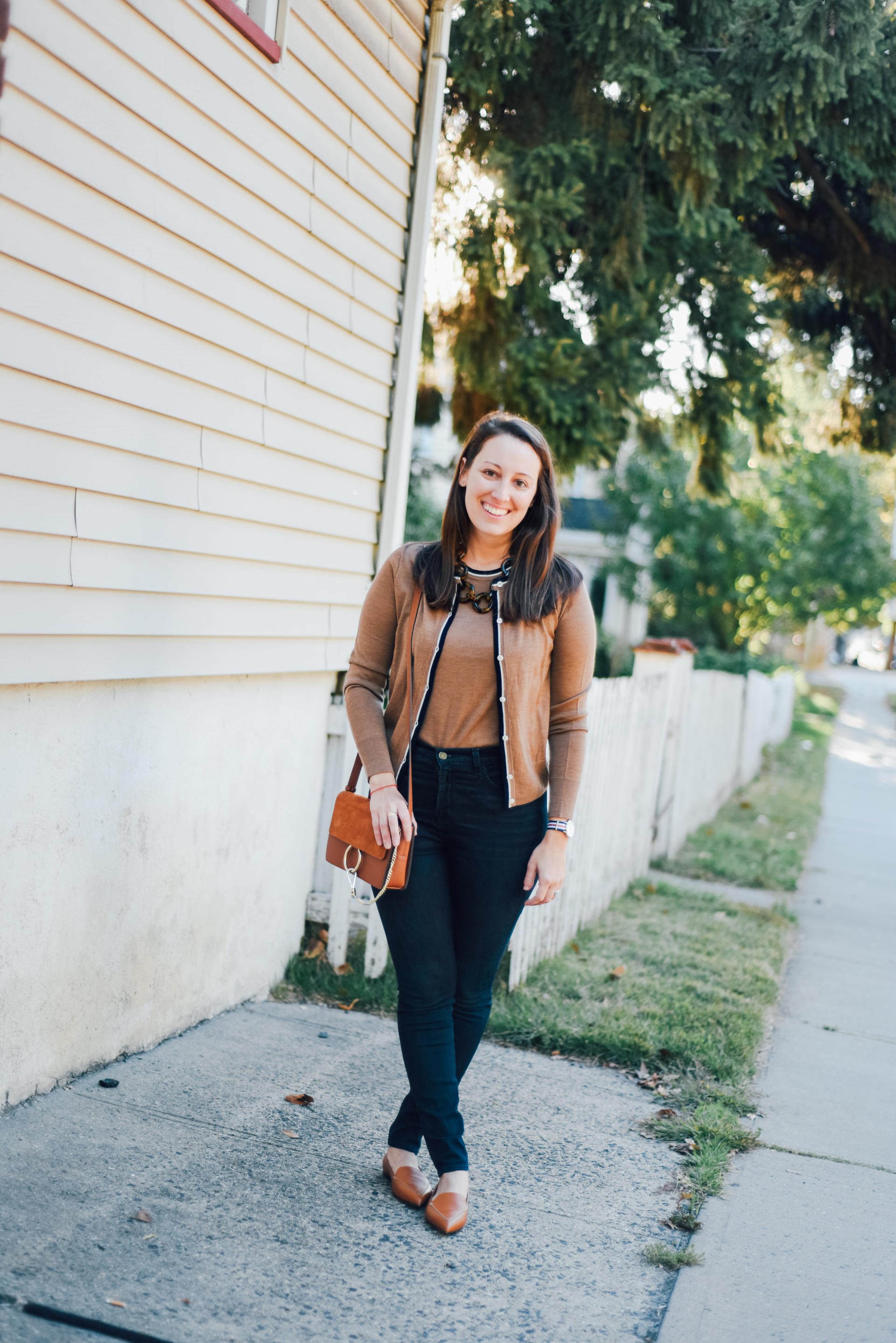 Cardigan: J.Crew, Shell: J.Crew, Necklace: J.Crew, Jeans: AYR (c/o), Shoes: M.Gemi, Watch: Daniel Wellington (Use Code WHATSFORDINNER for 15% Off Through December 31, 2016), Bag: Amazon