A little over a month ago, I was invited to attend the ShopStyle Social House during New York Fashion Week in February. Based on my time at their event in September (read more about that HERE), I knew I couldn't miss it this season!
During the event, I was privileged to have had the opportunity to do a street style photo shoot with Candice Lake, a well known photographer, mother and blogger. On the first day of NYFW, we had an EPIC snowstorm, so a few days later there was still a significant amount of snow on the ground. It made for a pretty backdrop for these photos!
For my second day at NYFW and for the ShopStyle event, I elected for function over fashion, with the exception of my pink booties (NOW LESS THAN $16!), pink sunglasses (also seen HERE), and pink fluffy bag.  I had a lot of running around to do, between attending shows and events, so jeans seemed like the natural option. You all know how much I love a jeans day! My absolute favorite jeans at the moment are my AYR Skinnys. They may also be the only jeans that still fit me properly… That pesky baby bump! If only AYR sold maternity jeans…
Thankfully, the weather warmed up slightly so I didn't need my heavy winter coat during the day. A chunky sweater and faux leather jacket were perfect. I had initially blow-dried my hair straight and did my own makeup, but at the ShopStyle Social House, the lovely people at the Glam App added some bouncy curls while Credo Beauty did my makeup. I felt like a brand new woman. I love getting my hair and makeup done. It is such a treat!
After I was all prepped and ready, we walked towards the Hudson River to take some photos. Candice was so quick! We were done in less than 10 minutes! And now I have these beautiful photos to share with you and to treasure forever. It was baby's first proper photo shoot!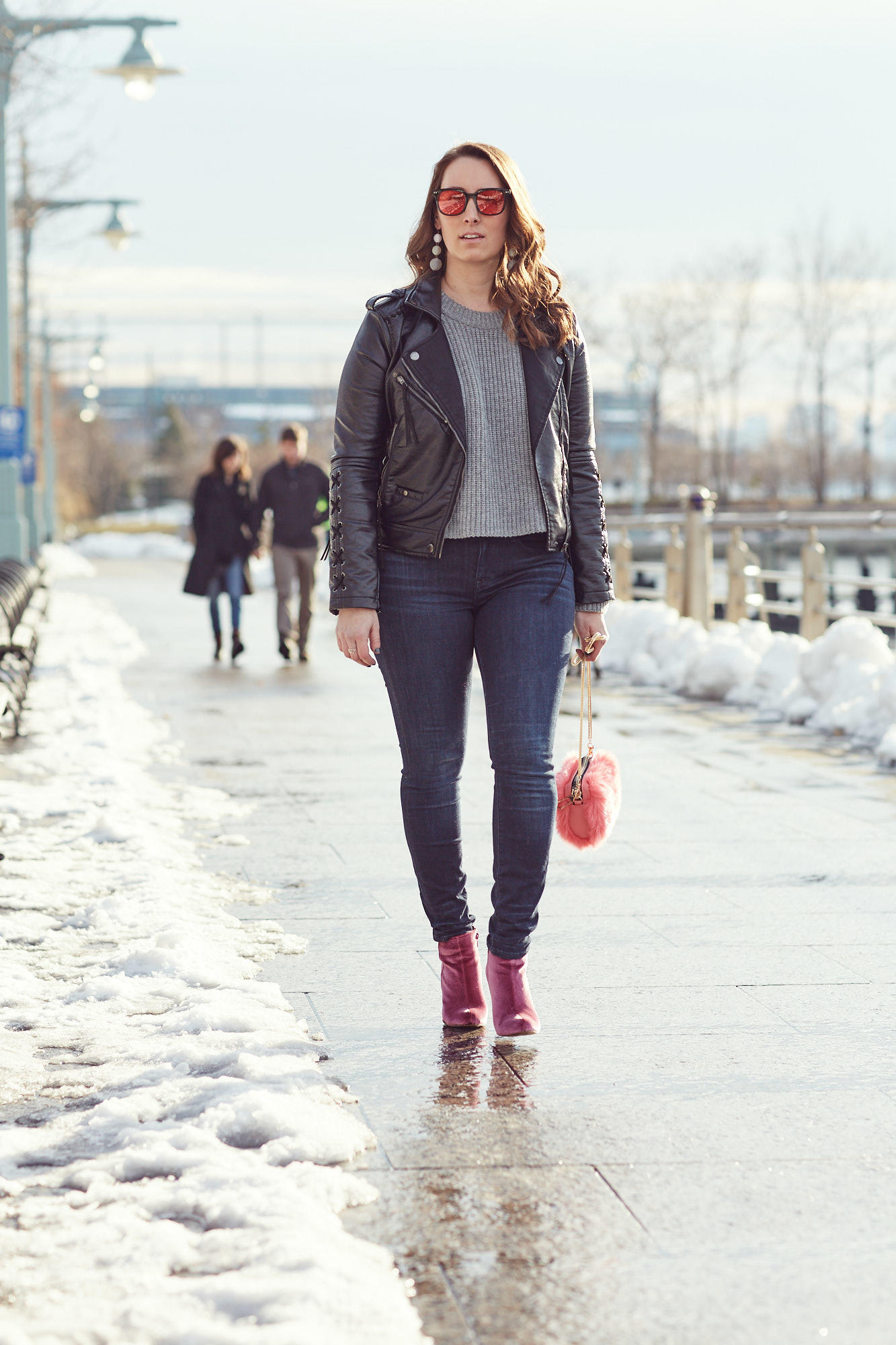 Jacket (c/o, similar HERE), Sweater, Jeans, Shoes, Bag, Earrings, Sunglasses (similar HERE)