While E and I were in Los Angeles last week to celebrate Passover with my family, I decided to take a little trip to LACMA, the Los Angeles County Museum of Art. It had been YEARS since my last visit, and I had been DYING to see the Urban Light exhibit (photos to come in a later post).
While the my first few days in LA were slightly overcast and cool, on Monday it was HOT! I loved it! My pale white winter skin was craving the sun!
For this cultural jaunt, I slipped on my new Sonnet James Scout dress and a cute pair of floral flats. I had been STALKING Sonnet James on Instagram for a while after learning about them from a photographer I follow on Instagram and love, when I finally decided to reach out and see if they might want to work together. Imagine my excitement when they responded in the affirmative! I may or may not have actually  jumped for joy. Not kidding.
Sonnet James was created by Whitney, a mother of two little boys, who wanted to design long lasting, durable, and machine washable clothing for mothers who want to be playful and fun with their children while also feeling beautiful and fashionable at the same time! What's even better is that her clothing can be worn throughout pregnancy and after giving birth. The Scout dress has already become a staple in my closet. It is so light, stretchy, and comfortable.  My bump has never felt more at ease!
After wearing it that Monday, I proceeded to wear it on Tuesday and Wednesday as well. Three days straight! I can totally wear it to work with cute flats, on date night and, I imagine, after giving birth to Cheerio (yes, that is what we have been calling it) I will be living in it as well. I love that I can just throw it in the washing machine. I HATE taking clothes to the dry cleaners. It is so expensive!
The last reason why I love Sonnet James, but certainly not least, is because ALL of their clothing is produced in the great state of California. It is my home state, so I may be a little biased…
I cannot wait to show you the Brielle dot dress in a few weeks! It is another light and comfortable dress, this one with long sleeves for those cool spring days and summer nights. I am definitely going to order myself a Play Suit. A chic pajama-like outfit that can be worn out in public?! Sign me up!
Thank you Sonnet James for partnering on this post.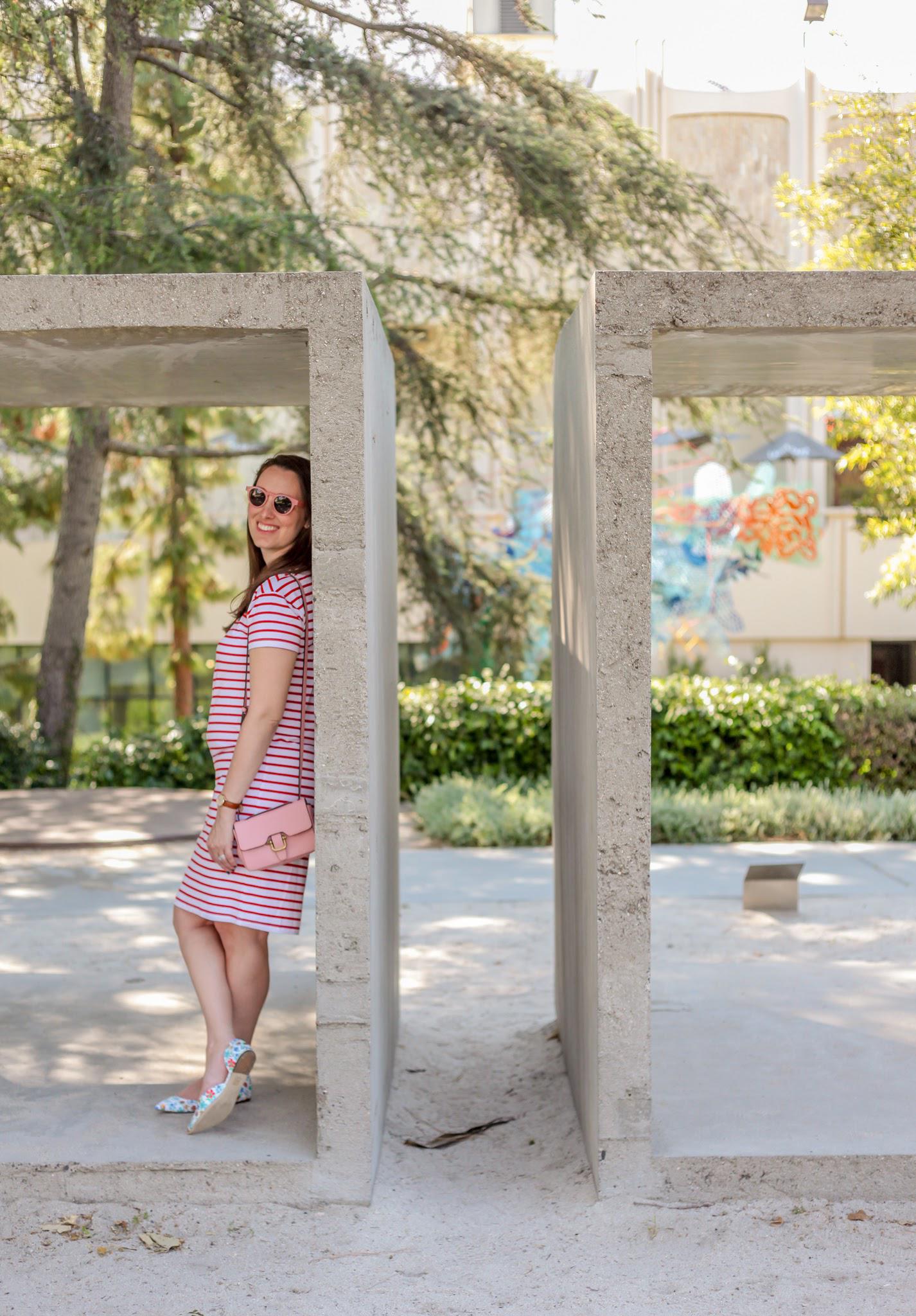 Dress (c/o), Shoes, Bag, Sunglasses, Ring, Watch