Last Friday, we were heading over to a friends house for Friday night dinner. I had offered to bring a side dish but couldn't decide what to make. When I realized that I had a package of Jack's Gourmet Facon in the refrigerator, I thought why not try to combine it with brussels sprouts?! It is such a classic combination. Restaurants always put them them together but I can't eat them because they use pig bacon…. Sad face.
Instead of using whole brussels sprouts, I bought a bag of the shredded brussels sprouts at Trader Joe's. I figured they would cook faster, and I was right! I typically roast brussels sprouts, halved, in the oven until they get very crispy. That is how E and I like them! This time though I did decided to sauté the shreds and then roast them in the oven. That way they would be able to cook down in the facon fat and then crisp up in the oven. They were delicious! Our friends loved them and we did too!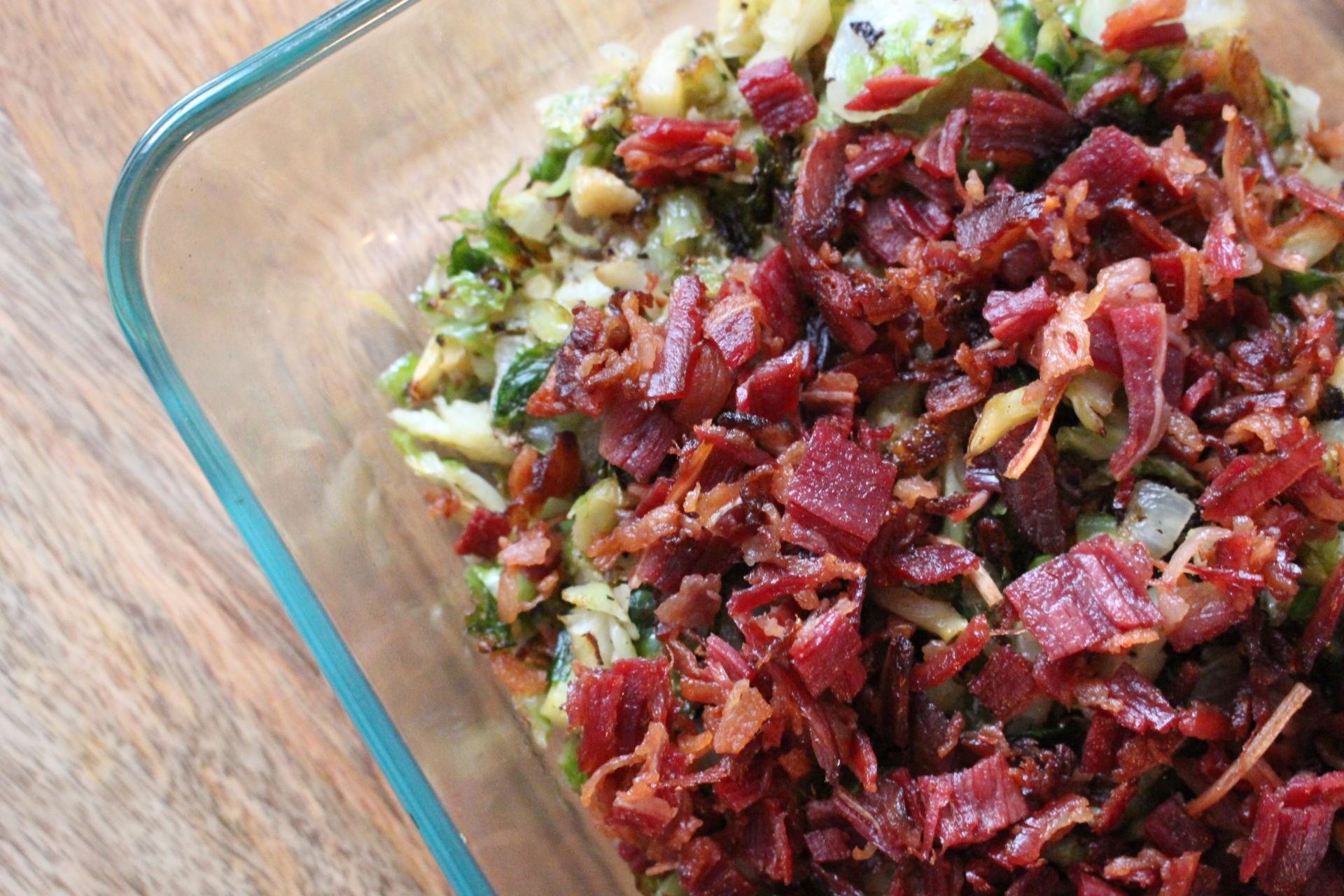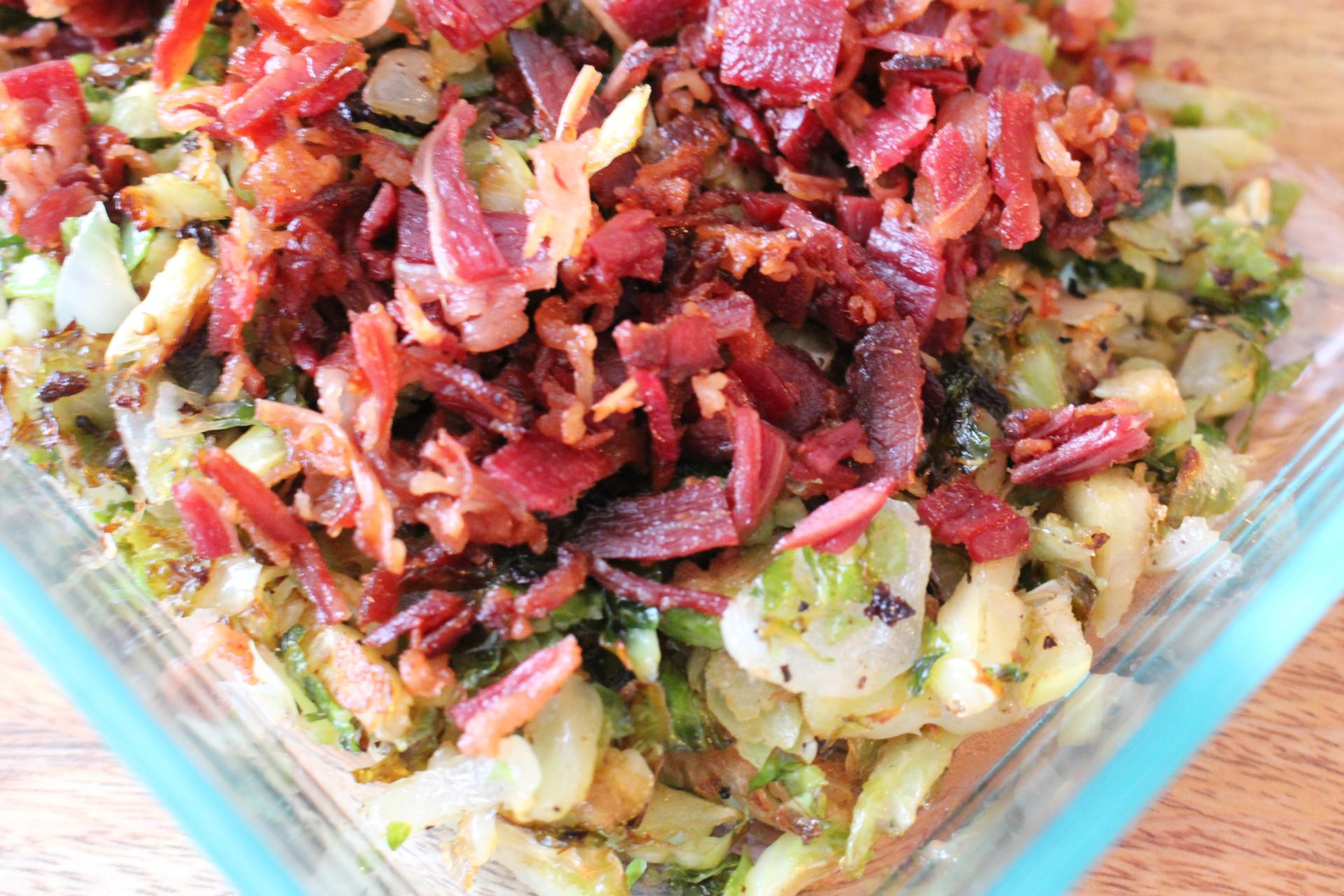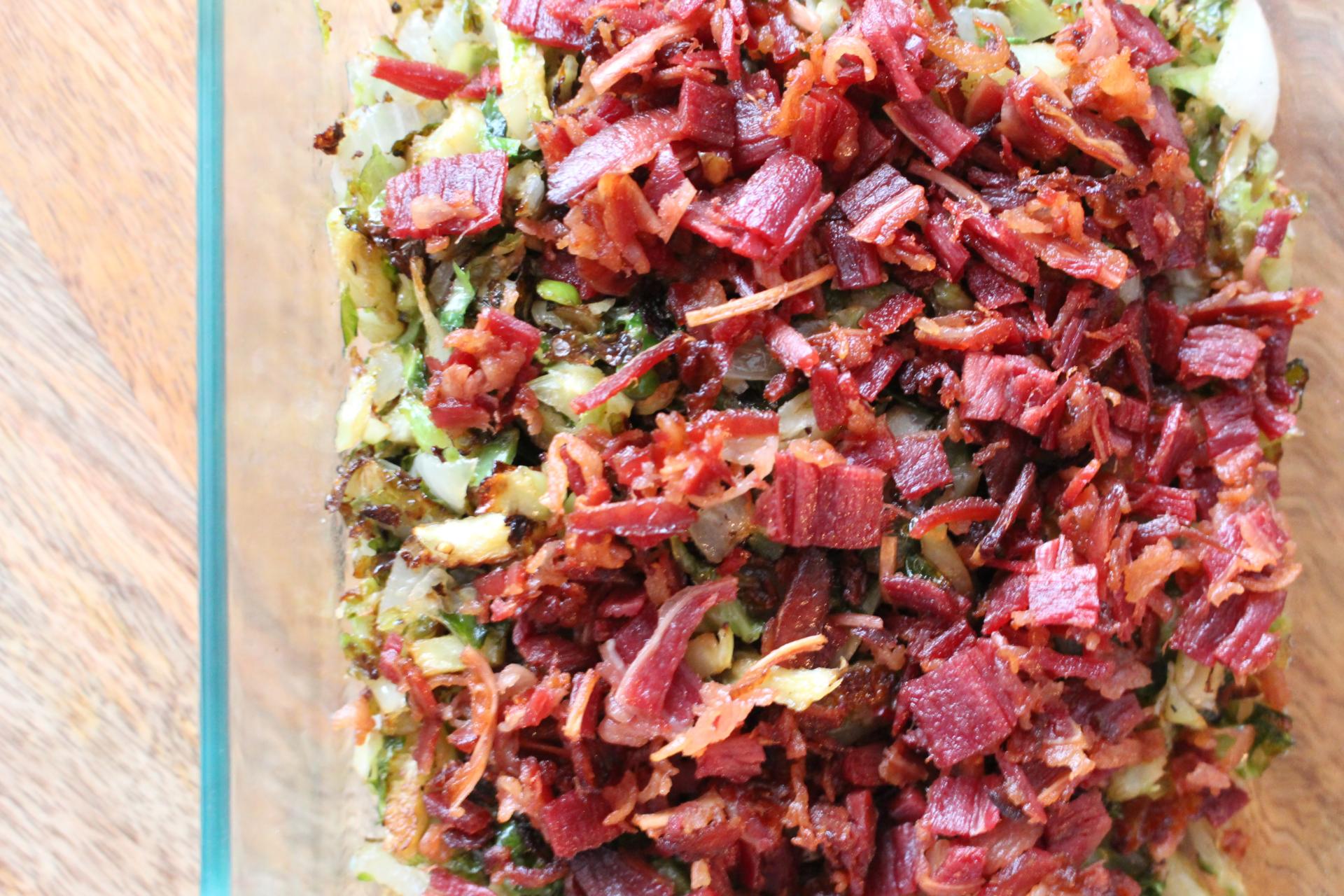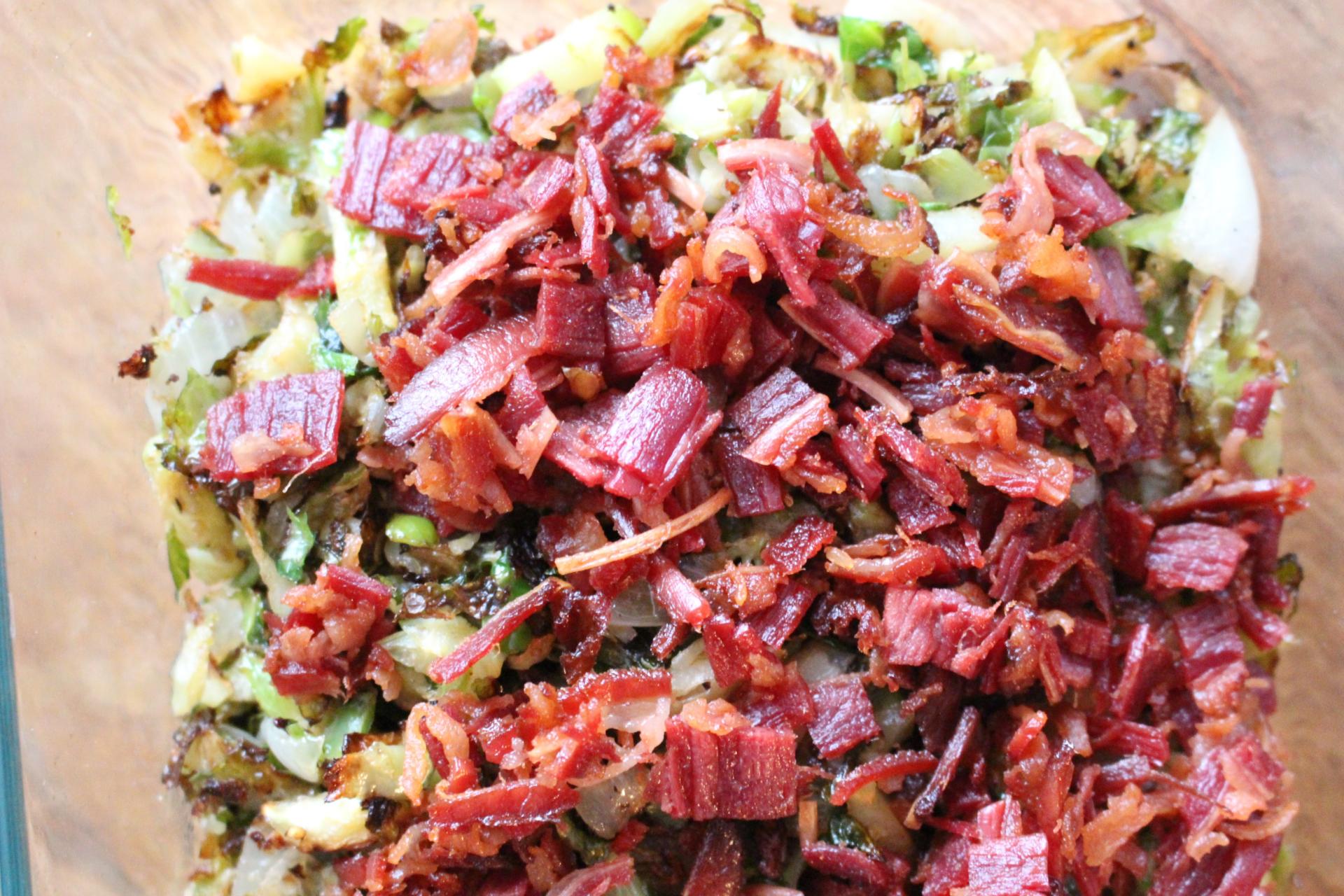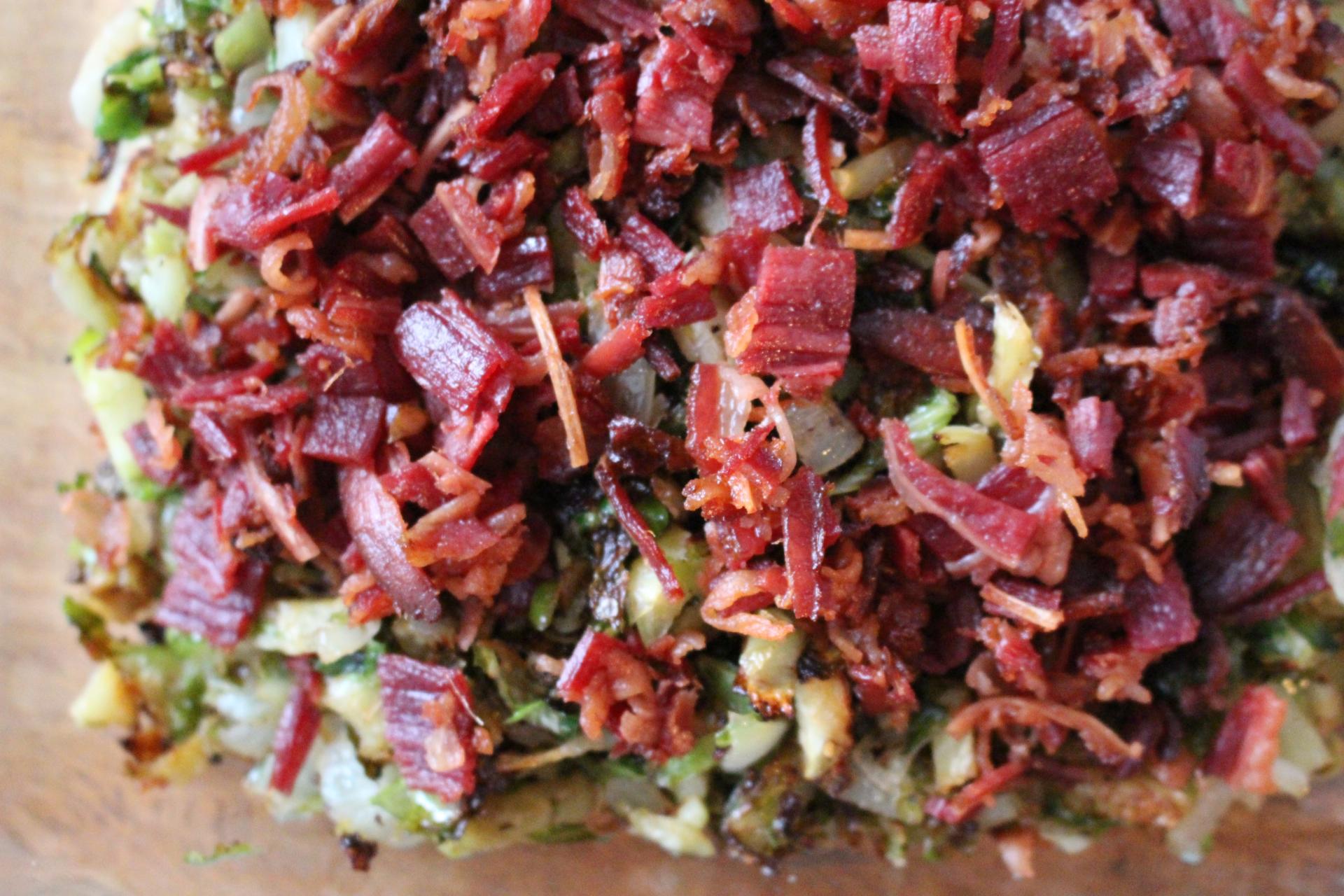 Ingredients:
Jack's Gourmet Facon, 1 package, diced
Shredded Brussels Sprouts, 1 packages (I get them from Trader Joe's)
Onion, 1/2, diced
Sea Salt, to taste
Fresh Ground Pepper, to taste
Garlic Powder, to taste
Directions:
Heat a large skillet on your stove top on medium heat.
Cook facon pieces in a large skillet over medium heat, until crisp, 5 to 7 minutes. Drain on a paper towel.
Sauté the onion in the facon fat for 2 to 3 minutes, or until slightly translucent. Season with salt and pepper.
Add the shredded brussels sprouts to the skillet and sauté with the onions until they are bright green, about 3-4 minutes.
While the brussels sprouts are cooking down, preheat your oven to 400 degrees Fahrenheit. Cover a sheet pan with aluminum foil and spray with Pam.
Once the brussels sprouts are done, spread them out on the sheet pan. Roast in the oven for 10-15 minutes, or until they crisp up.
Serve in a bowl or pyrex. Sprinkle the top with the facon bits.