I warn you and apologize in advance that this post is a little photo heavy. That is only because I am OBSESSED with the photos that Lauren took of this look. She made me look like a rockstar, and I just can't handle it.
It all started with these furry slides. When I saw them online, I knew I had to have them. And they were ON SALE! Talk about a serious score. When they arrived, E looked at me like I was a crazy person. I instantly put them on and they have been living on my feet ever since. If only I could wear them to work… Then they would basically be on ALL day.
You may recognize this dress (sold out, similar HERE and HERE) from a previous post (see HERE). I wore it to several holiday parties and events in December. It is so comfortable and easy to move around in. I actually bought it during the Nordstrom Anniversary Sale last year. It was such a steal. Little did I know that it would come in handy to accommodate my growing bump! I have actually since purchased several dresses by the same brand in different colors and styles. They fit amazingly well and don't break the bank!
I threw this blazer over the dress to give the look a little more of an edge. The furry slides had me going in that direction but I wanted to go a little over the top. And then I threw on my new favorite sunnies. I ordered them after seeing them on my fave blogger, Jacey of Damsel in Dior. They were already affordable and I scooped them up during the Shopbop sale! Totally rockin', right?! I might even try to wear this to work. My co-workers won't judge me for the furry slides, will they?! I guess we will just have to wait to find out!
Shop the post below or scroll down for more links!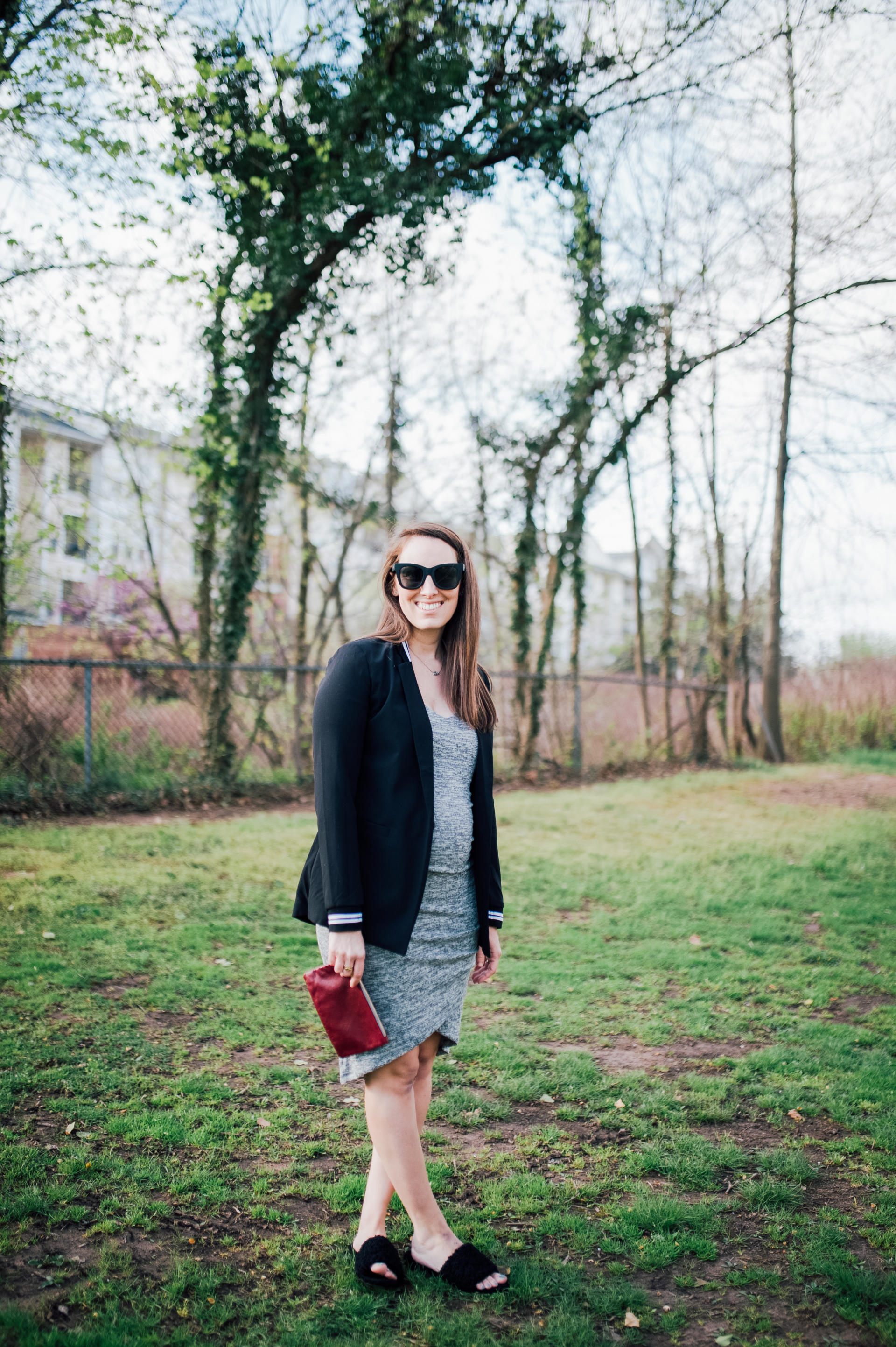 Dress (sold out, similar HERE and HERE), Shoes, Blazer (c/o), Necklace, Bag (sold out, similar HERE and HERE), Sunglasses