Fried Chicken. Good ol' American fried chicken.
I haven't craved much of anything throughout my pregnancy, but over the last few weeks I have REALLY wanted fried chicken. Unfortunately, there aren't any kosher fried chicken places close to where I live. Sad face.
Growing up, my mother made killer schnitzel so, to satisfy my fried chicken craving, I decided to tweak her schnitzel recipe a bit and make some for myself. I had just picked up some smokey panko breadcrumbs at the new Seasons Kosher grocery store in Clifton. E and I love smokey beer and smoked meat, so we decided to try smoked chicken schnitzel! We were VERY pleased with the results. The schnitzel was perfectly crispy and oh so juicy! We actually ate these sandwiches for two days in a row. I wish we had made more schnitzel! Next time we will!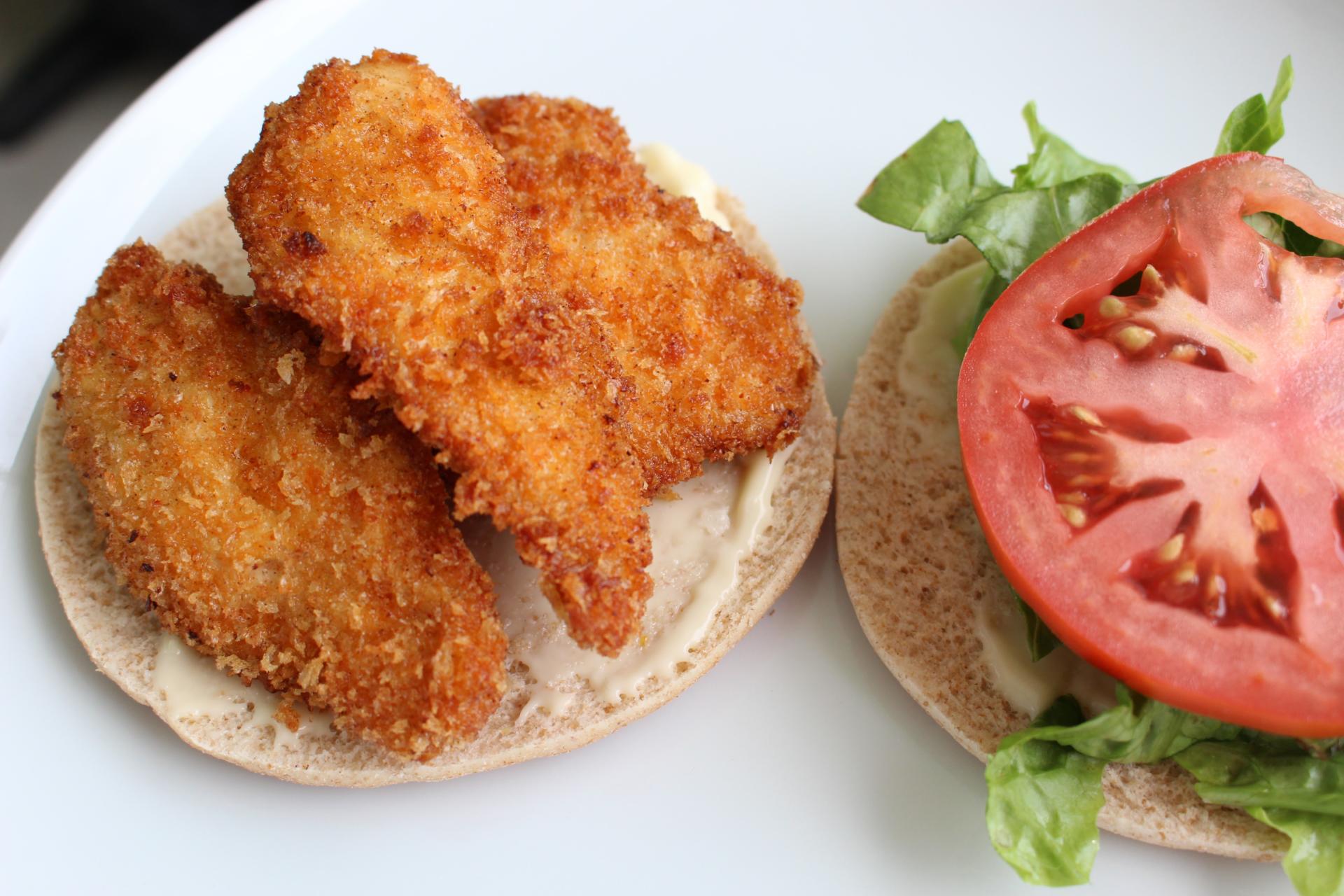 Garlic Aioli
Ingredients:
Light Mayonnaise
Fresh Lemon Juice, 1 tablespoon
Extra Virgin Olive Oil ("EVOO"), 2 tablespoons
Garlic, 3 cloves, chopped finely or pressed
Sea Salt
Fresh Ground Pepper
Directions:
Mix all of the ingredients into a small bowl.
Cover with Saran Wrap and allow to chill in the refrigerator for at least an hour before serving. It is even better if you can let it chill overnight.
Schnitzel
Ingredients:
Boneless Chicken Breast, cut into strips
Panko Breadcrumbs (I used a mix of smokey panko breadcrumbs and regular Trader Joe's panko breadcrumbs)
Eggs, 2
Sea Salt, to taste
Fresh Ground Pepper, to taste
Vegetable Oil
Directions:
Crack the eggs into a small bowl. Whisk with a fork.
Pour your breadcrumbs into another small bowl. Season with sea salt and pepper.
Heat your skillet at medium heat with a thick layer of vegetable oil on the stovetop.
Prepare a plate with a paper towel. This is for the chicken post skillet.
While the skillet is heating up, dip the chicken pieces into the egg and then into the breadcrumbs. I like to assemble all of the chicken in advance.
Once the oil is hot, start laying the chicken in the oil, being careful not to overcrowd the skillet. After two to three minutes, flip the chicken over. Allow to fry up for an additional two minutes.
Once done, place on the paper towel lined plate.
Continue until all of the chicken is cooked.
Now it is time to assemble your sandwich! Spread some aioli on your bread and then top with sliced tomatoes and lettuce. Then layer on a few pieces of the schnitzel.
Sandwich complete! It is time to eat!