This past weekend, I celebrated my 32nd birthday. My father came into town from Los Angeles to join the celebrations, and we spent the weekend in New York City. It was such a nice time!  31 was a great year, but I imagine this coming year will be even better!
As birthday presents to myself, I picked up this adorable little pink patent bag and these cute fuchsia kitty flats, that I had been DYING to own for YEARS (and that I scored on MAJOR SALE)! Treat yo self, right?! I knew they would match this blush shift dress that I had just received from Isabella Oliver, one of my favorite maternity brands.
Isabella Oliver's mission is to create classic pieces that can be worn throughout your pregnancy and after. They use the most comfortable fabrics that grow with you. In addition, their clothing is made to last. They are investment pieces, but well worth it. When I first learned I was pregnant, I reached out to Isabella Oliver to see if I could style one of their dresses on the blog. They graciously sent me two of my favorites, one of which was this blush shift dress. I love the light shade of pink. It is ALL THE RAGE right now.
I knew the blush dress would be perfect for the office or for a night out on the town. I love its contemporary design. Its ponte fabric is light and stretchy, and it is so easy to wear! When I wear it to the office, I pair it with a blazer and flats. I have also worn the entire outfit, as styled below, out to dinner with E. When I wear this outfit, I feel so fabulous! Isn't that what good clothing is supposed to make you feel like?
If you are pregnant or planning on having a baby, I seriously recommend that you look into Isabella Oliver. You won't regret it!
I can't wait to share the second dress with you next week!
Thank you Isabella Oliver for partnering on this post.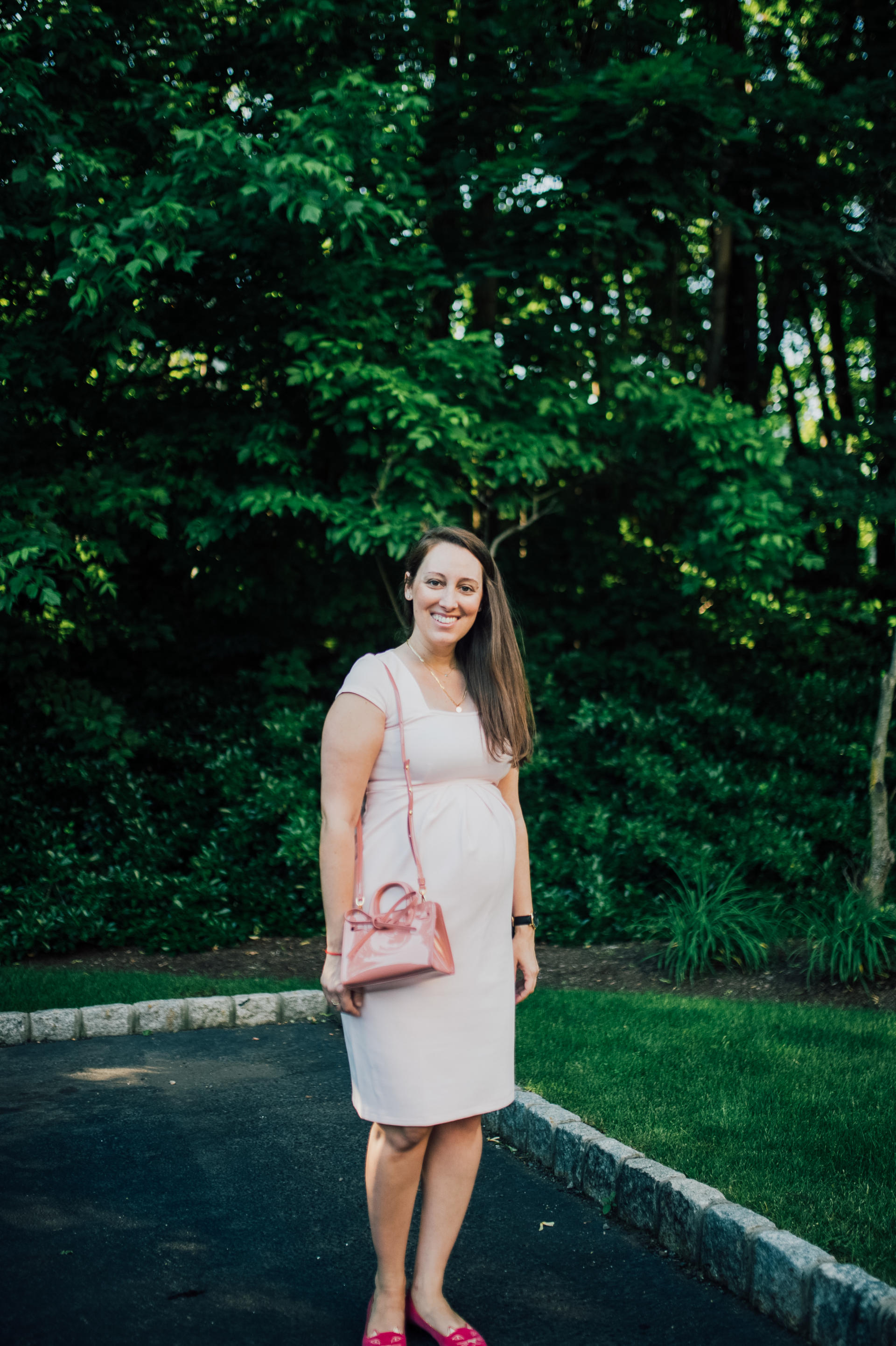 Dress (c/o), Bag, Shoes, Necklace, Watch