I know… It has been a while. Adjusting to my new role as a mama has definitely taken a little time. I (naively) thought that I would somehow have more time to blog while on maternity leave. Boy, was I wrong! Sometimes finding time to shower is a struggle, let alone finding time to take photos and write blog posts. Now that a little over a month has passed, our new family has gotten into a routine that works for us and I finally have a little bit of "free" time! So here goes, my first post-baby outfit post!
Ever since giving birth I had been DYING to wear jeans. Unfortunately, the humidity here in New Jersey in the weeks following the birth was horrible. Definitely NOT jeans weather. Over the last few weeks, though, the weather has cooled down to the point that wearing jeans is comfortable. It is almost fall! Time for apple picking, leggings, leather jackets, pumpkin spice lattes and ALL OF THE DENIM!
On one of our many outings to the Livingston Mall (we head out to walk indoors when the weather is crappy), I picked up a few pair of jeans at Old Navy. I wasn't sure I would fit into my pre-baby jeans just yet, so I figured it would be worth it to invest in a few inexpensive pairs to wear immediately. Their Rockstar jeans have just the right amount of stretch and they suck me in, in all of the right places. Old Navy was having a HUGE sale (aren't they always?) so I only ended up spending about $20 a pair. What a steal, right?!  I will be wearing them throughout the fall and winter months.
Since I was already shopping, I popped into Gap and Steve Madden to see if they had anything interesting. I had been wanting a new zip up sweatshirt, so when I saw this burgundy one at Gap, I scooped it up, along with this ribbed striped tank. Both pieces are super soft!
Steve Madden was also having an amazing sale, so I picked up these blush pink sneakers. They are the perfect casual shoe and are so incredibly comfortable.
When I purchased everything, the ENTIRE OUTFIT (sans diaper bag and jewelry) cost just under $100! Sale shopping is the best! This outfit has become my mama uniform as of late. It is so easy to throw on!
Shop the entire look below.
Thank you Simon Malls and Livingston Mall for partnering on this post.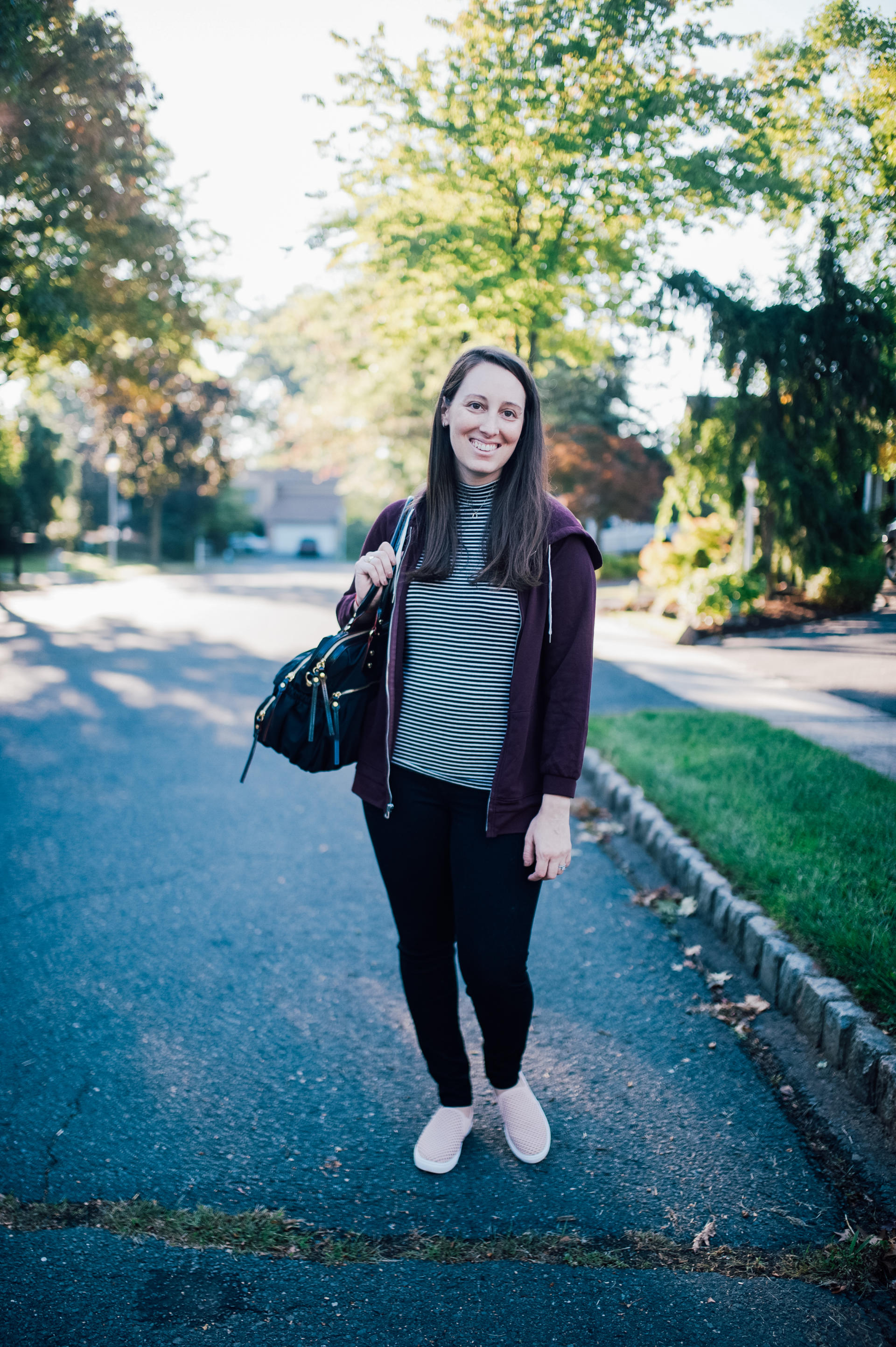 Top, Sweatshirt, Jeans, Shoes, Necklace, Bag