Who is ready for fall and pumpkin EVERYTHING? ME!!!
This past weekend (the first official weekend of fall), it was hot and sweaty here in New Jersey, with temperatures peaking in the 90s! Definitely NOT fall weather. Sad face. I want to wear my leather jacket and leggings already!
Since the weather wasn't cooperating, I decided to make some pumpkin bars to get E and me into the fall spirit. They tasted like cake, and they were moist and DELICIOUS! You could definitely taste the pumpkin throughout.
I think these might be making an appearance at Thanksgiving dinner this year!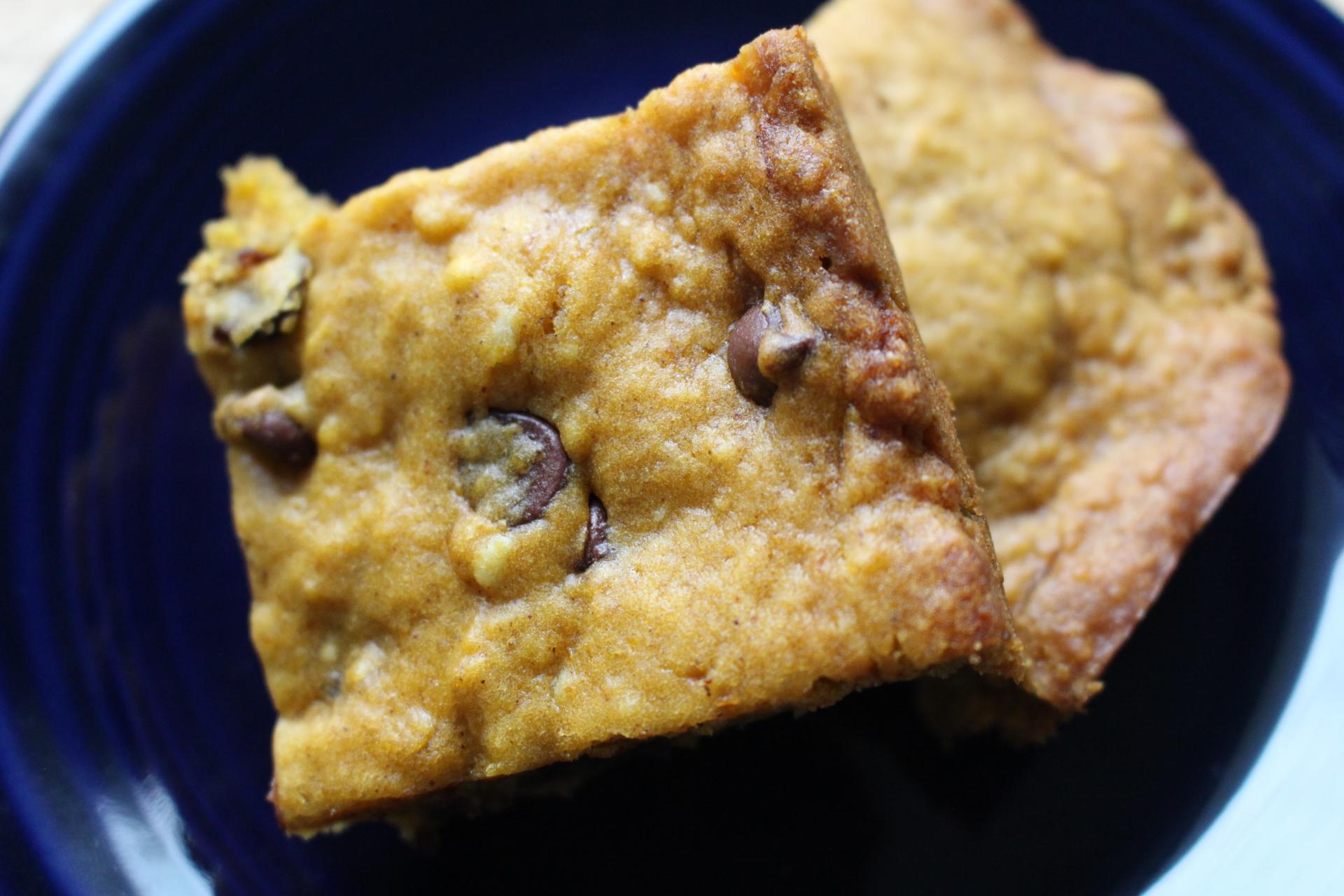 Ingredients:
All Purpose Flour, 2 cups
Baking Soda, 1 teaspoon
Sea Salt, 3/4 teaspoon
Pumpkin Pie Spice, 1 tablespoon
Margarine, 1 cup (2 sticks)
Vanilla Extract, 2 teaspoons
Pumpkin Puree, 1 cup
White Sugar, 1-1/4 cups
Egg, 1
Chocolate Chips, 1 cup
Directions:
Preheat your oven to 350 degrees Fahrenheit.
Spray your 9 x 13 inch Pyrex or baking pan with cooking spray or line with foil or parchment paper.
In a medium bowl, whisk together the flour, baking soda, pumpkin pie spice, and sea salt.
In a large bowl, cream together the margarine and sugar. Then add the egg and the vanilla until combined.
Add the pumpkin puree to the wet ingredient bowl.
Then slowly add the dry ingredients to the wet ingredients, mixing as you go to make sure everything is throughly combined.
Fold in the chocolate chips.
Spread the batter evenly throughout the pan.
Bake for 35-40 minutes, or until a toothpick inserted comes out clean.