A few weekends ago, E, Nathan, and I went to Alstede Farms in Chester, New Jersey, for some apple picking (more on that to come in a later post). A fun fall activity for my little family! We decided not to pick an entire box full of apples because we didn't want any to go to waste. Last year, we couldn't eat them fast enough. This year, we picked 2-3 of each variety and that was MORE than enough.
I had been thinking of ways to bake the apples and decided to make a crisp. It is one of my go-to recipes when I have a lot of extra fruit. I also had a rather larger container of blueberries in the refrigerator, so I decided to combine the two fruits. They were the perfect match! The crisp is very easy to make and very versatile. I have used this exact recipe during the summer to make a peach crisp and a strawberry rhubarb crisp. As we get closer to Thanksgiving, I might try to make this with diced pumpkin and fresh cranberries. I am always looking to try something new for my favorite holiday of the year.
Hope you enjoy this crisp as much as we do! We have been eating it all week!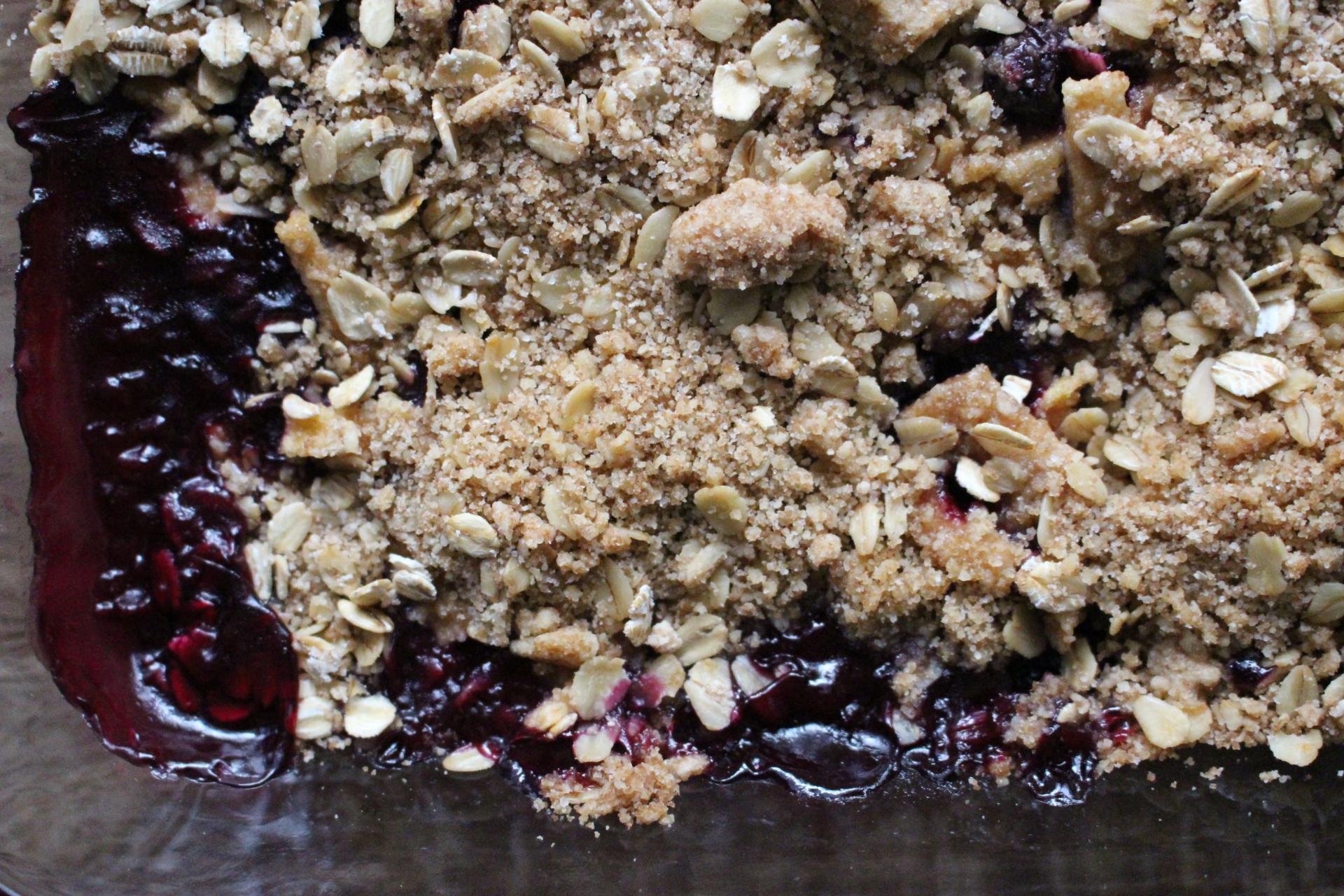 Ingredients:
Filling:
Apples, 4, peeled, cored and diced
Blueberries, 1-1/2 cups
White Sugar, 1/2 cup
Corn Starch, 1-1/2 tablespoons
Vanilla Extract, 2 teaspoons
Topping:
Flour, 3/4 cup
Brown Sugar, 1/2 cup
White Sugar, 2 tablespoons
Sea Salt, 1/4 teaspoon
Margarine, 7 tablespoons, cold, cut into 1/2 inch cubes
Rolled Oats, 3/4 cup
Directions:
Preheat your oven to 350 degrees Fahrenheit.
In a large bowl, combine the diced apples, blueberries, corn starch, sugar and vanilla. Once fully coated, spoon into two 8 inch, square Pyrex dishes. There is no need to spray the dish with Pam.
Then, in a food processor, combine the flour, brown sugar, white sugar and sea salt.
Once combined, add the cold margarine and pulse until the mixture starts to look like crumbs. Transfer this mixture to a medium bowl.
Add the oats to the crumb mixture. Mix everything together.
Carefully spoon the oat crumb mixture over the filling.
Bake for 45 minutes, until the fruit is bubbling around the edges and the topping is golden brown.