Are you looking for an easy, healthy fall quinoa salad recipe to make for dinner tonight? I have one for you, and it is delicious!
I ALWAYS have quinoa in my pantry because it is so versatile. Lately, I have been loving it as part of a salad. It adds a heartiness and warmth that is really great. I was making pretzel crusted chicken for dinner and wanted a nice quinoa salad recipe to complement it. I had just picked up a bag of dried cranberries, arugula, and pine nuts at Trader Joe's, and was dying to use them. I had a feeling that this combination of ingredients would work well together. I went with a honey mustard dressing because I knew it would have a nice tang that would work well with the sweetness of the dried cranberries and the crunch of the pine nuts.
I loved this quinoa salad recipe so much that I may start making it for my daily lunches!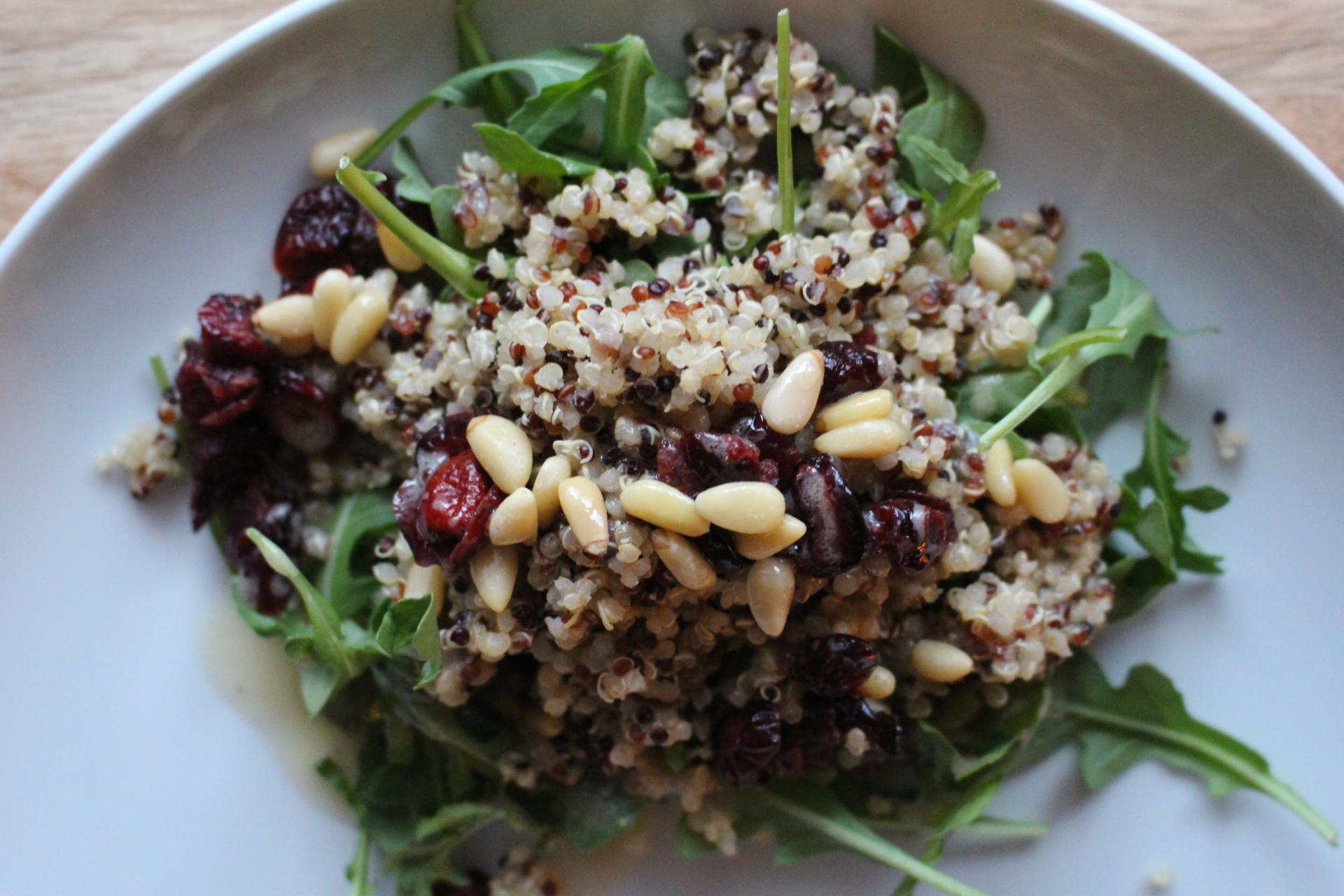 Ingredients For Your Quinoa Salad Recipe:
Dressing:
Dijon Mustard, 1/4 cup
Honey, 3 tablespoons
Apple Cider Vinegar, 1/4 cup
Sea Salt, 1 teaspoon
Extra Virgin Olive Oil ("EVOO") or Vegetable Oil, 1/4 cup
**You can use a prepared Honey Mustard instead of Dijon and Honey!
Salad:
Quinoa, 1 cup (cooked according to the package directions with vegetable broth)
Dried Cranberries, 1 cup
Pine Nuts, 1/4 cup
Arugula, 2 cups
Directions:
Mix all of the dressing ingredients together and set aside.
Assemble the salad on each individual plate. Arugula first, then a scoop of quinoa, then dried cranberries and pine nuts. Drizzle the dressing on top.
Serve and enjoy this delicious quinoa salad recipe!