A few weeks ago, my mother-in-law saw these beautiful rainbow carrots at Trader Joe's. She knew how much I loved them, so she picked up a bag for me. Initially, I wasn't sure what I wanted to do with them. That was until I saw the curry powder in my cabinet!
While I was pregnant, I really couldn't eat Indian food (READ: stomach issues). It was really sad because Indian food is one of my favorite cuisines. When I saw the curry powder I was excited to use one of my favorite Indian spices again with this delicious curry roasted rainbow carrots recipe! The curry perfectly complemented the natural sweetness of the carrots. And they plate up nicely don't they?! They are so pretty!
If you are looking for the perfect side dish for your weeknight dinner, or for something a little different for your Thanksgiving feast, I would highly recommend giving this roasted rainbow carrots recipe a try. It is very easy and requires few ingredients.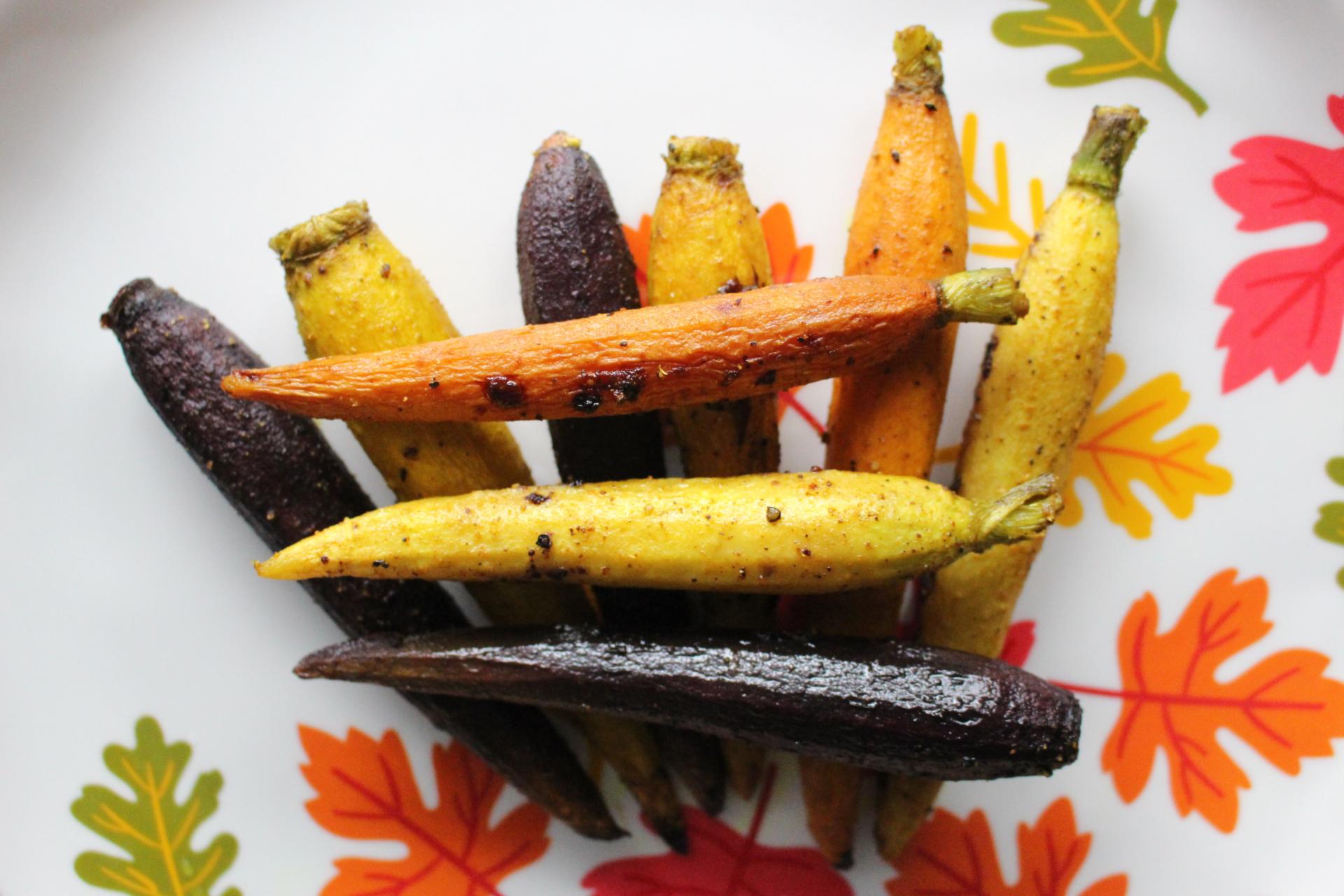 Curry Roasted Rainbow Carrots – Ingredients:
Rainbow Carrots, 1 bag (Trader Joe's now sells them already peeled!)
Curry Powder, 1/4 teaspoon
Sea Salt, 1/4 teaspoon
Fresh Ground Pepper, 1/4 teaspoon
Extra Virgin Olive Oil ("EVOO"), 2 tablespoons
Directions:
Preheat your oven to 400 degrees Fahrenheit and spray a foil lined sheet pan with Pam.
Place the rainbow carrots into a large ziplock bag. Drizzle in the EVOO and sprinkle in the curry powder, sea salt and pepper, making sure that the carrots are evenly coated.
Empty the bag out onto the sheet pan.
Bake for 20-25 minutes, or until the carrots are fork tender.
Serve your roasted rainbow carrots immediately!