Since having Nathan, a few new (and new to me) products have become essential to my day-to-day life. Having a baby changes everything. You have more to get done in less time. These products have been lifesavers!
Scroll down for more in-depth reviews.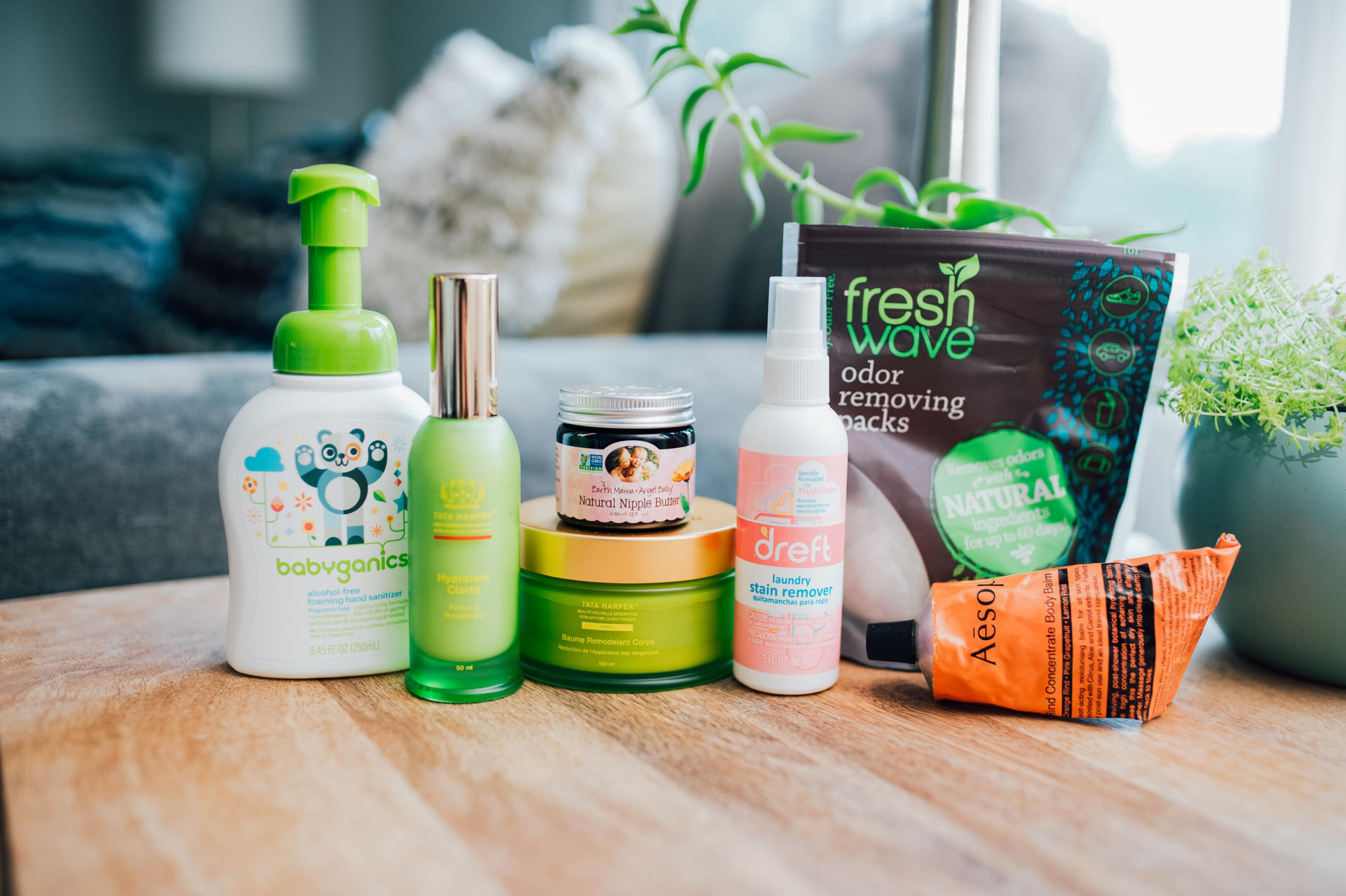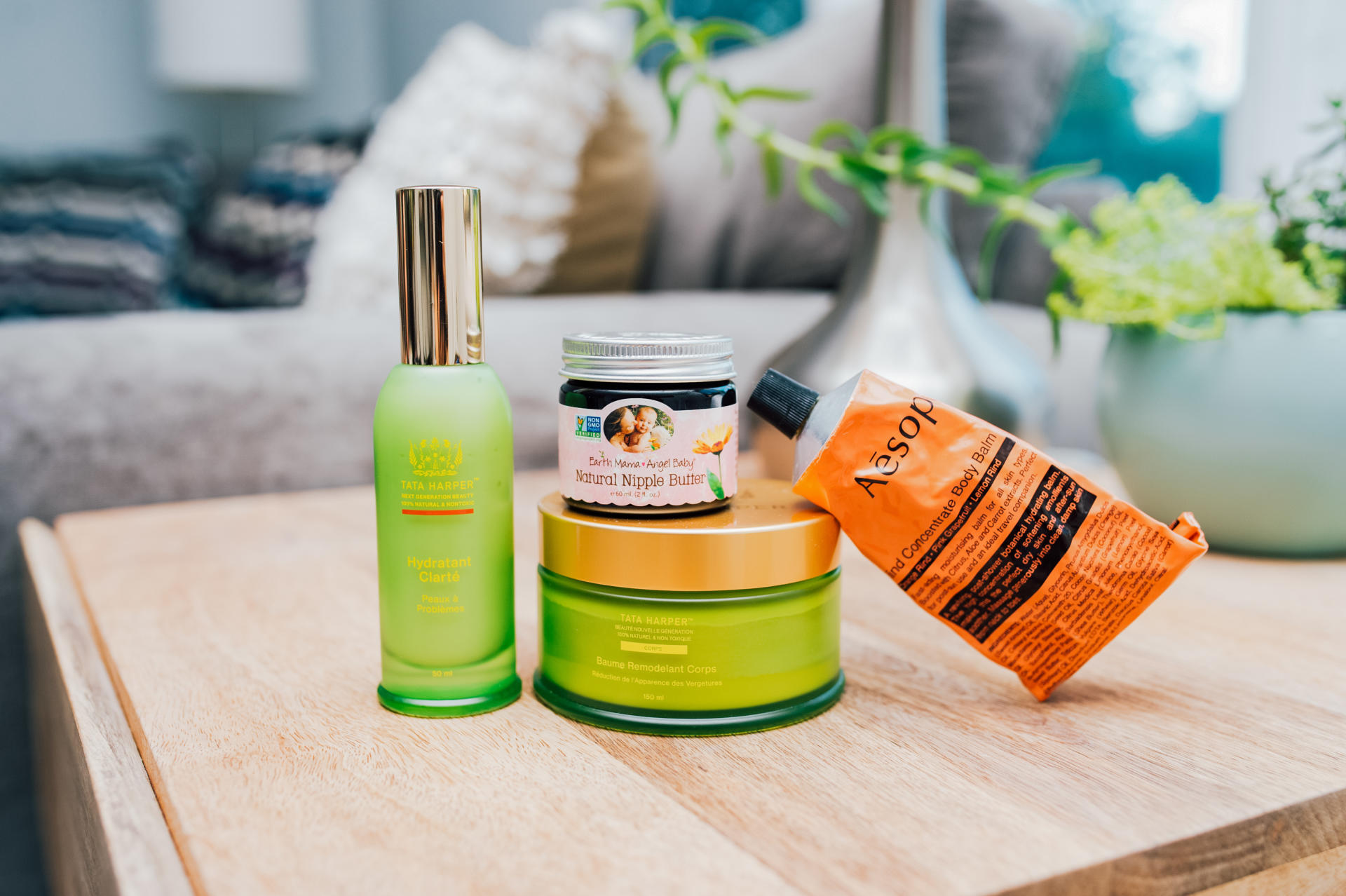 Tata Harper Redefining Body Balm (c/o) – Over the last year or so, I have become a BIG Tata Harper fan. I love that her products are 100% natural, vegan and non-toxic. Since becoming a mother, this has become even more important to me. The lovely ladies at Tata Harper sent over a box of goodies right after I had Nathan, and this Body Balm was in it. It is supposed to minimize the appearance of stretch marks. I couldn't wait to use it! Well, now that I am four months postpartum, I can tell you that this body balm is worth the price of admission. I use it every single day! My skin is soft and my stretch marks are almost entirely gone!
Tata Harper Clarifying Moisturizer (c/o) – This moisturizer is probably my favorite item on this entire list. I actually look forward to using it every single morning. The smell is divine and it gives me a nice boost post-shower. Since I started using it, my skin, which is normally oily and acne prone, has remained virtually clear! My skin hasn't looked this good since before high school!
Earth Mama Angel Baby Natural Nipple Butter – I don't think anyone can really warn you about the reality of what breastfeeding does to your boobs. Those first few weeks were HARD! Initially I was using lanolin to help with the cracked nipples, but I would always forget to wash it off before breastfeeding. Thankfully, one of my friends, who had also just recently had a baby, recommended that I buy this nipple butter. It is 100% natural and safe for mama and baby! You don't have to wash it off before nursing. Within a few days, my nipples felt significantly better. All new breastfeeding mamas need this STAT!
Aesop Rind Concentrate Body Balm – Last year Samantha Wennerstrom of @couldihavethat introduced me to Aesop's Rind Concentrate Body Balm. It looked interesting so, when I was in NYC with a girlfriend, we popped into the Aesop Soho store and I picked up a tube. I have been using it EVER SINCE. I love all things citrus and this lotion smells of orange. It is AMAZING! When I have a few extra minutes in the morning, I like to spend it putting this lotion on my arms and legs. It is hard not to want to smell myself all day long after that!
Babyganics Foaming Hand Sanitizer – When Nathan was first born, we had a standard bottle of hand sanitizer from the pharmacy out on the table for when family and friends came over. Nobody was allowed to touch or hold Nathan without first either washing their hands or using some hand sanitizer. While it seemed to do the job, I noticed that my hands were getting really dry from using it. When I was at Buy Buy Baby picking something else up, I saw this Babyganics Hand Sanitizer and decided to give it a try. It is alcohol free and non-drying. We have been using it for months now, and it is our favorite. It cleans your hands without drying you out, and kills 99.9% of germs in 15 seconds. We keep a bottle in Nathan's room and one in the living room, for when we have visitors. I even have a mini bottle for my diaper bag!
Fresh Wave Odor Removing Packs (c/o) – Opening the trash can in Nathan's room is one of E's and my least favorite things to do. Nobody wants to smell a bunch of dirty diapers! Thankfully, these Fresh Wave Odor Removing Packs have made opening the trash significantly more pleasant. They have a nice natural ginger-like smell to them. We keep one at the bottom of the trash can and then insert the plastic bag. One pack lasts for 60 days!
Dreft Stain Remover – Everyone knows about Dreft laundry detergent, but do they know about the special stain remover spray? I think not! A friend let me in on the Dreft Stain Remover spray secret just after I had Nathan. I ordered two, one for home and one for my bag. My friend had mentioned that the spray saved many an outfit from having to be thrown away due to ANY STAIN. If your child has a blowout or spits up something colorful, use this spray immediately and you likely won't have a permanent stain!