I am so excited to FINALLY be able to share Nathan's nursery here on the blog. It truly has been a labor of love putting it together. I worked with the amazing ladies over at Curated Nest to design everything. Curated Nest was founded by 2 moms, Erin and Lina, a little over a year ago. They offer a selection of furniture, decor, and gifts for babies and tots, as well as online interior design services. They design "Curated Rooms" to show how a variety of products from diverse brands are more fun and designer-esque than a matching set of nursery items. Their goal is to create one stop shop for busy expectant parents to get all their shopping done at once. Well, mission accomplished, ladies!
Erin and Lina worked with me to design my dream Boho nursery. I really wanted Nathan's nursery to be gender neutral because we had no idea what we were having, and because I would like to be able to re-use everything again in the future if we need to. Thankfully, Erin and Lina were very understanding of our budget. Having just purchased our first home, I didn't want to blow our savings on a nursery! We went back and forth for a few months until everything was just right. They offered some great design recommendations along the way. I wasn't able to visualize the way the decals and curtains would look at first but, with Erin and Lina's help and expertise, everything came out beautifully in the end.
A few weeks ago, on a rainy weekend morning, Erin and Lina came over to set everything up. E, with the help of some family members, had built all the furniture ahead of time. Now it was time to arrange everything! Nathan and I hung out in the living room while it was happening, and only after they were finished did we see it all. E actually got home from work just in time for the big reveal. We were SHOCKED! It is absolutely GORGEOUS! They helped make my dream a reality. The nursery is now one of our favorite rooms in the house. Nathan is sleeping in his crib now, so we have been spending a lot more time in his room. It is so nice to be able to lay down on the rug and do tummy time there. Nathan could stare at the ceiling fan for HOURS. I also love nursing him and reading him our favorite bedtime stories in the glider. It is so comfortable! Since the install, we have added a Google Mini to the room. That way we can listen to music in the morning just after Nathan wakes up! Lately, we have been listening to the Eric Clapton station on Pandora.
I have linked all of the furniture, decor, etc. below. If I missed anything, please feel free to email me via my CONTACT page!
*This post is NOT sponsored by Curated Nest. I actually won their design services as part of a giveaway and was so happy with them that I decided to write about my experience with them here! Installation is not included in their standard packages, email them to inquire about pricing.
Design Sketches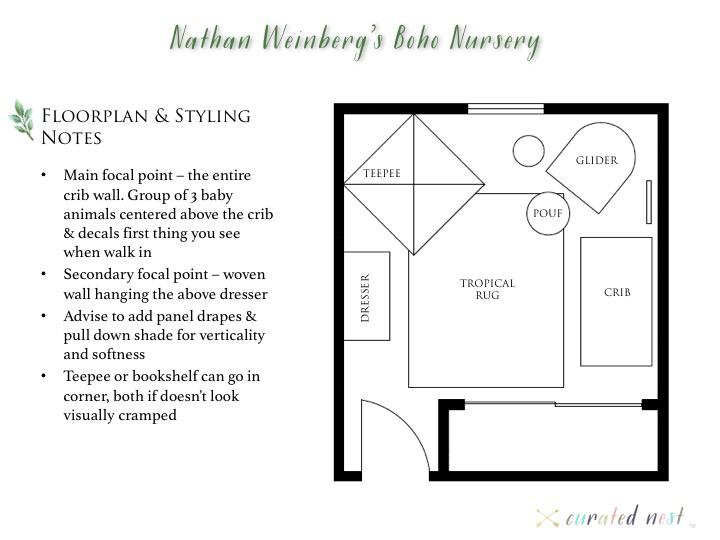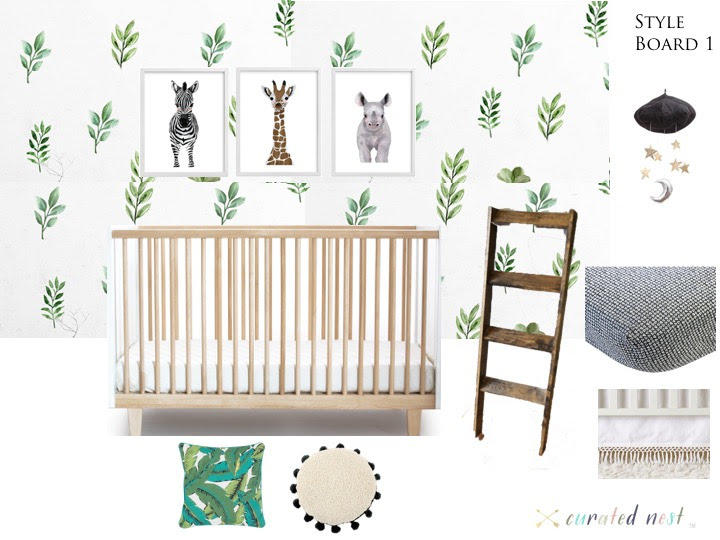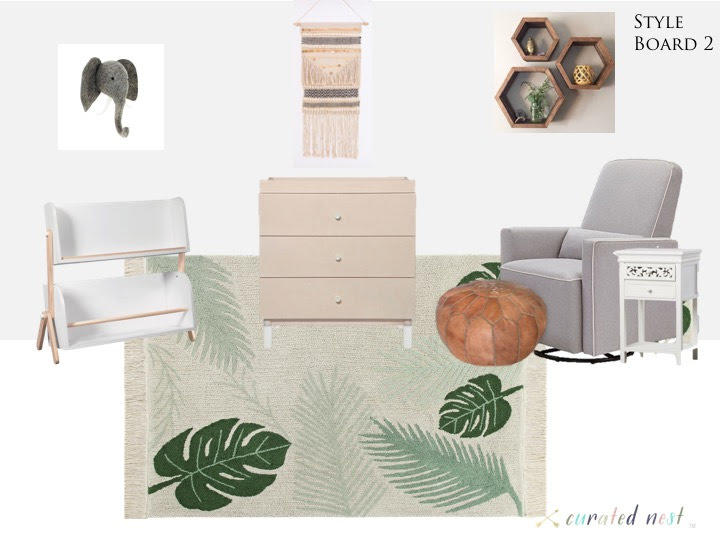 Patiently Waiting…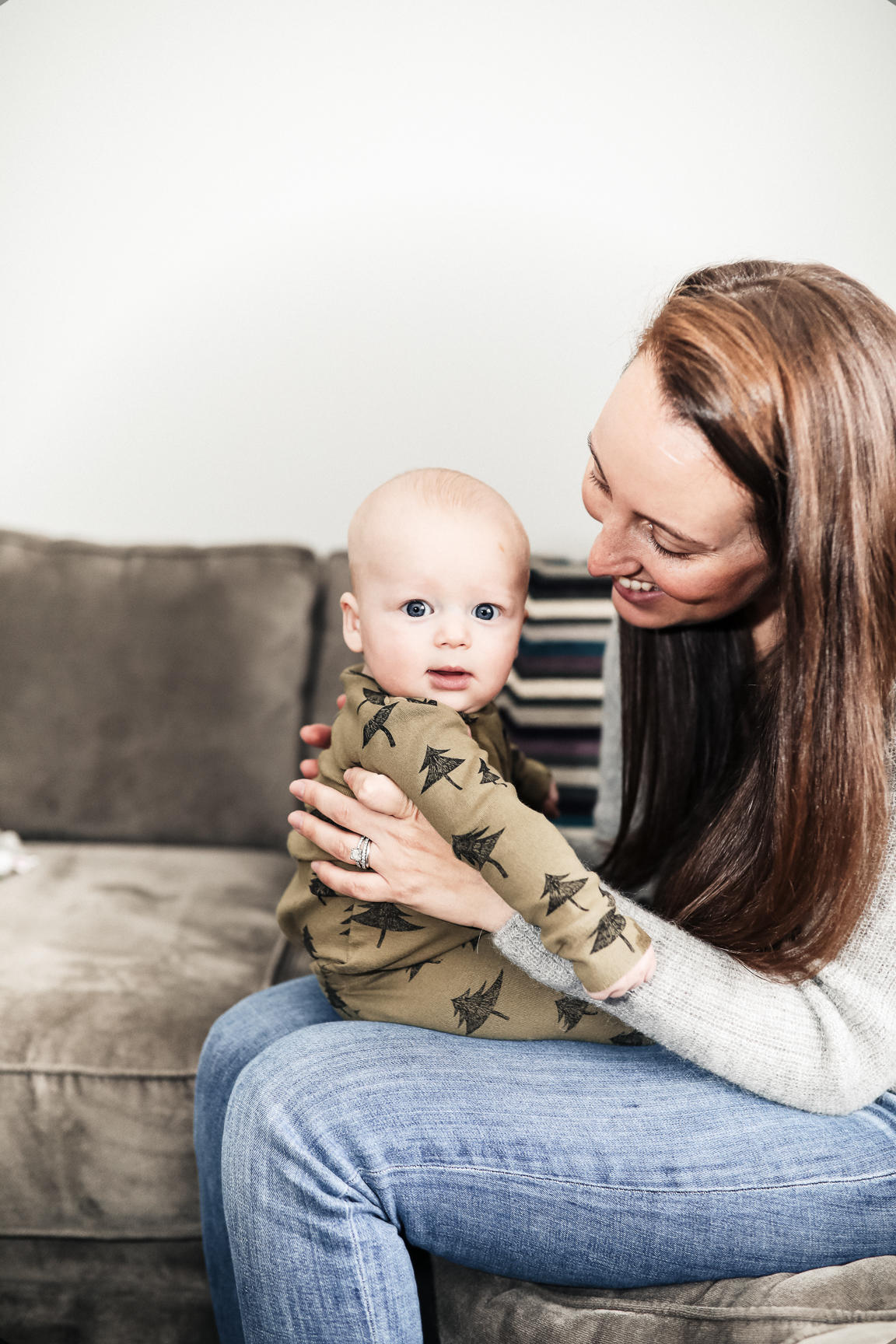 The Big Reveal!!!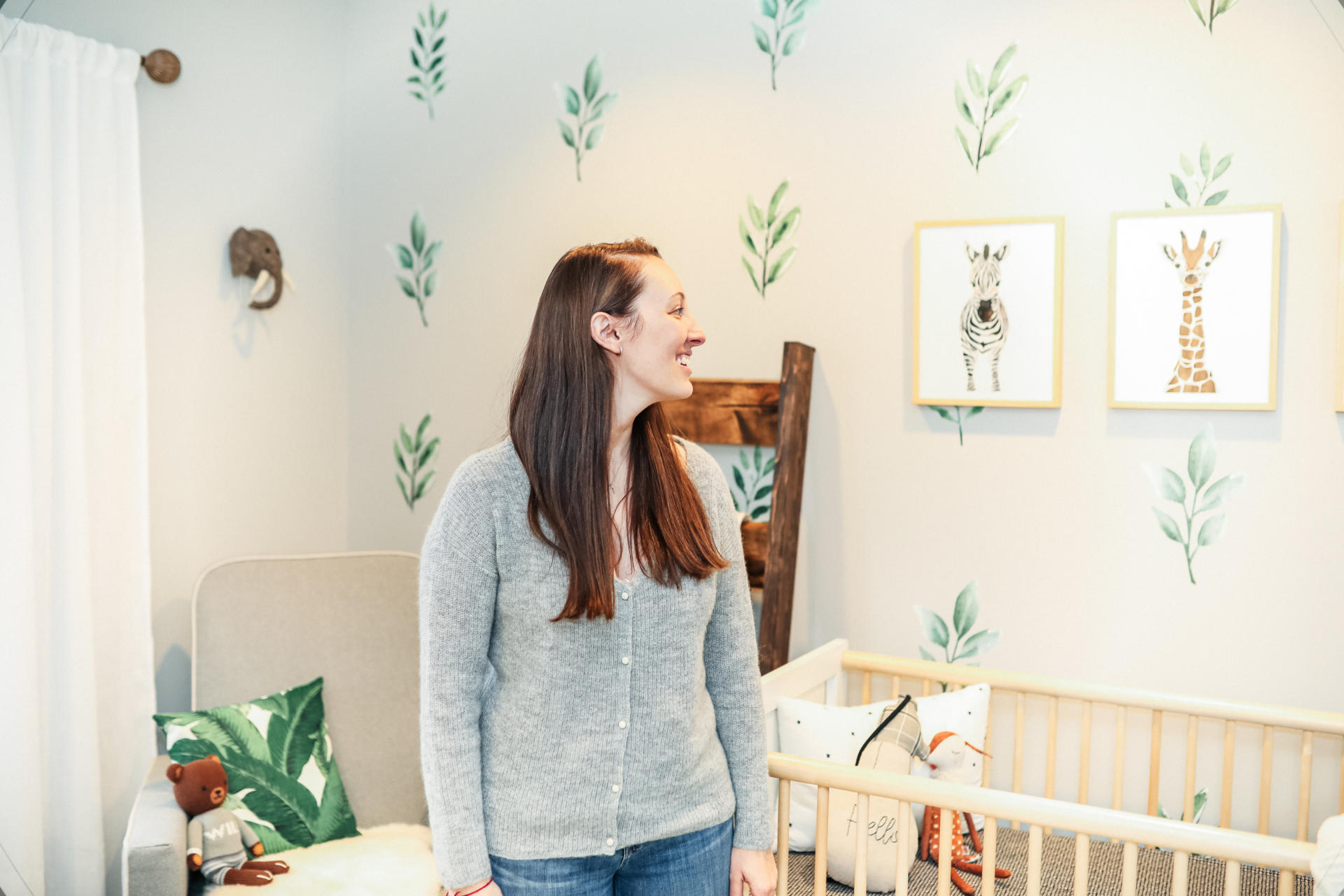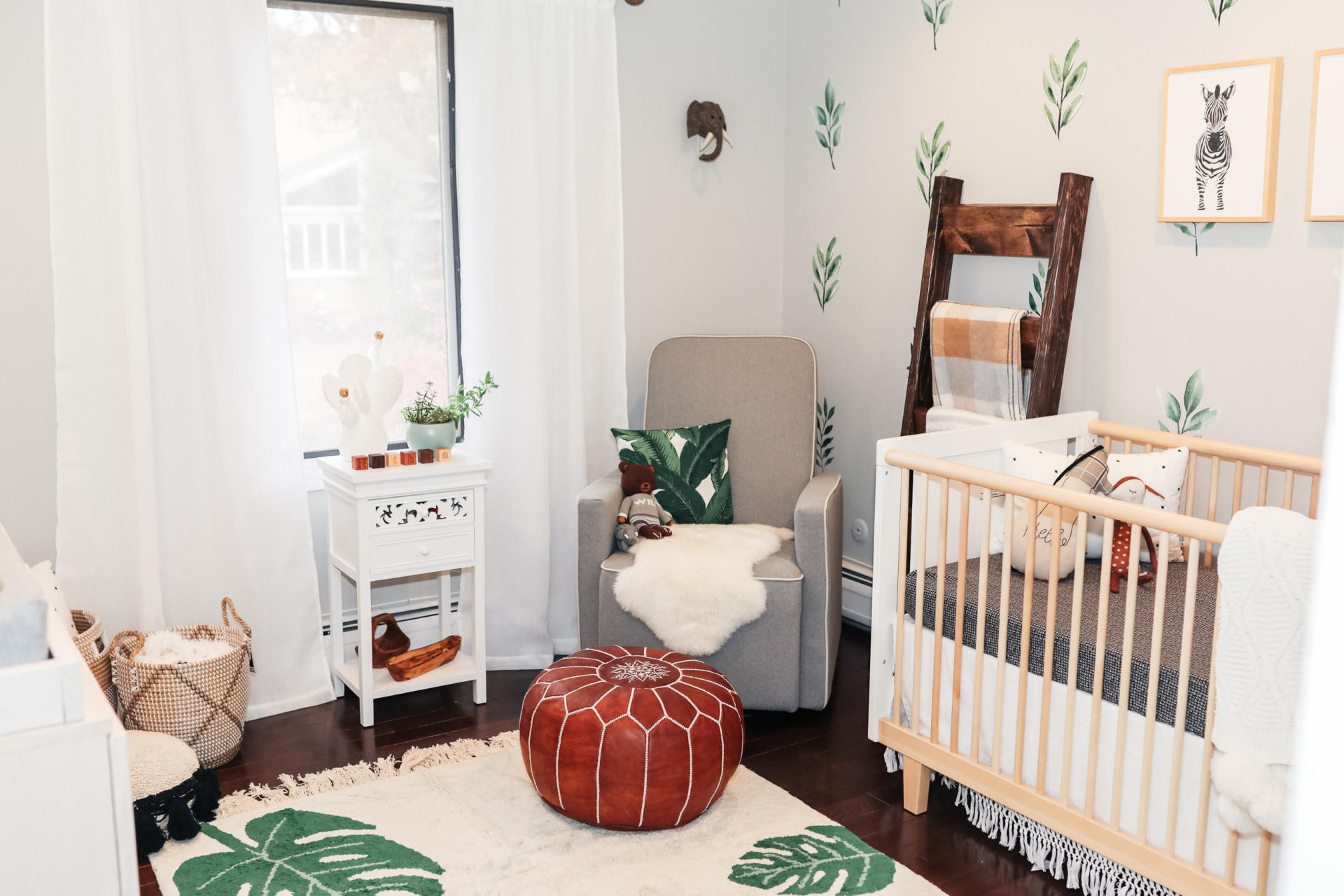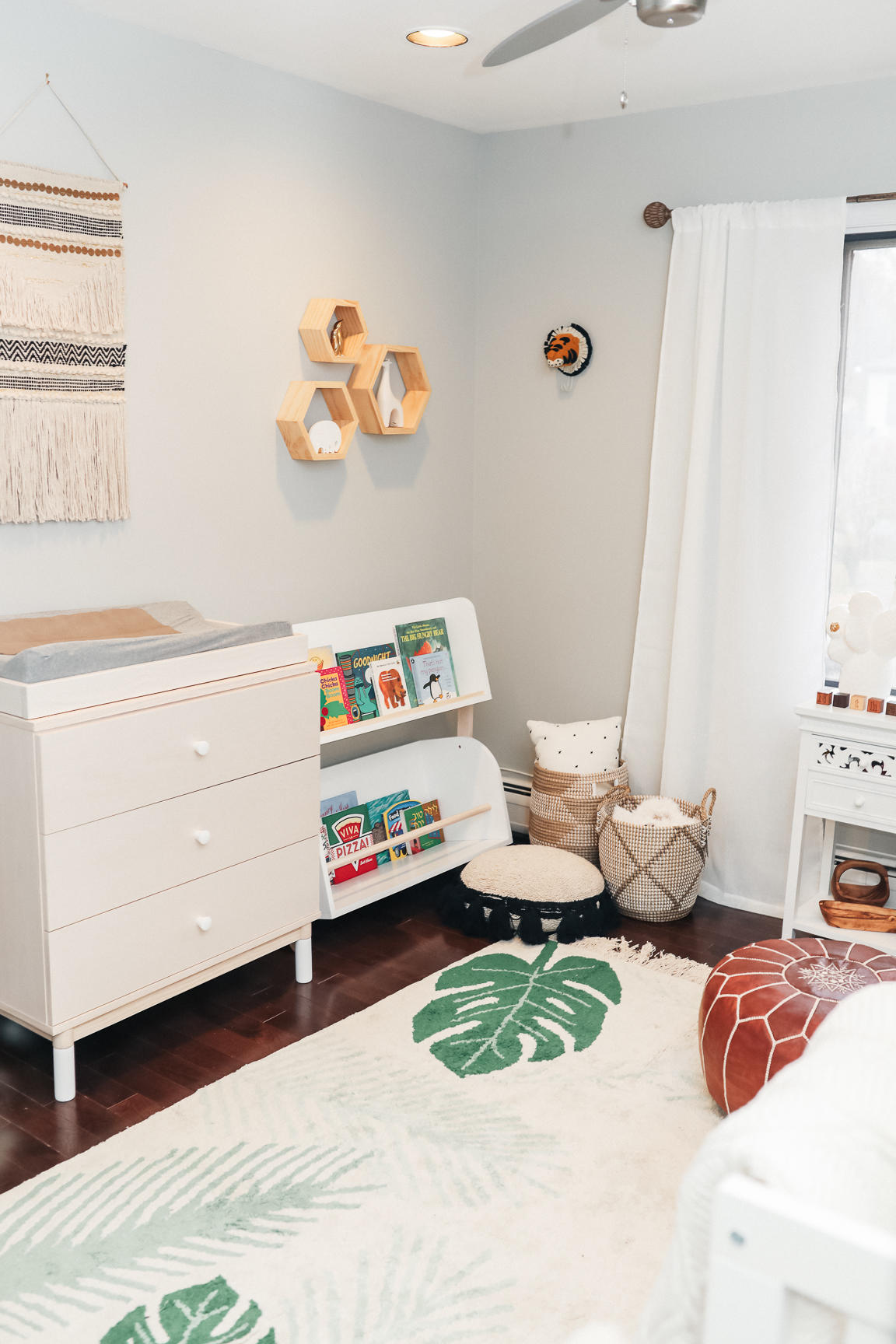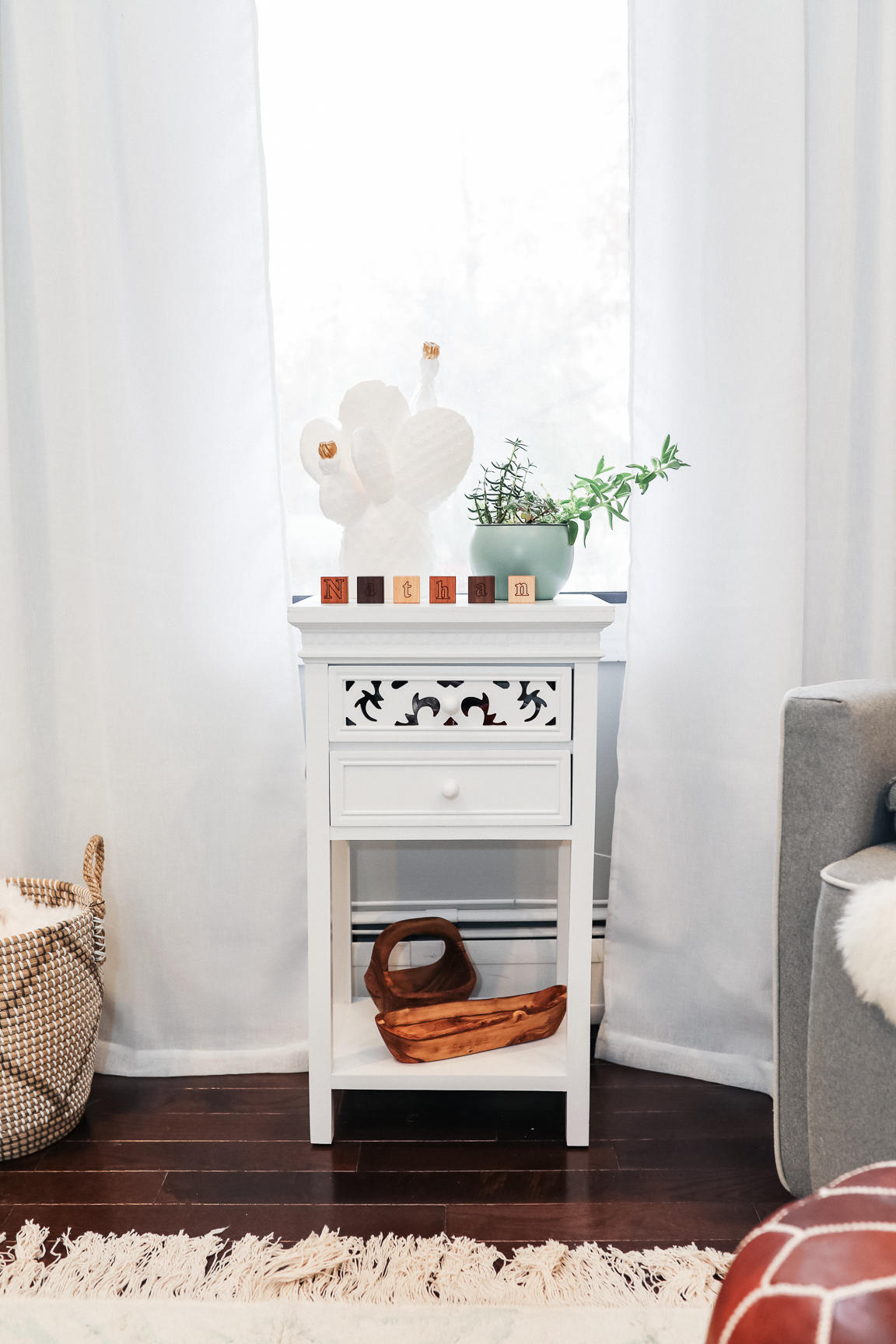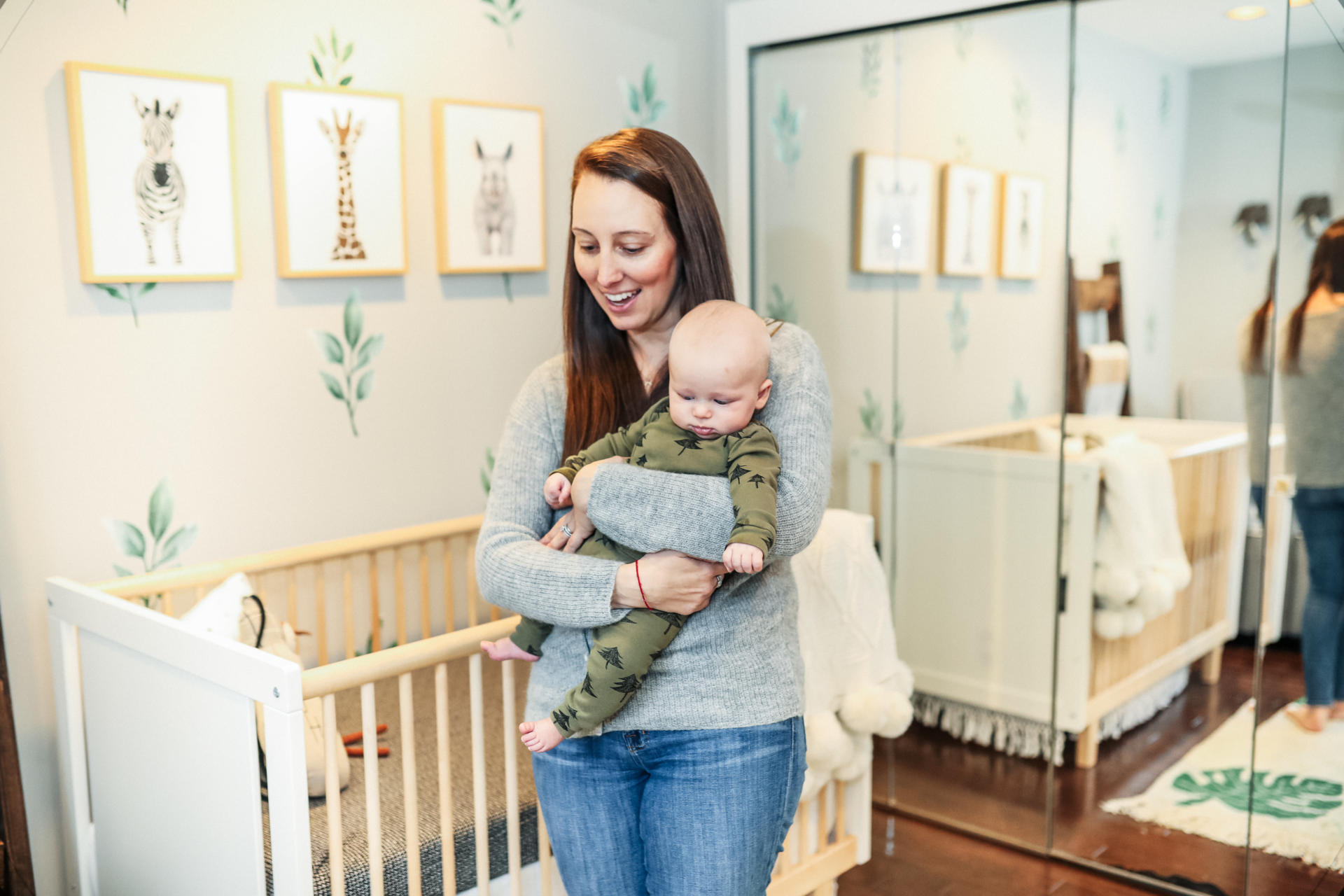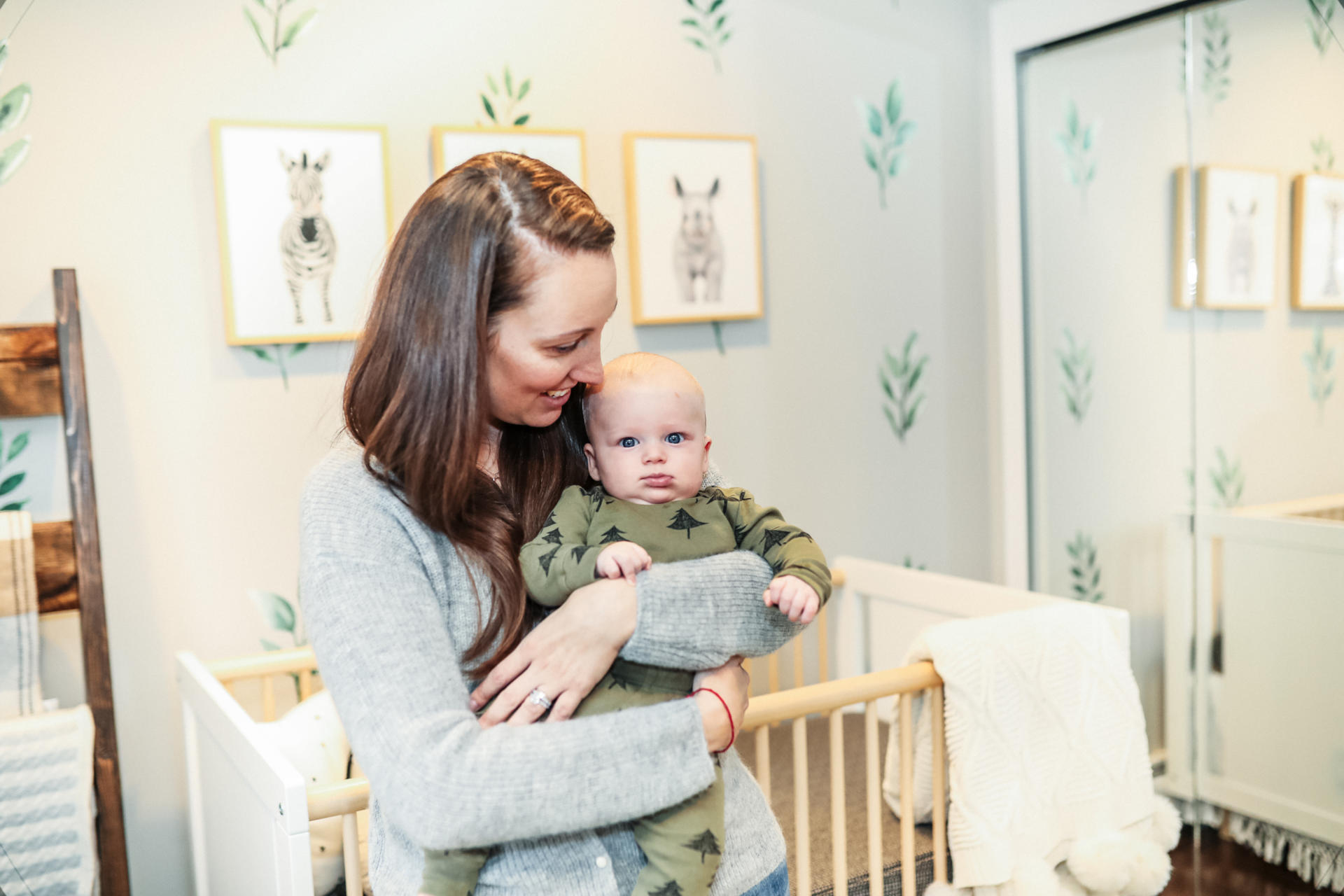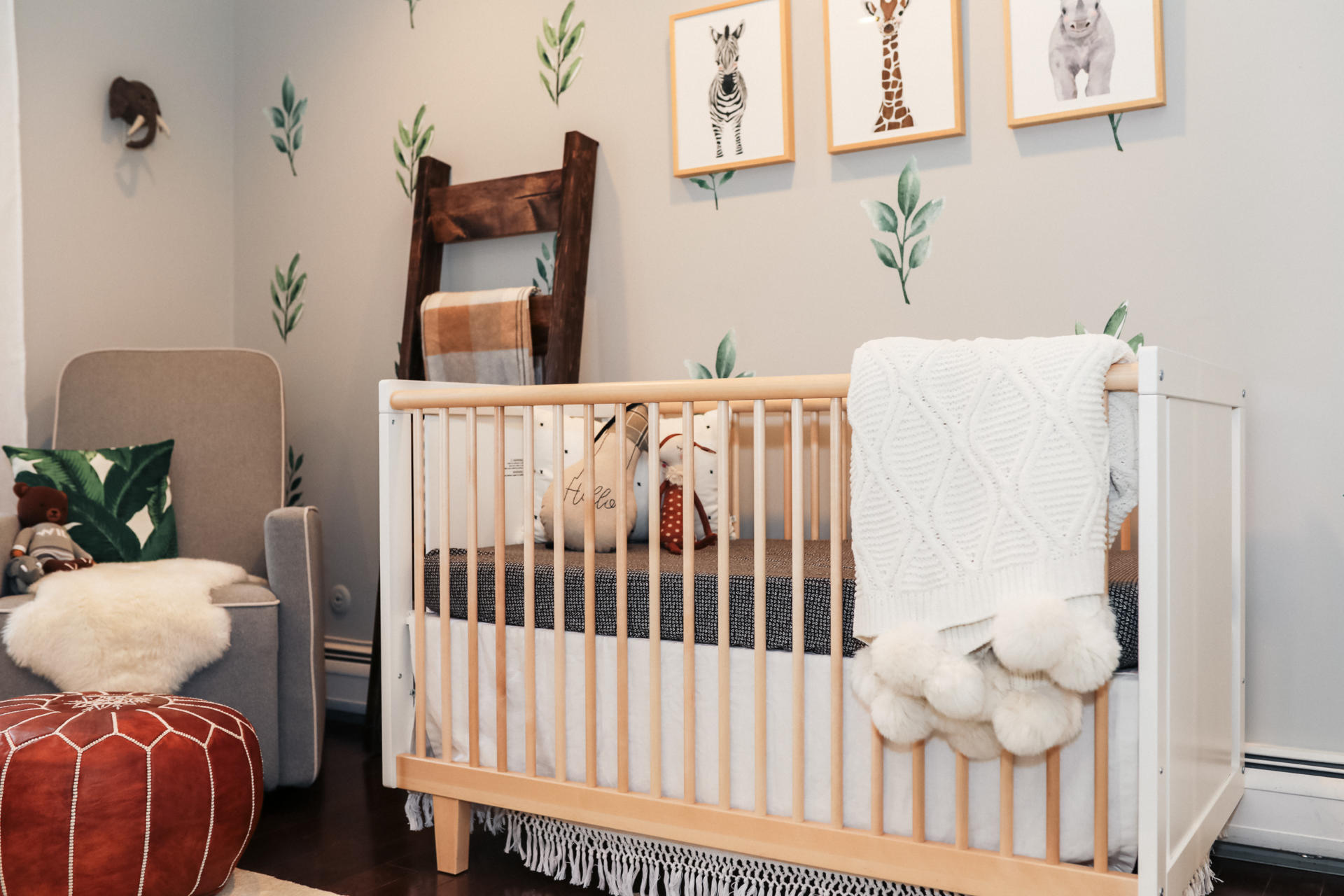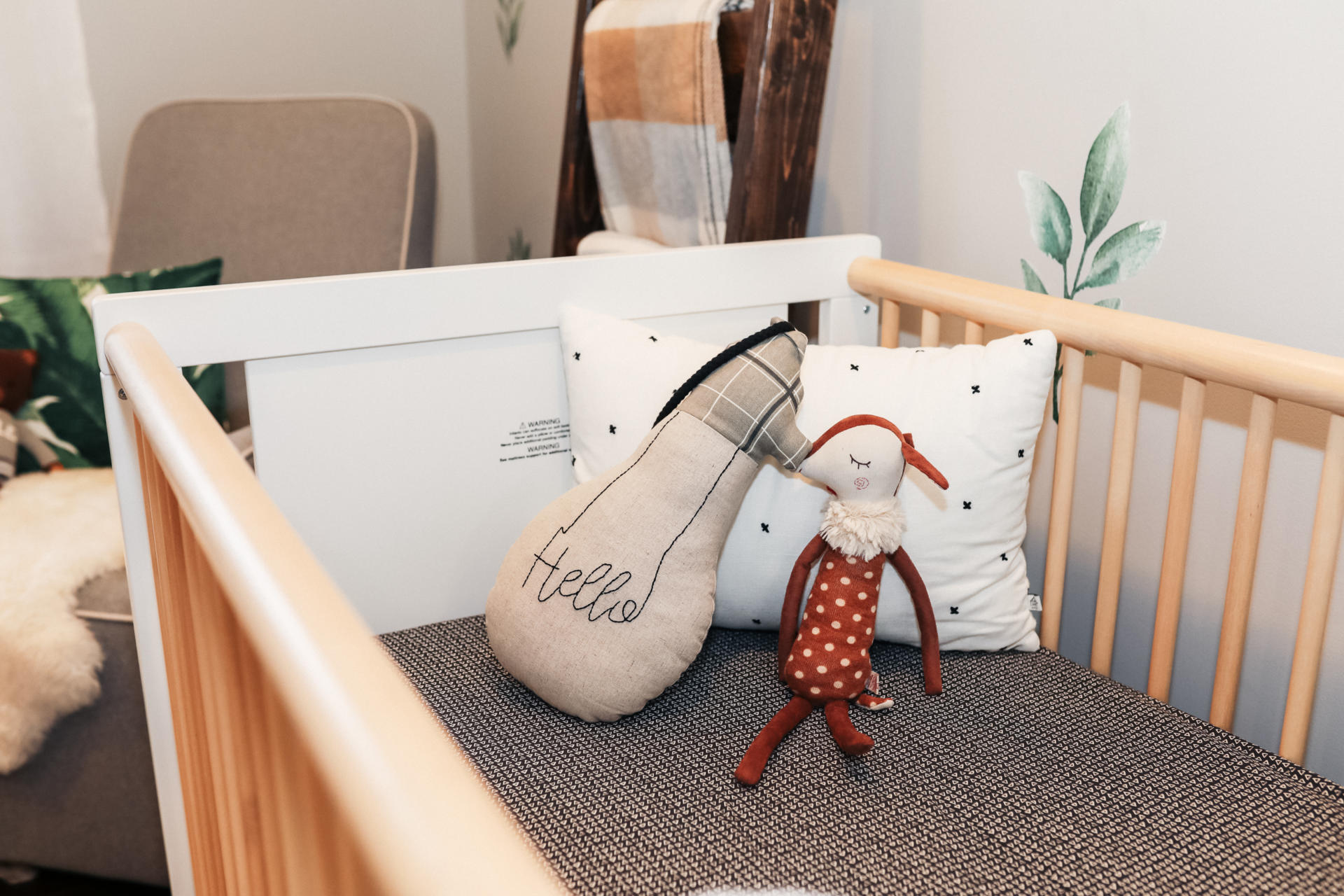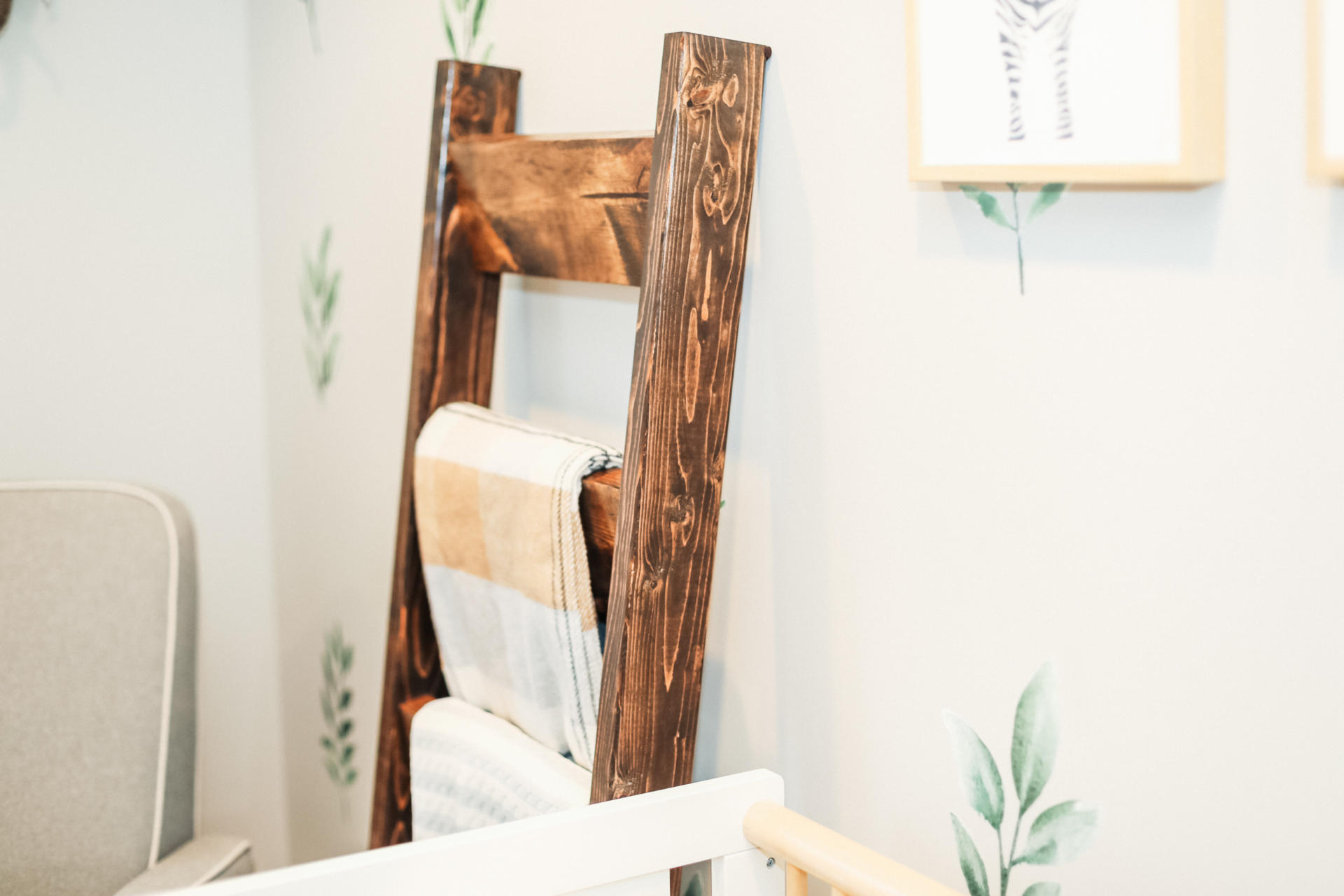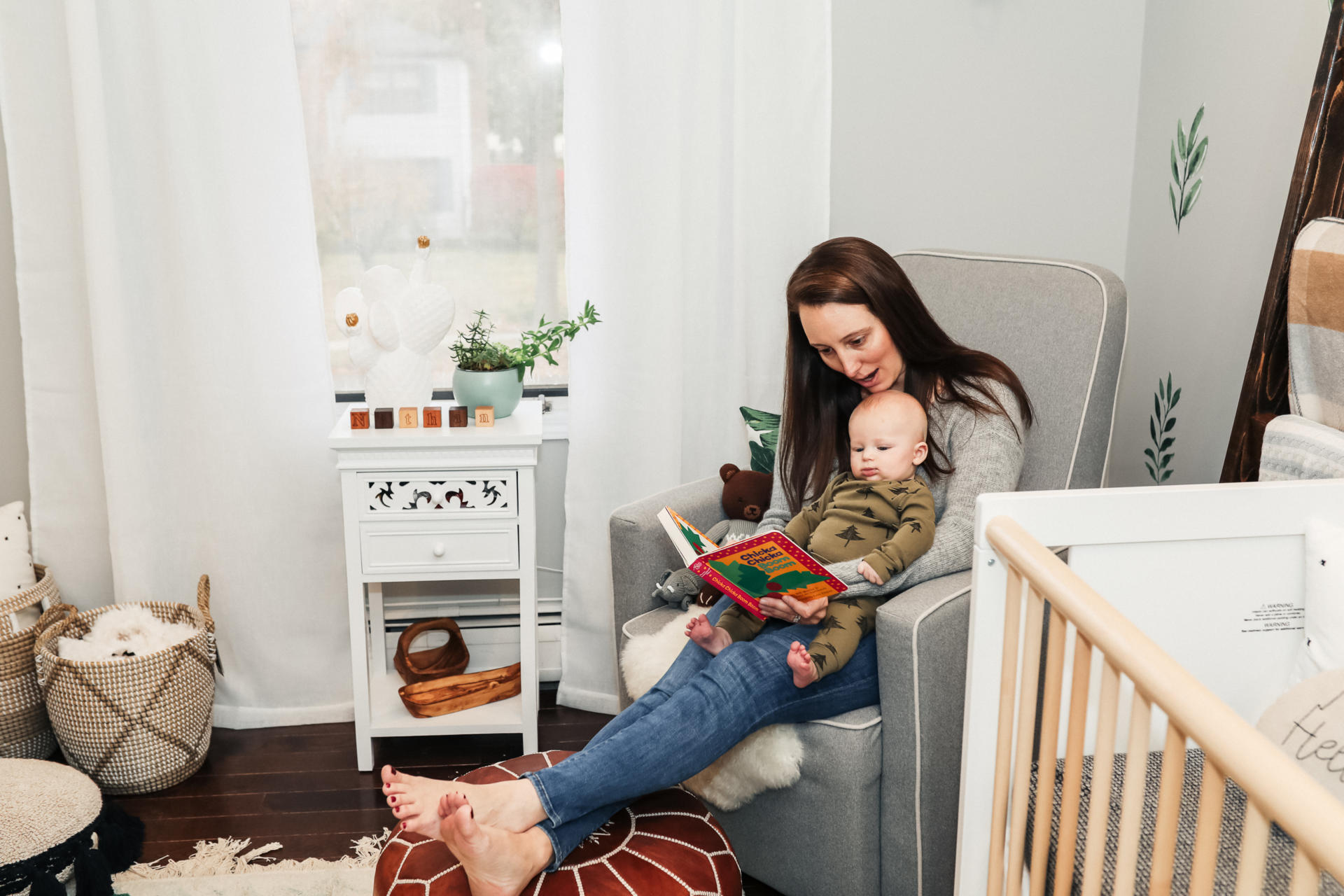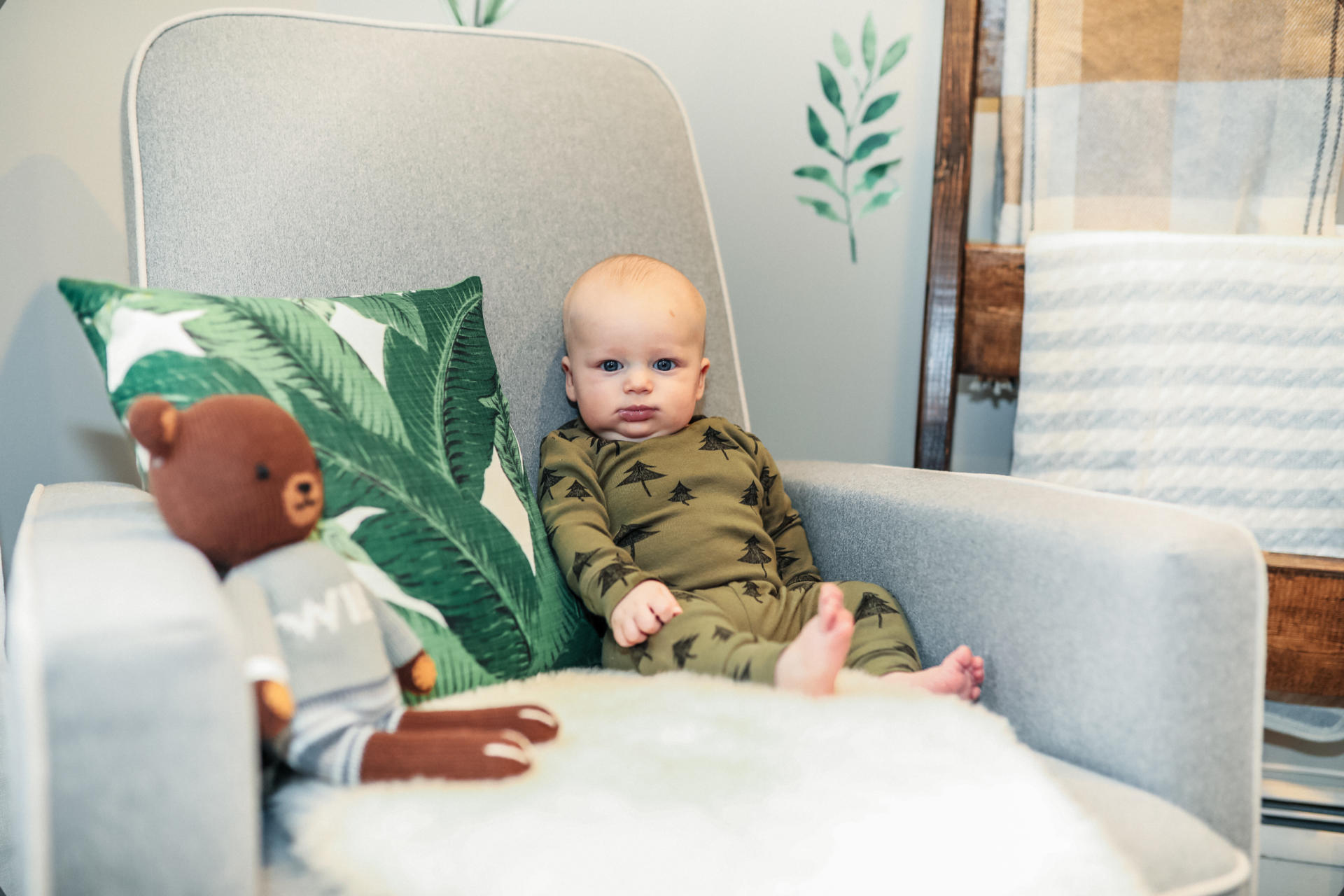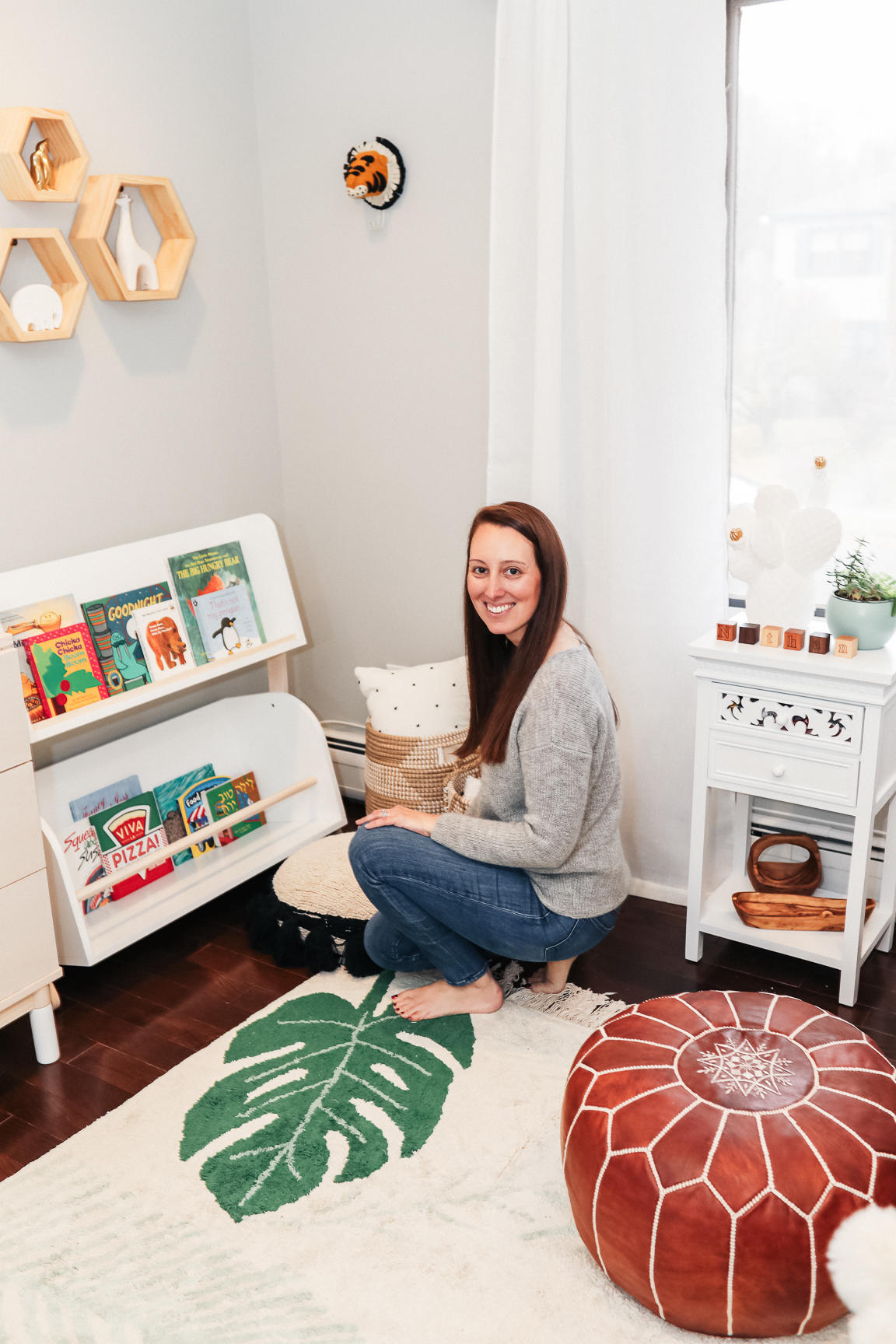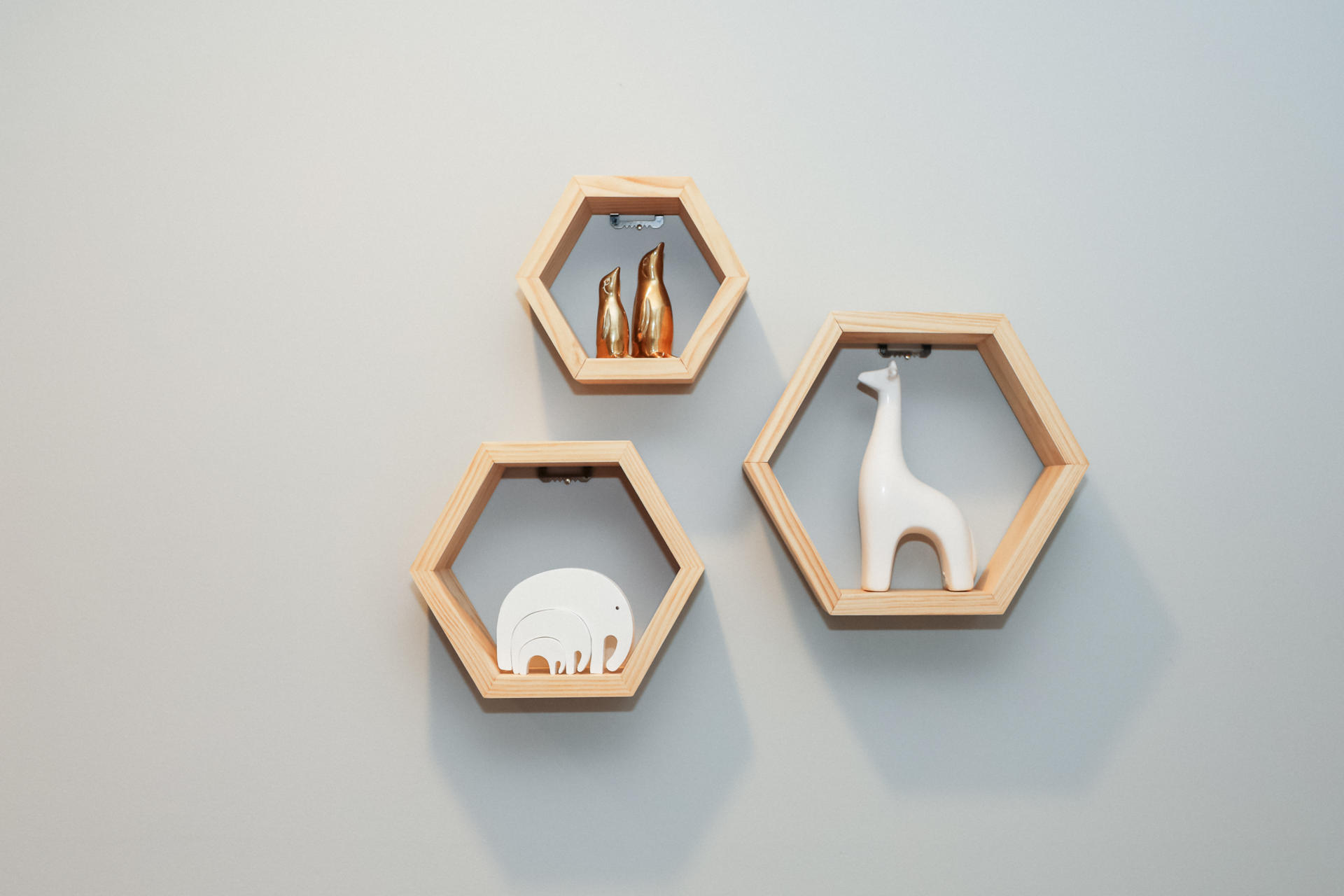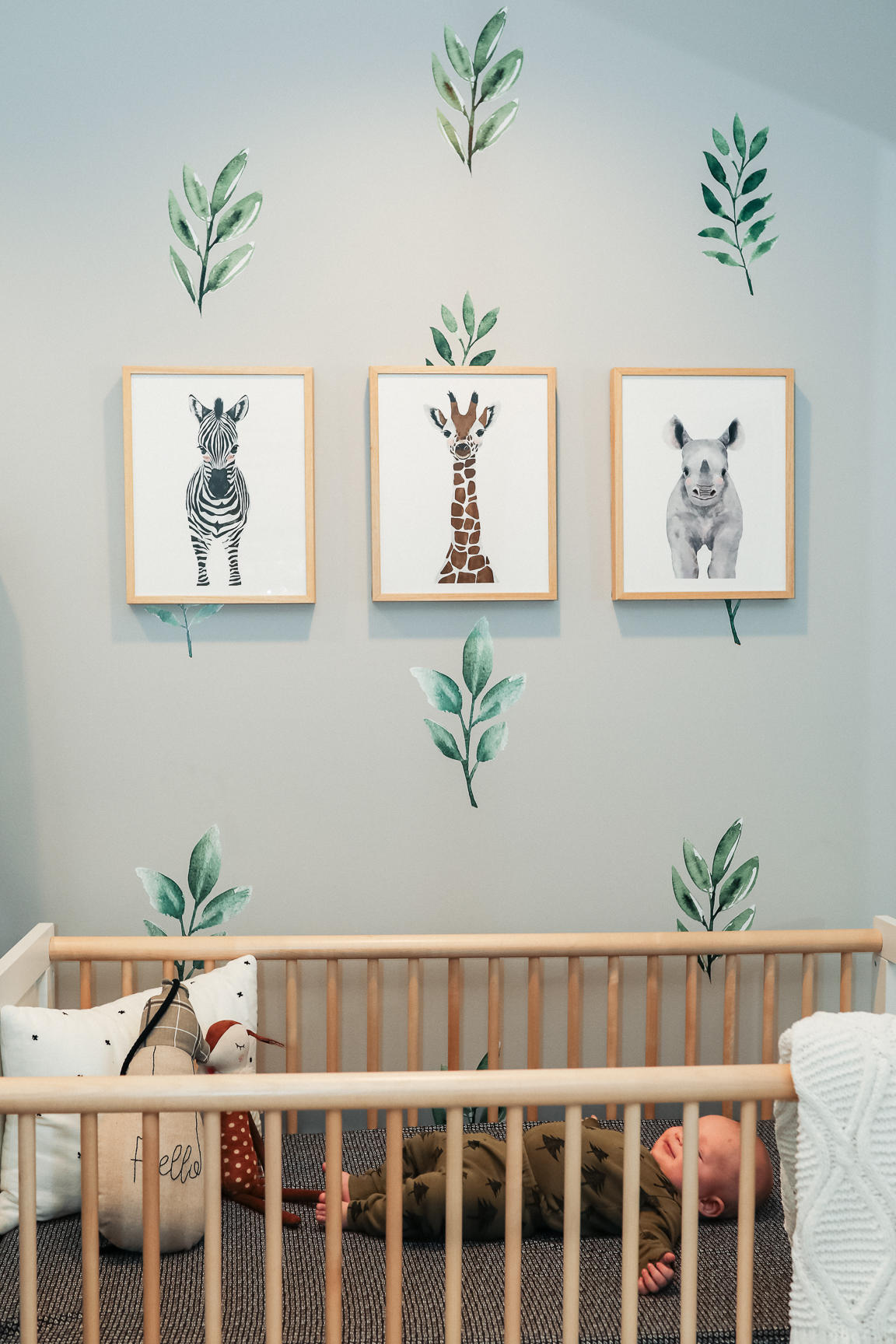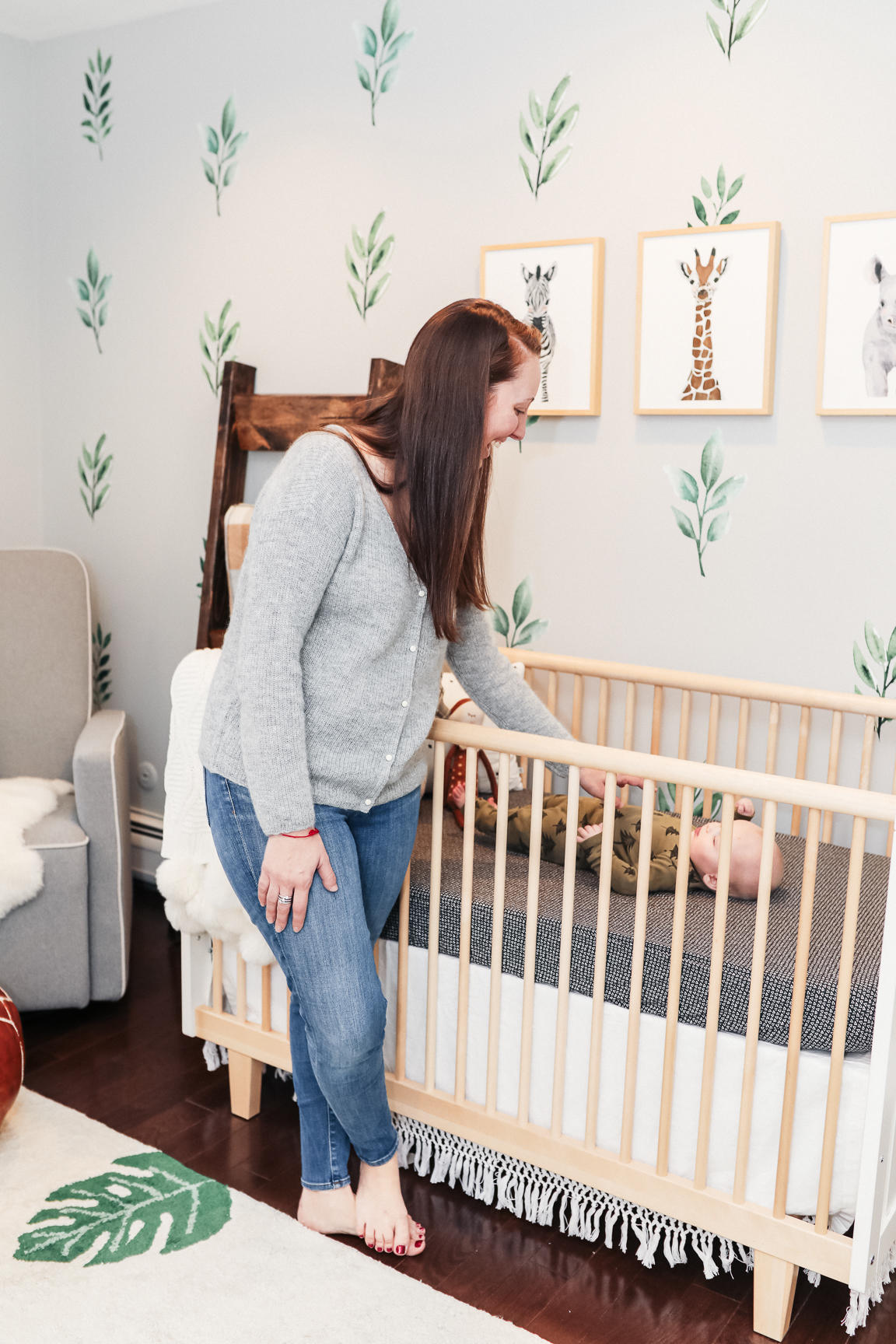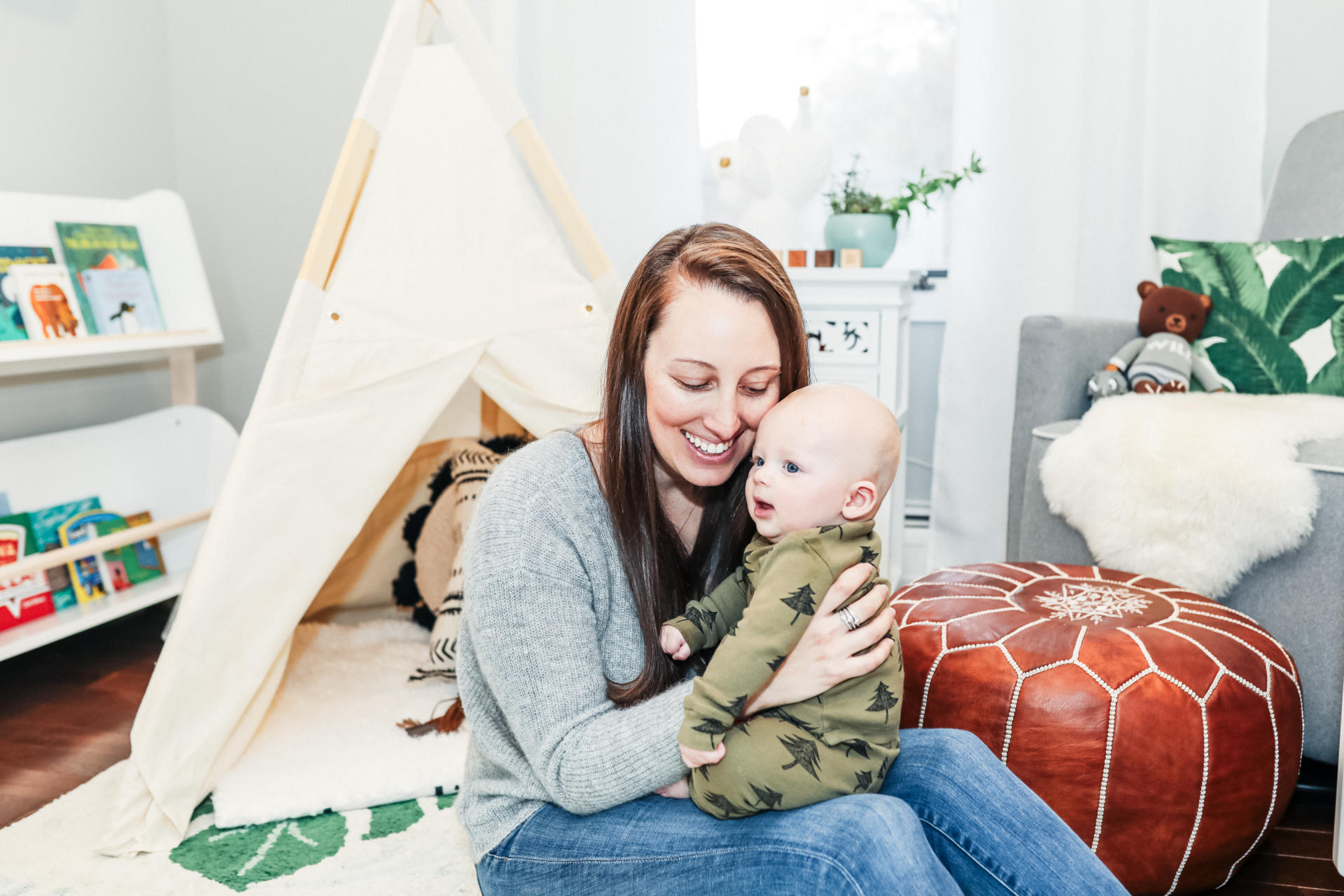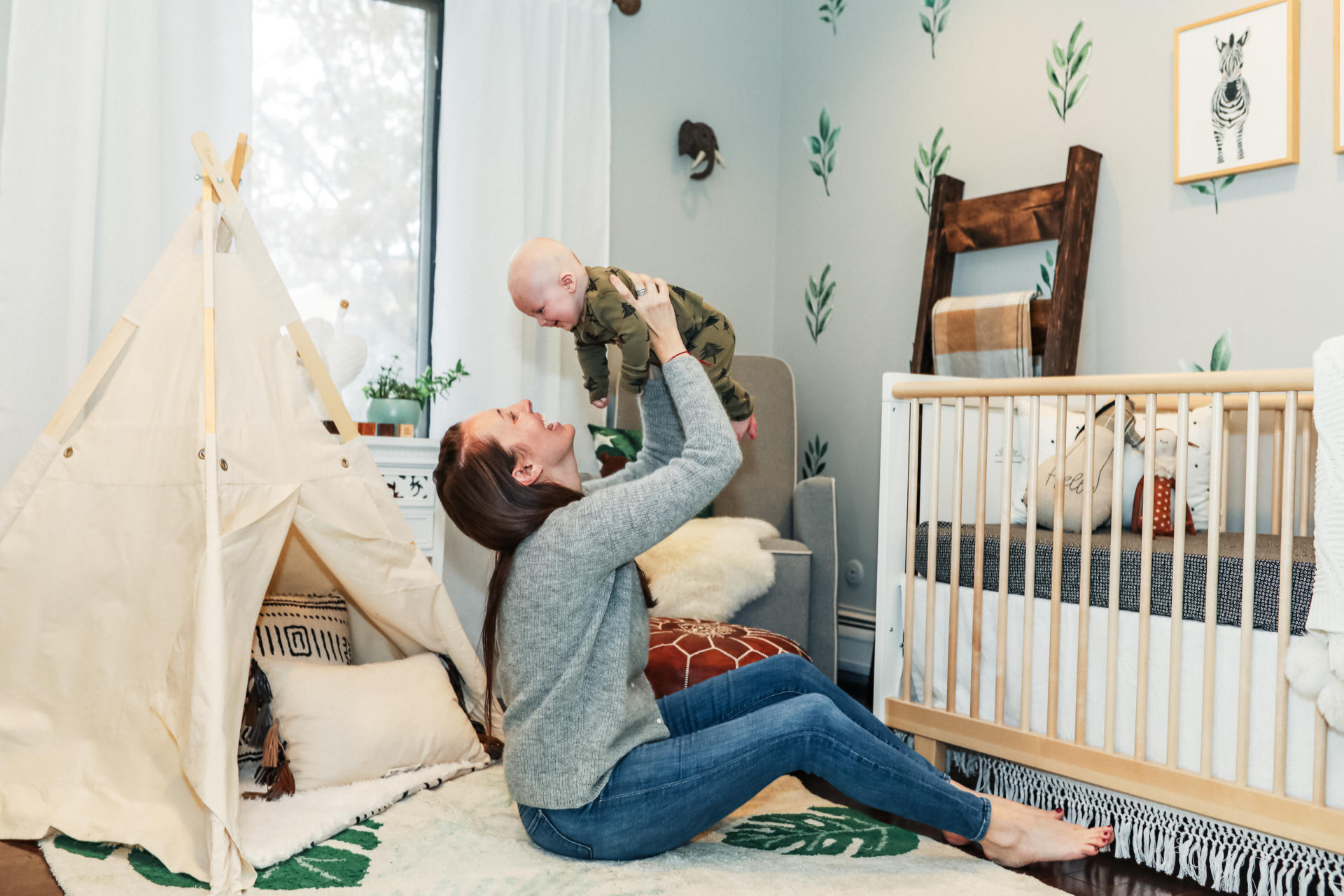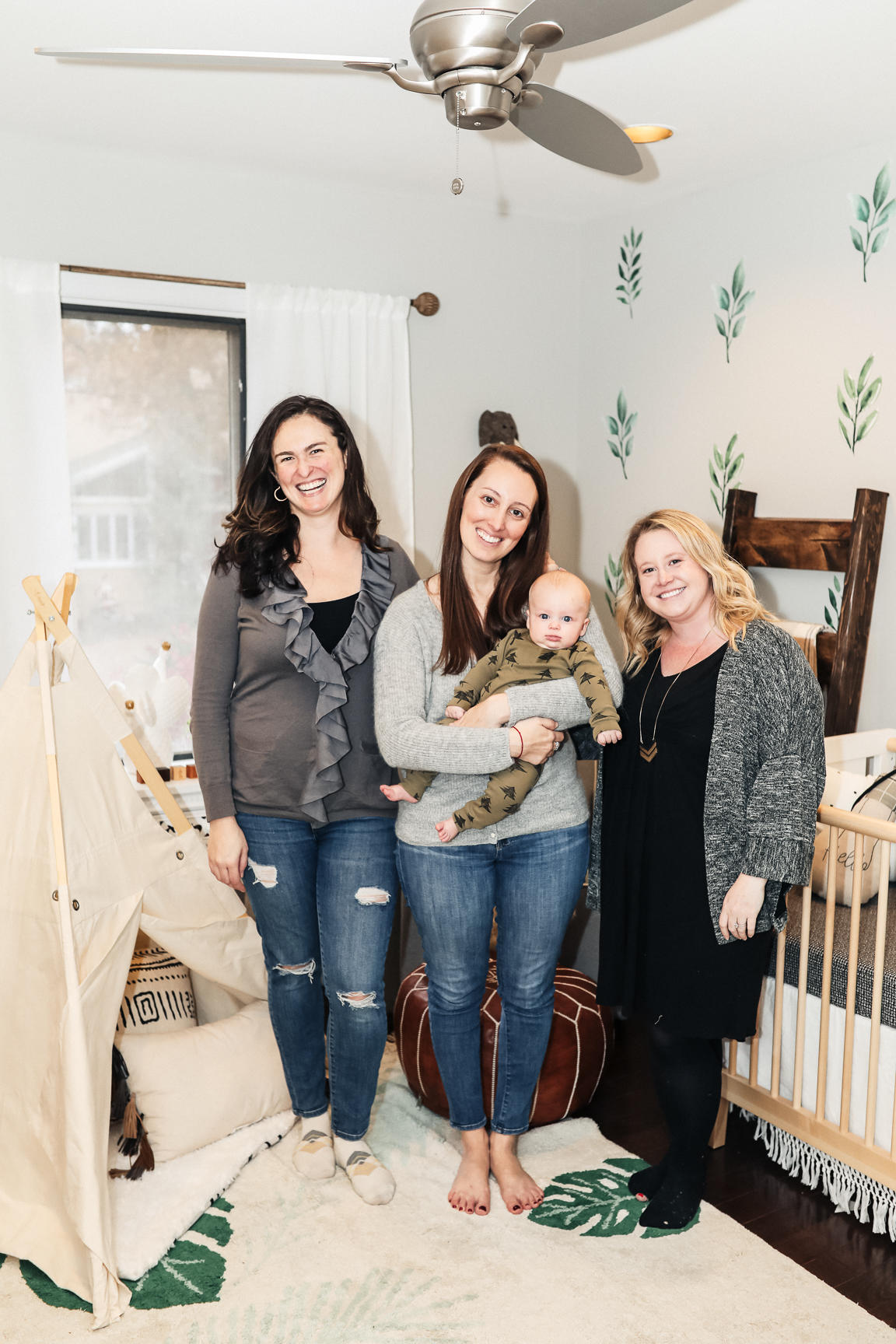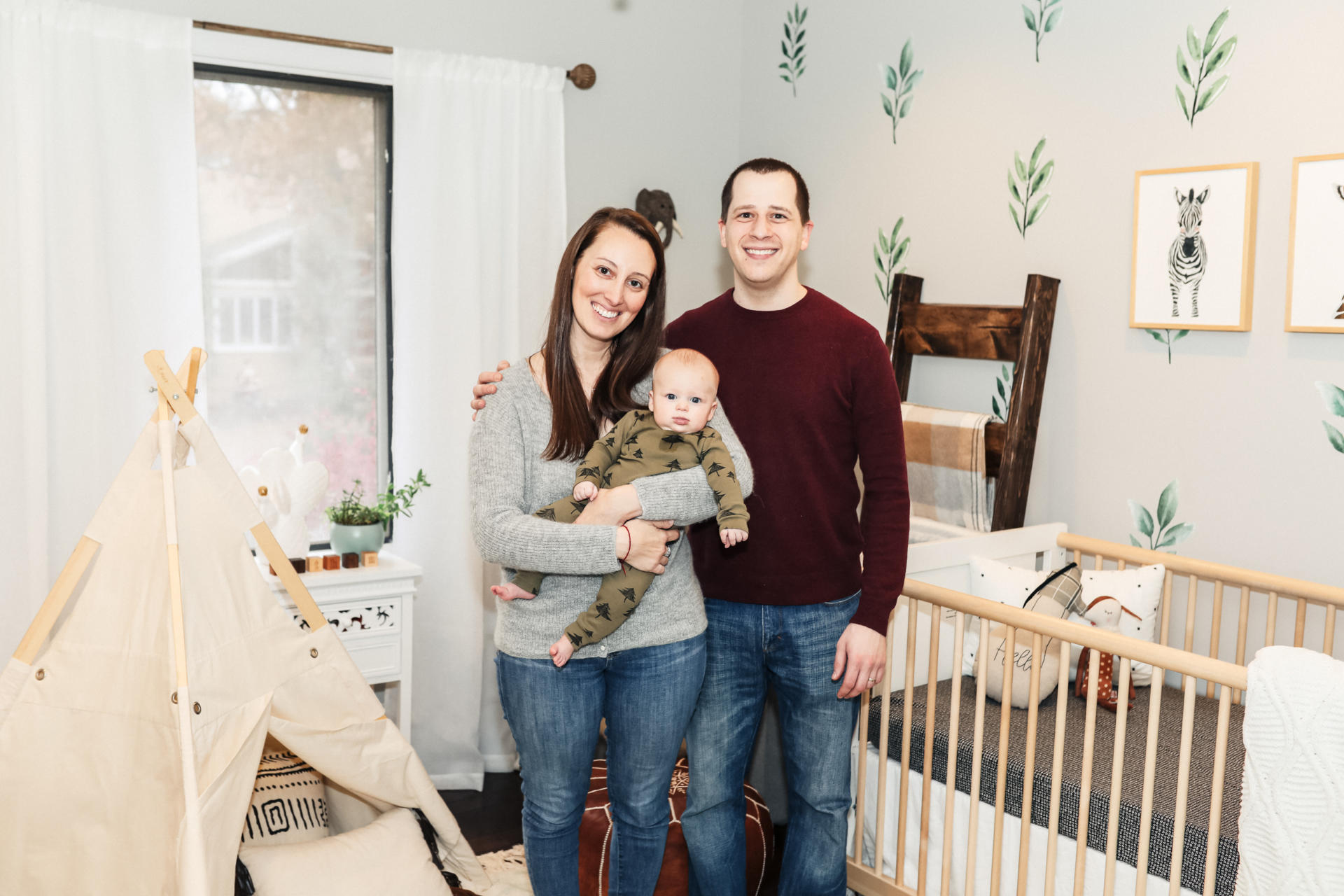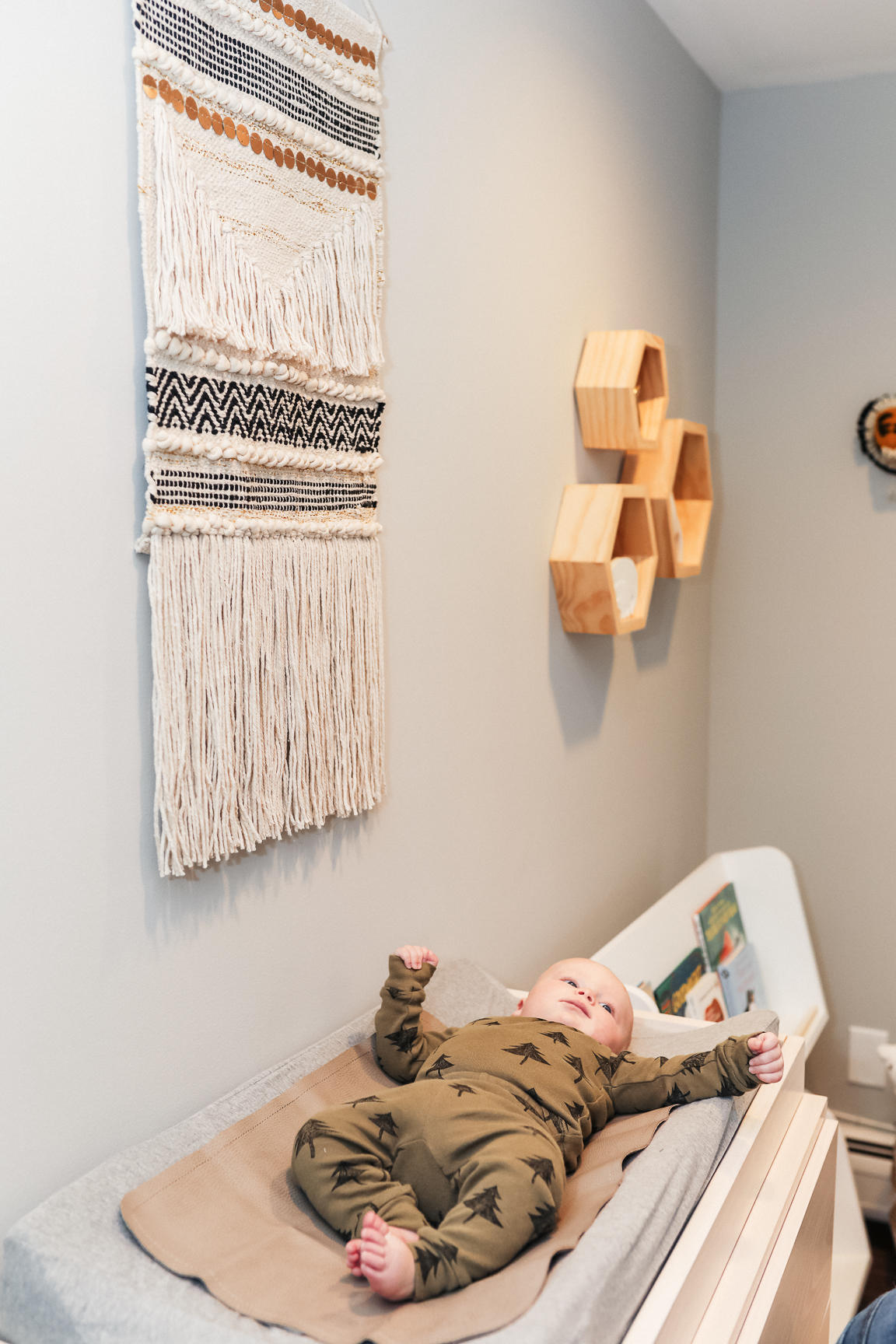 Crib – Oeuf
Dresser – Babyletto
Bookcase  – Babyletto
Glider – DaVinci
Side Table – Charlton Home
Ceiling Fan – Lamps Plus c/o
Crib Mattress – Nook Sleep Systems
Hexagon Shelves – Taute
Crib Sheet – Curated Nest
Crib Skirt – Serena & Lily
Rug – Lorena Canals c/o
Cactus Lamp – Goodnight Light c/o
Floor Cushion – Lorena Canals
Moroccan Pouf – Curated Nest
Woven Wall Hanging – Zig Zag
Blanket Ladder – Etsy
Name Blocks – Smiling Tree Toys
Leaf Pillow – Whitlock and Co.
Leaf Decals – Shop B Darling c/o
Giraffe Print – Minted c/o
Zebra Print – Minted c/o
Rhino Print – Minted c/o
Elephant Head – Fiona Walker
White Elephants – Murray & Finn (one of my FAVE new shops in Summit, NJ)
Tiger Head – Fiona Walker
Wild Bear – Cuddle & Kind
Elephant Rattle – Estella NYC
Deer Doll – Maileg
Lightbulb Cushion – La Lovie
Changing Pad Cover – Burt's Bees
Changing Pad Mat – Gathre
Teepee – Tnees c/o
Striped Blanket – Pottery Barn
Nathan's Pajamas – Rylee & Cru
Jessica's Sweater – Sezane