When I shop, I try to invest my money in items I know will last from year to year. Examples of my favorite investment pieces are my Chanel bag, my AYR work pants, my driving shoes and my Goyard wallet (purchased used). If I choose to buy something trendy, I make sure not to invest a lot of money into it.
After seeing many a friend and blogger (Damsel in Dior, my ALL TIME FAVE) rocking a good camel winter coat, year after year, I decided it was time to invest in my own. I picked my camel winter coat up at Gap two years ago and have been wearing it ever since. It is such a staple in my closet! This camel winter coat goes with everything. From workwear to Jeans Day. EVERYONE needs a camel winter coat in their life. There are so many great options on sale right now! I love this one, this one and this one!
Below, I paired my camel winter coat with my new jeans!! I cannot say enough good things about them! When I heard that Reformation was launching a denim line, I IMMEDIATELY ordered a pair. They are exactly what I expect from Reformation; great quality and construction, a real eye for the female form and a fair price point. While these jeans are not inexpensive, they are also not over priced. You are purchasing a well-made pair of denim. An investment piece, per se. I love the frayed edges and how well they accentuate my curves. Classic denim never goes out of style and I know I will be wearing these for years to come!
This velvet mustard top is the perfect example of trend shopping. Velvet is in right now, but who is to say that it will have staying power. I purchased the top on sale at Loft (one of my favorite places to shop the latest trends), and it is so fun. I love the feminine bow detailing on the back.
My shoes are also another example of smart trend shopping. While I would have loved to buy a pair of Gucci loafers, I just couldn't justify the expense. Instead, I picked up these dupes and no one is the wiser. I can't wait to rock them at NYFW in a few weeks!
I hope this post provides a little insight into how I shop. If you have any questions or are looking for some additional inspiration comment below! Also, if you are interested in try-on sessions when I am out shopping via Instagram Stories, leave a comment letting me know!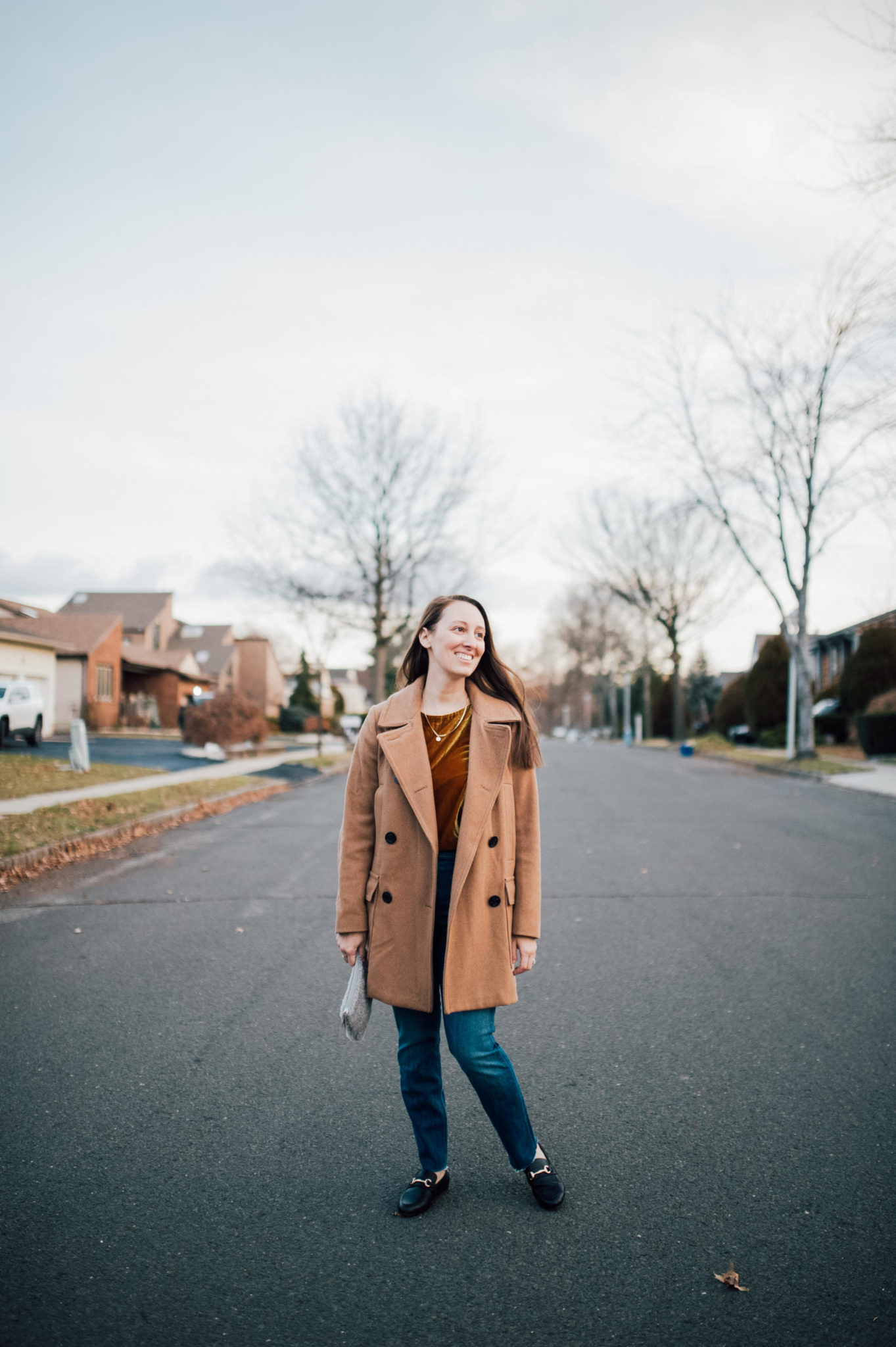 Coat (old, similar HERE), Top, Jeans, Shoes, Clutch (ON SALE FOR $44!!), Necklace