Happy Taco Tuesday everyone!
Are you looking for an easy dinner idea for tonight to celebrate? Well I have one here for you that comes together quickly and is absolutely delicious! And it is low(er) on carbs (if you care about that sort of thing) then your typical taco recipe.
Instead of making regular tacos, I decided to go the salad route. We had a whole package of arugula in the refrigerator that needed to be used. It was actually the inspiration for the recipe! It made for a great base on which to build my taco salad. For my protein, I used ground turkey and beef bacon, aka Facon. The smokiness of the Facon worked really well together with the tender spiced turkey. I used Ortega Taco Sauce as our "dressing." HOLY YUM. I wish we could have this every night!
Thankfully, I made extra turkey so I was able to eat the leftovers for lunch the next day at work. #WINNING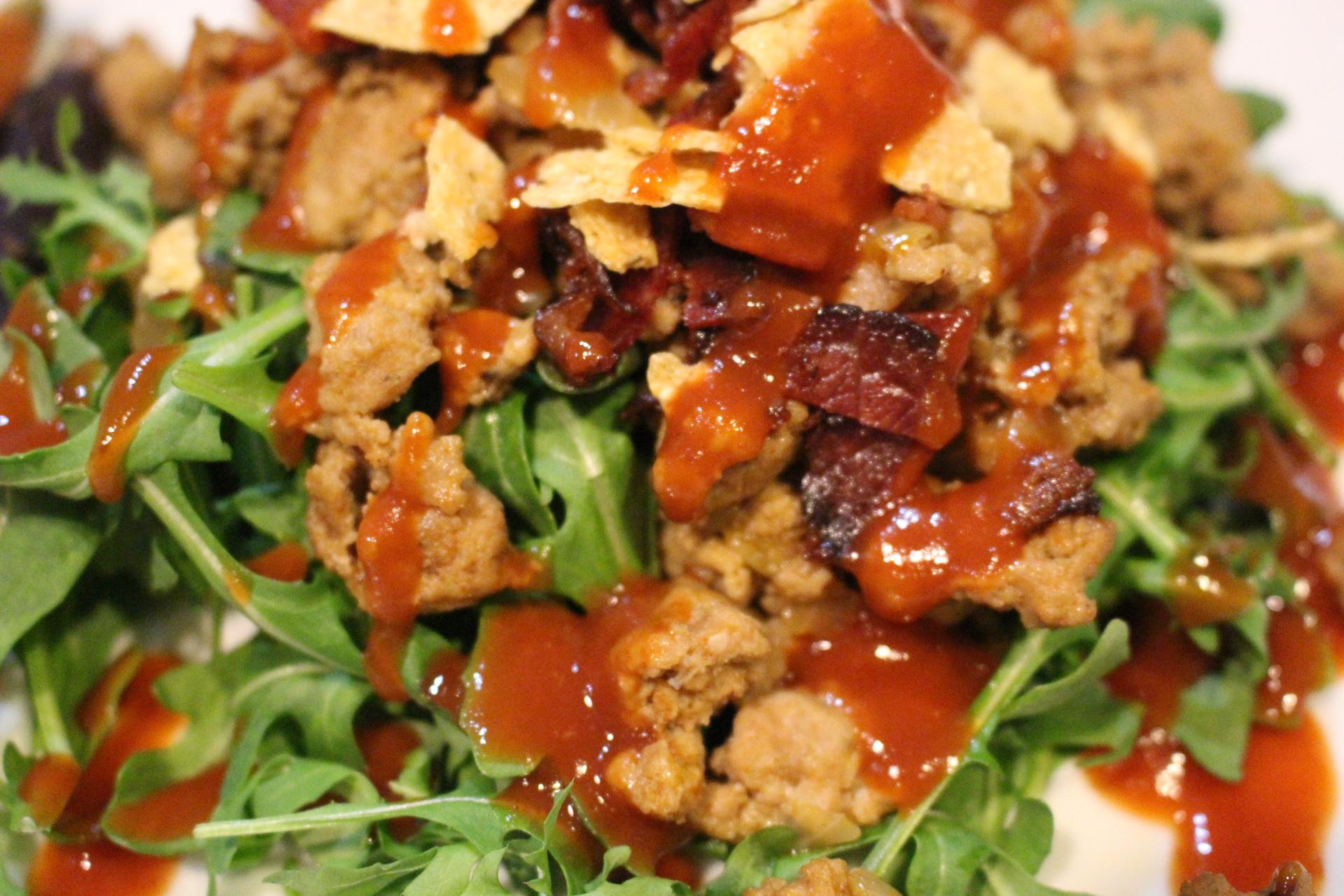 Ingredients:
Ground Turkey, 1 package
Beef Bacon (aka Facon), 1 package, diced (you could use any kind of bacon)
Arugula (any leafy green will work)
Tortilla Chips, 5, crushed
Ortega Taco Sauce (to use as dressing)
Onion, 1, small, chopped
Fresh Garlic, 2, finely chopped
Garlic Powder
Sea Salt
Cumin
Fresh Ground Pepper
Smoked Paprika
Directions:
Place your ground turkey into a medium sized bowl. Sprinkle in the spices and then mix together, using your hands, being careful to make sure that the spices are evenly distributed.
Heat a skillet on the stovetop. Sauté the beef bacon until the pieces are crispy. Set aside on a paper towel lined plate.  Leave the beef bacon fat in the pan. You will use this to sauté the onion, garlic and ground turkey.
Add the chopped onion and fresh garlic to the skillet. Sauté until the onion is just starting to become translucent.
Add the turkey to the skillet. Using your mixing spoon, break up the turkey as it cooks.
Sauté until the turkey is cooked all the way through.
It is time to assemble the salads! Arugula down first, then turkey, beef bacon, crushed tortilla chips and then dressing. Enjoy!